2023 Dakar daily notebook: prologue positions matter (plus don't ride too fast)
Enduro21's daily Dakar Rally notebook live and direct from the 2023 race in Saudi Arabia talks to Mason Klein about reading and speeding, looks at how easy it was to crash in today's prologue and who gets to start first tomorrow (spoiler alert, it won't be today's winner Toby Price).
There's not a lot to say about the prologue at Dakar Rally. It's like most prologues in that it "only" decides the start order for the next day. The thing is, at Dakar it might only do that but it can have huge consequences for the race ahead, and at times the overall result.
Where your start position is, despite new rules at Dakar this year to help the riders at the front, still matters on some days depending on the length and difficulty of the stage. Basically, no-one wants to be leading a stage away in the morning, they just want to be leading overall at the end of it.
That means a lot can be both gained in the prologue as well as lost and there were a few nervous faces waiting in the collecting area this morning as they pondered a 13km route they'd recced yesterday, and knew was a bit sketchy.
Riders get 20 minutes to view the day's roadbook, collecting it just ahead of the first timing beam of the day near the stage start. But with the prologue being accessible to all, most knew the route having cycled it yesterday and weren't worrying about the paper scroll too much.
Some were taking it more seriously than others mind you…
"I'm more worried about the speed,"– Mason Klein
One of the riders we caught up with right there and then was a relaxed Mason Klein who'd arrived well-early to collect his first roadbook of the 2023 Dakar. We'd been wondering what riders thought about the new rules implemented to level the playing field, but Mason basically batted that away with a "we'll see how it pans out".
"I'm more worried about the speed," Klein continued. "I'm pretty good at running on in a corner or hitting something because I'm looking down. Now we can't do over 160k top speed so in the faster sections I'm going to be looking down more than ever. The problem is here if you run on it might not just be straight at a corner but could be straight over a cliff…"
Don't crash, it's the only rule…
This blast around a scraped-out loop the dusty shoreline of the Red Sea was treacherous one. Things started nice and early for the bikes which meant it was cool under the Saudi sun as the riders headed out via a wave on the start podium to the prologue start just around the corner, a few metres outside the paddock fences.
Enduro21 got a lap of the short course in an organiser's car yesterday and it looked bloody horrible if we're honest. It was flat and wide, in some ways like the easiest ever enduro test (complete with tapes). But it was featureless which meant nothing to gauge speed off and the ground was a mixture of bedrock, which quickly got a blue groove going on, some hard-pack gravel and stony sections, plus some decent stretches of soft sand mixed in corners and straights.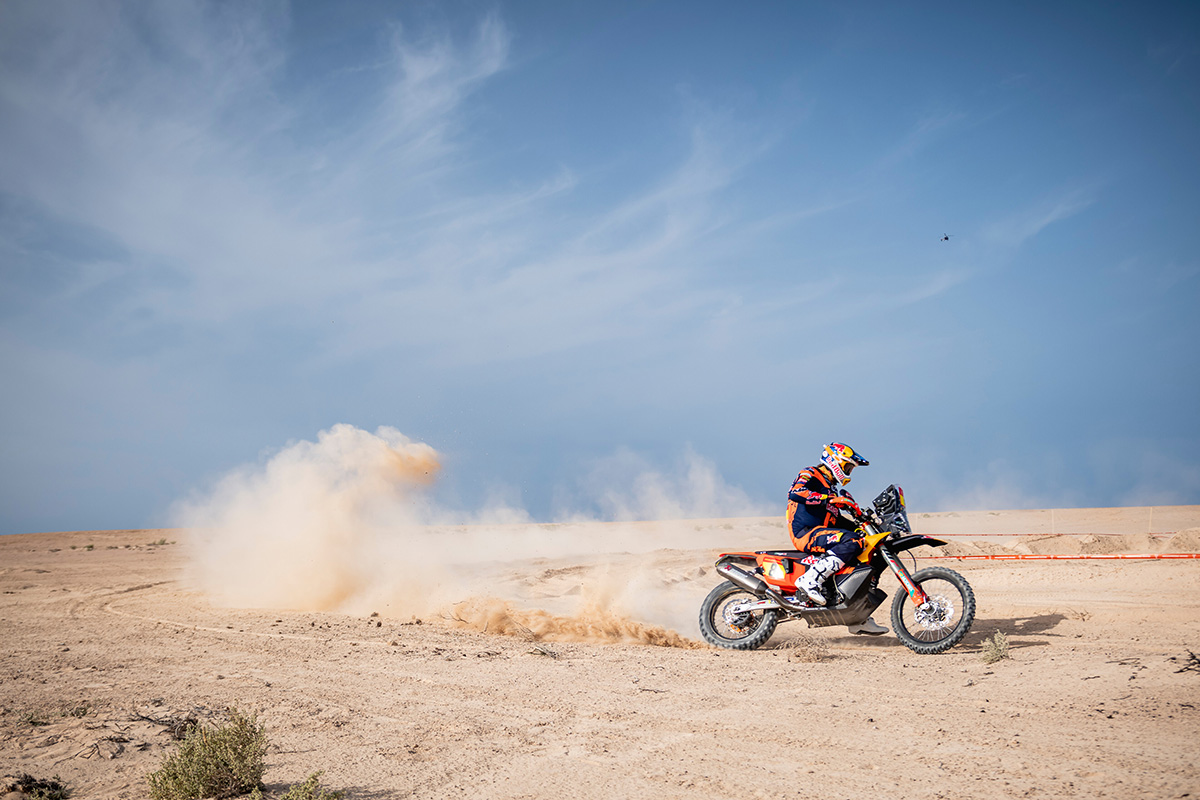 The hard pack turns seemed the worst of it and a few of those arrived out of nowhere, approached on a slight incline which made them blind and easy to misjudge. Monster Honda Rally rider Nacho Cornejo was one top rider to misjudge turn one badly but he wasn't alone in the bikes, cars or truck classes. Skittled spectators were a feature there and just like in enduro, marshalls were busy fixing tape all day...
Cornejo low-sided as the immaculate HRC machine turned its tail around and he went down, scratching that perfectly prepared bike metres from the start. The test saw a few others including Skyler Howes drop a tonne of time which won't be ideal for tomorrow.
Find today's results here: 2023 Dakar Rally: Prologue results – Toby Price quickest in opening test
You can choose your start position? What?
The net result of Nacho's crash is a poor start position tomorrow, likely second place behind the slowest RallyGP rider today, Mohammed Balooshi. Why? Because the top riders can choose their start position on stage one based on today's result while the slowest rider get last pick, and that means being first away.
Not making sense? We'll try to explain…
The top 10 RallyGP riders in the prologue get to choose their start position in class with fastest rider, Toby Price, getting first dibs right up to Sam Sunderland in P10. After that the remaining 18 riders in RallyGP (28 in total) choose where they want to start in reverse order of the prologue finishing time. So P11, Ricky Brabec, chooses next after Sunderland up to Cornejo and finally Balooshi last.
Because no-one wants to go first that will likely mean Balooshi has the honour tomorrow at 6:10am of leading the pack out on the road. The Rally2 class come after that and from that point onwards it is time order as per normal including the Originals by Motul riders.
You got it now? Here's how the top 40 picked their gates for tomorrow: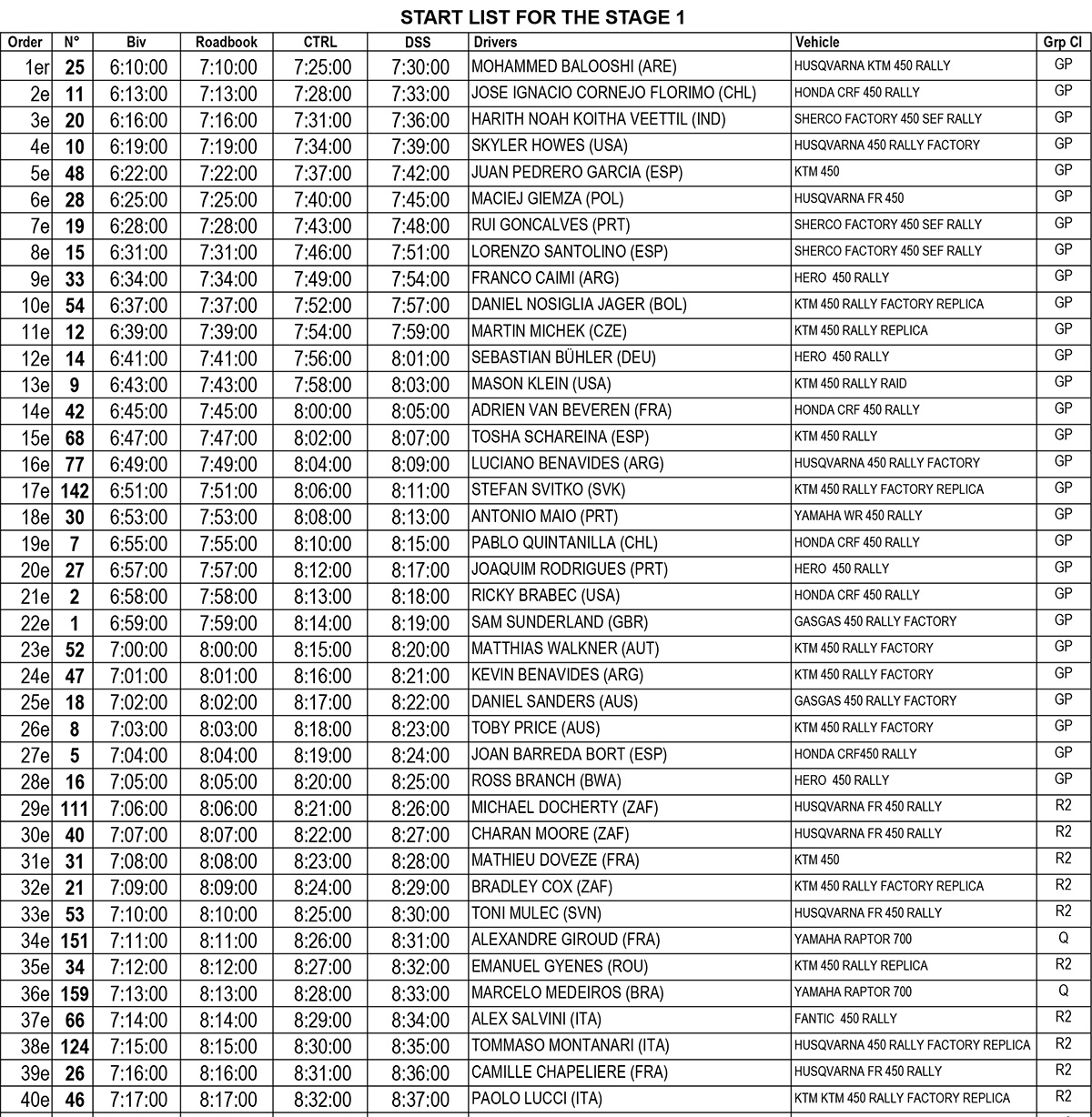 Tomorrow the real race starts
Whichever rider it is leading the field away tomorrow morning at 6:10am they won't be facing the longest or hardest of the two weeks, just enough of a test the route planners say. The day begins with a blast along the beach and overall will feature nothing too technical, plenty of gravel tracks, some sand and just seven per cent dunes.
Stage one promises 368km of timed special with 235km of liaison either side of it in a loop out and back to the same bivouac.
Happy New Year by the way. Enjoy your beers...
Photo Credit: Enduro21 + Marcelo Maragni | Red Bull