2023 Dakar Rally: Stage 4 results – 30th career win for Joan Barreda – Sanders retains the lead
Results from stage four of the 2023 Dakar Rally where Honda's Joan Barreda has collected his 30th career day win ahead of teammate Pablo Quintanilla – Daniel Sanders retains the overall race lead.
Dakar '23 Stage 4 in a nutshell:
Stage four started and finished in the same Ha'il bivouac and geographically began to headed towards Saudi Arabia's centre on a 425km special test inside the King's Royal Reserve no less, passing the ancient rock formations at Jubbah (a world heritage site) along the way.
Today's test featured a vast stretches of sandy desert with giant mountains of rock hiding waypoints, plus some tricky rock sections with lots of standing water. The feature comments from riders at the finish was about tricky navigation and the wet sand. It held yesterday's storms rain water, making it power sapping and the sudden soft, soggy patches sent a few over the bars.
Rally leader an stage three winner Daniel Sanders opened the way and found leading tricky as he says, struggling to read the ground with clear goggle lenses too – his mistake he said.
The top three starters – Sanders, Skyler Howes and Mason Klein – all benefitted from time bonuses of 3.58, 3.35 and 2.39 respectively in the first stint to refuelling and rode pretty much together from kilometre 100.
(Time bonuses are awarded 1.5 seconds per kilometre for the first rider on stage, 1.0 for P2 and 0.5 seconds for P3 so Mason's 2.39 was the most impressive).
The downer for Klein was losing it all with a bike problem (fuel not getting through we understand) which cost him 10 minutes, undoing all the hard work. Sanders undid most of his time bonuses with a two-minute speeding penalty too to land him seventh place. This is Dakar.
We haven't heard enough from Pablo Quintanilla, Joan Barreda, Adrien Van Beveren, Toby Price and the Benavides brothers this Dakar but all are notorious sand riders and finished this long day in the top seven.
Behind all this, Nacho Cornejo had an eventful day. First stopping and helping Joaquim Rodrigues on the course after the Portuguese Hero Motorsports rider crashed. Then seemingly throwing his balls to the wind and nailed it for ninth place. Sherco's Lorenzo Santolino completes the stage top 10.
All the glory went to Honda teammates Barreda and Quintanilla though who duked it out right to the finishline for just 16 seconds difference in Joan's favour. That completes 30 career stage wins for Joan, putting him just three short of Stephane Peterhansel and Cyril Despres (both 33).
Sanders was down beat at the finish but retains the overall lead, 5.33 clear of Skyler Howes with Kevin Benavides third a further minute behind.
Barreda moves up to fourth overall and Price is fifth, both are within 10 minutes of the rally lead. Klein was the big loser of the day with that 10-minute stop – without it he'd be second and 0.5 off Sanders.

The Hero Motosports team had a tough day four with their only ever stage winner Joaquim Rodrigues fracturing his leg after 90km. Meanwhile his teammate Sebastian Buhler ran out of fuel and Ross Branch lost as tonne of time fixing bike problems on the stage. They finished but Buhler was 97th and Branch 104th after losing 4:30hrs to the stage winner.

For the second stage in a row Romani Dumontier and Paolo Lucci duked it out for top spot in the Rally 2 class. Dumontier it was today who is well among the factory riders with 15th, Lucci was 18th scratch.
Mirjam Pol turned things around and sailed through a tough day in the sand to take top spot away from Sandra Gomez in the women's category. Pol pulled almost 20 minutes back to lead and lie in 59th place overall on a total time of 24:39.14, just over 21 minutes ahead of Gomez who is 65th.
The Original by Motul class saw Javi Vega take the best time on the day on the only Yamaha in that category. Charan Moore still leads overall in class but lost more time today with a fuel pump issue, Vega is closing in and sits just 1.31 adrift.
Stage 4 provisional results (general classification below):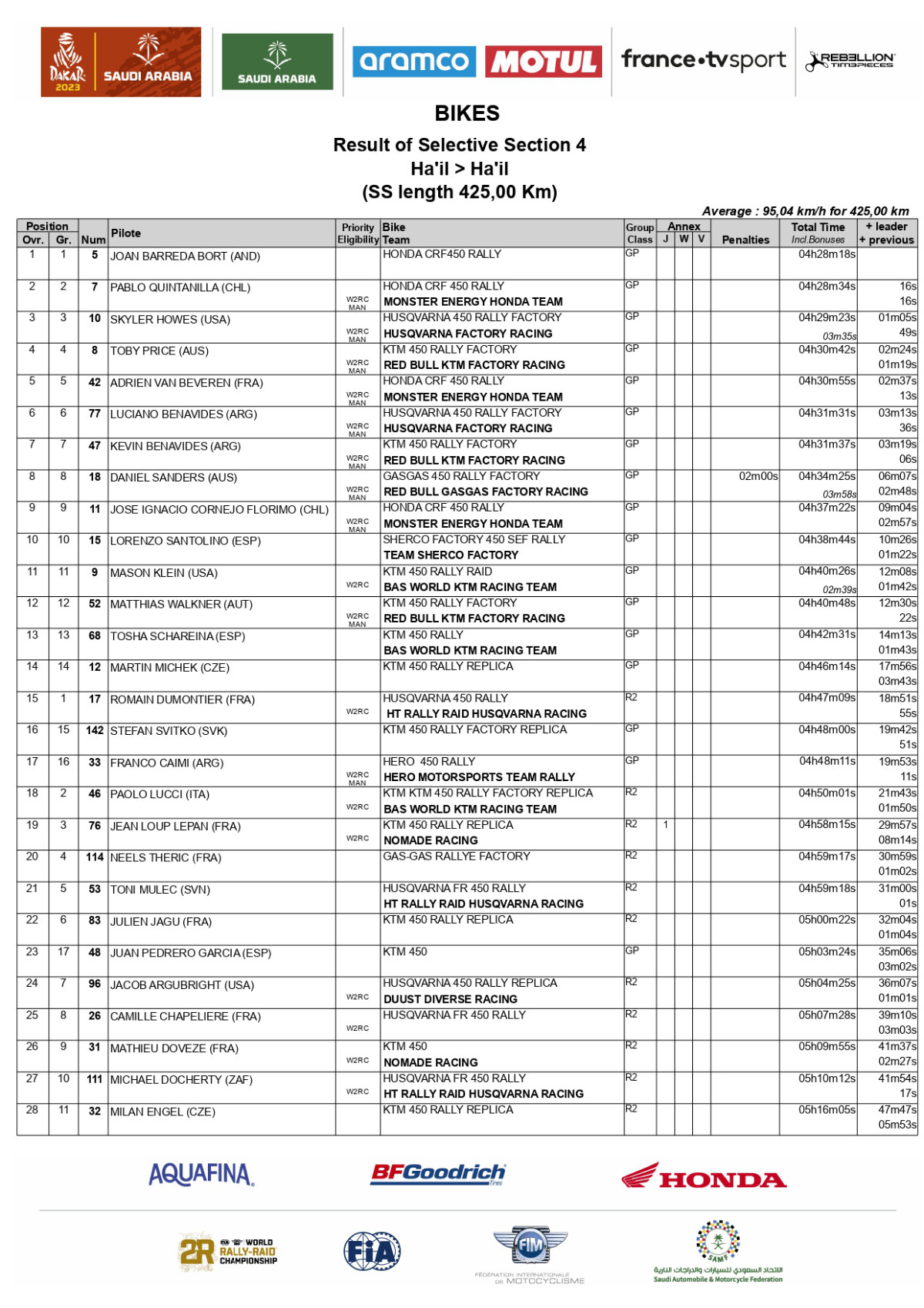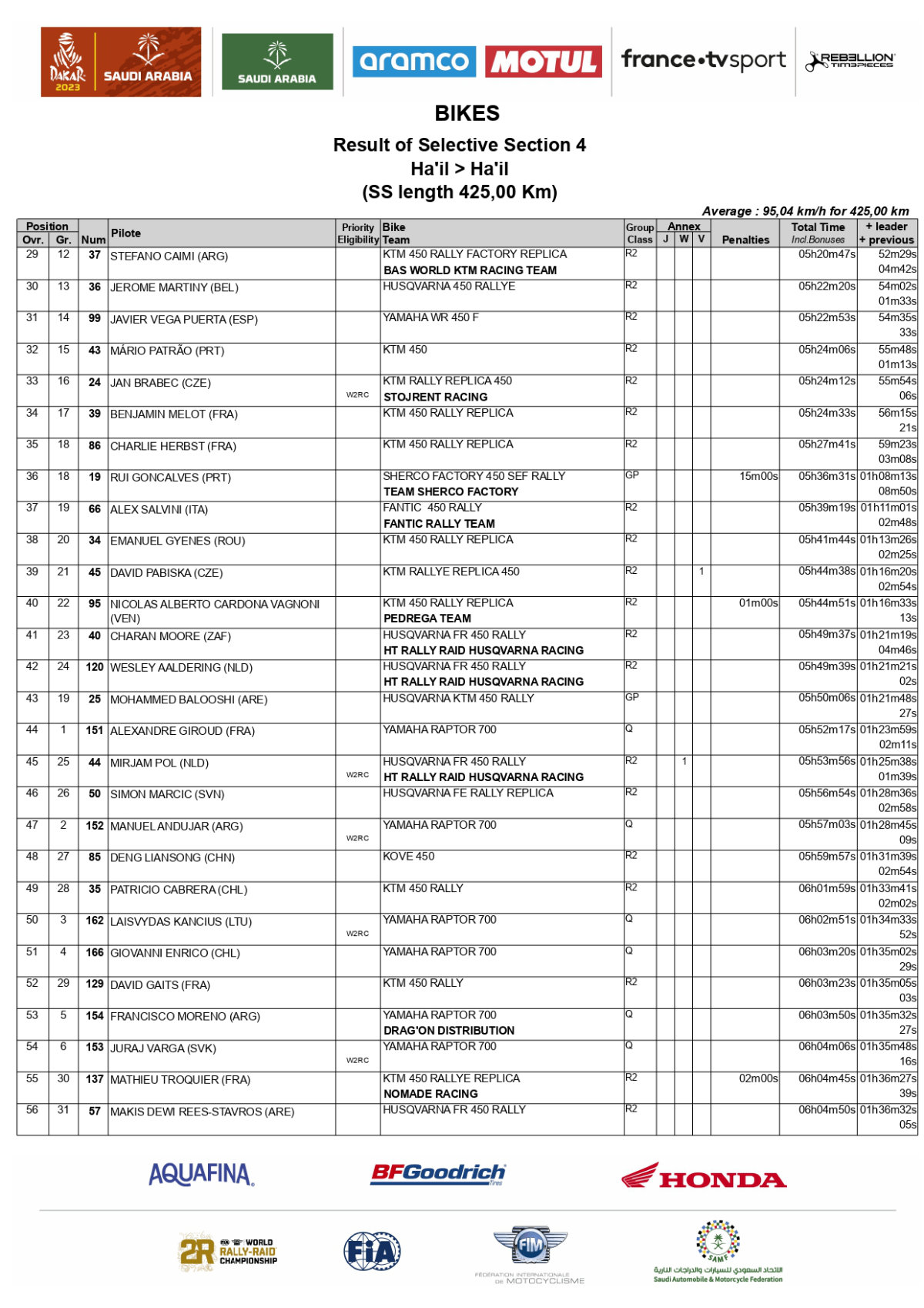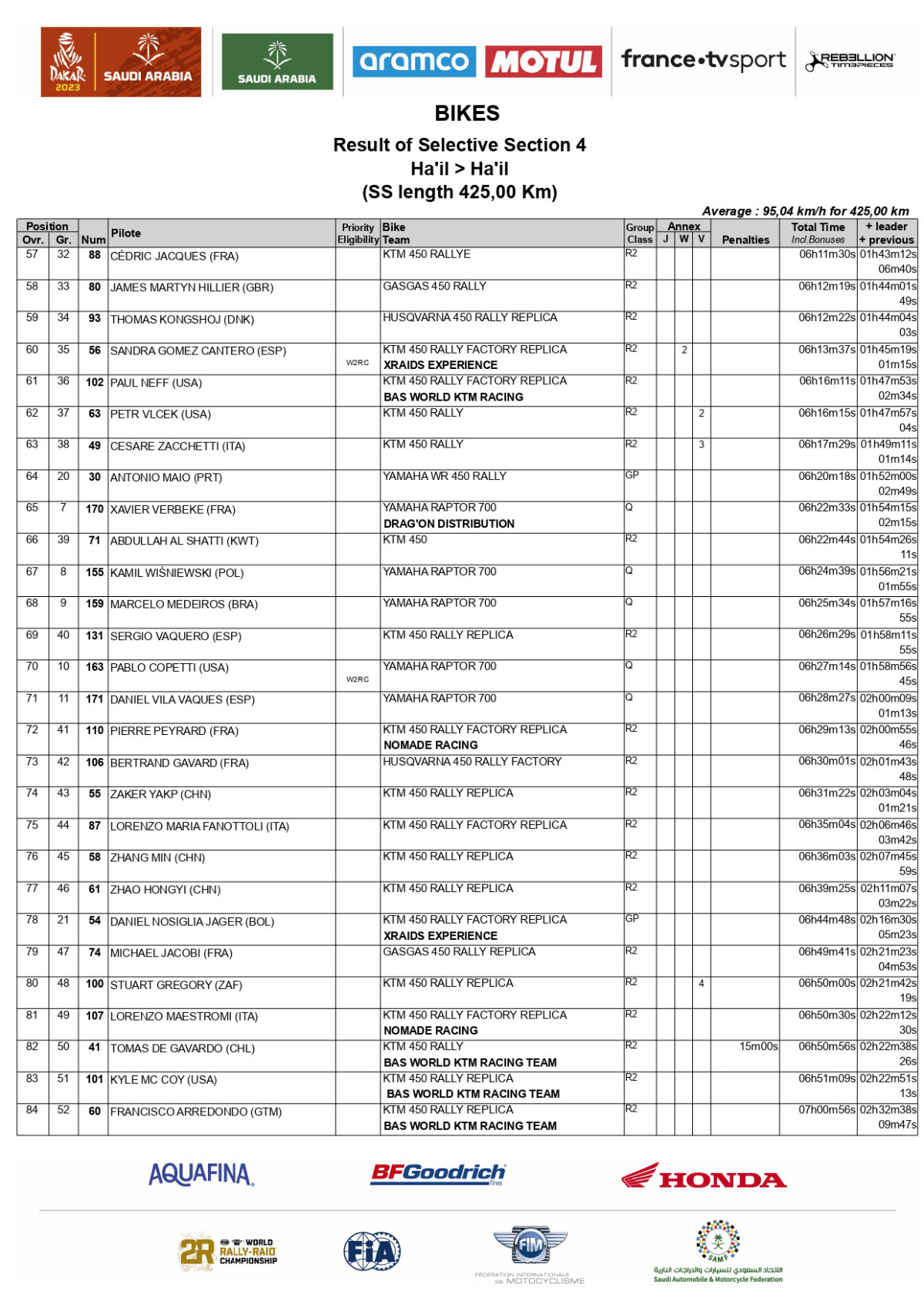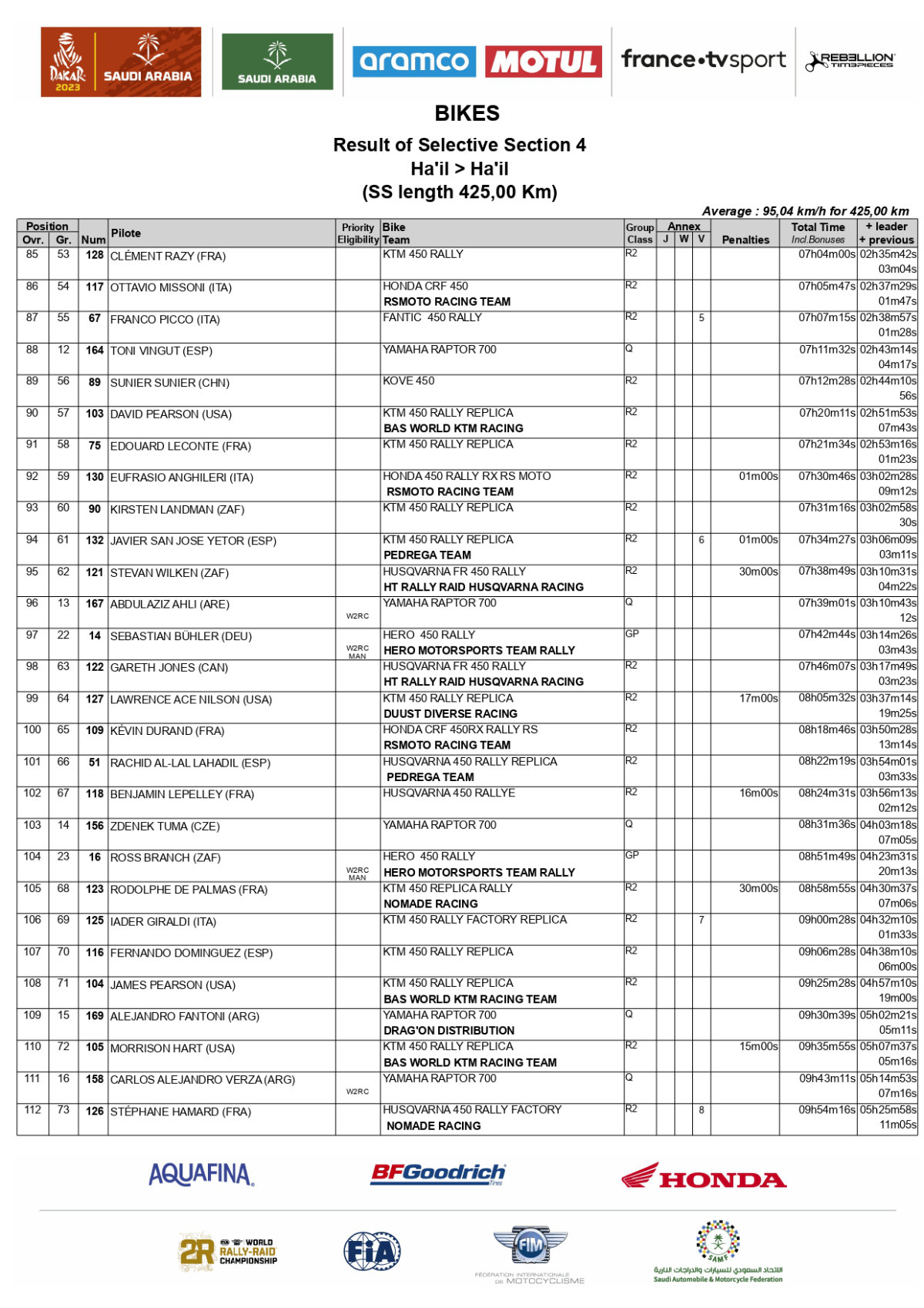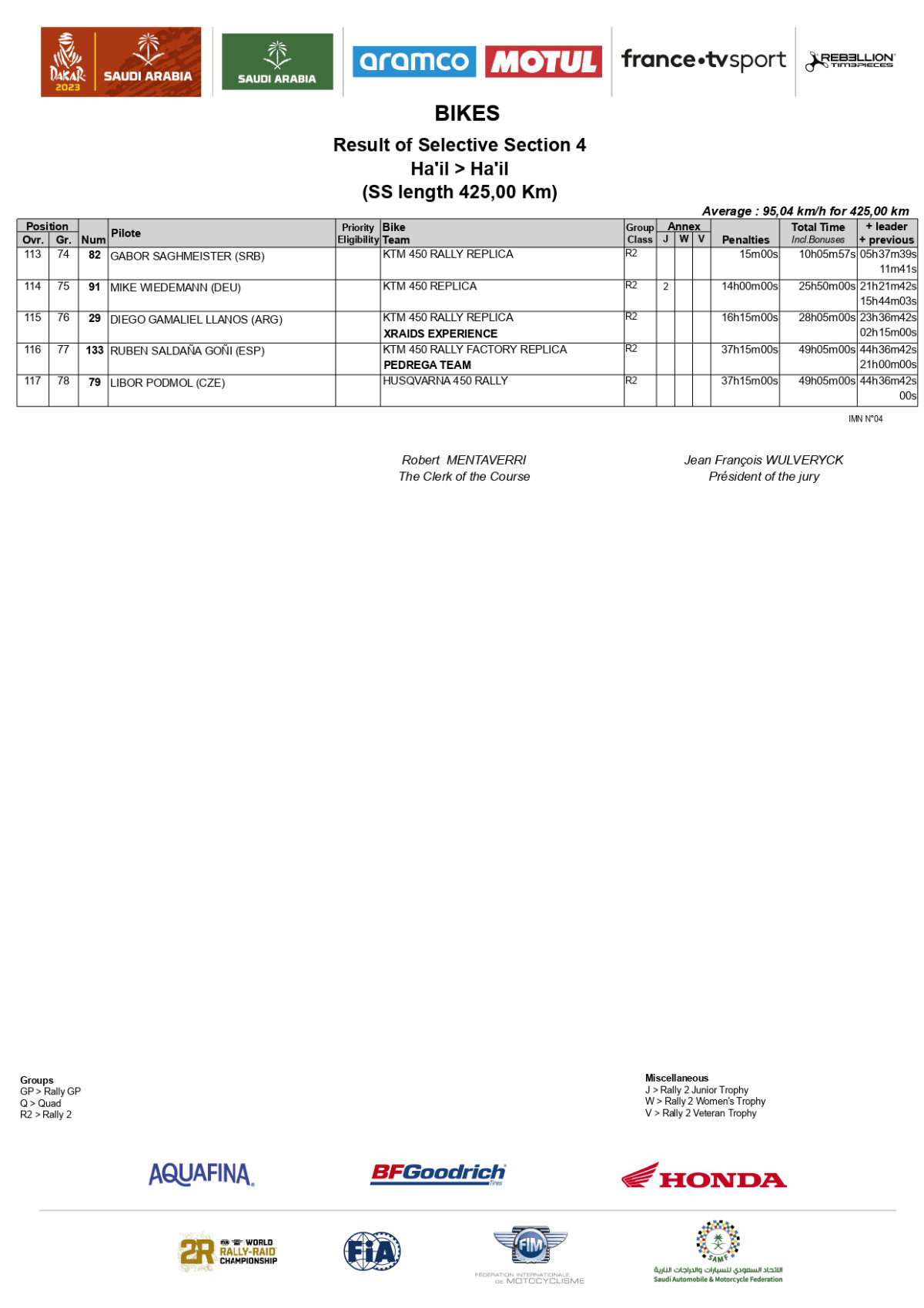 General classification RallyGP class after stage 4: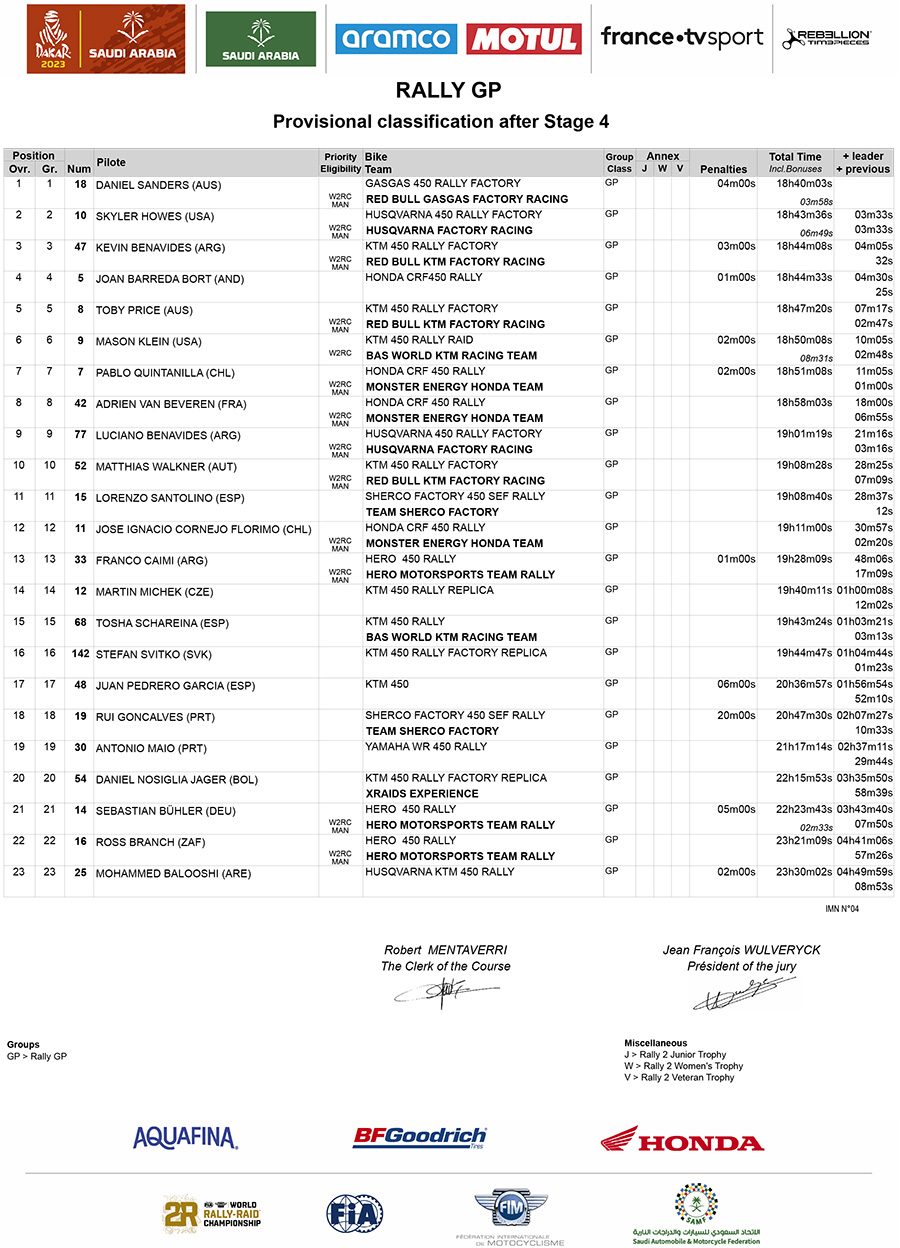 Photo Credit: A.S.O. | Julien Delfosse