2023 Dakar Rally: Stage 9 results – Luciano Benavides takes second stage win, Price closes in on Howes' lead
Husqvarna Factory Racing's Luciano Benavides has taken his second stage win of the 2023 Dakar Rally closing the day out with race leaders Skyler Howes and Toby Price in hot pursuit – Joan Barreda exits the rally in a helicopter.
Dakar '23 stage 9 in a nutshell:
The clouds were grey and the ground was wet as stage nine welcomed riders for the second week of racing. First riders were away from the bivouac at 4:55am on a short 108km liaison to the 358km special. The terrain was mixed with more wet dirt today, some random river crossings and wide-open spaces littered with tracks, making careful navigation important.
A few riders mentioned yesterday, during rest day, this second week might see that yo-yo effect return and so it proved with the leading riders suffering badly on the time sheets on stage nine.
One waypoint after km123 caused all the trouble where most the top 10 out front all lost a heap of time including Ross Branch, Mason Klein, Daniel Sanders, Pablo Quintanilla (the top four off the line) with Branch and Klein ultimately dropping more than 20 minutes today.
Mason Klein had an up and down day, taking a big one. He didn't help his cause by losing one of the day's roadbooks (for the second half of the stage) in a small crash where they'd all gotten lost. It meant Mason had to rely on other riders to help navigate. He then had a big crash late in the stage where he came together with Adrien Van Beveren. "They were lucky to get away with it", said Sanders who witnessed it.
True to his word yesterday, Toby Price took advantage of the later start position to become the early stage leader. By the 200km mark, Luciano Benavides had swung the lead in his favour with a minute over the two-time winner plus rally leader Skyler Howes making inroads – these three were top three on stage six who subsequently finished 21st, 17th and 19th on stage eight and therefore benefitted today. And it was these three who slingshotted to the top of the timesheets with Luciano taking a second stage win of the rally ahead of Price just one minute back and Howes third by three minutes.
With Howes saying he made one mistake finding a waypoint (the same one others made but not so bad) to allow his teammate to close the gap, Price closes right up on Skyler's overall lead as the pair sit just three seconds apart. Kevin Benavides is third, five minutes back.
It wasn't a good day for Spanish competitors with Joan Barreda having a big crash to send himself out of the Dakar once again. He was joined by King Carlos Sainz who turned his Audi RS e-tron upside down, both very early in today's stage and in exactly the same place, dropping heavily to flat off a dune.
Mistakes from the leaders allowed a fresh-looking top 10 which includes independent team riders Toni Mulec, Michael Michek and two riders who benefitted from a follow of the staeg winner, Tosha Schareina and Romain Dumontier.
A late reward of time back for helping a crashed rider gives Dumontier the Rally 2 class day win and he leads overall ahead of Mulec.

Another day win and another extended gap for South African Sharan Moore in the Original by Motul category. The race director for the Roof of Africa is over 23 minutes in front of Spaniard Javi Vega.
💧@skylerhowes110 defending his overall lead in very wet conditions on Stage 9! 🏍️#Dakar2023 pic.twitter.com/koetVylHEw

— DAKAR RALLY (@dakar) January 10, 2023
2023 Dakar Rally stage 9 provisional results: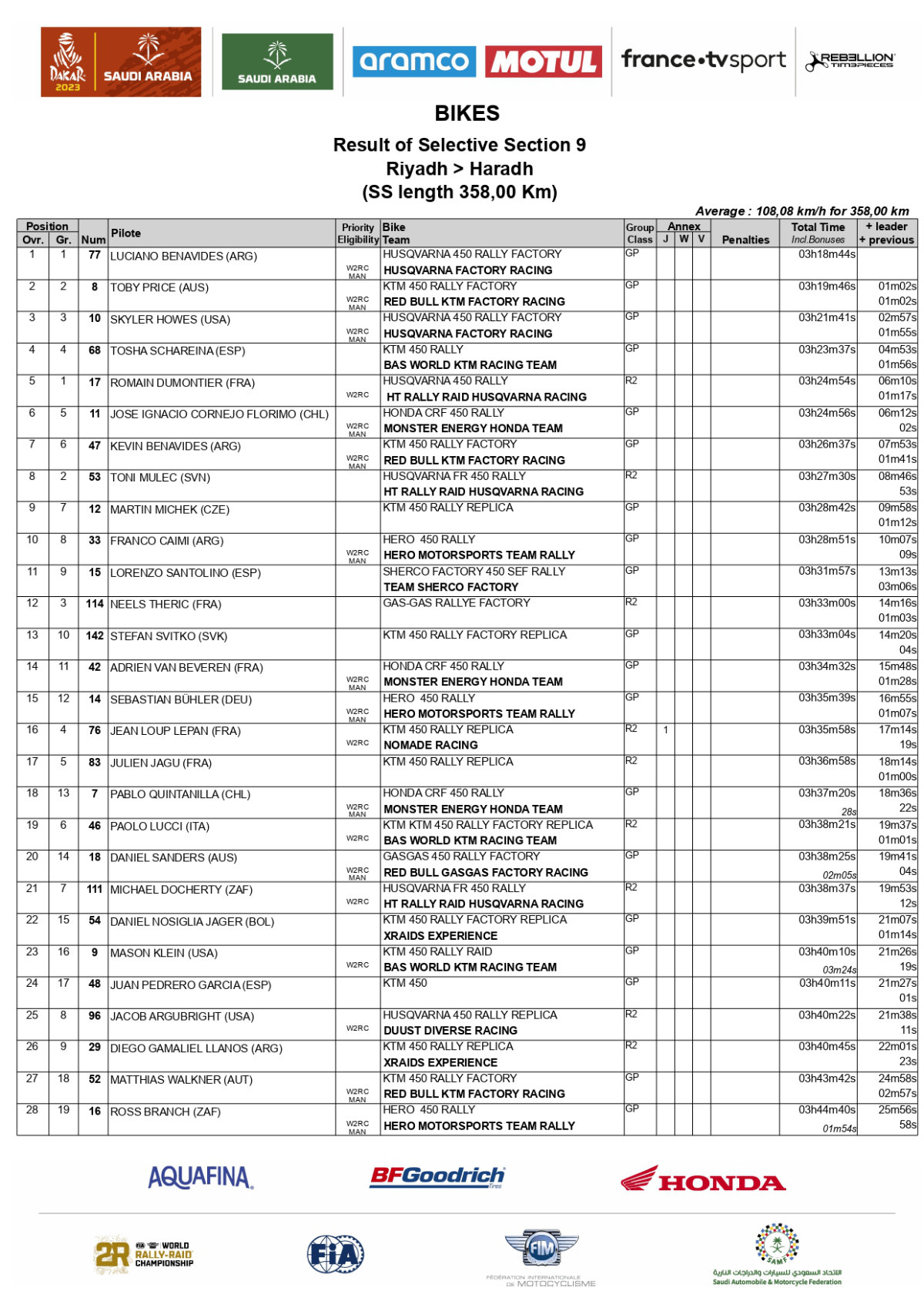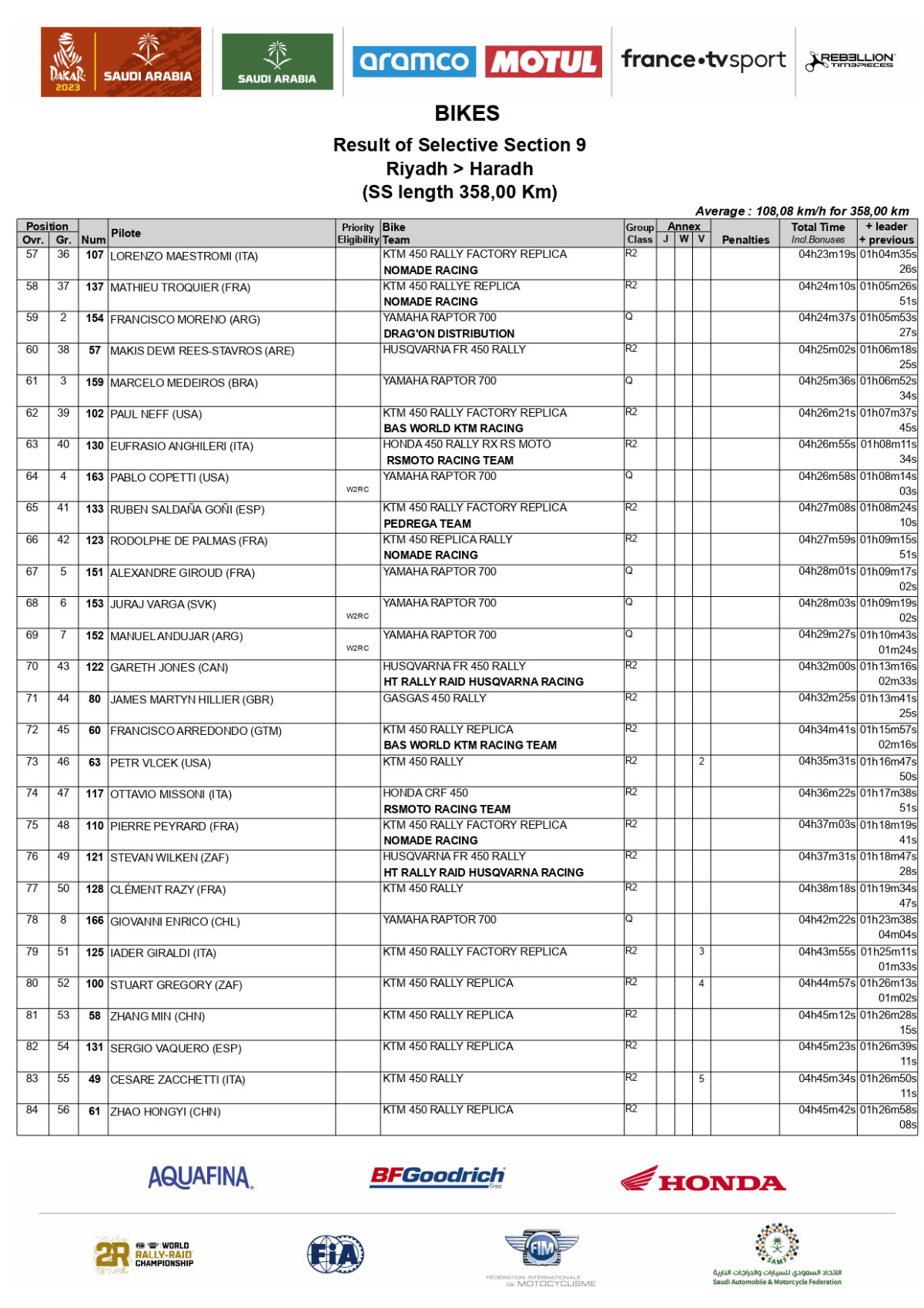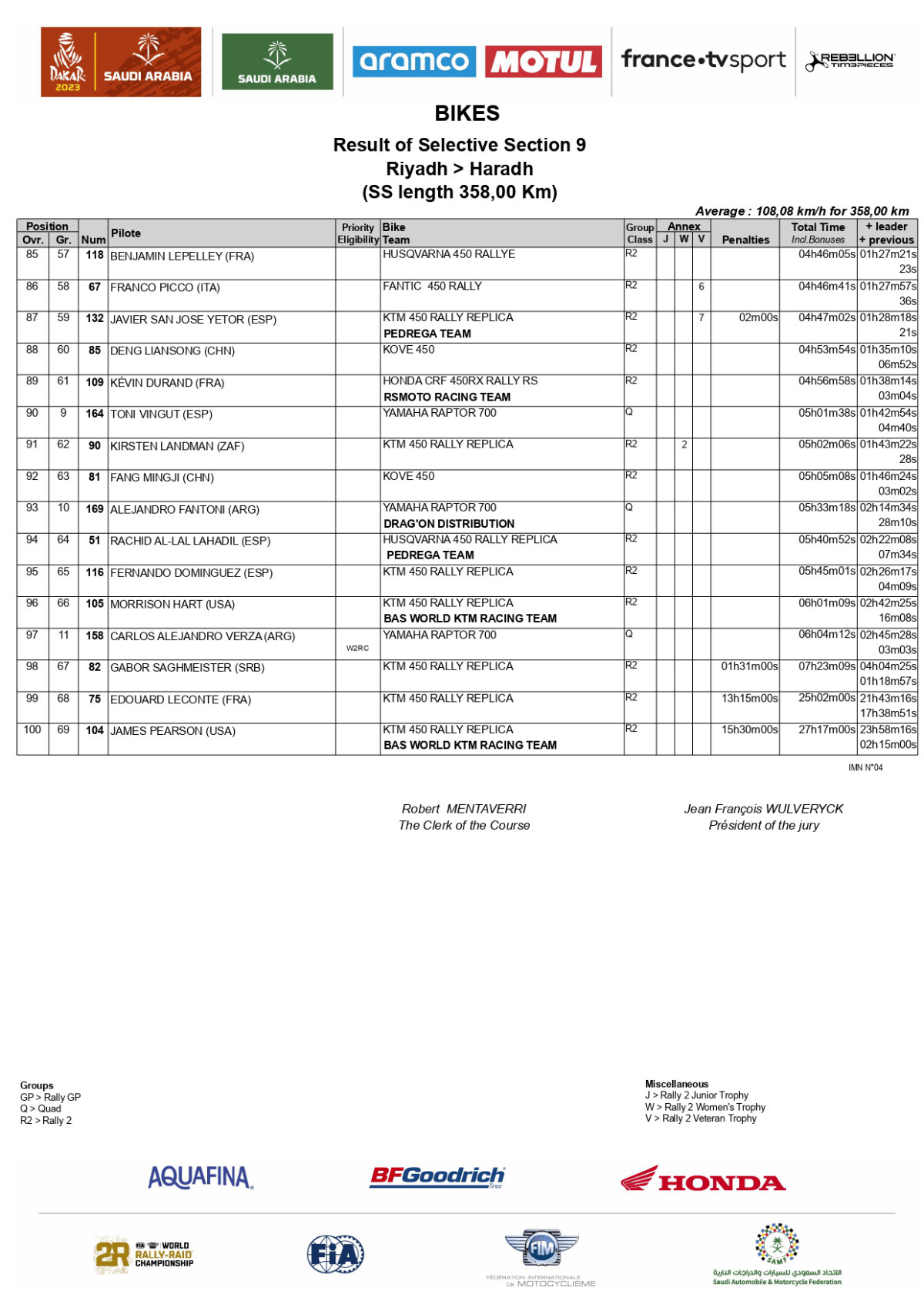 Overall classification after stage 9 – Rally GP: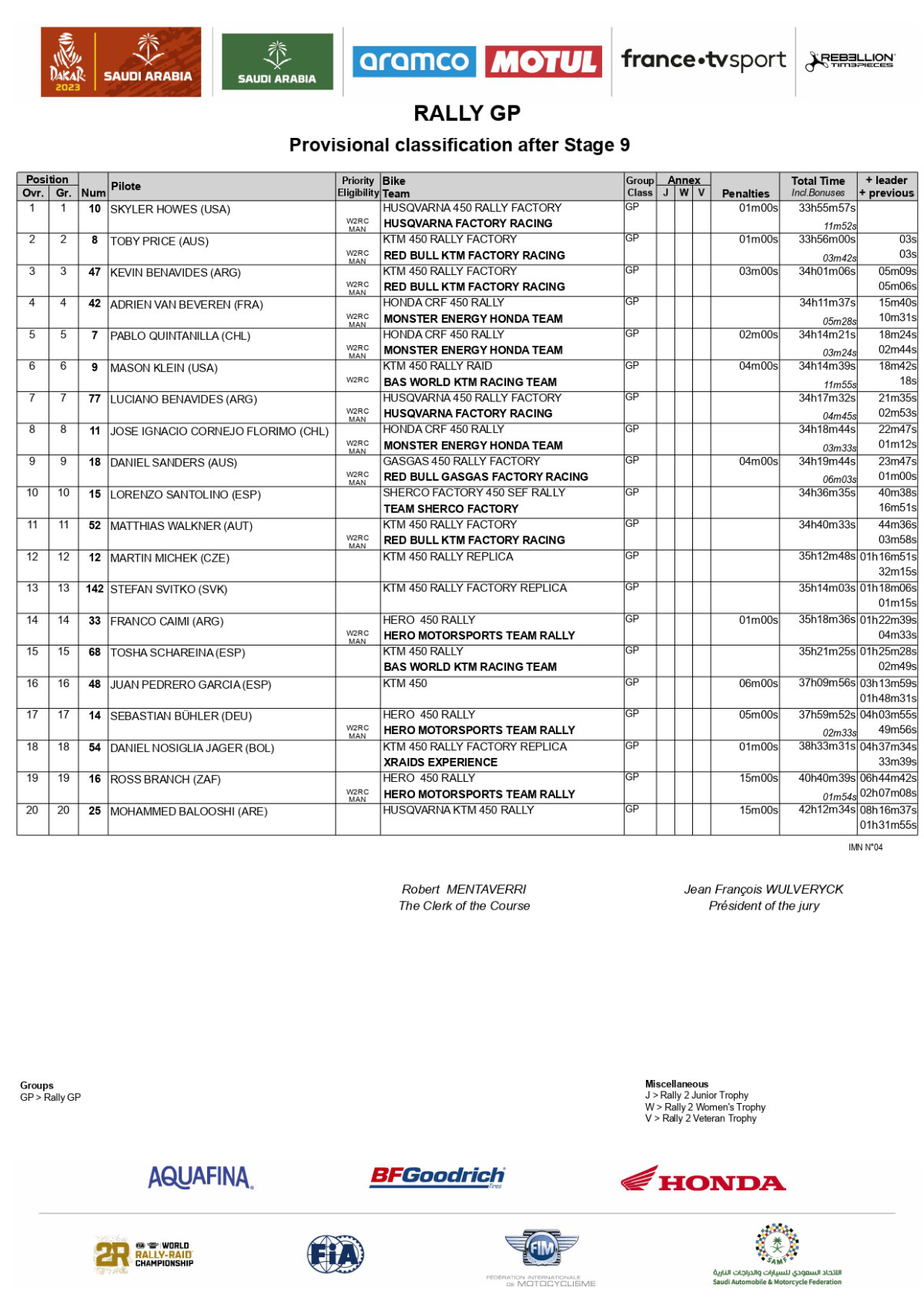 Overall classification after stage 9 – Rally 2: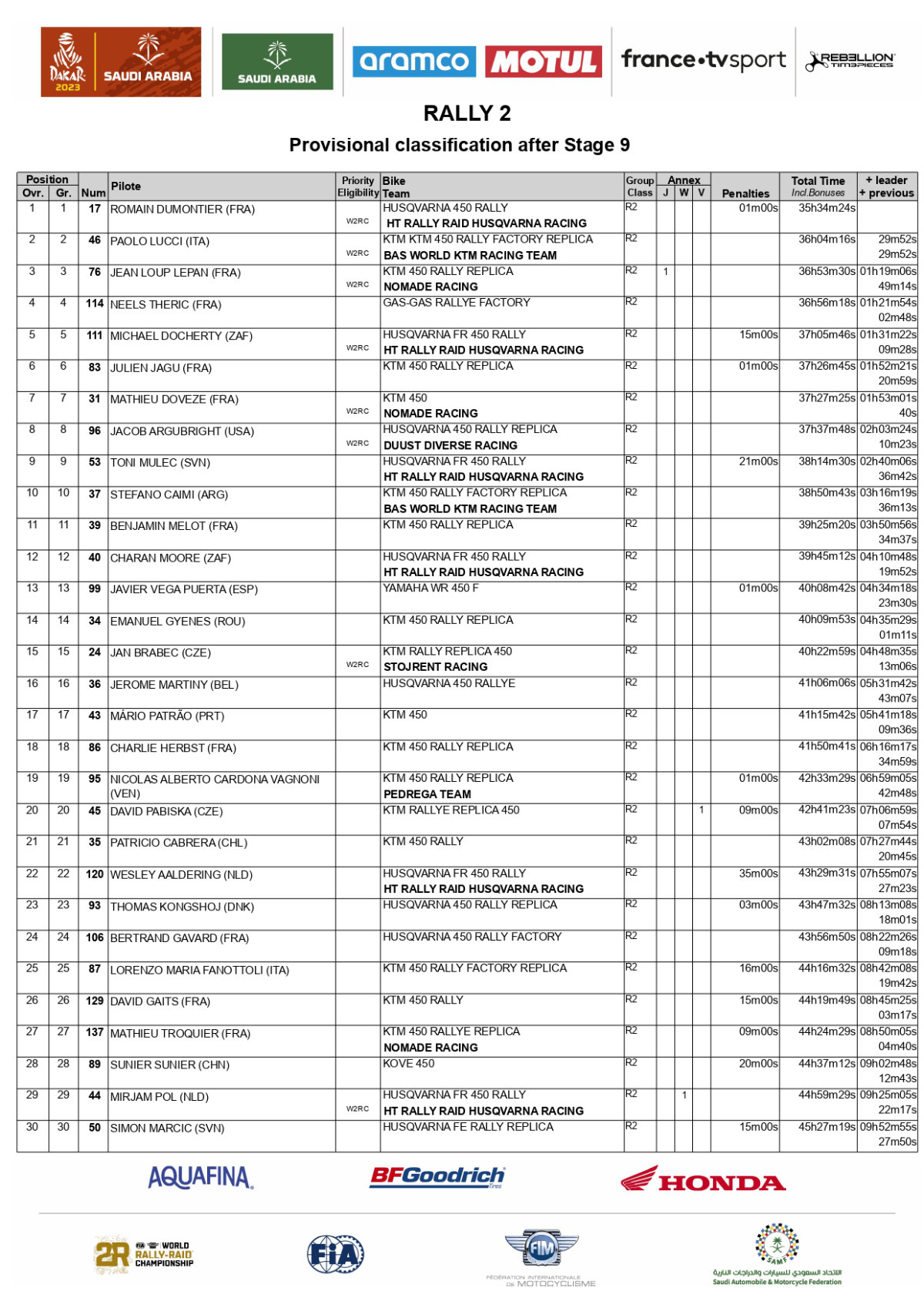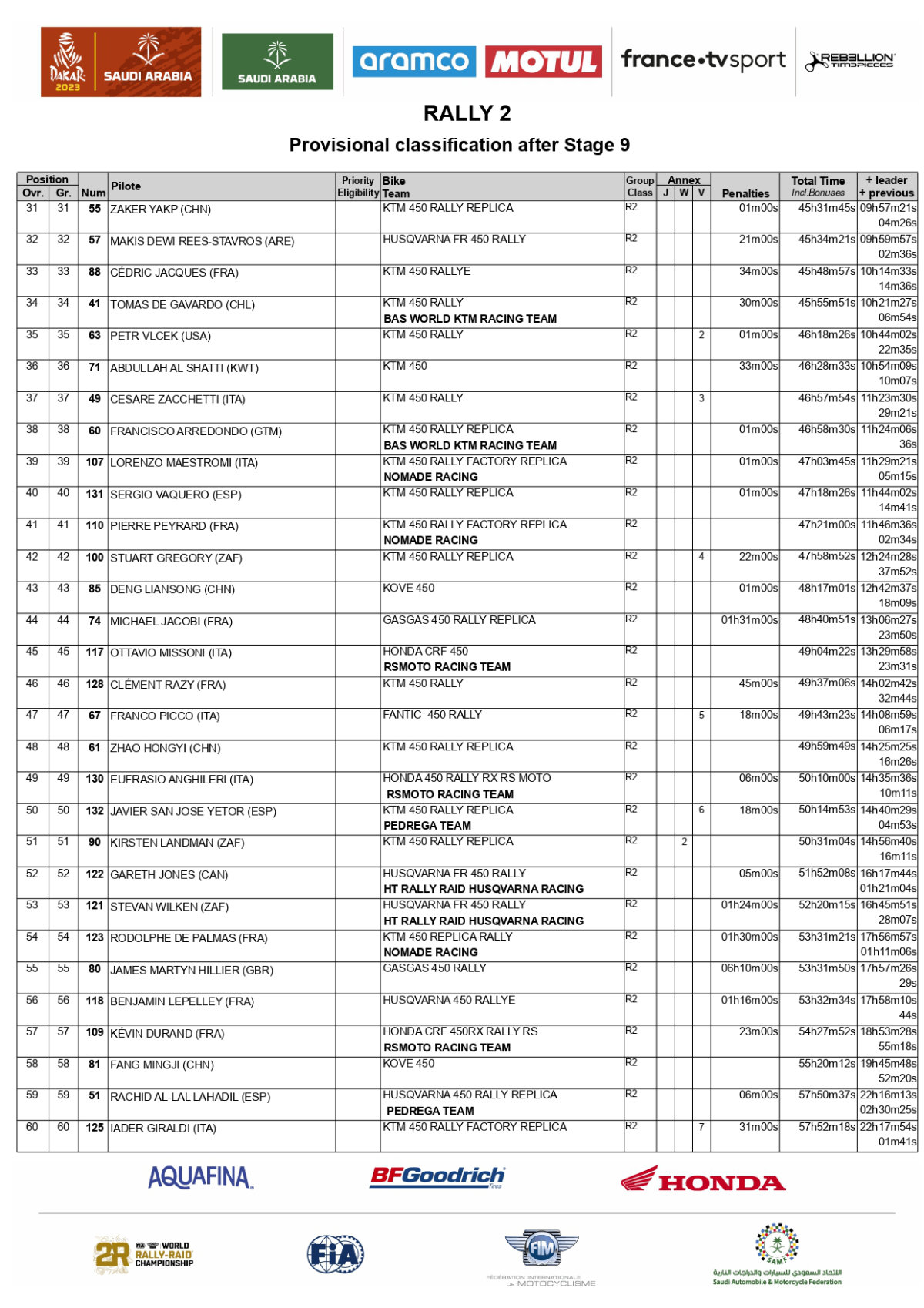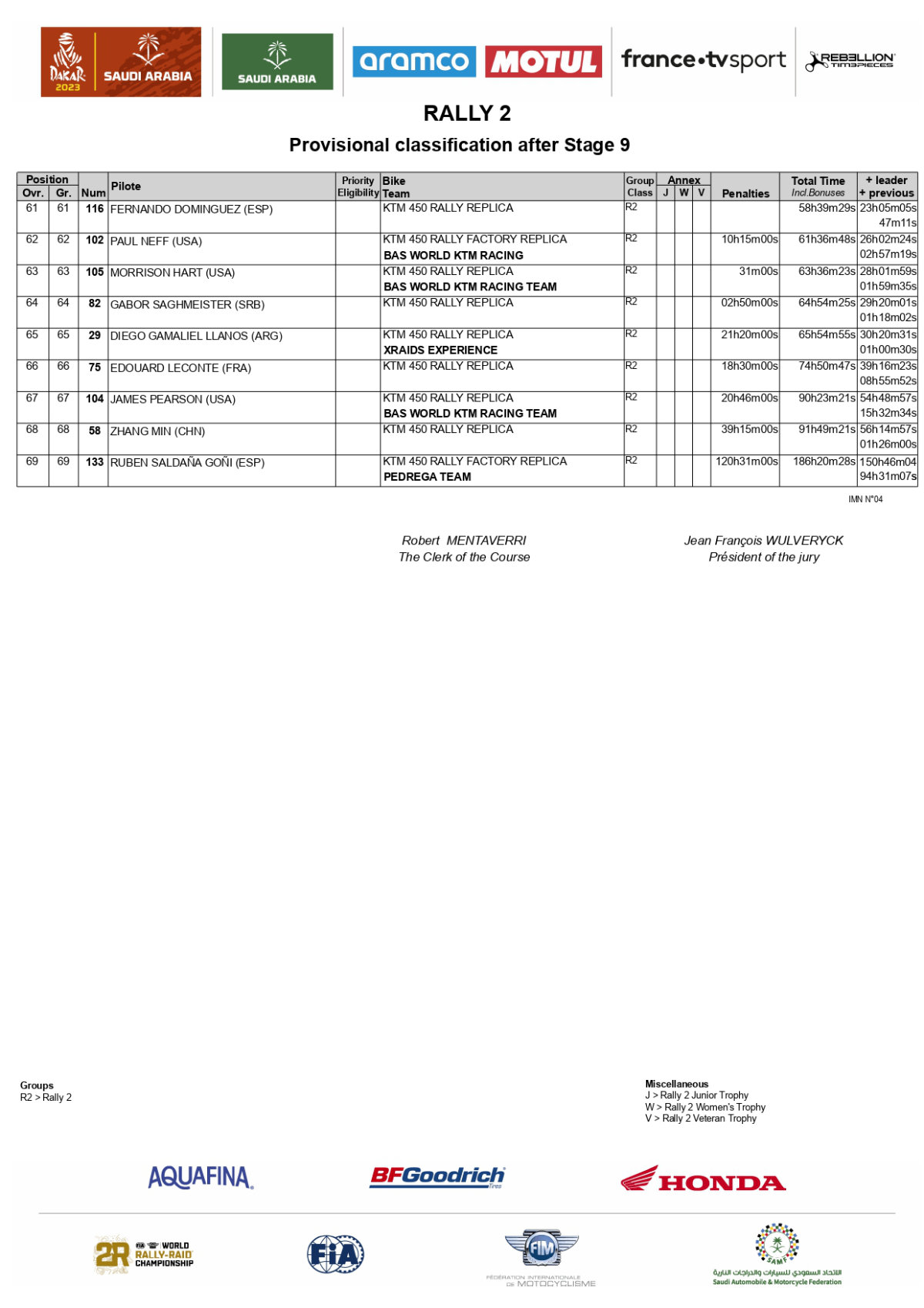 Photo Credit: Rally Zone