5 Minutes: Toby Price – Finke, ISDE and are four wheels the future?
Five minutes with Toby Price talking flat-out Finke memories, how the iconic desert race influenced his Rally career, the ISDE and the future of Rally – two wheels or four?
A chance share of a video from 2012, showing a young-looking Toby Price and his team ahead of that year's iconic Finke Desert Race took us back in time and left us longing to twist the throttle.
It was also all the excuse we needed to get in touch with the two-time Dakar winner and ask a few questions: how cool is Finke, did it make him fast on a Rally bike, who's gonna win the next ISDE and is he sticking with two wheels or switching to four?
Firstly, how are things?
Toby Price: "Yeah, we're all good and healthy in this time with the virus and everything. Honestly, I went from a full calendar of events and sponsorship commitments to being pretty much every weekend free until we don't know when, so it is quite strange.
"I'm still keeping pretty busy, there's always something I can be doing in the shop, working on something or cleaning something up and getting ready for when things do kick off again. We wait patiently to see what's coming."
We're in touch to catch up but also because we spotted an awesome, old Finke pre-running video from 2012. Do you remember making it?
"Yeah, every single time out at Finke is a memorable one so for sure 2012 is one I remember. We had Wonka (Brad Williscroft), myself and Matt Fish with the team and it was good times.
"Unfortunately, I think that year was when Ben Grabham had his major accident and broke his back so we think of him when we look at that year.
"Putting the video together with Adam Riemann actually got us into a little bit of strife that one! But yeah, there's no better feeling than going flat out and Finke is definitely one of those races which showcases that to the maximum."
How many Finke races have you clocked up and were you set to race Finke this year?
"I was definitely set to race Finke this year – my first race was 2010 and I've only missed one year in 2013 due to my broken neck so, yeah, quite a few.
"We've been able to win six times on the motorcycle category, which is a record out there, and finished second overall in Trophy Truck and first in class so we're still trying to get that number one plate in the truck class.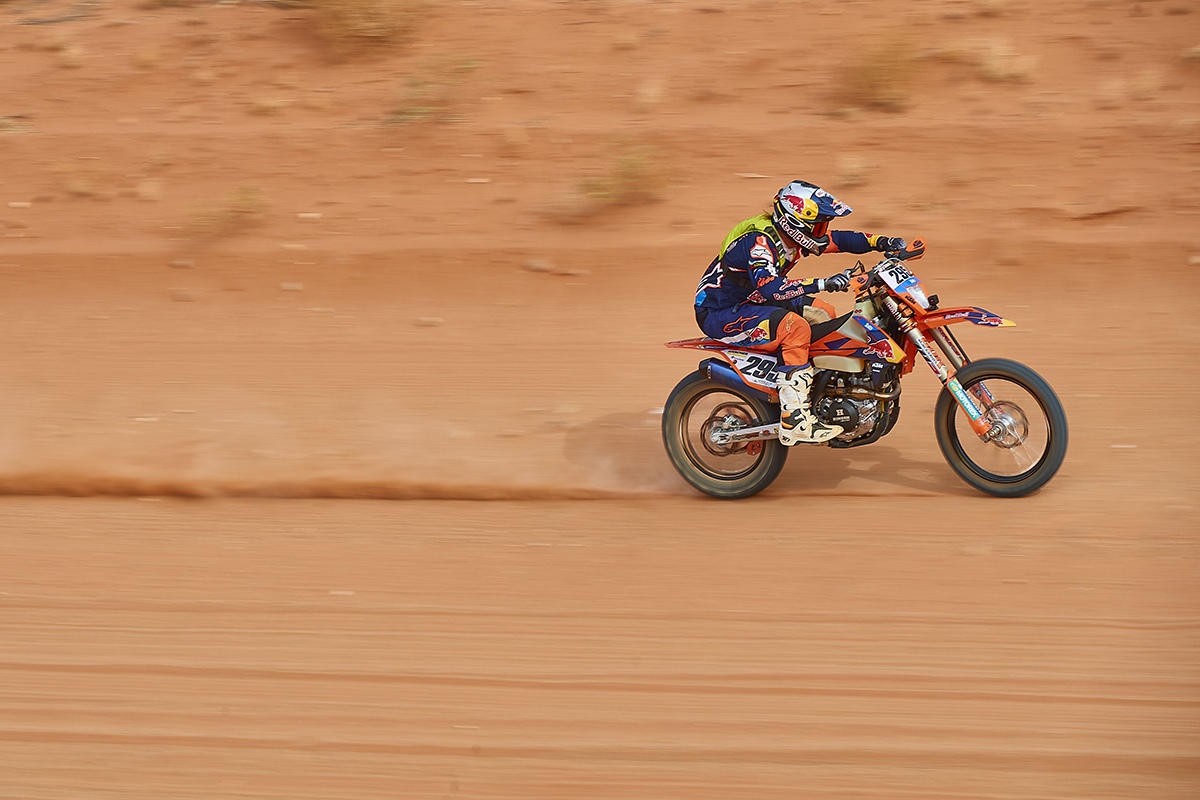 "The last five years I've been dabbling between motorcycle and four wheels and sometimes doing both in the same year, and that was our plan again this year. We were still trying to iron a few things out on both sides but we'll go back bigger and better in 2021."
You've spent many hours on those tracks but are all the Finke hours a big part of your success at Rally?
"Yeah, for sure, the amount of time we've spent out at the Finke, the high speed, getting across that terrain as quickly as possible and processing everything we need to at those speeds – it's definitely been a stepping stone to getting better in Rally and the results we have.
"The only element missing there is the real navigation because the track is quite prominent and easy to ride compared to Rally navigation, but the high speed is the thing.
"I think in the last five years I've definitely helped lift the outright speed of the Dakar. It's getting to that point now where it's getting quite dangerous but we're all not scared and not shy to swing off the throttle and hang on to the thing. It's crazy times but good times as well."
You're riding career has moved on a lot since those early Finke days, how has life and enduro changed since you were racing it?
"My life has definitely changed since then and for the better. I still follow Enduro and what the boys are up to in Australia. We're having fun doing Rally but I miss doing Enduro and those events on two wheels.
"But we've still got a few years in us yet so maybe we can relight that candle along the way and still do some events.
"Every time you pull that helmet on at an event like Finke you want to be competitive and it's never an easy road but the passion is there for sure."
Who do you look at and admire from the current crop of riders across the world?
"I look at the Motocross and Supercross guys and admire then to be honest. Those guys who week-in, week-out have to repeat everything, stay fit and stay focused. The guys like Cooper Webb, Musquin, Roczen – all of those guys are doing an amazing job.
"In enduro I think in recent years it's been a little bit of a dying sport but it's starting grab its traction again and coming back.
"Also the hard enduro guys, those like Taddy Blazusiak, Graham Jarvis and Billy Bolt. Those guys with their technical skills and also their speed is amazing."
Daniel Sanders and Daniel Milner have been dominant at ISDE in recent years – the tests have suited the Aussies and Americans – do you think they can still dominate when we get to the ISDE in Italy?
"I think next year in Italy it's going to be a more challenging event for the Australians and Americans for sure.
"I think you're right, the last couple of years have suited the Aussies and the Americans with the dry conditions and open, stony places they have been through.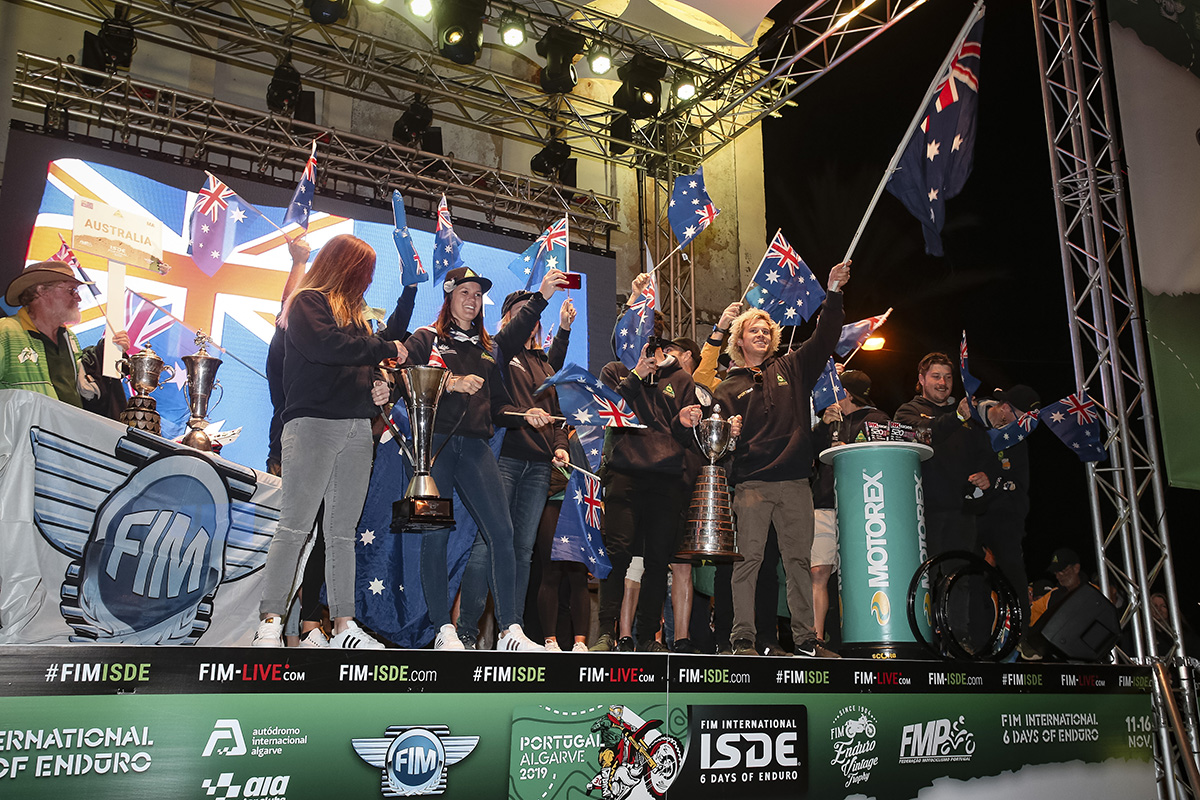 "But Sanders, Milner and Taylor Robert and those guys are fast, for sure, and they're not going to lay down and let anyone take it so it will be a challenging time in Italy, but it will be interesting to watch."
A question you maybe get asked a lot but will we see you racing bikes for many more years or are you looking at moving to four wheels soon?
"You're right, that's a question that's coming at me a lot and for sure it is something we're looking at doing in the future but it's not coming any time soon. To have those seats become available is very rare and they are very hard to find.
"Unfortunately, my pocket's not quite deep enough to go and get myself a drive in one of those things so my goal is still 100% motorcycles and two wheels.
https://www.instagram.com/p/B-a7vchJtKY/
"I still love riding motorcycles, getting out with friends on weekends and competing at Dakar is still where I'm at. I'd love to try and get at least two more wins at the Dakar Rally. Getting my total to four would be a pretty cool thing.
"We have to take it year by year and listen to the body as well. I might sit here now and say I want to race bikes for five more years but in three years the body might just say, 'that's enough, stop being silly, you've treated me like garbage for years, now's the time to stop'.
"We'll just play it by ear but I'm definitely wanting the challenge and want to stay on the motorcycle for many years to come."
Now Dakar has moved on to a new continent, were the South America years of Dakar historic ones – how do you view that period of Dakar history?
"For me the South America years were historic ones. Having won two Dakar events over there and then podiuming at another it is, for me at least, where Dakar is, where Dakar feels like home. Of course, to so many other people the real Dakar is before that when it was the Paris to Dakar Rally.
"It's kind of cool to have a new life and new feeling to it in Saudi Arabia. I've had some great times in South America and I look forward to making some of those memories in Saudi Arabia."
Rally is in a period of change, organisers have taken steps to level the playing field and make things safer – do they all work or could things improve in terms of safety?
"There's been a lot of meetings and so on in the last few months regarding safety. They've been trying to work on getting things a bit safer for us, like having a few more days where we have to use the same tyres for two days of racing.
"That will make it a marathon stage for the tyres more often, which means you cannot charge hard all day for two days because the tyre won't last and you'll have issues.
We're all not scared and not shy to swing off the throttle...
Toby Price
"I've heard rumours of them trying to restrict the engine size and capacity and things like that – this is not going to help because manufacturers can get around that kind of thing. Instead of getting to that top speed one way they'll get around it and get to that speed with torque.
"The biggest element at the moment is the road books and trying to get them a lot safer for us and more accurate. That and making a more challenging course for us that doesn't just put us on a 22-kilometre, one CAP heading course that means you're wide open, full gas.
"Make it more challenging, put some waypoints in there, make us find things on the way and that's where they will make it a bit safer for us."
On a scale of 1-10 how good is it to get on a Factory KTM rally bike and go for a play – or is it always work?
"Since about 2003/2004 it's pretty much always been work to get on a motorcycle and I've been quite lucky in that aspect. To throw your leg over a 450 rally bike, especially a KTM Factory edition is like a dream come true.
"For myself growing up in a small-town of 1000 people to be now travelling the world and racing bikes for a factory team is still mind-blowing a bit to me sometimes.
"The bikes are amazing though and to be on that thing put together by an amazing team with all the people behind it, working so hard and not getting the credit they deserve, is unreal. The bike's definitely bad ass though."
Photo Credit: Sebas Romero + KTM
Video Credit: Adam Riemann