2023 Desafio Ruta 40: FIM World Rally-Raid Championship back in action this week
Round four of the five 2023 FIM World Rally-Raid Championship rounds heads to Desafío Ruta 40 in Argentina where a gruelling 2,804 km route between La Rioja, Belén (Catamarca) and Salta, splits across five stages between August 26 to September 1.
A slightly depleted but no-less elite W2RC FIM entry list for this this 11th edition of the Argentine rally is topped by 2023 championship points leader, Toby Price as we head into the penultimate race this week. The Red Bull KTM Factory Racing rider has a seven-point margin over the local hero Luciano Benavides (Husqvarna Factory Racing) and a nine-point gap over Adrien Van Beveren (Monster Energy Honda) which makes the Ruta 40 a potential decisive event.
KTM also commands the manufacturer ranking with 113 points, but Honda, second with 95, has strength in numbers with twice as many riders again entered compared to its main factory team rivals. There will be four red riders against just two for the orange team and the same number for Hero MotoSports. Husqvarna and GASGAS are fielding one competitor apiece this week.
2023 W2RC FIM World Rally-Raid round four, Desafio Ruta 40 moto classes entry list: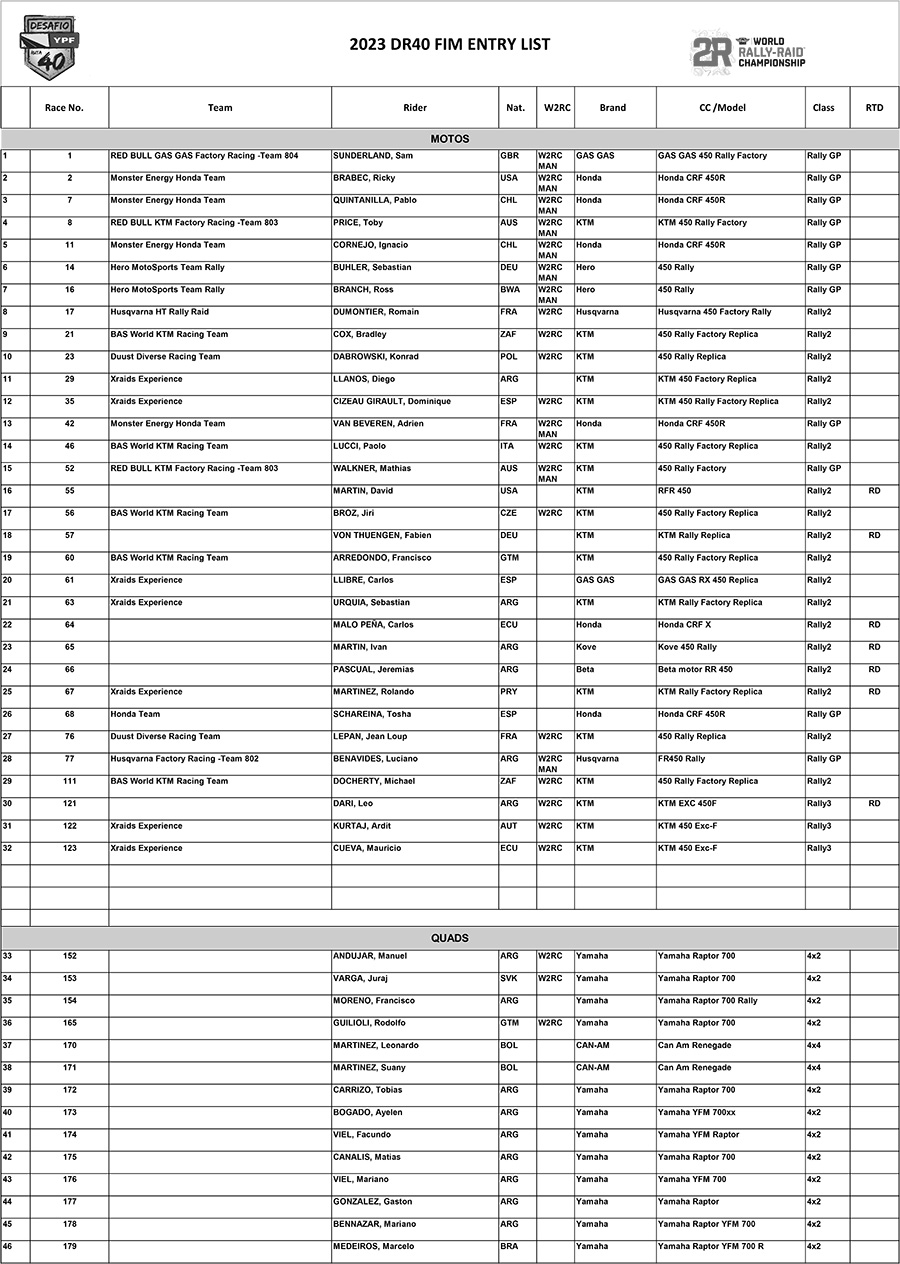 Honda out in force
There are 10 entrants in the RallyGP category for pro riders in total, so not the biggest entry and there are also some notable riders missing through injury or no-shows. Toby Price is joined by just one Red Bull KTM Factory Racing teammate, Mathias Walkner, following 2023 Dakar Rally winner Kevin Benavides' training crash on July 30.
Brother Luciano Benavides will carry the flag for home Argentine fans but will be ride solo following Skyler Howes' departure from the Husqvarna Factory Racing team – we await with interest to see what's happening with the American. Mason Klein is also missing from this list as he stumbles through a first full season in the RallyGP class after winning the Rally2 world title.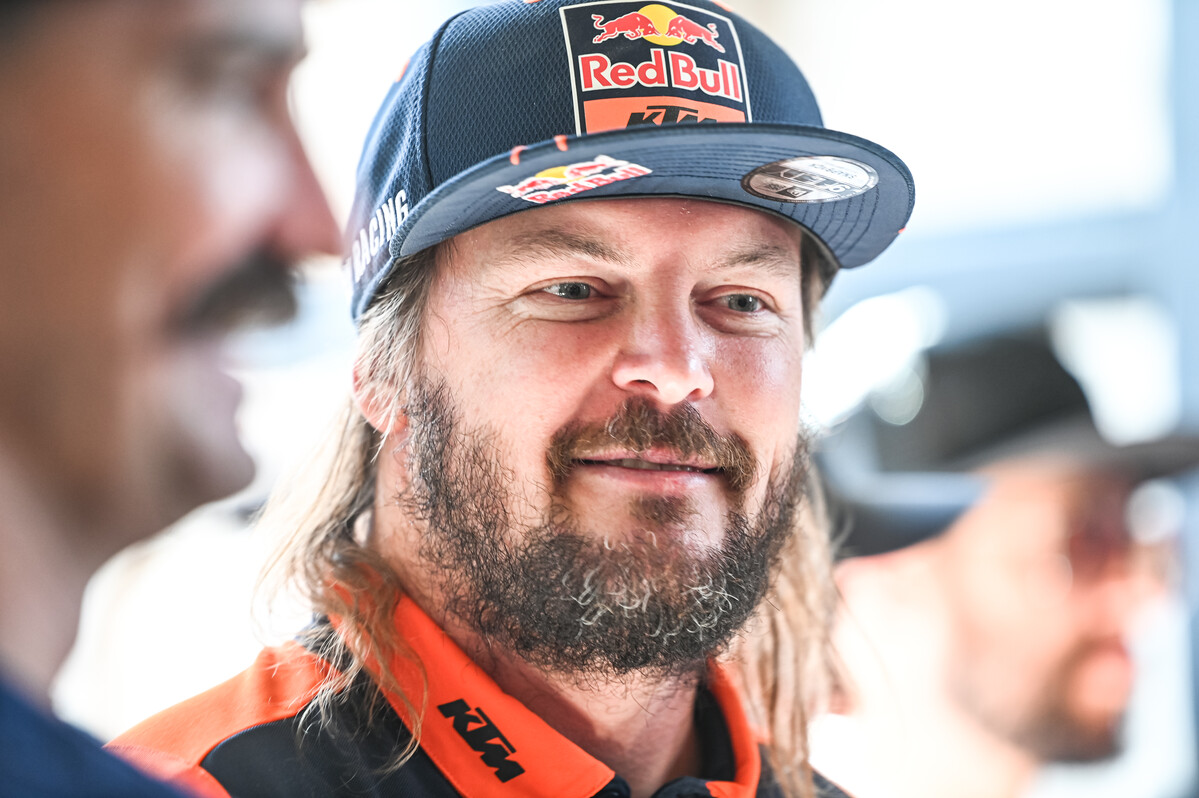 Red Bull GASGAS Factory Racing will also only field one rider, Sam Sunderland, since Daniel Sanders is also still recovering from his leg injuries sustained last month.
Hero MotoSports picks Ross Branch and Sebastian Bühler for this round adding to the list of factory teams who will not fielding more than two riders.
Monster Energy Honda bucks that trend however with no fewer than four factory riders: Adrien Van Beveren, Pablo Quintanilla, Nacho Cornejo, Ricky Brabec and you could add Tosha Schareina as the unnofficial fifth rider on the factory supported CRF450 Rally.
In the manufacturer team rankings, the reigning world champions Honda will once again rely on strength in numbers to try and catch up with the KTM team who are dominating the season so far. KTM has 113 points to Honda's 95 and Husqvarna's 89.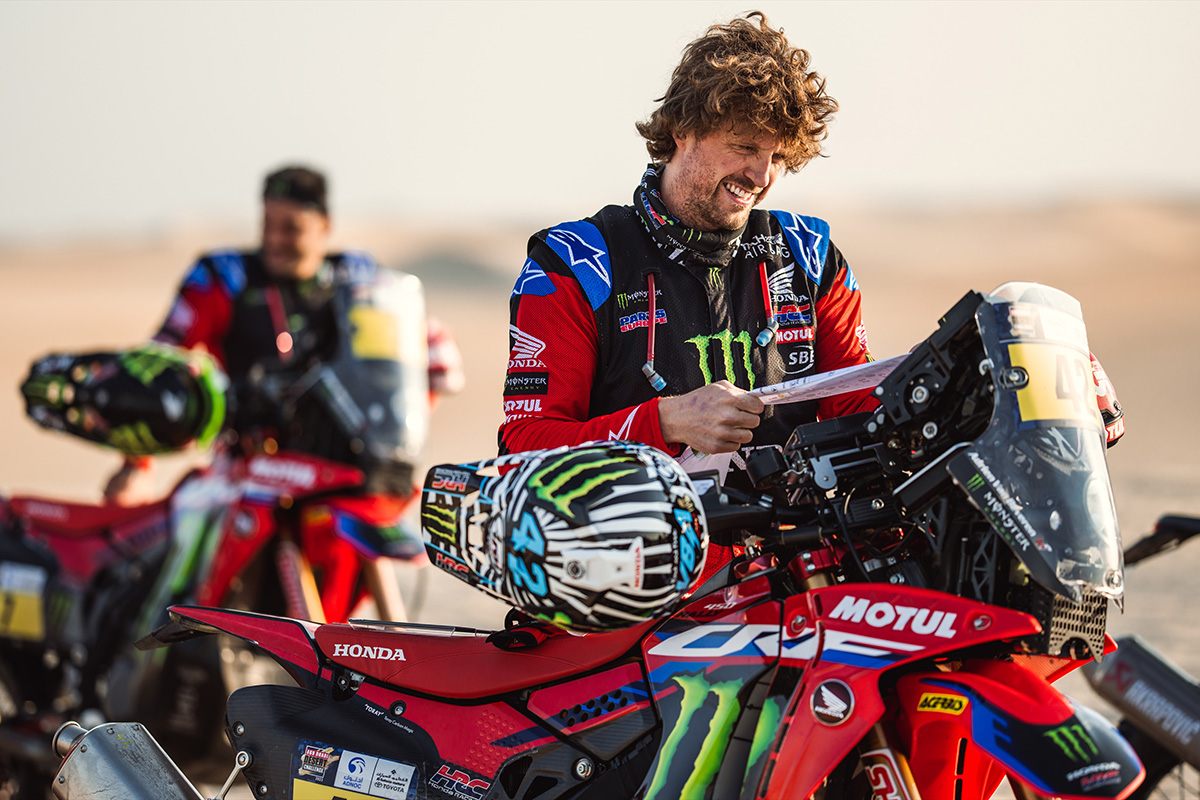 Rally 2 class
There are eight riders on the Rally2 start list and they are the big-hitters in the championship. Paolo Lucci (BAS World KTM Racing), is perched at the top of the standings with 66 points with Romain Dumontier (Husqvarna HT Rally Raid) just three points behind. Third overall with 45 points is Jean-Loup Lepan (Duust Diverse Racing), will be flanked by riders of the calibre of his teammate Konrad Dąbrowski and regulars such as BAS World KTM Racing's Michael Docherty and Bradley Cox.
2023 Desafio Ruta 40 schedule:
· 22 August: Opening of the bivouac at the Estadio Superdomo de La Rioja at 8 am
· 26 August: Administrative scrutineering at the Estadio Superdomo de La Rioja
- Technical scrutineering at the Estadio Superdomo de La Rioja from 10am to 6pm
- Press conference at the Estadio Superdomo de La Rioja at 12pm
· 27 August: Completion of the administrative and technical scrutineering at the Estadio Superdomo de La Rioja until 10am
- Publication of the starting order at 11:30 am
- General briefing at the Estadio Superdomo de La Rioja at 1pm
- 9km prologue at Dique Los Sauces from 3pm
- Choice of starting order by the top 10 in the prologue at the Estadio Superdomo de La Rioja at 6:30pm
- Ceremonial start at the Estadio Superdomo de La Rioja from 7:30 to 8:30pm
Race days:
· 28 August: stage 1 - La Rioja–Belén special: 334km / total: 696km
· 29 August: stage 2 - Belén–Belén special: 339km / total: 460km
· 30 August: stage 3 - Belén–Belén special: 268km / total: 464km
· 31 August: stage 4 - Belén–Belén special: 348km / total: 584km
· 1 September: stage 5 - Belén–Salta special: 257km / total: 561km
- Finish of the first competitors from 2pm
- Final podium ceremony at the Centro de Convenciones de Salta from 5pm
Photo Credit: Cin Cin Movies + MEHT/Honda Racing