2022 Andalucia Rally: Sunderland poised for title – Salvini debuts
The Andalucia Rally wraps-up the 2022 World Rally-Raid Championship this week with Dakar champion Sam Sunderland poised for a second world title and Honda ready to take the manufacturer's award, and is that Alex Salvini..?
When Honda announced Pablo Quintanilla would not be racing in Spain due to injury sustained at the previous round in Morocco, it took a load off Sam Sunderland's shoulders at this round. The GasGas Factory Racing rider has a 22-point lead over Quintanilla in the championship having won the opening two rounds.
Pablo's DNS means his Honda teammate Ricky Brabec is now the only mathematical challenger to Sunderland's title intentions – Ricky is on 50 points to Sam's 74 with 25 available for the winner. Baring disaster Brabec will also take over second place in the series plus Honda has every chance to win the manufacturer award.
"It's the final round this week and I can't wait to get started." Says Sunderland. "It's been a long but really good season so far and I'm excited for the Andalucia Rally. It's a lot different to all the other rounds with no sand dunes and a lot of slippery trails, so it'll be a different challenge for sure.
"At the last round in Morocco I had a very minor injury holding me back after a small crash prior to the race. I hurt my hand but it's been checked out and it's all fine and 100% now so I'm ready for a good race here in Spain. We've been testing on similar terrain in the build-up to this race and I'm feeling confident. The goal is pretty clear, I just need to score the few points needed to win the world title so I'll be looking for a smooth race to get the job done without any drama."
Big names absent
With some of the big names in Rally-Raid out injured and not riding including Toby Price, Daniel Sanders and Quintanilla, the entry list for the GP class is small but no-less perfectly formed.
Some are tipping 2020 Andalucia winner Kevin Benavides for the win this week on the factory KTM but he has company in the form book with Spaniard Lorenzo Santolino holding a good record on home soil for Sherco Factory Racing.
Adrien Van Beveren has also finished on the podium on the two previous editions in Andalucia is motivated on the Honda and has been training on similar terrain recently in Portugal.
Look who's making his Rally debut...
Winner of the previous World Rally-Raid Championship round, the Rallye du Maroc, Skyler Howes, is racing the Sonora Rally in America this week so Luciano Benavides will carry Factory Husqvarna honours alone.
Short and sweet Andalucia Rally entry list (Moto classes):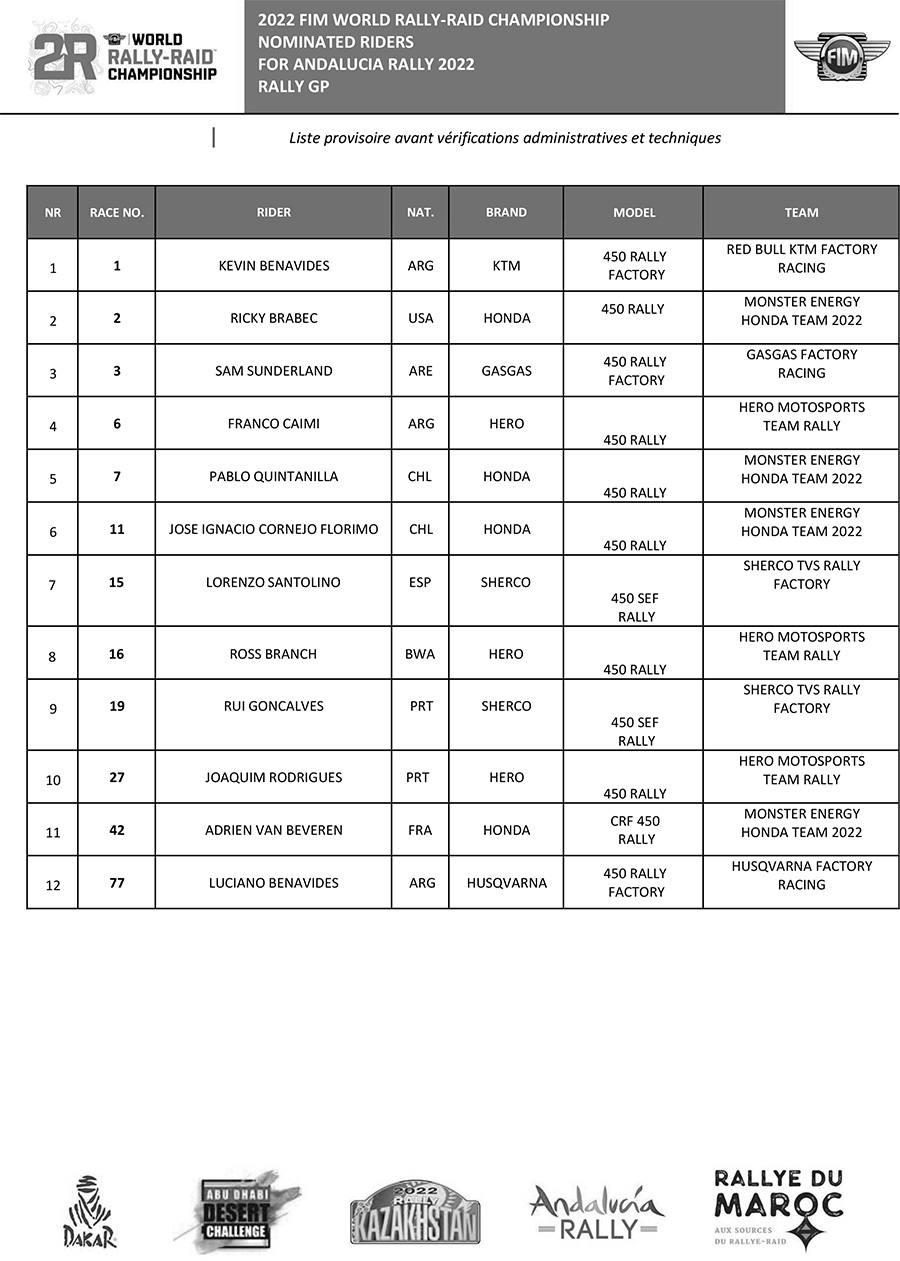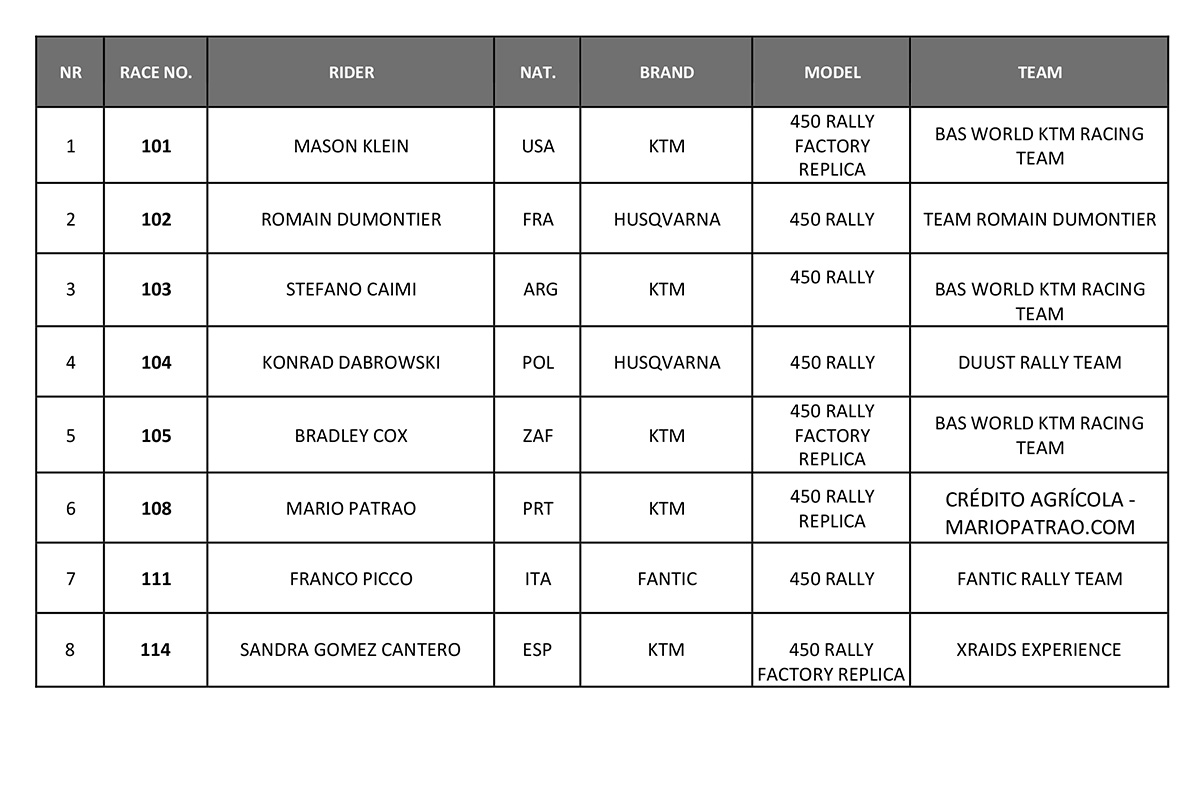 Rally2 category has already been sewn-up by Mason Klein at the last round but everything is still up for grabs in W2RC, with Klein's BAS KTM teammate Bradley Cox arriving in Spain following an Abu Dhabi DNF and surely hoping for a podium at least.
The entry list includes multi-talented off-roader Sandra Gomez and veteran Franco Picco continuing to develop the Fantic protype machine.
In Rally3, the enduro bike category, Moroccan rider Amine Echiguer leads the class following his performance on home turf. He has crossed the Straits of Gibraltar on the verge of wrapping up the World Cup.
No dunes here boys and girls!
The Andalucia Rally is something else in the World Rally-Raid Championship calendar, almost a sprint race. No sand dunes, or camels to dodge, just plenty of rocky tracks to navigate and a lot of dry, hard-pack mean it is hard in a different way.
Just four timed special stages make it the shortest event in terms of duration and distance covered with just over 1,000 kilometres raced.
The Prologue kicks things off today, Wednesday October 19 before the serious racing starts through to Sunday October 23 in Dos Hermanas.
Photo Credit: Rally Zone + Charlie Lopez + Julien Delfosse + F le Floc'h + F Marmolejo