World Rally-Raid Championship: Rallye du Maroc stage three results and video highlights
Video highlights and results from the moto categories at the 2022 Rallye du Maroc, World Rally-Raid Championship (W2RC) where Skyler Howes continues to lead the rally after his Husqvarna Factory Racing teammate Luciano Benavides took the stage win.
There's no doubt stage three of the 2022 Rallye du Maroc – the third round of the FIM World Rally-Raid Championship – was a good one for Husqvarna. Luciano Benavides claimed his second career world championship stage victory just 25 seconds ahead of teammate Skyler Howes which had the effect of placing the pair one-two in the overall standings.
Stage three consisted of a 299-kilometre timed special which took just over three hours through some of the toughest terrain seen at the event so far, a lot like Dakar in Saudi some said.
Taking advantage of his ninth-place start position, Benavides was second on time to the checkpoint at kilometre 30 as brother Kevin, Ricky Brabec and stage two winner Adrien Van Beveren opened the way.
With such healthy tracks to guides them, and despite some strong winds doing its best to hide the trails left by earlier riders, the Husky teammates kept increasing the gap to the finish.
World Championship points leader Sam Sunderland had his best stage result of the race so far in third, three minutes down and narrowly ahead on corrected time of Brabec and Toby Price completing the top five.
Mason Klein continues to comfortably lead the Rally2 category, almost half an hour clear of teamamte Bradley Cox.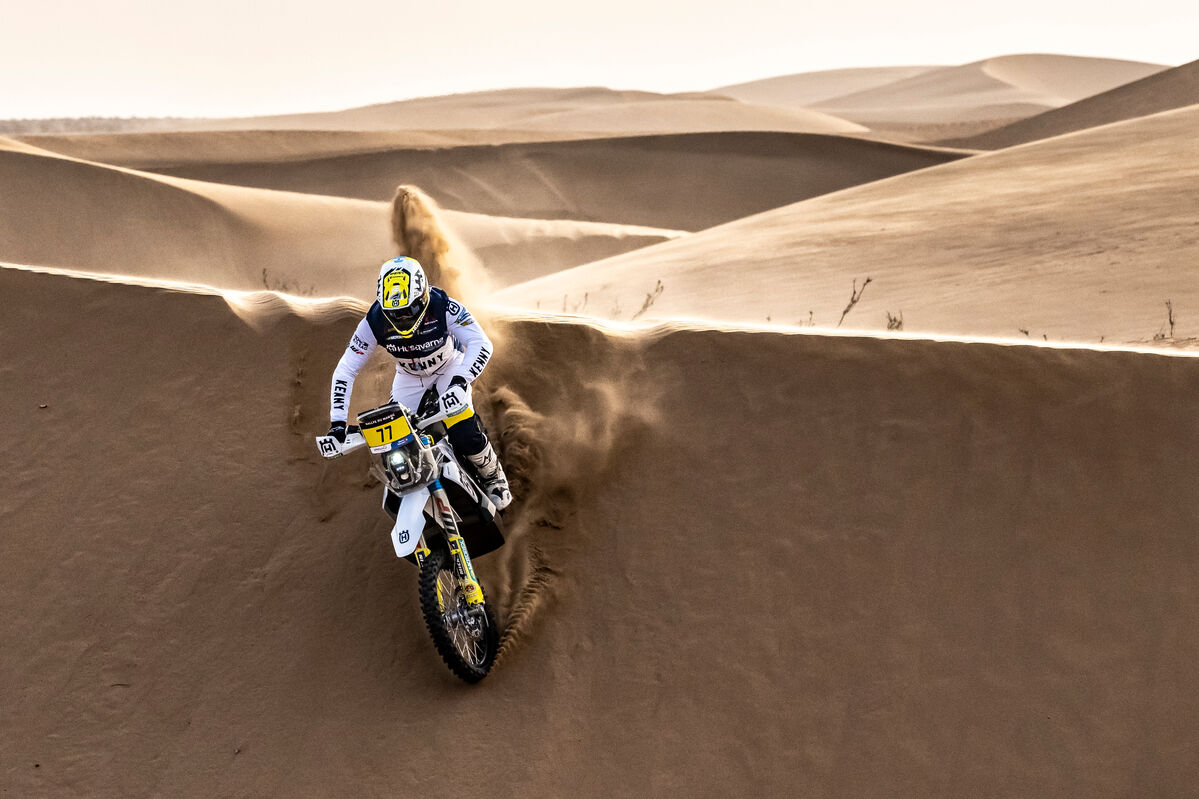 Stage 3 winner, Luciano Benavides: "I'm really happy to take the stage win here in Morocco. It's great for my confidence and it comes down to all the hard work the whole team put in earlier this year. The day went well for me – I navigated well and was able to keep a good pace. It's great to finish first and second with my teammate Skyler and we are sitting at the top of the overall, too. We still have two more days left to race, so I'll stay focused and can hopefully do a good job of opening tomorrow."
Rally GP class stage 3 results: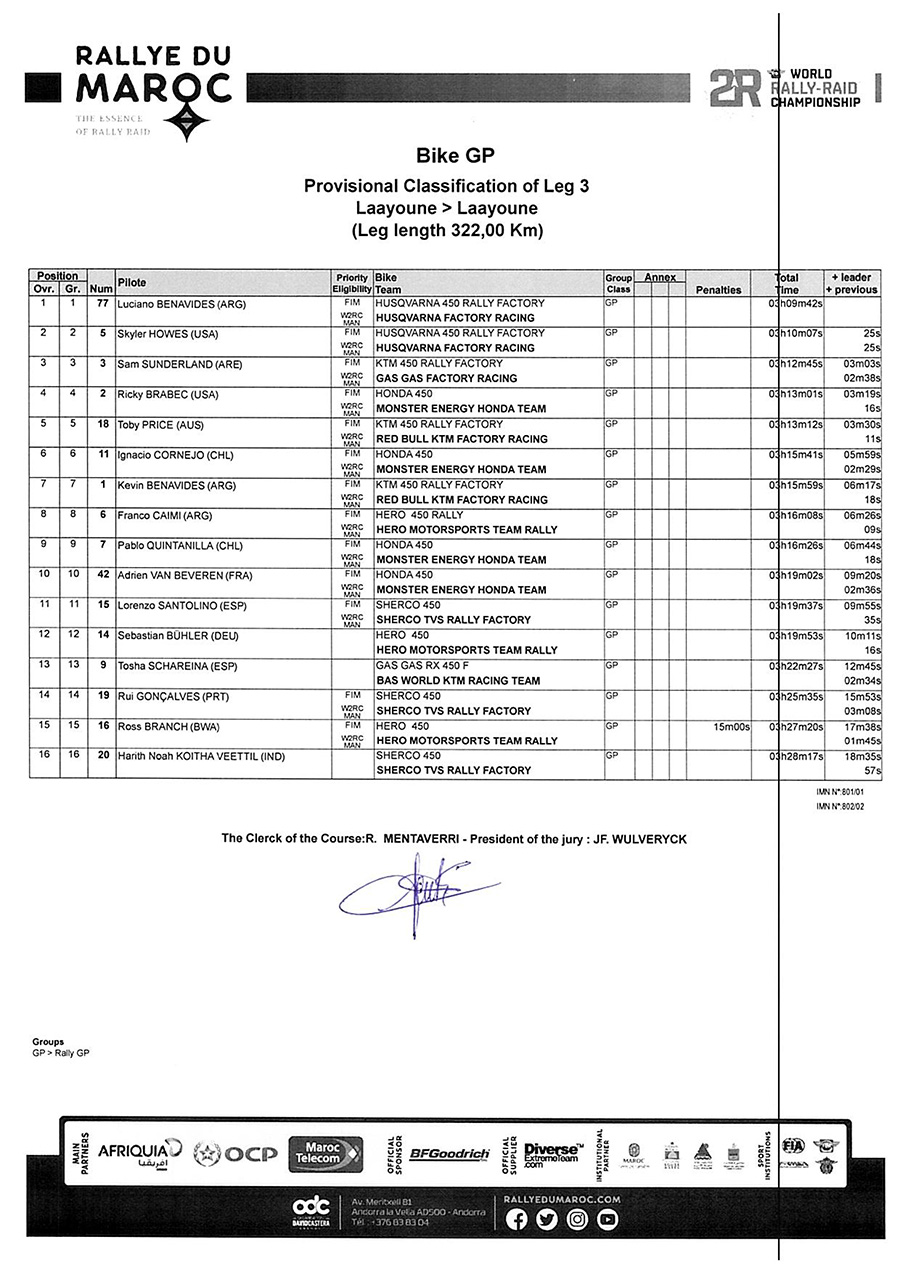 Overall leader, Skyler Howes: "Another hard day here in Morocco. Me and Luciano went one-two on the stage, which is super, super cool for us and cool for Husqvarna. It was quite tricky at first because the dunes were so soft and then the back sides of them were broken, which means it's straight down to the desert floor. Not only is it difficult to navigate and choose a good line, but it's really easy to get stuck and lose time.
"Thankfully it looks like everyone had the same issues, so it wasn't too much of a problem. Later on the route opened up into much faster tracks, but with the wind and weather here, it has made finding the tracks really tough. After catching up to the leading group I just kept my head down to finish the stage safely. Second place on the stage and I'm still leading the rally, so things are good and I'm looking forward to tomorrow."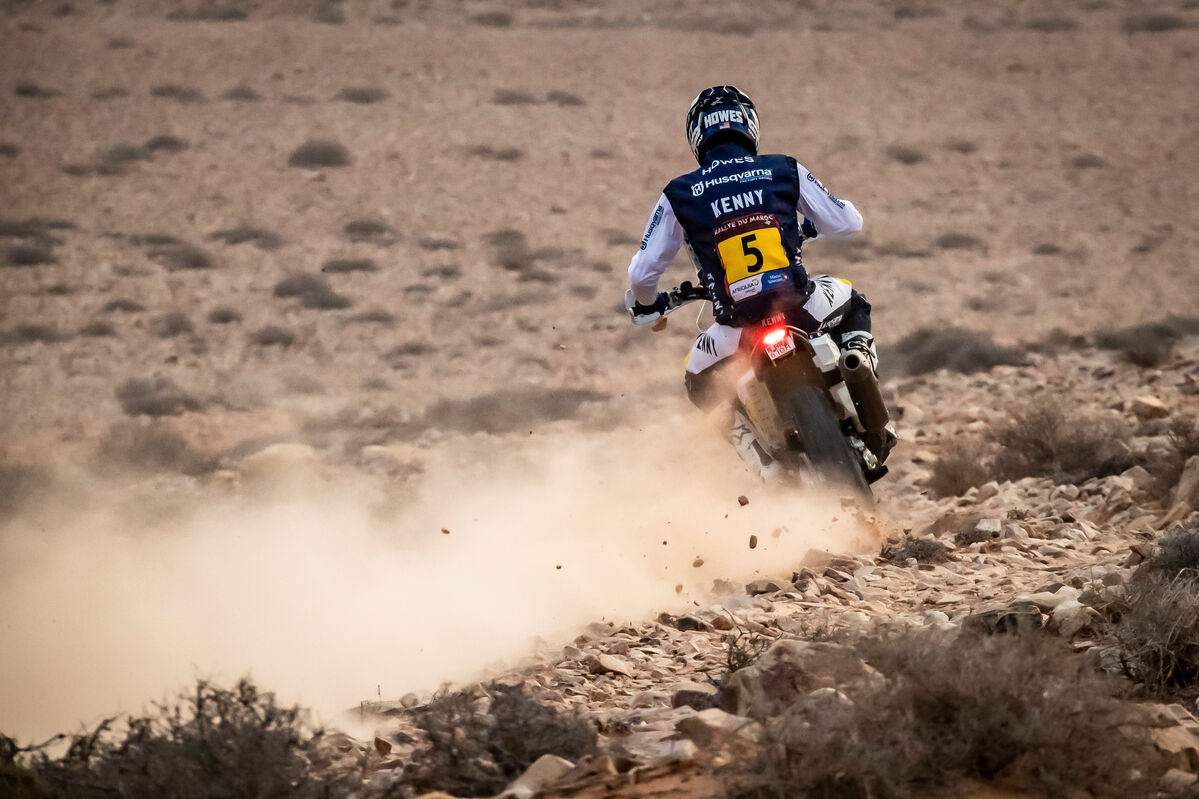 Rally GP class overall standings after stage 3: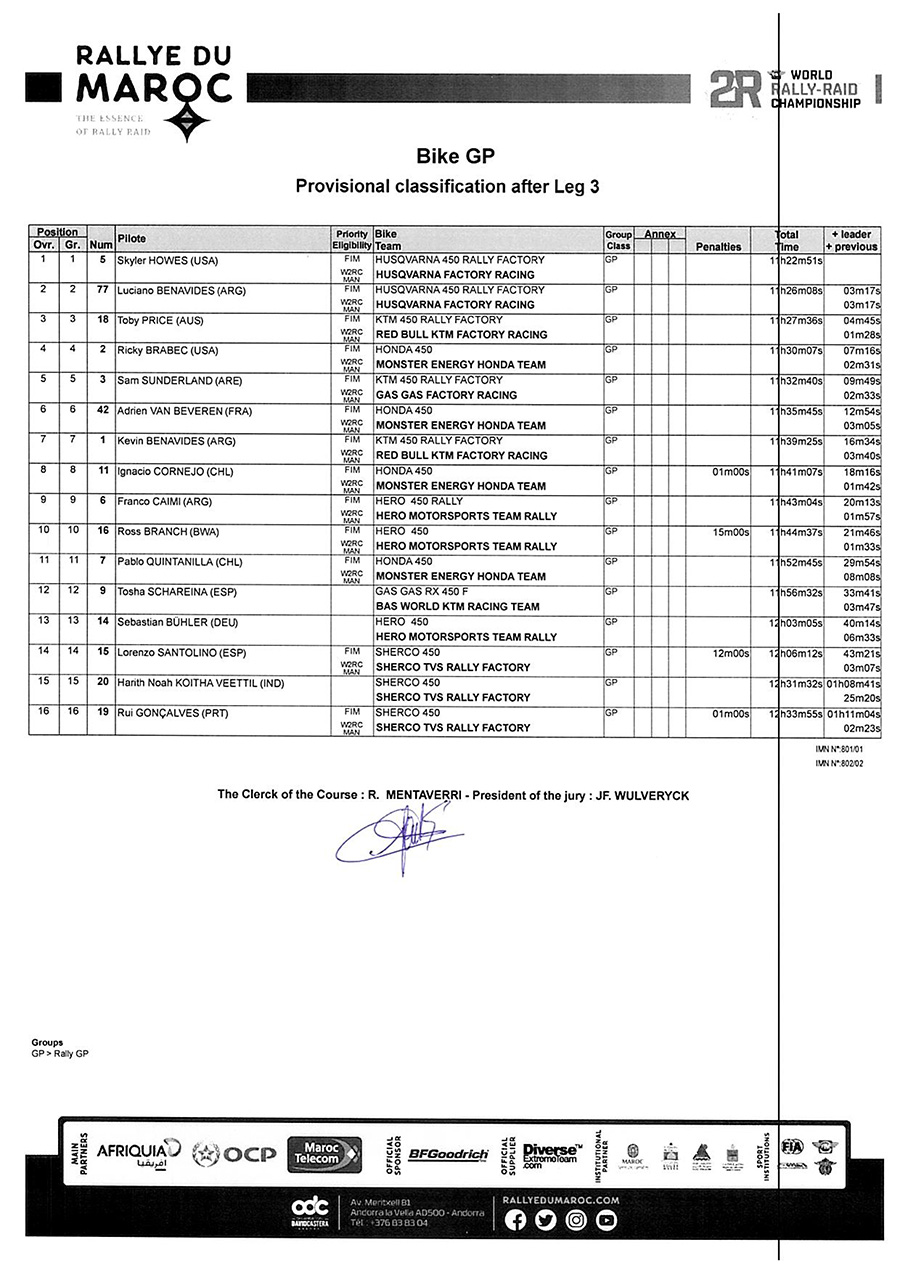 Rally 2 class overall standings after stage 3: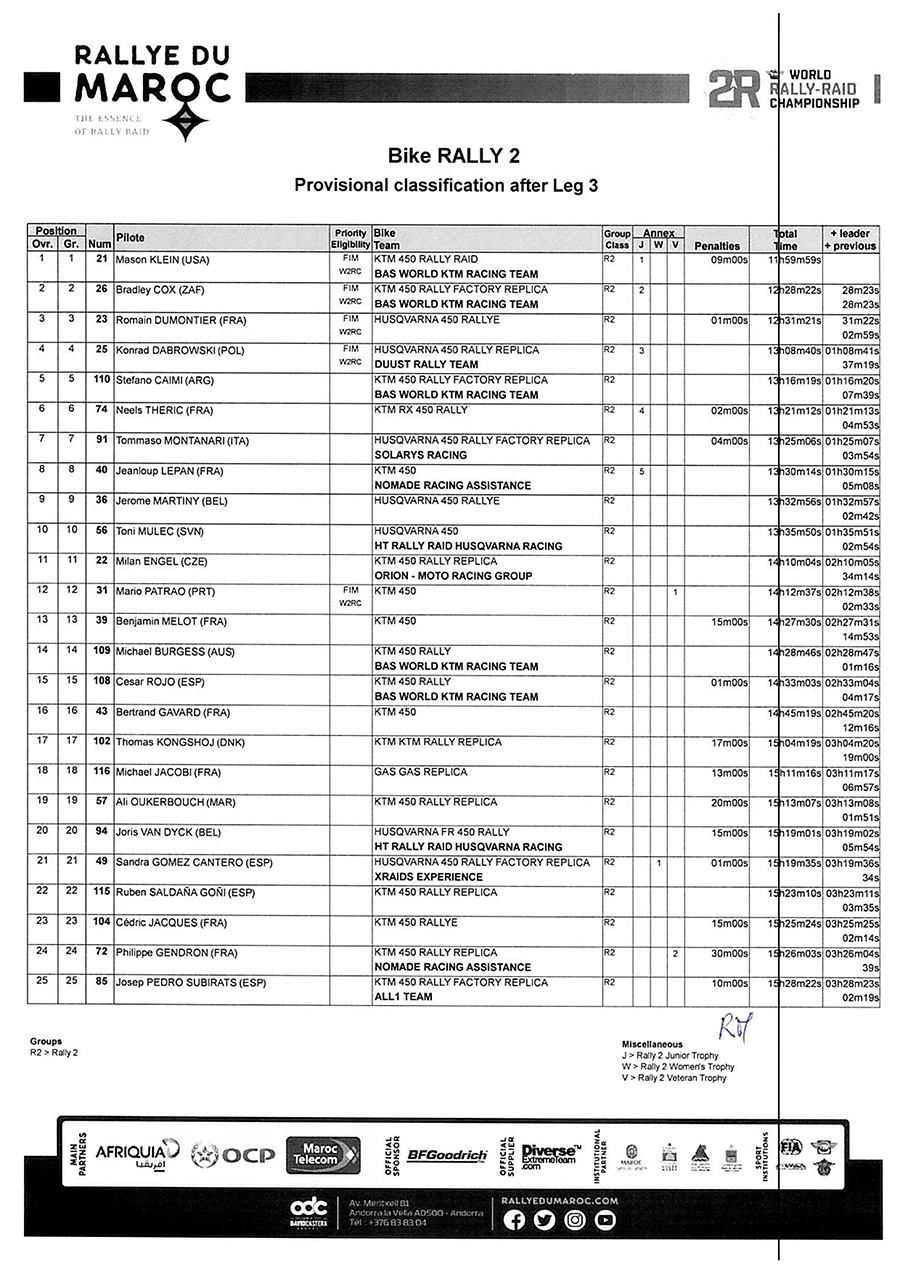 Stage four of the Rallye du Maroc leads riders north again from Laayoune to Tan-Tan. Totalling 665 kilometres, the stage represents the longest of the event and includes a demanding timed special of 346 kilometres.
Photo Credit: Rally Zone