Dakar '23 daily notebook: stage 7 cancelled for the bikes after 12 hour, 900km day
Enduro21's notebook takes a breath to digest the chaos caused by the weather, mammoth stage distances, twists and turns with seven different stage winners, and we haven't even reached the rest day yet...
A 4am start and nearly 1000 kilometres with 357km of racing in the middle, around 12 hours on their bikes…the numbers in this event can be astounding. The sixth special stage of the 2023 Dakar Rally was shortened by about 100km and the programme has been switched around due to bad weather.
The new stage seven was handed out last night but a reduced distance of 357km was the easy bit. Riders had to get up halfway through the night, literally, to exit from the bivouac from 4am and ride 265km of road liaison in the dark and cold (about 2 degrees) and arrived at the start line three hours later.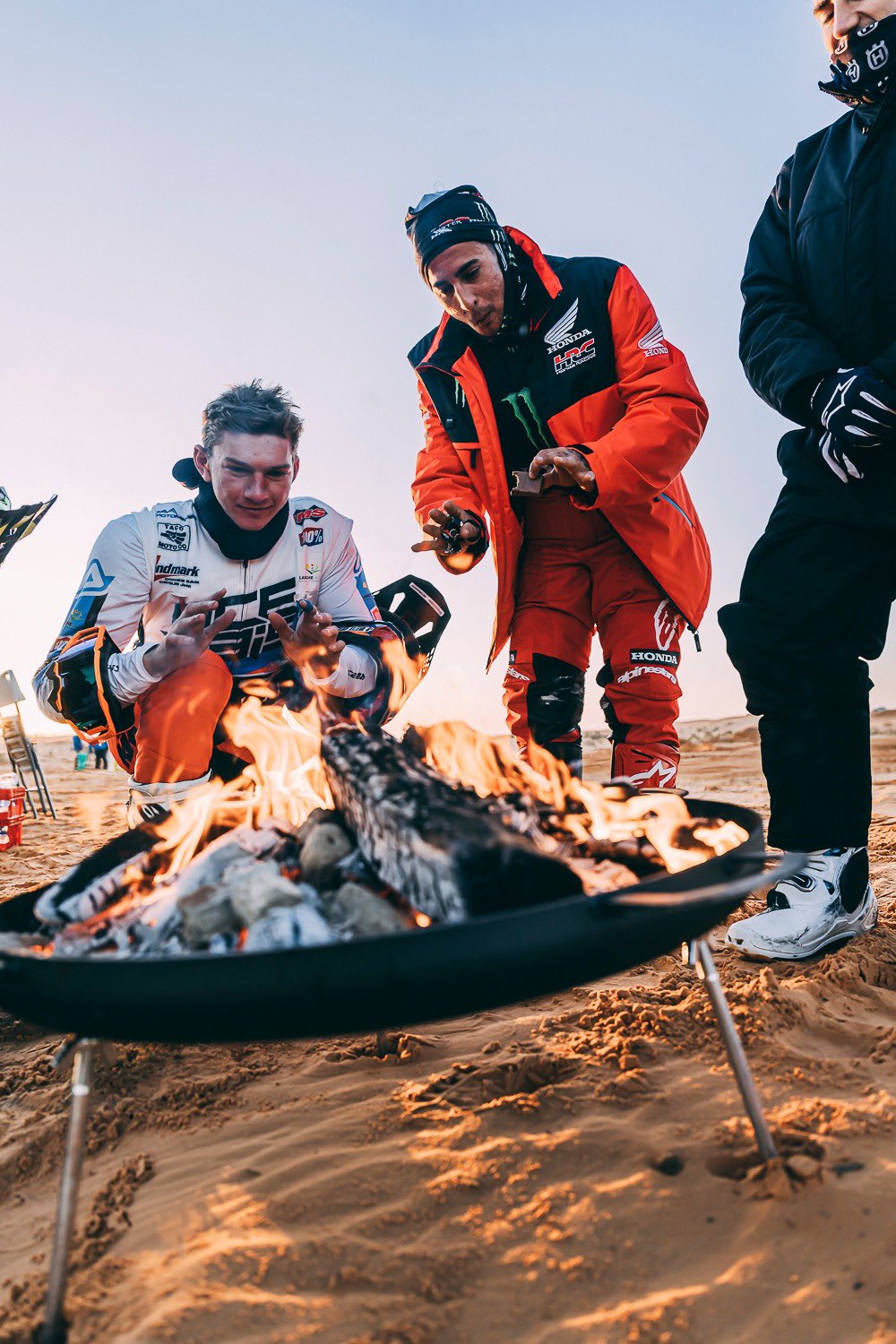 After that they raced in what turned out to be a sweet stage, with the sand and dunes in great condition. With the special completed though, and the Al Duwadimi bivouac leap-frogged, riders then went straight to Riyadh by road an dit was a long slog of a ride.
That was a further 297km making a total distance covered on stage six of 919km. Have a look on a map to see where 919km (517 miles) is from your house and see if you'd fancy doing it in 2 degrees, rain and on a dirt bike with bin bags taped around your legs…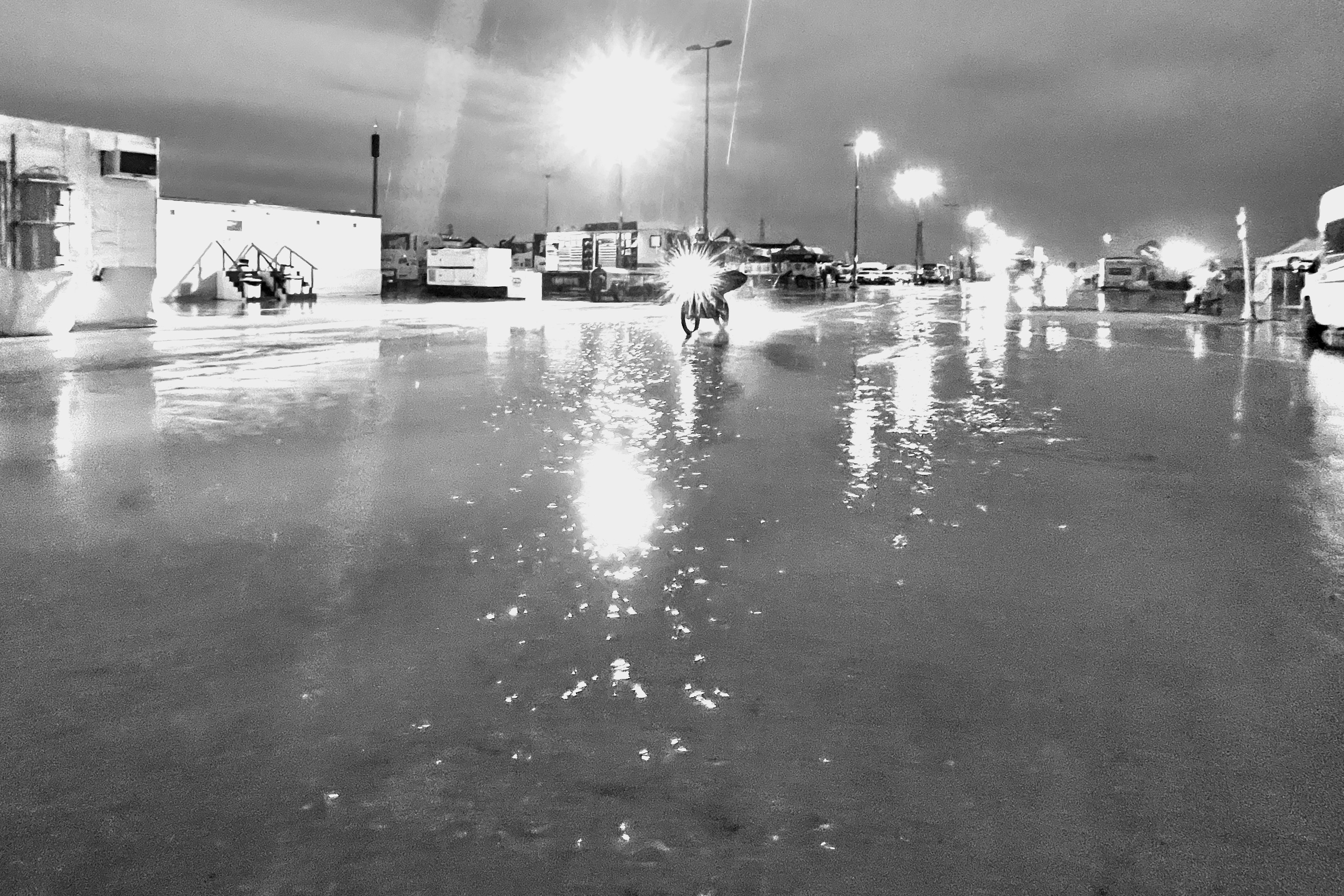 Bad weather, knackered riders? Let's take a break
The plans had already changed the night before but they changed again after today because everyone was knackered basically. That and he effects of the heavy rains which have passed right across this vast country and dumped a lot of water, and we mean a lot. Deserts suddenly have lakes in them.
Knackered? On the back of the five days already completed, 12 hours and almost over 900 kilometres in a day is a draining ask on a bike in bad weather and the organisers, in consultation with the riders and teams, have changed plans again to give them the day off on Saturday, stage seven.
Competitor with roofs and four-wheels will still race the stage but the bikes will get a late alarm call on Saturday to be on the road from 10am and then head straight to Al Duwadimi where all vehicles will get stored in parc ferme conditions overnight.
Technically it is still a marathon stage as was proposed, and just 30 maintenance is allowed once they arrive from their 476km, seven hour road ride.
Stage eight, on Sunday January 8, will return to Riyadh on the loop initially planned for stage seven, but shortened (by 128km) to 345km and then get a rest day on Monday, January 9 and then finally Dakar will get back on schedule in sunshine (we hope).
Hard graft
They're not just thinking of the riders here either, the teams are on a real tight schedule shifting between base camps across huge distances. Yesterday they had to wait until the riders left in the morning before starting their 600km journey to the next bivouac.
Most said it was about six hours on the road but they had to be ready and set up when the riders arrived. Some just about got there and the rain was again horrendous in the paddock which was fortunately for then hard standing and not desert for once.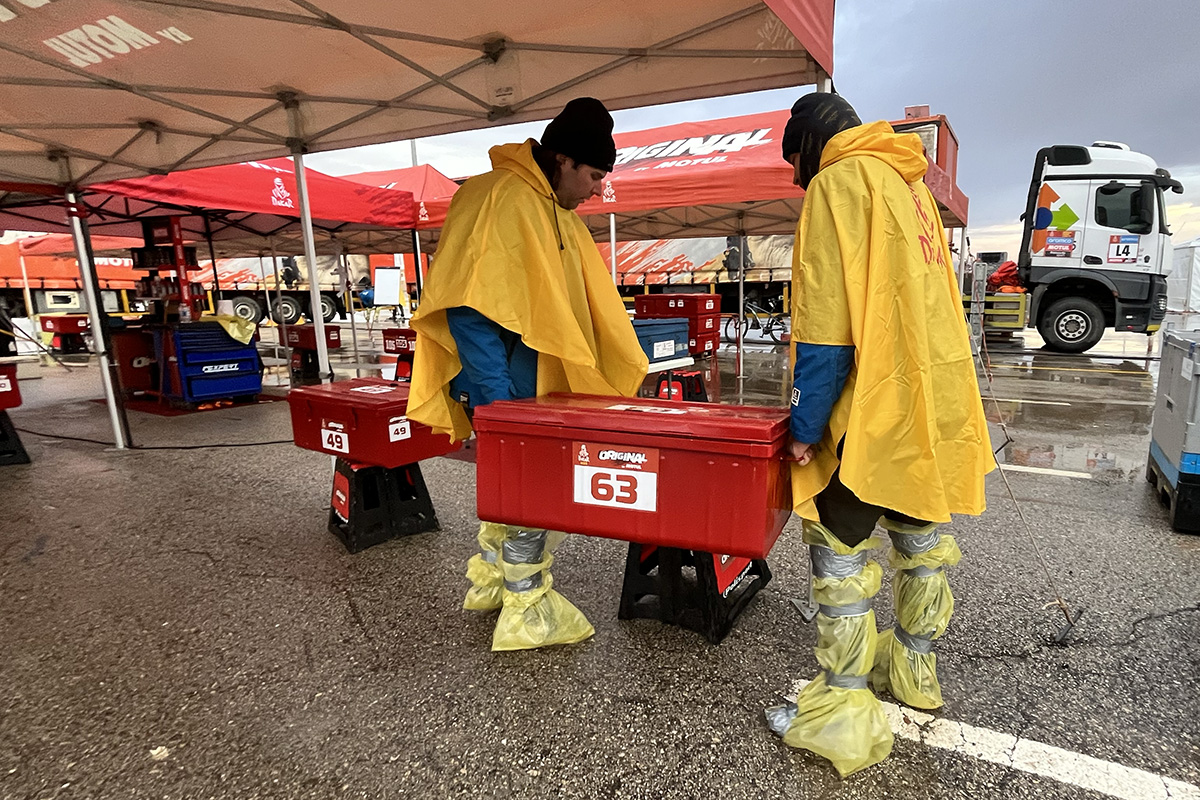 Word up to the Originals class riders and transport crew. These guys and girl are supported by just a couple of trucks which had to leave really early, effectively abandoning the Originals riders in their riding kit in the middle of the night so they could be at the next bivouac and get set up in time.
Our image above is of the crew behind this class of 30 or so riders.
A logistical problem
We're used to different weather in enduro and off-road sport in general. It is put up or shut up if it rains normally and sometimes it causes organisers to adjust the course, change a test or whatever.
They can do that at Dakar and in fact race director David Castera says adjusting the route, though it takes a lot of working through the night re-writing the roadbooks, is actually possible and not such a headache.
But it is everything else which causes the headache here. The hundreds of vehicles supporting the race bikes, cars and trucks. That's without mentioning the massive amount of logistics running the show – the team of hundreds working for the organisers, shifting shower and toilet blocks, the mahoosive catering facility which feeds everyone, medics, officials from both FIM and FIA, and of course the massive media contingent.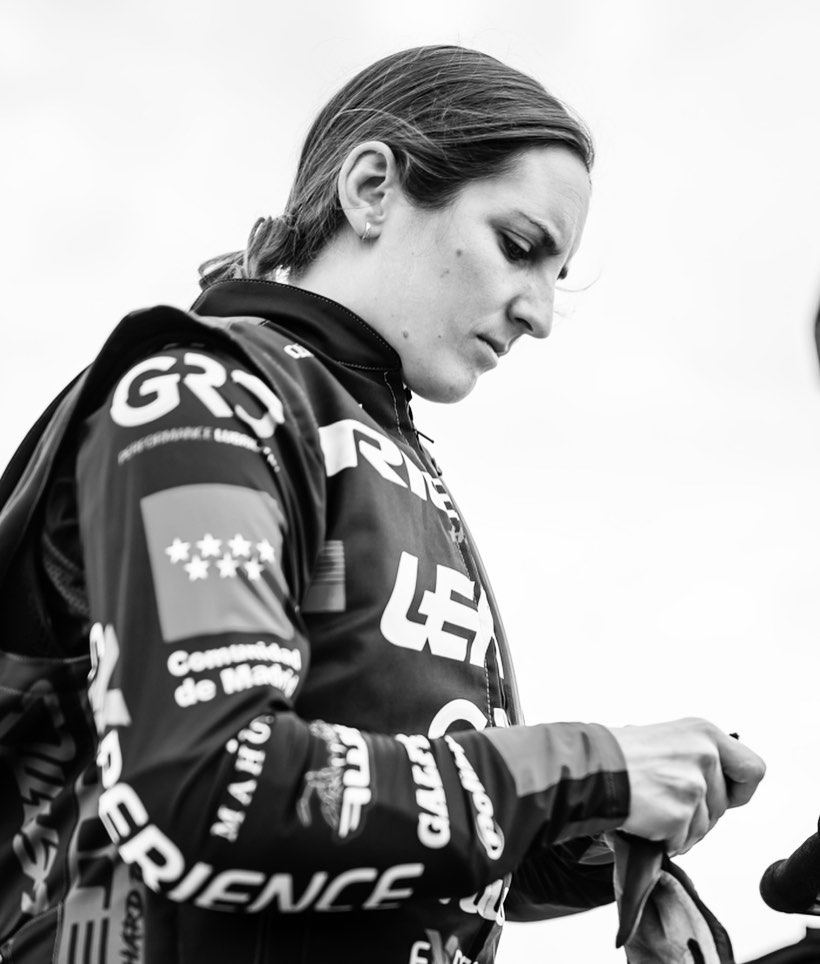 Retirements and walking wounded roll call
Big hitters Sam Sunderland and Ricky Brabec went out the rally with high profile exits after crashing but take time to catch up on the wounded and/or retired:
Alex Salvini had electrical problems on stage two but continued the rally (after missing day three and getting a mandatory 54 hours of time penalty) but then hit problems again on stage six with water in his Fantic fuel.
Matthias Walkner is carrying a wrist injury sustained on stage two and is continuing but said he was "riding at the limit" – although he is hovering on the edge of top 10 overall.
Stage four winner Joan Barreda is riding with a broken toe – but seems unfased in P4 overall.
Daniel Sanders picked up some sort of a bug overnight between stages four and five. He's been plugging away despite feeling groggy but is still in it to win it.
French Beach race specialist Camille Chapeliere crashed on stage three, injuring his arm which ballooned overnight and he returned home (to get fit for the sand race series).
Sherco's Rui Goncalves has a habit of going up and down the timing sheets but dropped off them altogether on stage six, and goes out the rally. His team report a "sporting incident" on the stage.
Hero Motosports' only ever stage winner Joaquim Rodrigues fractured his leg on stage four and was airlifted to hospital. His teammate Ross Branch has had a series of problems and seems to be talking more like this Dakar is an extended R&D outing for the Indian team.
Last and definitely not least, Sandra Gomez had been leading the Women's category in this her second attempt at Dakar. Stage five saw her retake the lead from the very experienced Mirjam Pol – it was a very physical day and this hard enduro and trials rider is not in her natural habit in the sand and dunes. She was 45th overall which is her best-ever stage result. Unfortunately that's as good as it'll get this Dakar as Sandra's bike developed an oil leak while she was riding to the special start. Sandra fixed it but was timed out at the SSP start line and she will have to fight another day for that Women's class win.
Photo Credit: Enduro21 + A.S.O. Charly Lopez + Rally Zone