2023 Dakar Rally: Stage 8 results – Ross Branch wins for Hero, Howes retains race lead
2023 Dakar Rally stage eight results see Ross Branch take Hero Motorsports' first win of this year's event ahead of Mason Klein and Daniel Sanders on a day when leading riders struggled in tricky conditions but Skyler Howes remains in control.
Dakar '23 stage 8 in a nutshell:
Having skipped a racing stage yesterday to get a break from the huge distances they'd already clocked up, the bike categories at the 2023 Dakar rally still clocked 476km ahead of a night in a marathon stage conditions, all cosy together in a big tent last night.
Stage six winner Luciano Benavides led teammate Skyler Howes away at shortly after 5am to arrive at the 345km stage start for dawn, at around 7am. The stage consisted of a real mixture including sand and big dunes but also some tricky "twisty gravel tracks" with lots of slippery stone sections the riders reported.
That meant it wasn't a good day to lead because those stones and tracks laid down were more helpful than usual, allowing riders keep on the gas where the front runners had to roll off. Though they would claim bonus points for leading, ultimately Benavides, Howes and Toby Price lost way more than they gained and ended up dropping around 15 minutes. The only consolation was the closer the following riders got to the front, the more they suffered and in the gaps which had been bigger, shrank again.
Speaking of riders benefitting from following wheel tracks, Ross Branch was the star performer of the day. Using a 17th place start position to move into the lead by the refuelling point at 203km, the Botswanan blasted on to claim his first win of the '23 Dakar, first on a Hero and his team's second ever stage victory.
Mason Klein and Daniel Sanders had some time to make up today and they pulled their fingers out from the get-go. Starting from 12th and seventh places, the pair were at the top of the time sheets all day and finished 1.3 and 3.09 back from Branch respectively. However, both Klein, Howes and Price wre later docked speeding penalties which affected time gaps overall but not places.
Leading out on a difficult day lost Howes a tonne of time in the overall standings while Klein benefitted and used his later start time advantage to go from P7 and 12 minutes behind.
The outcome is Howes sill leads, just, while Klein is joint second overall with Kevin Benavides, just 0.13 back with Price and Quintanilla completing the top five scratch around four minutes behind.
Another standout performer today was Rally 2 rider Michael Docherty who found some of the speed he had at the start of the race to post top 10 split times and claim sixth overall. Romain Dumontier was second in class and 15th, six minutes behind Docherty but remains in charge of the Rally 2 category by 16 minutes.
Charan Moore continues to lead the Original by Motul class after topping the class today for an overall 15 minute lead ahead of Javi Vega.
Stage 8 provisional results: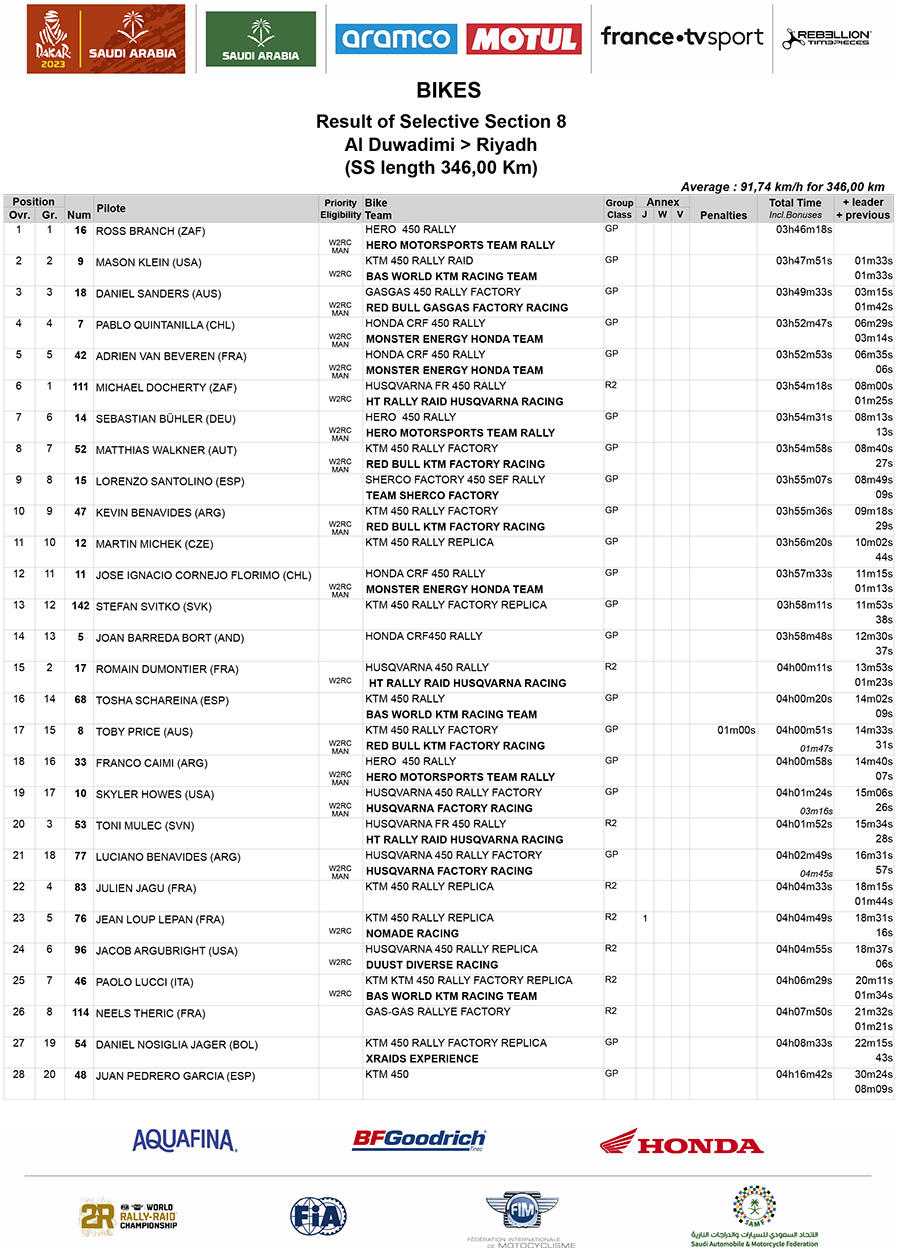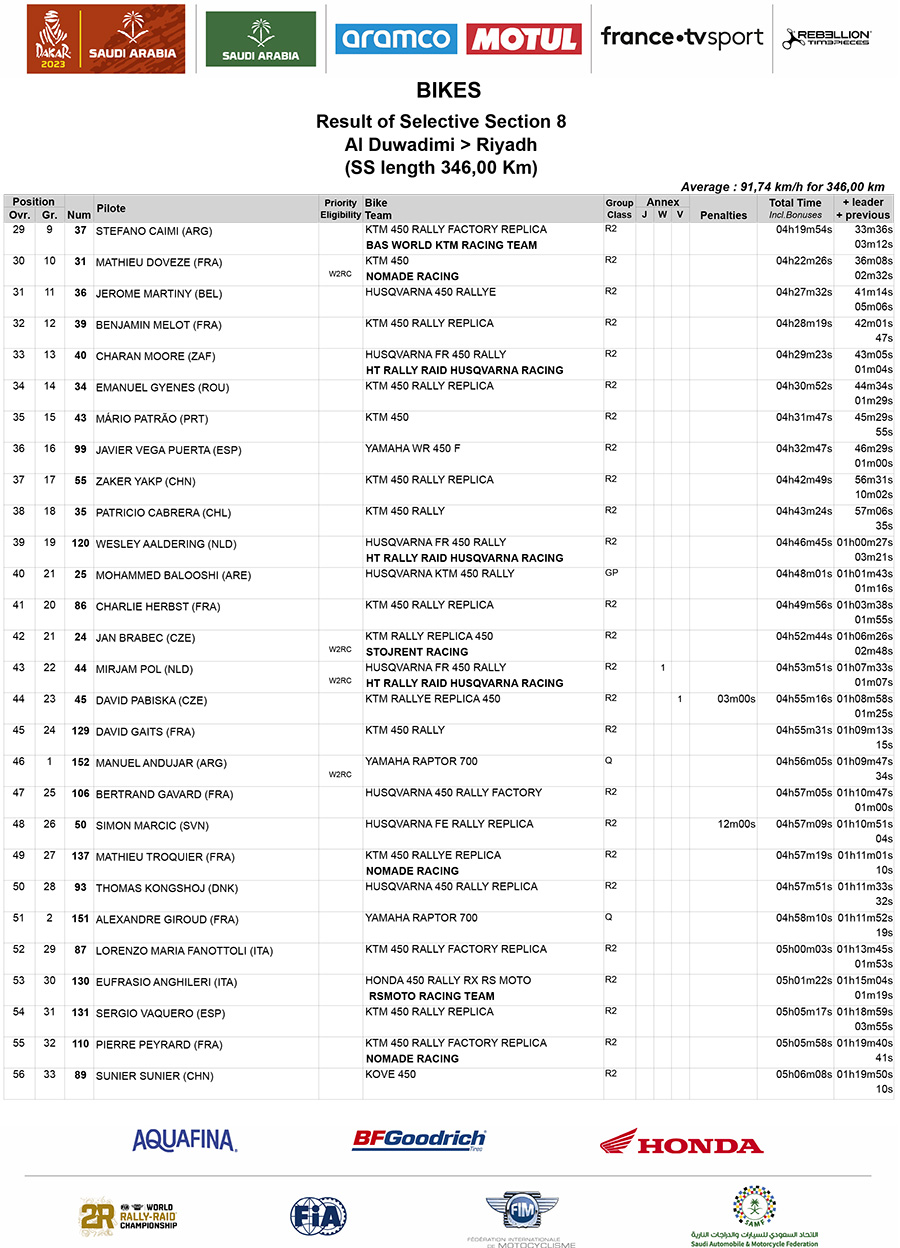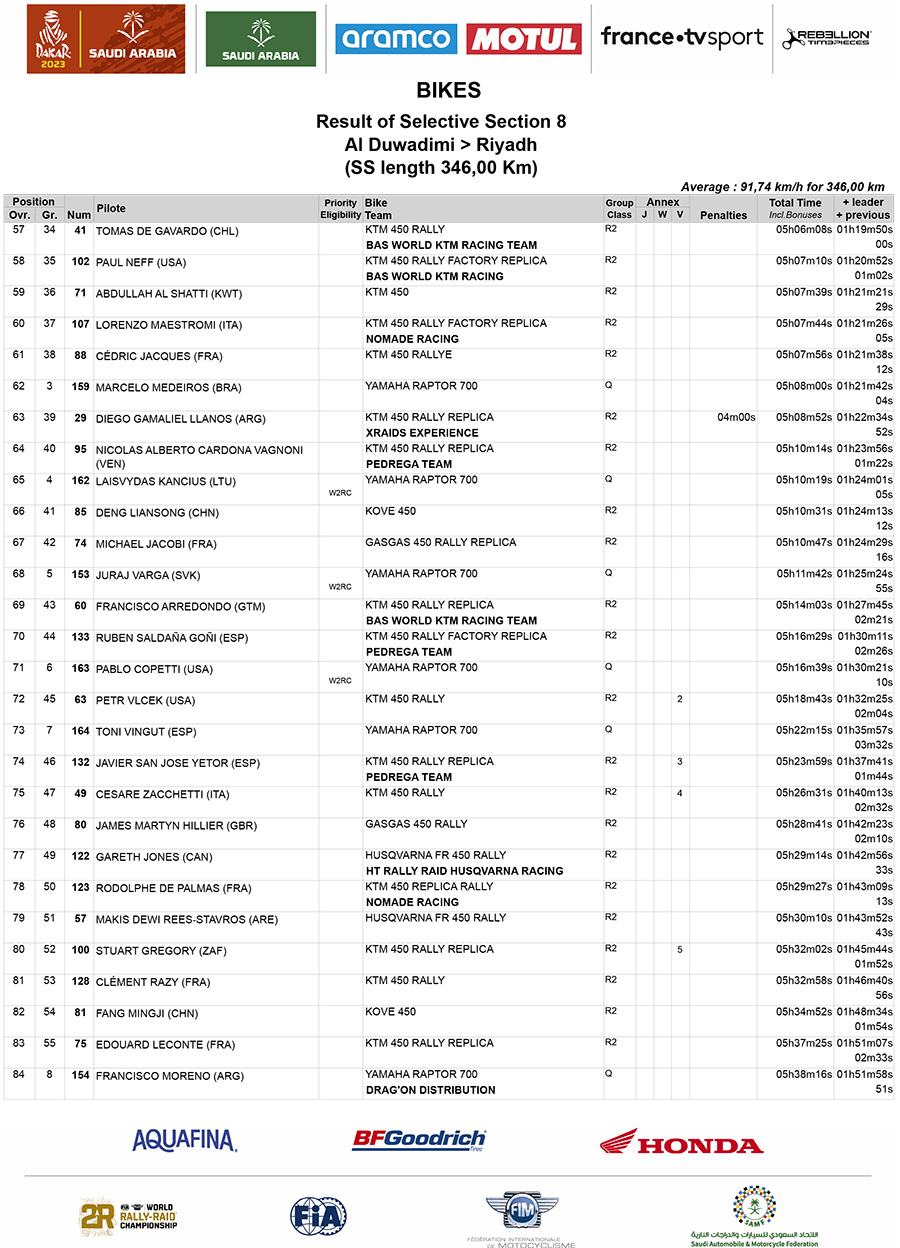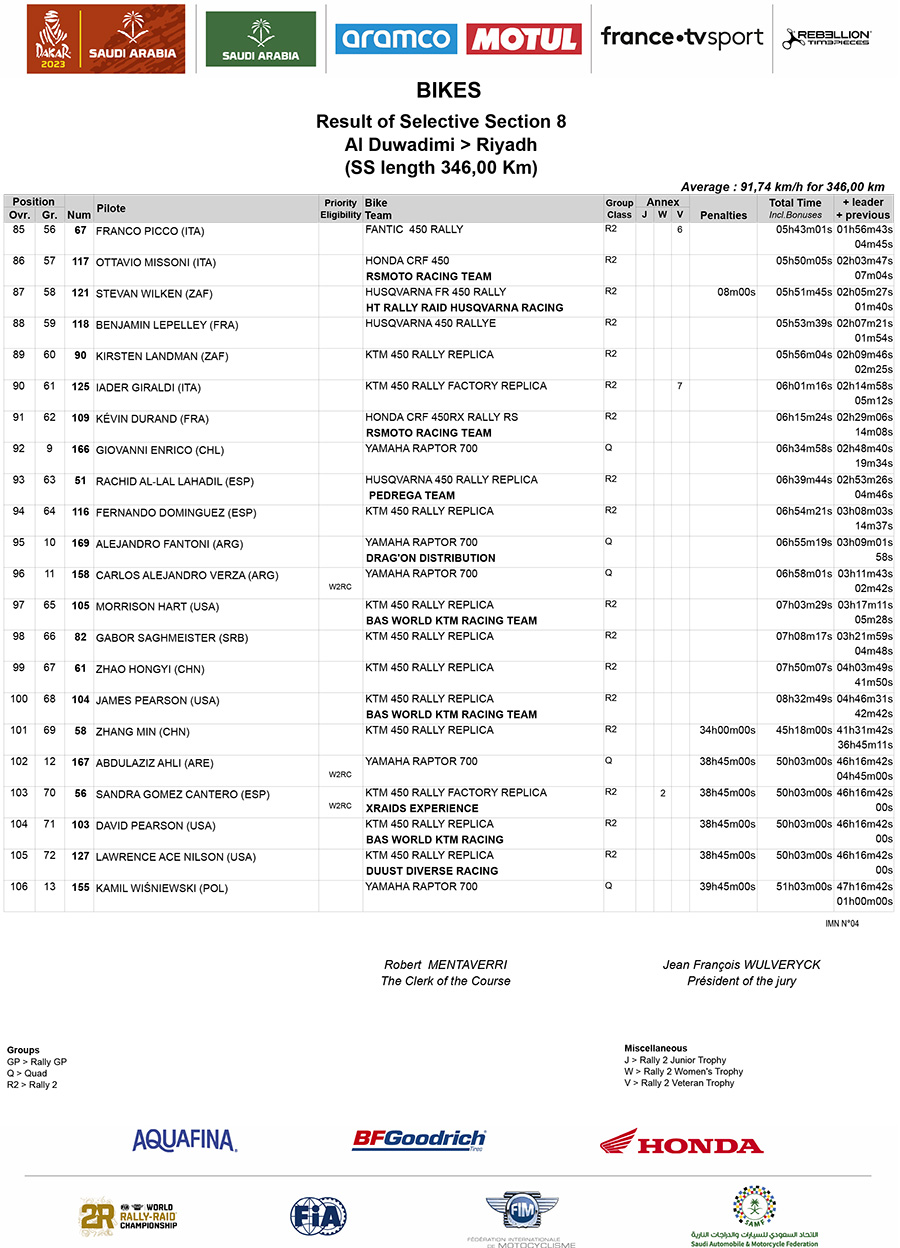 Overall classification after stage 8 (top 25):
1

S. HOWES (USA)

HUSQVARNA 450 RALLY FACTORY

30h34m16s
+00:00:00
+00:01:00
2

M. KLEIN (USA)

KTM 450 RALLY RAID

30h34m29s
+00:00:13
+00:04:00
3

K. BENAVIDES (ARG)

KTM 450 RALLY FACTORY

30h34m29s
+00:00:13
+00:03:00
4

T. PRICE (AUS)

KTM 450 RALLY FACTORY

30h36m14s
+00:01:58
+00:01:00
5

P. QUINTANILLA (CHL)

HONDA CRF 450 RALLY

30h37m01s
+00:02:45
+00:02:00
6

A. VAN BEVEREN (FRA)

HONDA CRF 450 RALLY

30h37m05s
+00:02:49
--:--:--
7

D. SANDERS (AUS)

GASGAS 450 RALLY FACTORY

30h41m19s
+00:07:03
+00:04:00
8

J. BARREDA BORT (ESP)

HONDA CRF450 RALLY

30h41m37s
+00:07:21
+00:01:00
9

J. CORNEJO (CHL)

HONDA CRF 450 RALLY

30h53m48s
+00:19:32
--:--:--
10

M. WALKNER (AUT)

KTM 450 RALLY FACTORY

30h56m51s
+00:22:35
--:--:--
11

L. BENAVIDES (ARG)

HUSQVARNA 450 RALLY FACTORY

30h58m48s
+00:24:32
--:--:--
12

L. SANTOLINO (ESP)

SHERCO FACTORY 450 SEF RALLY

31h04m38s
+00:30:22
--:--:--
13

S. SVITKO (SVK)

KTM 450 RALLY REPLICA

31h40m59s
+01:06:43
--:--:--
14

M. MICHEK (CZE)

KTM 450 RALLY REPLICA

31h44m06s
+01:09:50
--:--:--
15

F. CAIMI (ARG)

HERO 450 RALLY

31h49m45s
+01:15:29
+00:01:00
16

T. SCHAREINA (ESP)

KTM 450 RALLY

31h57m48s
+01:23:32
--:--:--
17

R. DUMONTIER (FRA)

HUSQVARNA 450 RALLY

32h09m30s
+01:35:14
+00:01:00
18

P. LUCCI (ITA)

KTM 450 RALLY FACTORY

32h25m55s
+01:51:39
--:--:--
19

J. LEPAN (FRA)

KTM 450 RALLY REPLICA

33h17m32s
+02:43:16
--:--:--
20

N. THERIC (FRA)

GAS-GAS RALLYE FACTORY

33h23m18s
+02:49:02
--:--:--
21

M. DOCHERTY (ZAF)

HUSQVARNA FR 450 RALLY

33h27m09s
+02:52:53
+00:15:00
22

J. PEDRERO (ESP)

KTM 450

33h29m45s
+02:55:29
+00:06:00
23

M. DOVEZE (FRA)

KTM 450

33h41m43s
+03:07:27
--:--:--
24

J. JAGU (FRA)

KTM 450 RALLY REPLICA

33h49m47s
+03:15:31
+00:01:00
25

J. ARGUBRIGHT (USA)

HUSQVARNA 450 RALLY REPLICA

33h57m26s
+03:23:10
--:--:--
Photo Credit: A.S.O. | H.Cabilla + Rally Zone