Dakar '23 daily notebook: Rest day? What rest day?
Enduro21's daily Dakar Rally notebook direct from the Riyadh bivouac after stage eight where the riders take a breath on rest day. Rest day? What rest day?
One things clear from snooping around the 2023 Dakar Rally bivouac on rest day, this ain't no rest day. Sure, if you're a factory rider or high profile driver like Sebastien Leob or Carlos Sainz, there's not actually much to do today. You can use the rest day to relax, eat well, get a massage and be horizontal while your team does the work. But for the majority of riders outside the top 20 (ish), this is anything but a rest day.
Nowhere more so than the Original by Motul category where the riders were just as busy, if not busier than normal. A quick catch-up with Joan Pedrero, who is leading but not leading because he is ineligible having previously raced RallyGP class, and he is smiling, happy but certainly busy after covering more than 5300 kilometres already.
He had the cleanest bike in this outdoor, DIY paddock area and was busy "checking everything".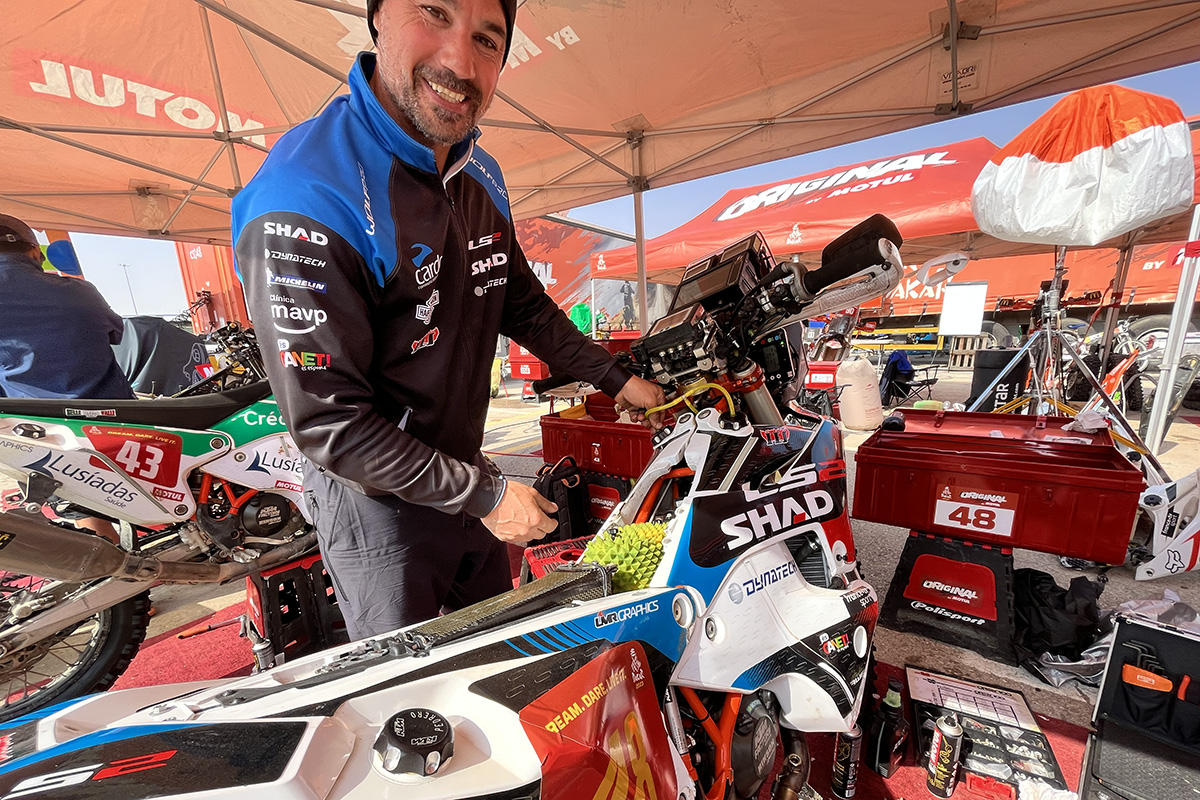 "You can ride if you can put up with the pain"
James Hillier meanwhile, the TT racer turned Dakar racer, had a less spotless bike but he has an excuse, he crashed an detached a collar bone on stage five.
Initially James thought he'd broken the bone because he could, "feel it moving around as I was riding" (!) but the medics x-ray said it was "only" detached and he could ride if he could put up with the pain.
"I'm a bit slower on the stage but it is manageable," says James adding, "it can be pretty painful at night but what else am I going to do? I'm not going to give up because of this."
How does he get through the long stages, not just physically but mentally? "I did a moped challenge, I rode from John O'Groats to Lands End on a Honda 90 Cub and although it sounds daft, mentally that was really good training to get through this."
That's a little over 850 miles or 1300km to be more accurate (avoiding motorways on the C90). In that context, the 919km stage the other day sounds like a walk in the park…
Riding four hours like it's a motocross race
"When you see a guy is riding four hours like it is a motocross, it is difficult to stay with him." Explains Lorenzo Santolino. It's a tough call for any rider or team competing with the big budget squads from KTM Group of Honda for example. They are on another level.
But you can, "do a good job, work with a good team, ride well and use your head," Lorenzo tells Enduro21. The Sherco rider is just outside the top 10 and says it feels like they are underdogs, but they don't have that mentality. They are professional and, "we do our best every day."
We were interested in the difference in riding at the speed needed to win a stage, like Ross Branch on stage eight, compared to riding at a speed which gives you chance to do that but with less risk.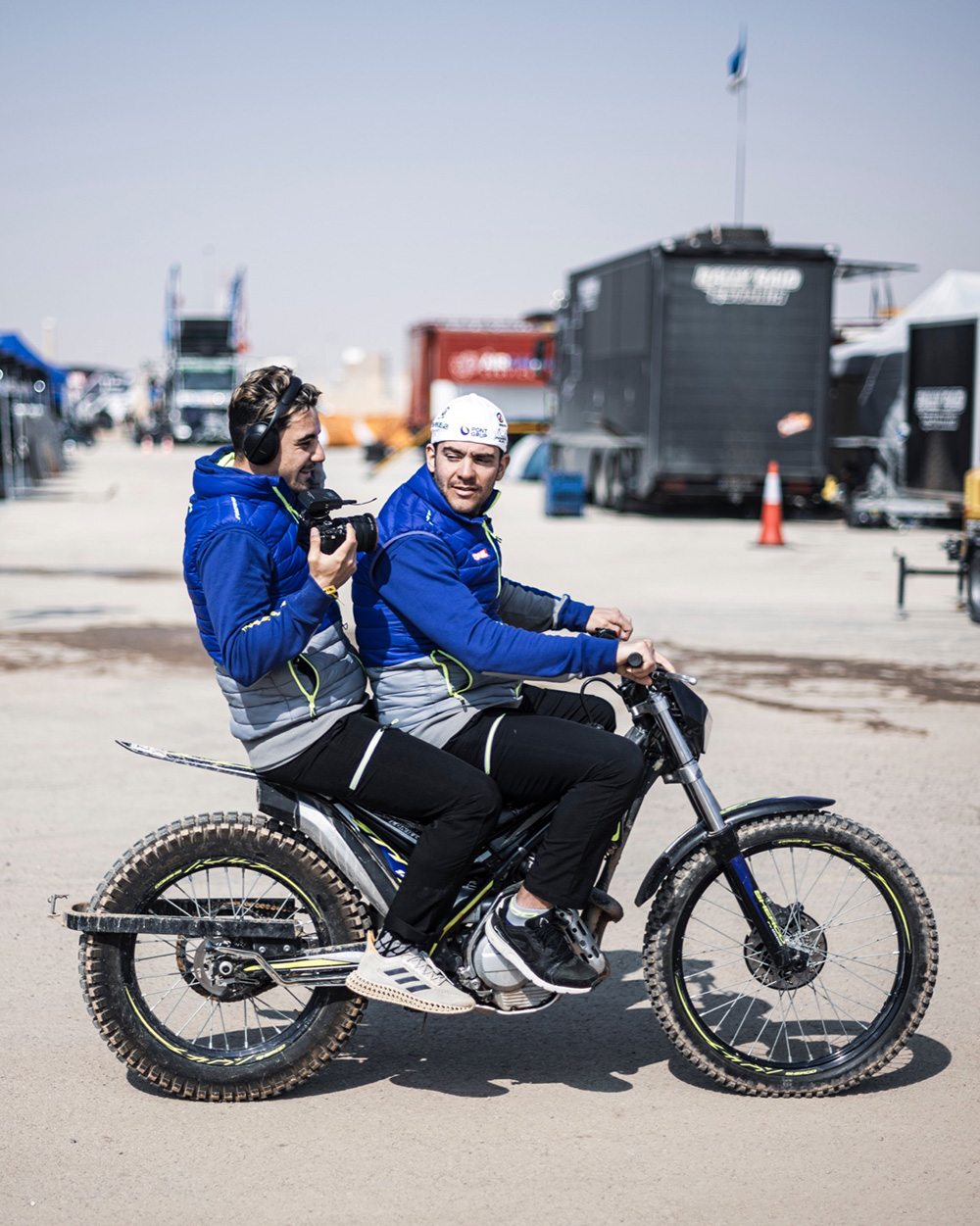 Spaniard says when he sees a rider storming a stage like Branch did yesterday, he tries to stay with them. "For Ross yesterday he started behind, and has had problems so has nothing to lose. He can ride like that because he is not risking losing a top 10 place.
"So when I see a rider like that on the stage I try to follow them – you can follow more easily than you can lead like that. There is less risk to ride fast if you can follow, but it only works when there is no dust, and you have to always be aware of the navigation. Any rider can go wrong.
"But he was going full gas everywhere, like a motocross rider for four hours and there is a limit."
The cars need the bikes?
When the riders had slogged 476km on the road on stage seven (technically still classified as a stage even though it was actually all on the road) they had very little to do except look at their phones and talk crap.
It's not good having any enemies in this game, at times like this they are literally faced with each other, have nowhere else to go and sleep side by side in the marathon stage bivouac tent.
😜 "Cars need the bikes!"#Dakar2023 pic.twitter.com/2RyTiblNby

— DAKAR RALLY (@dakar) January 8, 2023
What were they laughing at? The fact the cars looked like they were all over the shop without the bike tracks to follow.
That effect of leading out in the bike class, and how much it damages your time because the riders behind can use your wheel tracks as a guide. That's writ large for the car categories and drivers like Sebastien Loeb who got the rare treat yesterday of leading the way, opening the track.
It's something the lead bike riders do day in, day out, but the cars never do so when the bikes got a rest day, the cars were suddenly at the head of the field, staring at pristine desert and basically they were all over the shop. As Sanders said, "they need the bikes."
Why did the lead riders lose so much time on stage 8?
"Every single time we spent a bit of time finding a waypoint, everyone behind could just go full gas through there." Explains Skyler Howes who lost a chunks of time overall, laying down tracks as one of the three lead riders on stage eight.
"We left a perfectly good trail on the ground and the rocks were really slippery so I just took a little bit of care, you don't want to bomb out just before the rest day." Adds Toby Price also in that lead group.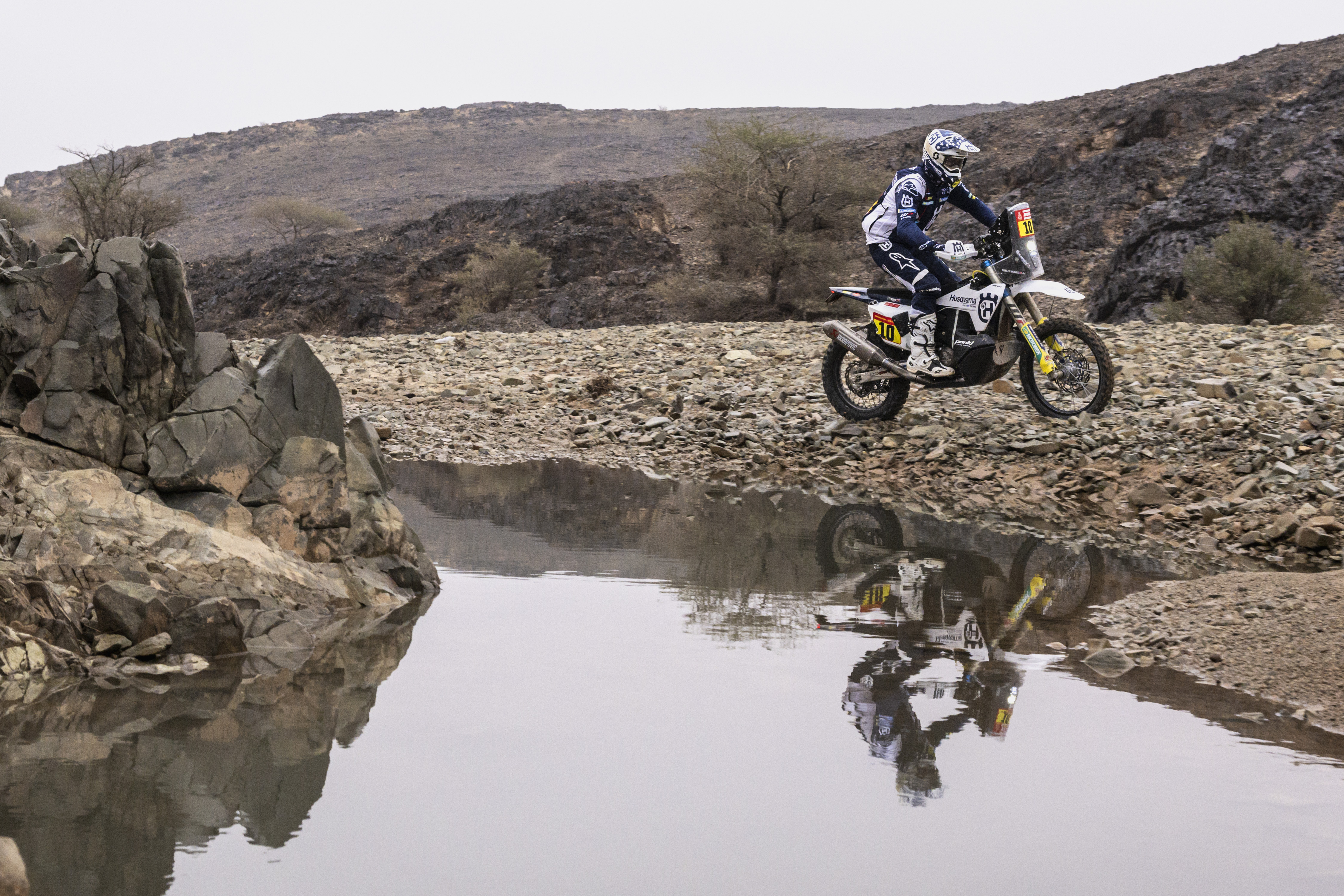 Howes adds: "It was definitely a tough day to open and we lost time in the overall but that's part of the game and that will set us up in a better position for the next stage which is also supposed to be challenging."
From the other perspective, as one of the guys playing catch-up from further back, Daniel Sanders acknowledged how hard it can be on days like these, "the guys out front did a really good job of leading out. The stones were really slick in places and as soon as a couple of guys had been through it left a really nice, orange line and it was much easier to follow. I started seventh and I ended up catching the guys out front so it just shows you how tricky it was for them."
Take stock of the classification at this halfway point
Technically it's not really halfway but mentally riders and teams think of the rest day as half way. The first week is done and that is a goal – arrive there safe, take stock and go again.
Overall classification after stage 8, Rally GP class: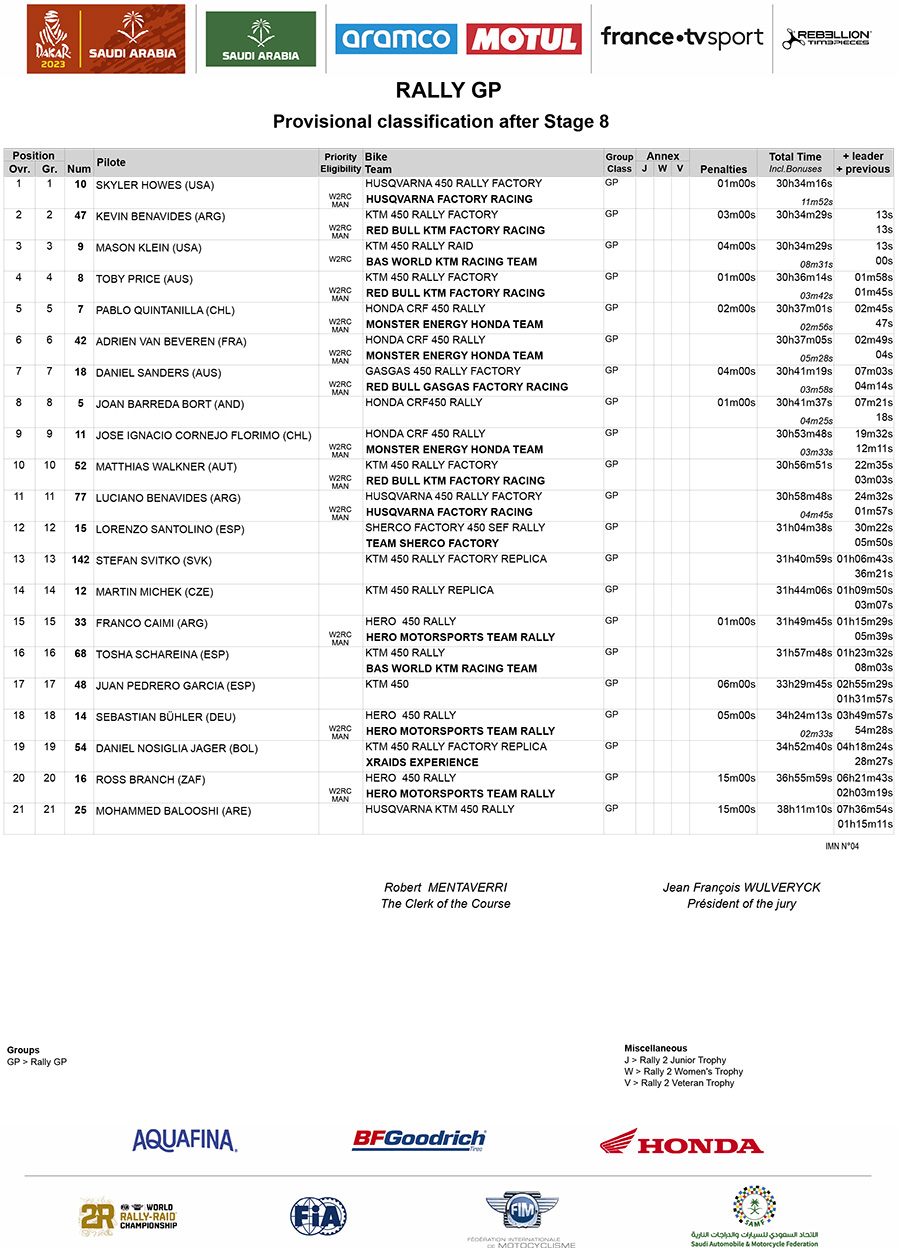 Overall classification after stage 8, Rally GP class: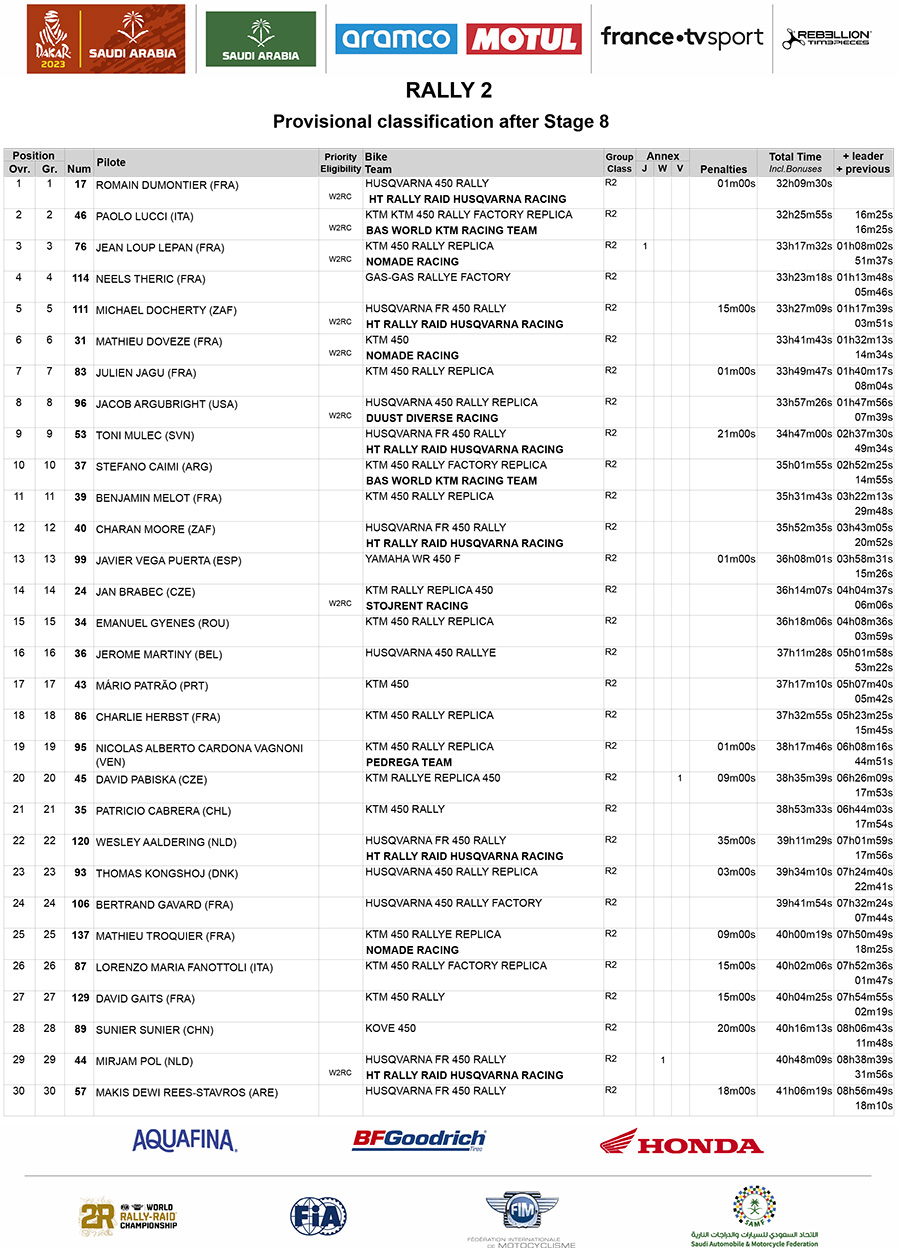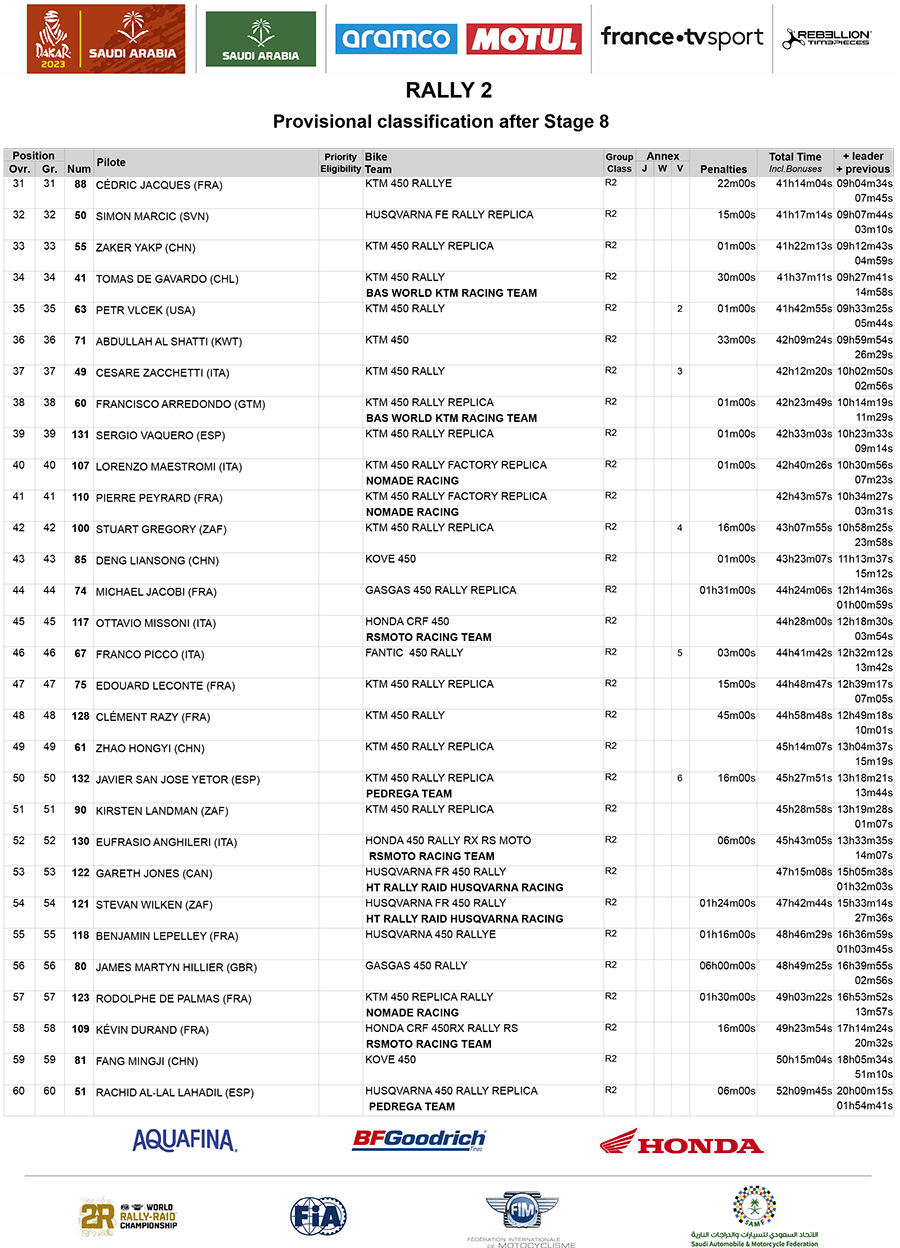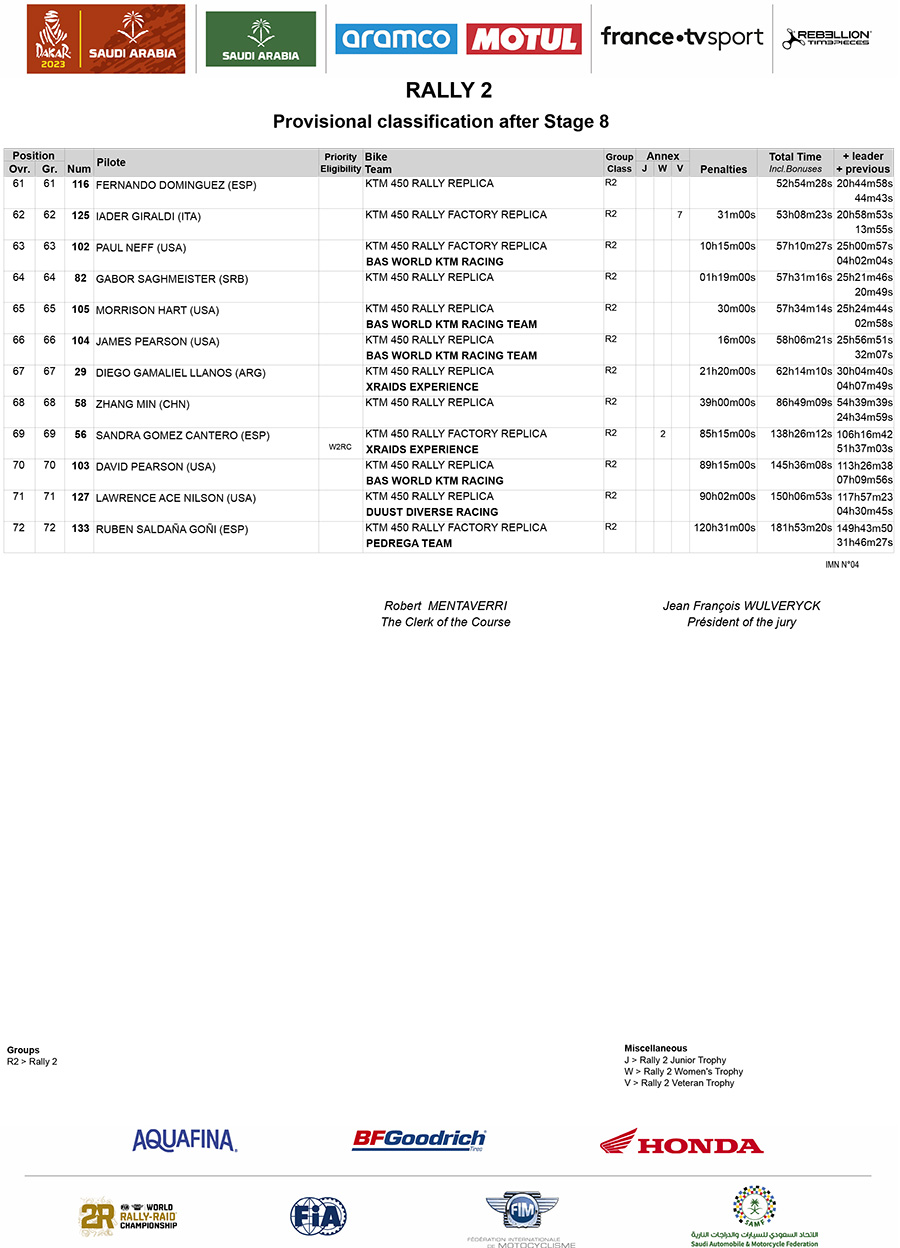 Photo Credit: Enduro21 + Rally Zone + A.S.O.