Dakar Rally 2021 news & results: Barreda's Stage 6 win – Toby Price leads at halfway point
Toby Price takes over the 2021 Dakar Rally lead after Joan Barreda narrowly wins stage six, a day which he described as "pretty damn wild". The day also saw Ricky Brabec's chances of victory melting and leaves riders with plenty to think about during tomorrow's rest day.
Stage six of the Dakar dawned 1hr30m later due to stage five's late arrivals and was also shortened by 100km to make a 338km timed special which riders completed at a "crazy pace", according to the new rally leader Toby Price.
A close finish on the timing sheets between Joan Barreda, Ross Branch and Daniel Sanders all aiming to end the first week on a high. Barreda it was though who takes his third stage win, and Honda's fifth (including the prologue) – signalling Honda is not letting go of this coveted trophy without a fight.
Just 13 seconds behind Barreda, Yamaha's Ross Branch took turns to lead the stage (with Joan and Toby Price) and bagged second and now sits P4 and remains best Yamaha rider.
Rookie Daniel Sanders was 53 seconds further back in third on the stage, cutting his overall time gap to close in on the top 10 overall.
Toby Price finished almost four minutes down on the stage but takes over the rally lead, two minutes clear of a struggling Kevin Benavides who injured his foot and face on stage five (which he still won). The Honda rider dropped almost 10 minutes leading the way today and moves to second overall behind Pricey.
2021 Dakar Rally Stage 6 results: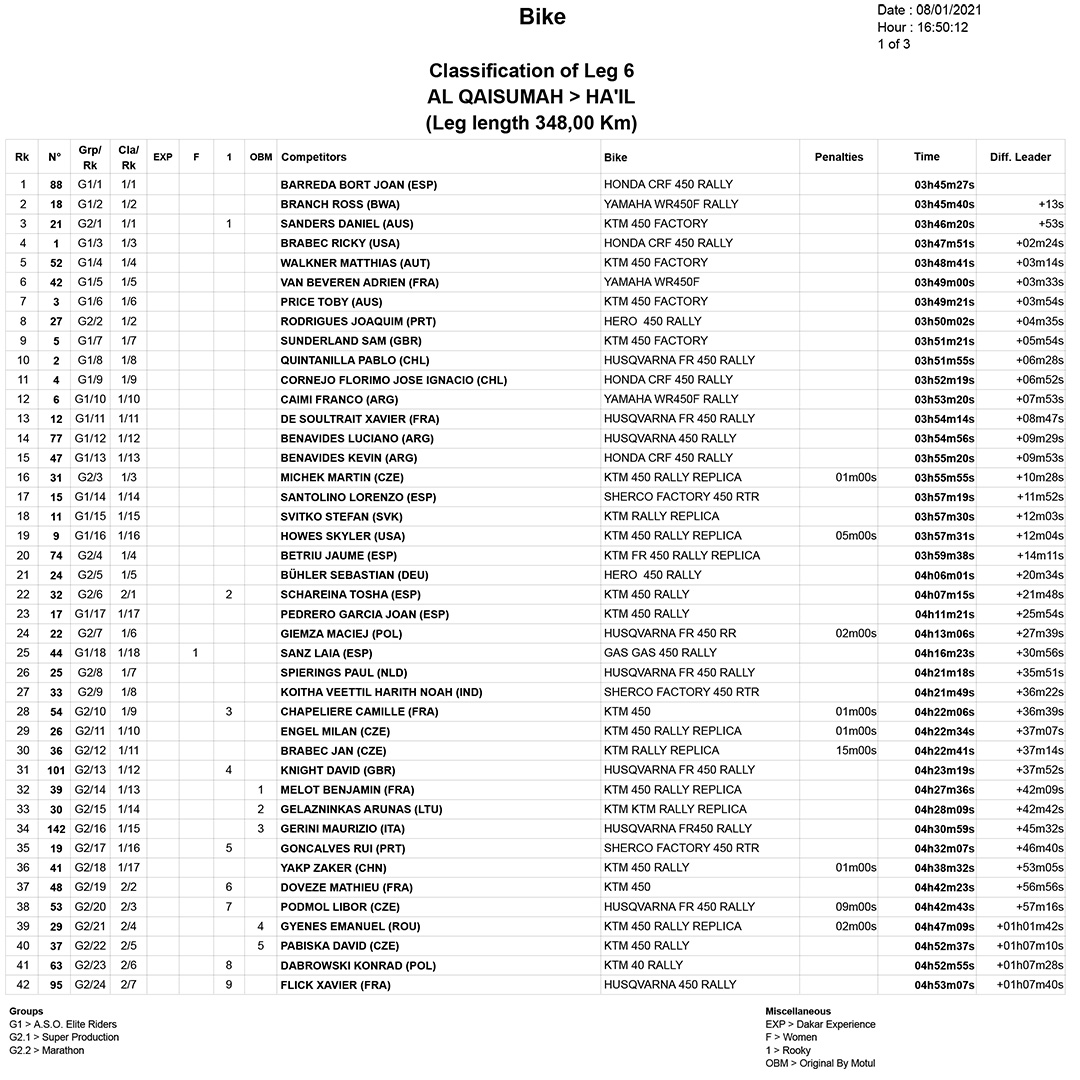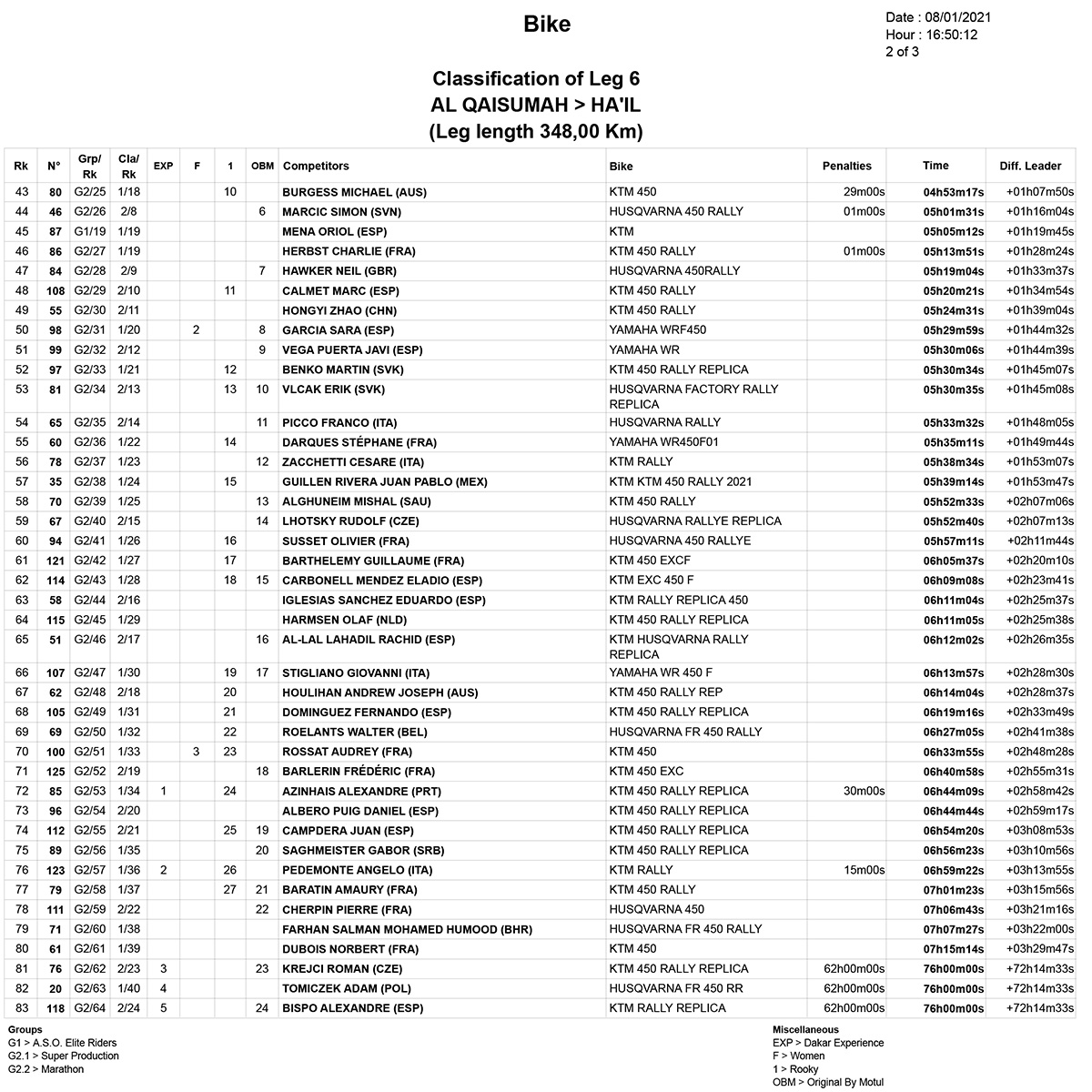 Bikes vs cars: only one winner
🔁 for 🏍 / ❤️for 🚗#Dakar2021 pic.twitter.com/3StTnGt7cE

— DAKAR RALLY (@dakar) January 8, 2021
It was a good day for…Adrien Van Beveren. We could have said his Yamaha teammate, Ross Branch, and yes, sixth and three minutes down on the lead might not sound too impressive for AVB.
But the Frenchman has had some serious injuries at Dakar in recent years and to run up front in this race requires many things which all need to fit together. Even when that immensely complex conundrum does fall into place, you also have to be bloody fast on the ground and that requires immense confidence, which Adrien seems to be finding again.
It was a bad day for…Ricky Brabec. The 2020 Dakar champ will shrug off the time gaps and he's right, "it can all change so quickly". But he needed a good result today and it didn't come.
Three days on the bounce have seen the American drop time on his rivals to see him 13th overall and 20 minutes off the rally lead. Write him off at your peril but with team orders starting to play a part in the second week, not being the highest placed Honda rider could work against Ricky.
A.O.B.
Tomorrow is the rest day, time to take stock, rest and recuperate. The leading riders have plenty to think about, not least how their strategy will pan out across the remaining days racing and how they will use their tyre allocation.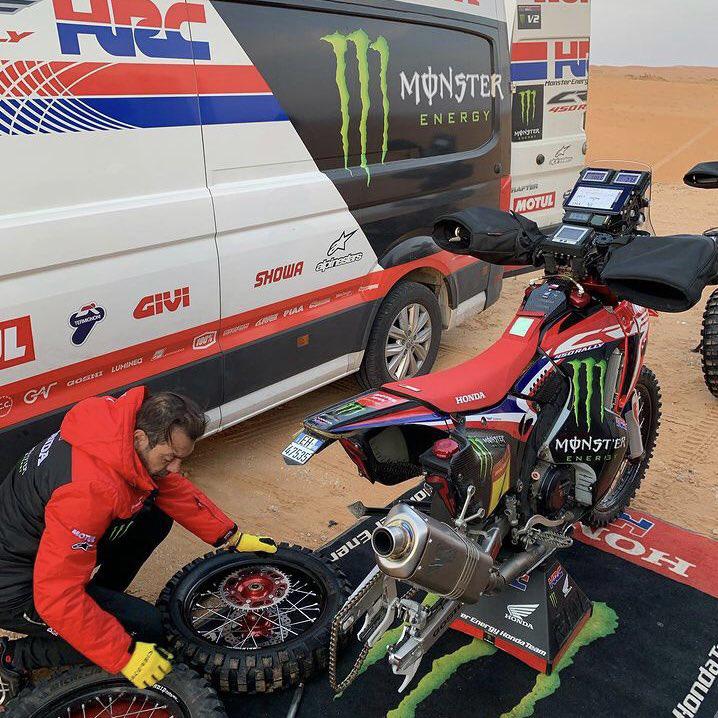 Tyres
Many riders expressed a dislike for the new six rider tyre rule for the elite class. Many of those riders have also taken chunks out of their allocation and will have to manage the best looking tyres they have left in the last stages.
The Yo-Yo effect
We saw a Yo-Yo effect in the first week as riders took turns to win or finish down in 20-something place the next day. Whoever wins the rally will be the best at stabilising this trend.
Whoever wins a stage cannot go slow but whoever sets off four or five riders further back knows this. From that position a rider both didn't lose much time the day before but also has wheel tracks to follow and someone else opening up the at times hard to find waypoints.
The riders managing this chess game over the next two or three stages will be the ones in contention for the 2021 Dakar Rally trophy.
Who's going to win?
Predict this race? Are you mad? It really can change very quickly but the riders playing their cards best at the moment look to be Toby Price and Kevin Benavides while Jose Ignacio Cornejo, Xavier De Soultrait and Ross Branch are also dealing smart. Sam Sunderland and Joan Barreda are in strong positions but who can predict Bang Bang Barreda?
2021 Dakar Rally overall motorcycle standings (after stage 6):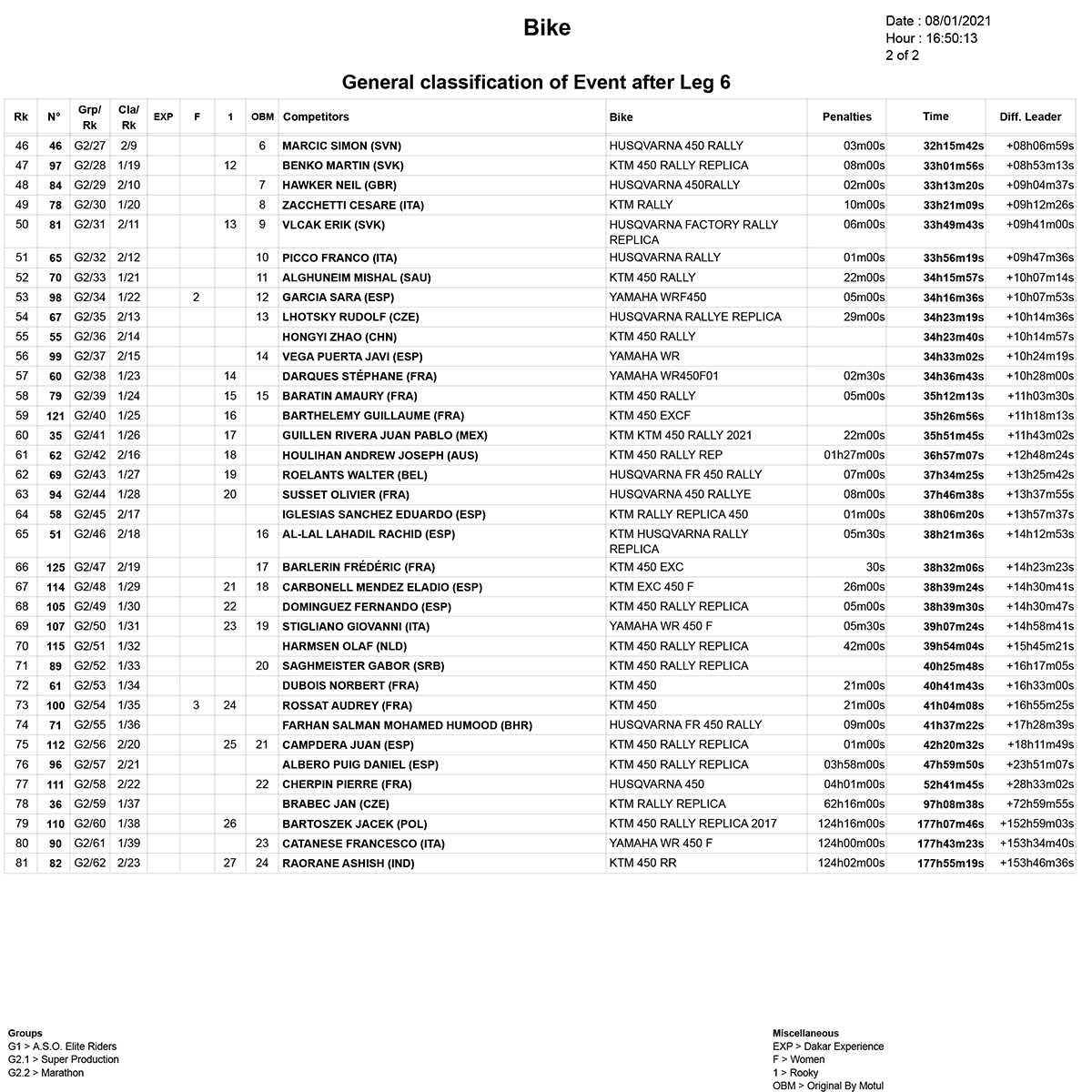 Photo Credit: Rally Zone + Eric Siraton