Dakar Rally 2021 news & results: Barreda wins mammoth 800km stage 4 – De Soultrait leads overall
Stage four of the 2021 Dakar Rally was the longest – over 800 kilometres – and saw Monster Energy Honda's Joan Barreda clock his second win in Saudi ahead of Ross Branch and rookie Daniel Sanders. We also have new rally leader, the fourth so far and another non-factory rider, Xavier De Soultrait...
Stage four of the Dakar turned out to be a meaty one in terms of results and changing strategies.Finishing first ain't always the best result as Skyler Howes showed on stage three and HT Husqvarna team's Xavier De Soultrait proved it again today. The Frenchman has claimed top 10 finishes all week and sits on top of the leaderboard.
How do you judge your speed when you're riding out front in the desert? KTM's Toby Price and Honda's Kevin Benavides know all about that after leading the way today. Benavides managed it best finishing 'just' 11 minutes down overall in 14th while Price was 22nd and 14 minutes behind the stage winner.
Stage 4 🏜 ⚔️ @tobyprice87 pic.twitter.com/N3jXvIfDWU

— Kevin Benavides (@kmbenavides) January 6, 2021
Meanwhile Joan Barreda, riding with Ricky Brabec around 20th position on the ground for much of the 337km special, was trying to judge being fast but not finish fastest (the idea being to stick it inside the top 10 for a few days and ride the storm).
How did that go for you "Bang Bang" Barreda? In typical style the Spaniard won the stage by a relatively huge five minutes to set himself up to start first tomorrow on what is said to be one of the toughest stages of the rally.
Yamaha Racing's Ross Branch had his best stage of the '21 rally today and was initially awarded with P2 over the 337km special. But the Botswana rider was later handed a penalty and dropped to fourth but remains third overall and best Yamaha rider.
A crash in the dunes didn't stop leading rookie Daniel Sanders taking P2 on stage four, his best result. But for a time penalty earlier in the rally he would be challenging his more experienced KTM teammates in the overall standings.
What about Brabec? The American said yesterday that the "results are out of control…we can't seem to find how to finish around seventh position to sit there and watch everything unfold". Ricky was hovering around the top 10 on corrected time but a navigational error close to the finish cost him. On a day when he should have been capitalising on his start position, Ricky finished 18th, 12 minutes down on his riding partner Barreda and just a couple of minutes ahead of Price.
In the official Red Bull KTM colours Sam Sunderland did the best job in 12th after "taking it easy". Sam is now seventh overall.
Riders in the sweet spot (not playing the Yo-Yo game) include both Benavides brothers (third and sixth), Branch, Howes (who remains top KTM rider in fifth), Nacho Cornejo, Pablo Quintanilla and Adrien Van Beveren.
Oh, and don't forget this fact: riders travelled over 800 kilometres today, 337 of which were racing the timed special. Have a look at a map and see how far 800km is from your house, get on your bike and go for a ride there if you like…
2021 Dakar Rally Stage 4 results: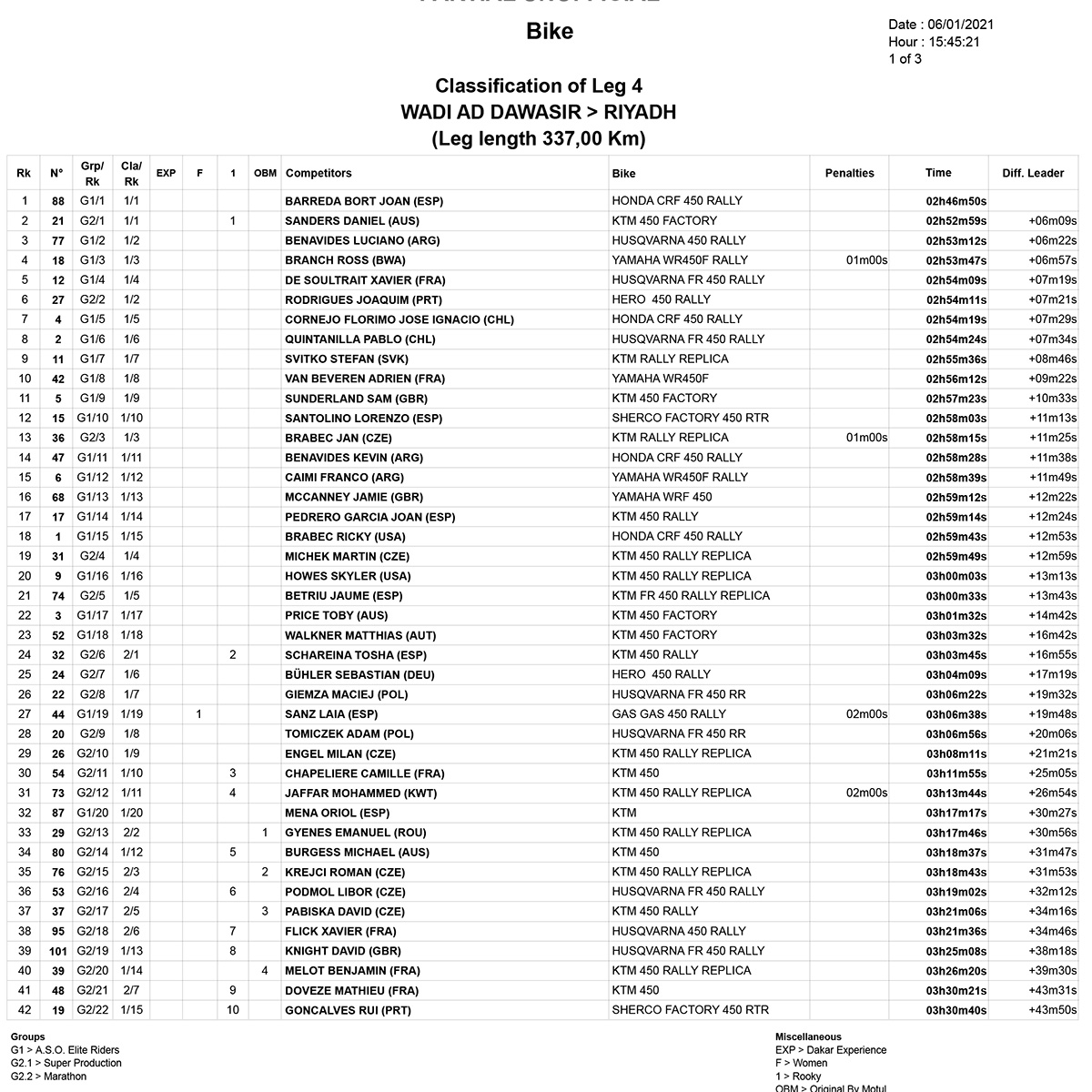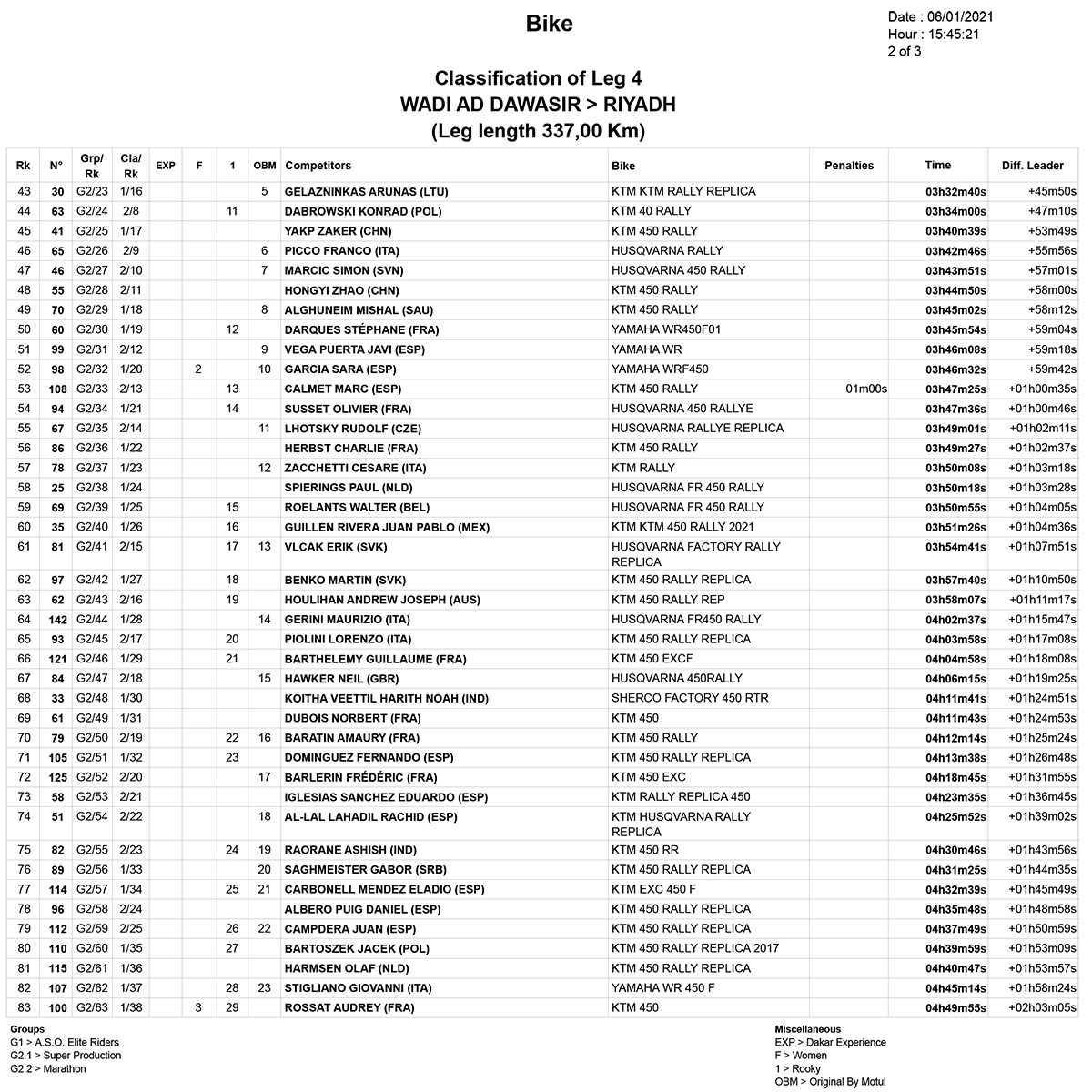 How hard are these guys pushing it?
2021 Dakar Rally overall motorcycle standings (after stage 4):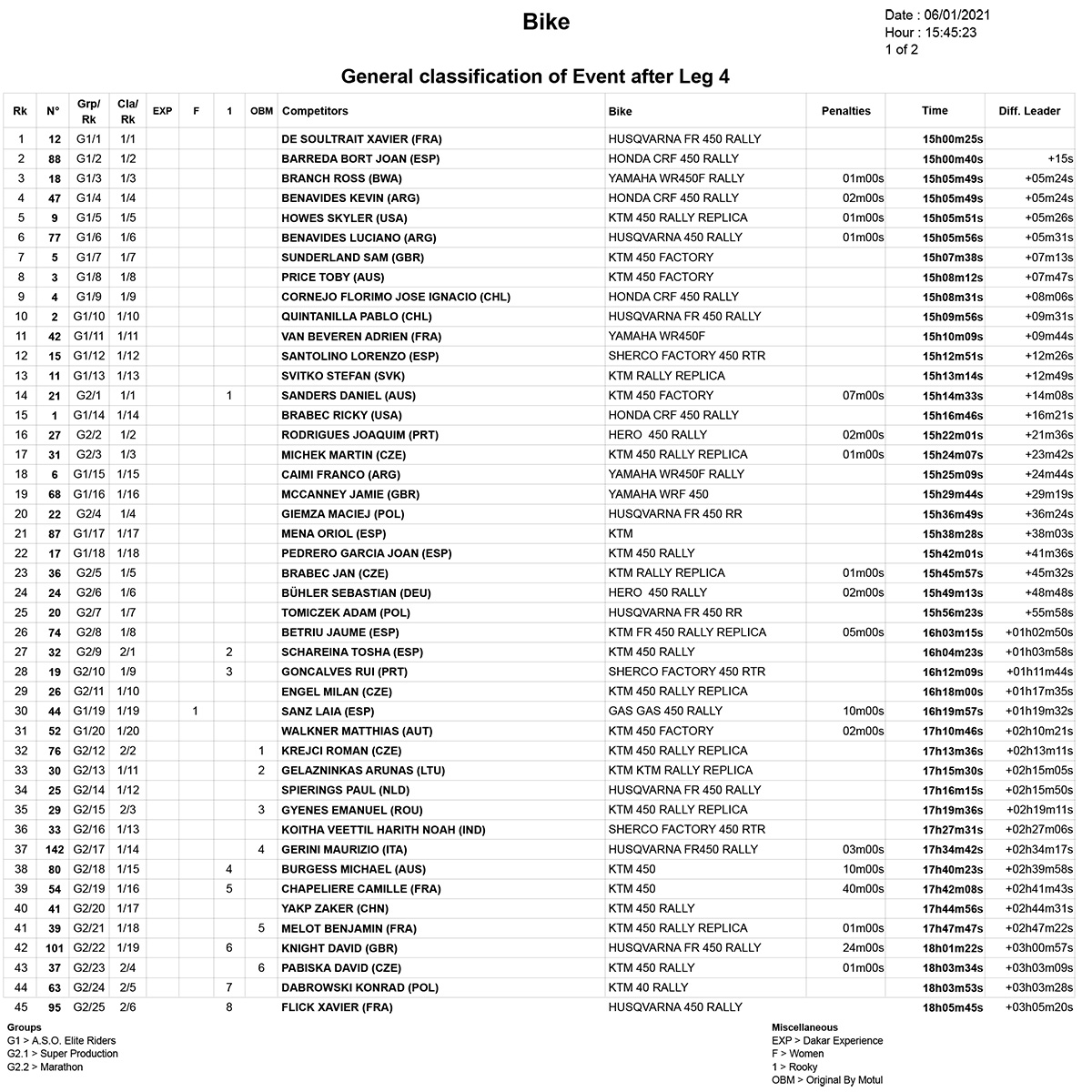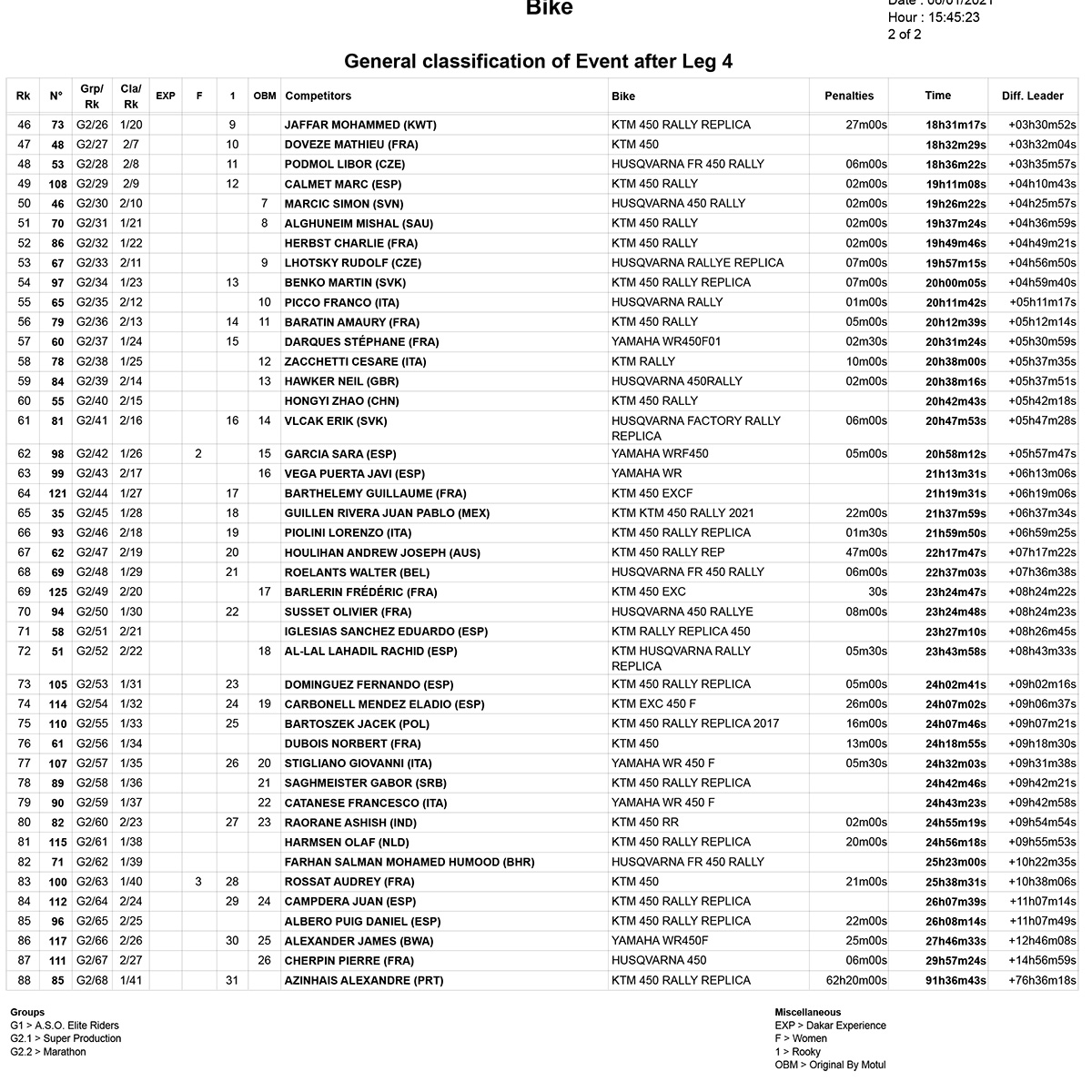 Photo Credit: Rally Zone