Dakar Rally 2023: "All you need to know" preview for the bike categories
With the 2023 Dakar Rally start fast approaching on December 31 in Saudi Arabia, Enduro21 takes a quick "all you need to know" blast through the leading contenders in the bike categories at this year's race.
2023 Dakar (bikes) in a nutshell:
Sam Sunderland starts his defense of both the Dakar trophy and FIM World Rally-Raid Championship crown with the number one plate and 125 riders behind him, ready to take the start of the Dakar on the north, west coast of Saudi Arabia this week.
The British GASGAS factory pilot knows back-to-back victories are rare these Dakar days thanks to both the tough challenge of the modern race and the sheer volume of rivals and former winners in the KTM camp, his GASGAS teammate and rising American talents Skyler Howes and Mason Klein.
The Honda onslaught has been overwhelming in recent years and with the fresh recruit Adrien Van Beveren alongside Ricky Brabec, Pablo Quintanilla and Nacho Cornejo, the factory HRC team is leading the team trophy charge as much as individual honours.
With reigning Rally2 winner Klein stepping up a category, the Junior class looks for a new champion this year from Bradley Cox and the French duo of Romain Dumontier and Camille Chapelière.
27 bikers will also take part in the Original by Motul class. Huge efforts are married with huge rewards in this DIY category which could also see a new winner come January 16 in Damman.
Honda on a winning streak or KTM on a losing run?
It feels like a lifetime ago that the Dakar win revolved in an orange orbit and saw KTM take 18 editions in a row. Those days where two or three riders duked it out for the win a decade or more ago seem long gone as we look through a rider entry list which includes impressively strong KTM/Husqvarna/GASGAS teams facing up against Honda, Sherco, Hero, Fantic, Rieju and this year a new Chinese motorcycle entry from KOVE.
What does remain the same year-on-year is the need to handle pressure at the top of the race leader board and that was exactly Sunderland's key to success in Dakar '22. The Brit stayed as cool in the face of the daily adversity dished up by the race, terrain and his rivals.
Last year saw Sam take GASGAS' first and his second title in the rally before going on to crush the W2RC season and retake the title he had already won in 2019. He has to start as favourite even if he bats the suggestion away whenever asked.
GASGAS's Daniel Sanders has already shown the makings of a champion but a crash during last year's race on the road, where he badly smashed his arm, has hampered his progress for a season.
Their cousins at Red Bull KTM Factory Racing have three former winners in their ranks, and are obvious and legitimate contenders. But it is just Kevin Benavides who has been their top performer this year, ending the season on a high note with second place in Andalusia.
Despite finding the fitness to race the Red Bull Romaniacs on a rally bike in the summer, Matthias Walkner says he has carried a injured shoulder all year. As has Toby Price who struggled at the Rallye du Maroc and the Baja 1000 in a car.
The Husqvarna Factory Racing team does have a rider in form in the shape of2022 Rallye du Maroc winner, Skyler Howes, and runner-up Luciano Benavides. The pair are primed for a solid result this Dakar and it could easily be a new American on the top step come January 16.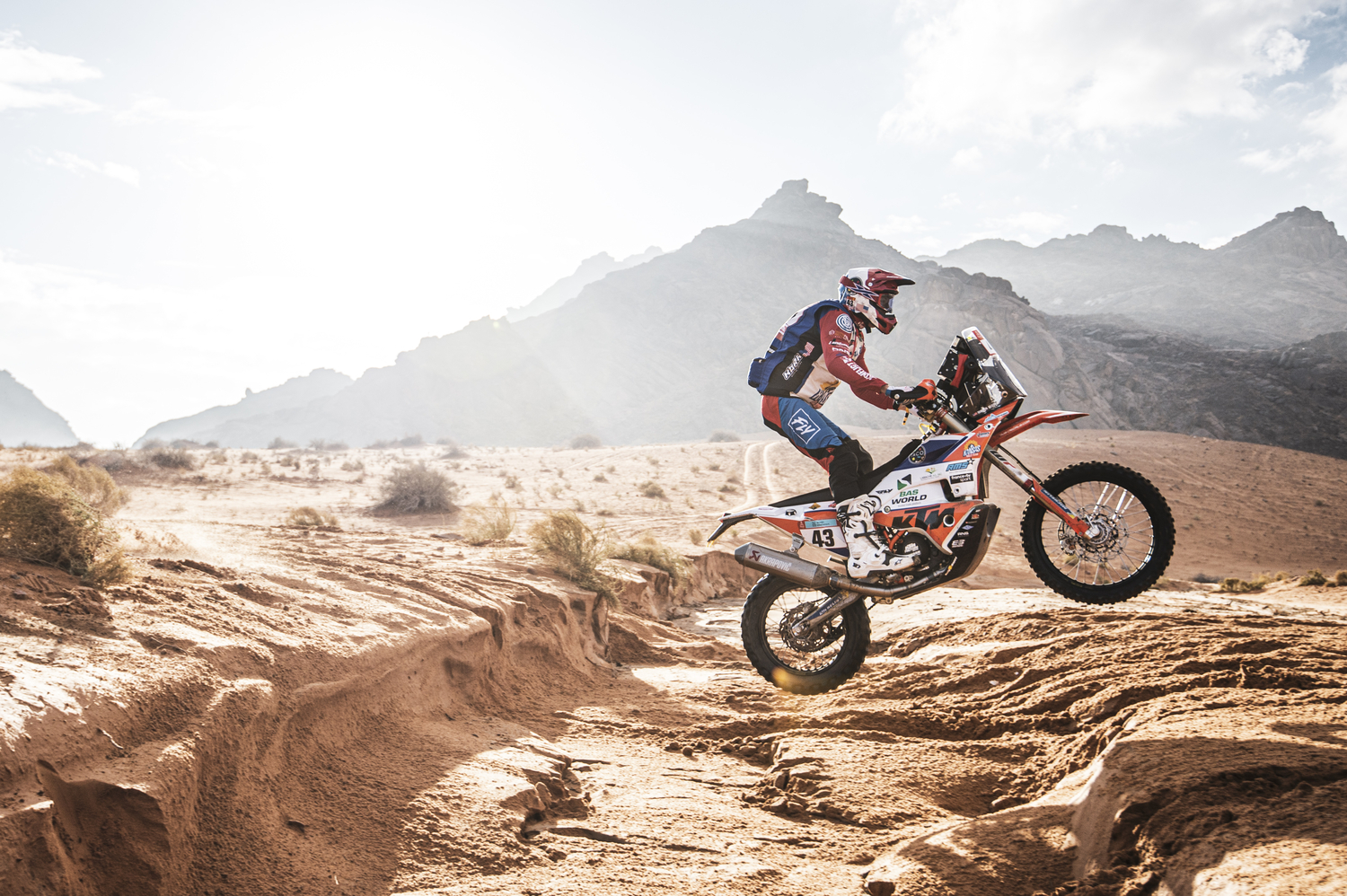 The Klein effect
There's another contender from North America too, a BAS World KTM Racing Team rider and Howes' buddy Mason Klein. The then 20-year-old took ninth place at the '22 Dakar, and capped his season off with the Rally2 world cup crown which results in him stepping up to race the big boys this year.
The disappearance of the Yamaha factory team from the rally-raid scene paved the way for Adrien Van Beveren to sign with Monster Energy Honda Team and bolster the squad's title prospects. Van Beveren was a serious contender at Dakar '22 but suffered somewhat with the see-sawing daily results working against him as the second week unfolded. The Frenchman is not alone in this 2022 Dakar entry list being overdue a win (count them!) and this could well be his best chance.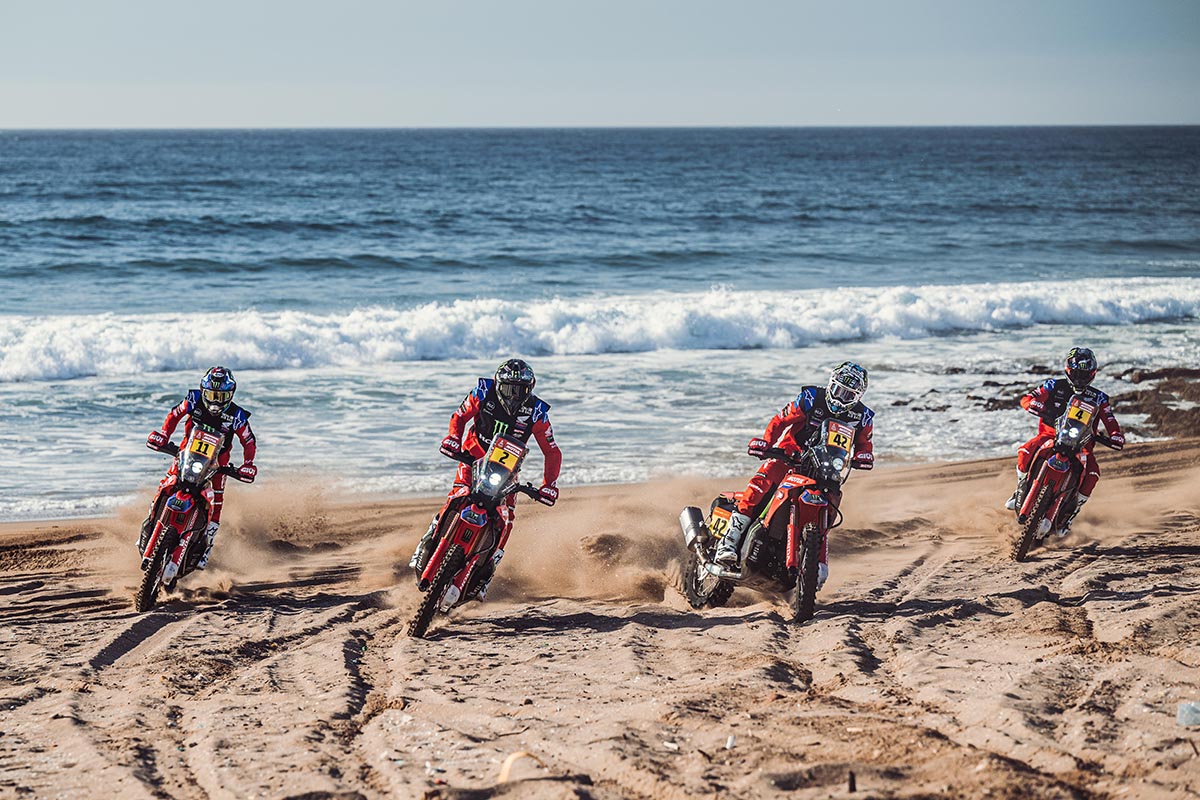 The trouble is 2020 champion Ricky Brabec and two Chilean riders, Pablo Quintanilla (second in 2022) and "Nacho" Cornejo (sixth in the same year), both certainly have what it takes to top the charts when they all land in Dammam at the finish.
Hero Motosports Rally Team saw Joaquim Rodrigues bring the Indian outfit its maiden stage win in 2022 and Ross Branch, another rider forced to jump the sinking Yamaha ship – is a serial stage winner. Sherco's factory SEF450 Rally bikes have Spaniard Lorenzo Santolino as their lead rider who is yet another rider overdue a stage win (as are Sherco for that matter).
Rally 2 class looking for a new winner
With '22 Rally2 champion Klein graduating to the big league, Konrad Dąbrowski should have been the leading contender but a dose of appendicitis rules him out. This means South African Bradley Cox and the French duo of Romain Dumontier and Camille Chapelière are the riders to watch in the second tier category.
Best rookie? There are some very illustrious names on the Dakar rookie winning trophy. One rider to note on that newcomers list this Dakar is former EnduroGP rider and world champion Alex Salvini. After retiring last season from EGP, Salvini signed up as development rider with Fantic and makes his first attempt at the big one.
Original by Motul class – for the brave only
They call it the ultimate experience. Entering the Dakar without assistance means signing up for one sleepless night after another and a vicious circle of fatigue and fettling your own bike – oh, and sleeping in a tent each night.
But making it to the finish in this class brings "unparalleled bragging rights" they say and an undoubted feeling of comradery in their own section of the vast Dakar paddock/bivouac.
A rule change this year makes former pro bikers and riders who have already stood on the Original by Motul podium ineligible for classification but that hasn't stopped the Spaniard Joan Pedredo, twice fifth in the Dakar (2011 and 2013) and a former lieutenant of Marc Coma in the latter's victorious campaigns, from tackling the rally solo in what will be his 15th start.
Original category regulars Benjamin Melot and Emanuel Gyenes start as riders to watch for top spot here but the entry is as interesting as ever. It includes a flying Isle of Man TT racer James Hillier and five-strong "American Rally Originals" team.
Very much going solo is Kristen Landman (who was 55th overall in 2020), is poised to become the first female rider to finish the Original by Motul class.
Enduro21 is here in the Saudi paddock across the two weeks, aiming to bring more insight into this epic off-road event than ever. Stay tuned.
Photo Credit: A.S.O. | Frederic Le Floc'h/Charley Lopez + Honda Racing | MEHT