"They wouldn't believe how hard it is to ride fast" Alex Salvini – EnduroGP to Dakar Rookie
Live and direct from the 2023 Dakar Rally paddock in Saudi Arabia, Enduro21 talks to former EnduroGP World Champion Alex Salvini about his rookie assault on the infamous race, and finds out why being fast isn't everything in this game…
The last time Enduro21 caught up with Alex Salvini was at the final EnduroGP round of 2022 in Germany. The Italian announced with a tear in his eye he was signing off his Enduro World Championship career but, at that time, was a little tight-lipped about what was coming next.
Fast-forward just a few days and he was already at the final Rally-Raid World Championship round in Andalucia, putting a foot in the door of rally and dropping a tantalising hint about 'what next'.
Shortly after that Fantic announced Alex as their new development rider with the Dakar Rally on the cards as the Italian manufacturer looked to build momentum behind their new, customer XEF Rally models and utilise Salvini's huge experience.
Just six days getting used to the big bike later, Enduro21 catches up with Alex as he walks wide-eyed into the "crazy" Saudi Arabian paddock to talk about the bike, the comparisons to racing enduro (spoiler alert Alex says rally needs less riding skills) and what he expects from his first Dakar…
For a guy so used to walking into a paddock with a fighting for the win mentality, how is it stepping into the Dakar bivouac as a rookie?
"When I arrived in the paddock yesterday I was a little bit shocked. In my career when I walk into a motocross or enduro paddock I feel some stress, an attitude inside because you know your level so you always have that results stress feeling. Here there is less stress like that on my shoulders.
"It is totally different mentaility for me in my career where the normal thing is to arrive fighting for the top spots. For so many years I am there to win but it is strange to say but I am here to survive not to win.
"The real stress I feel is what will I do, how the race will go and how I can handle everything because it is so different and so new. I am entering the unknown."
Two wheels and a set of handlebars – how different can rally be?
"The test in Morocco really helped me understand that to ride and read the roadbook is so, so difficult. The skills you have as a rider really don't matter and being a fast rider is not the important thing here. Your speed here comes from how fast you can read the roadbook, not how much ability you have on a bike.
"Since they heard I was coming here to race people say things like, 'you can go there and win a stage' or something but they have no idea what they are talking about. They wouldn't believe how hard it really is to ride these bikes fast.
"It is a different perspective when you are on the bike. You can be the best rider in the world but if you cannot read the roadbook then you simply cannot go fast. You can go fast like you would at EnduroGP or motocross but if you choose to do that you can easily get lost or crash...and the crashes on these bikes are so much bigger. The bike is 160 kilos and when they pitch you off it is another level of consequences."
"In rally you need less riding skills"
"Last year a friend of mine, Danillo Petrucci, did something unreal to win a stage as a rookie. Really crazy. After I went to Morocco I spoke with him and told him what he did was amazing and so difficult to do.
"I understand a little bit why he can do that because he is used to that much speed on a fast stage. He is a good level motocross and enduro rider but more importantly he comes from MotoGP, his mind is trained to operate at 300 kilometre per hour so for him 150 seems slow. 150 for me is fast.
"In rally you need less riding skills, I mean, of course you must have a high level if you want to compete for the win but after a point it is about how much risk you want to take, how good you are at riding fast and how well you can navigate.
"This year it should be different with the mirror roadbooks but the goal is not to fight or try to be competitive with the top guys. Basically, it is just to make the adventure and to develop the Fantic because it is completely new bike."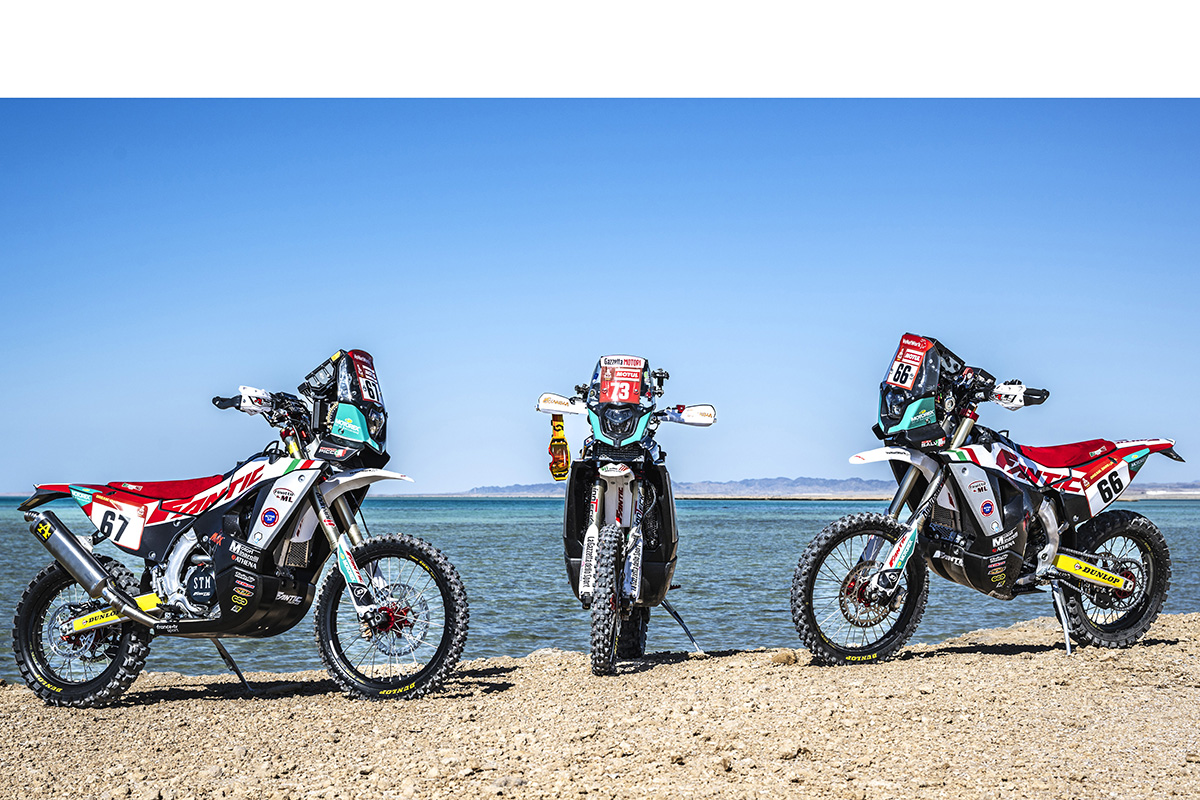 The Fantic XEF Rally bike is new but now in production. Is Dakar part of the development process?
"Yes, the idea is to develop the bike and put Fantic on the map. We know we cannot compete with another manufacturer like KTM who has so many years' experience and development but you have to take the first steps and we are here with a good project.
"The bike is completely new, they released it two months ago and the bike I will race is completely stock, exactly how they sell it to customers.
"Last year Franco rode a prototype and from that they developed the production bike which we are riding. From here we move on and take the bike to the next stage.
"There are three of us here, one guy who is at the end of his very long Dakar career (Franco Picco, 67-years old!), me on my first Dakar and Tiziano Interno who is here racing the same bike in the Originals by Motul, Malle Moto class and making a lot of media content about it."
Did you get much testing?
"I jumped on it three weeks ago, it is that quick. We did five days in Morocco and one day back home in Italy so my experience is just six days of riding.
"To be honest it was never really in the desert properly eiterh, at least not like here. Really, we are here to put hours on the bike, develop it and prepare it for customers and make this the goal as well as have a big adventure along the way."
What next then Alex?
"I will try to make a good season in the Italian enduro championship but otherwise it's fun – although it's not easy, in the last two months I did not use the same bike twice!
"My role at Fantic is like a 360 off-road project. I am an ambassador and test rider basically. I will race the Asolutti Italian enduro championship also and some other races and sports for enjoyment. For example last week I raced flat track for the first time at Valentino Rossi's ranch, I will do one motocross race and the Italian Rally Cup series also."
You're not giving up on enduro yet then…
"I will try to win my 16th Italian enduro title but at the moment I haven't even started to think about it. I haven't even touched my enduro bike.
"It will be just for fun because I don't want to leave the racing world. I can't really. I don't want to lose that feeling yet."
Photo Credit: Fantic Motor