Dalton Shirey and Jacob Argubright claim victory at 2021 Vegas to Reno
3Brothers Racing riders Dalton Shirey and Jacob Argubright won the 2021 Vegas to Reno rally while 2020 Dakar Rally winner, Ricky Brabec, has to settle for a second-place finish after hitting the ground twice.
The 2021 Vegas to Reno rally set off from the outskirts of the City of Lights and covered no less than 800 kilometres of challenging, flat-out desert terrain with the course heading north-west to reach the finish line in Carson City.
3Brothers Racing riders, Dalton Shirey and Jacob Argubright, made it clear they were there to win after posting the fastest time in qualifying. From there on it was a perfectly executed race for the duo who led the whole rally from start to finish.
Monster Energy Honda Team rider Ricky Brabec lined up looking for his fourth win, but he made it hard work for himself right after the start when he hurt his foot trying to catch Shirey and Argubright. Then when he was trying to recover the lost time, he crashed again, damaging his Honda's front wheel and was forced to pit for a spare and lost all hopes for the win in the process.
"It was a tough race this year at the Las Vegas to Reno. I got away from a good second-place starting position, but I hit a rock early on and it caused a lot of pain in my foot throughout the rally". Said Brabec.
"I pushed hard the whole race, but I crashed once and had to change the wheel towards the end. I kept my team busy, who supported me through the unexpected setbacks. Congratulations to Dalton and Jake, who rode well. Thanks to the JCR team, Honda, HRC and Monster Energy for their support - I'll be back next year to reclaim the number 1!"
Monster Energy Honda Rally Team crew knows how to pit stop fast:
2021 Vegas to Reno results: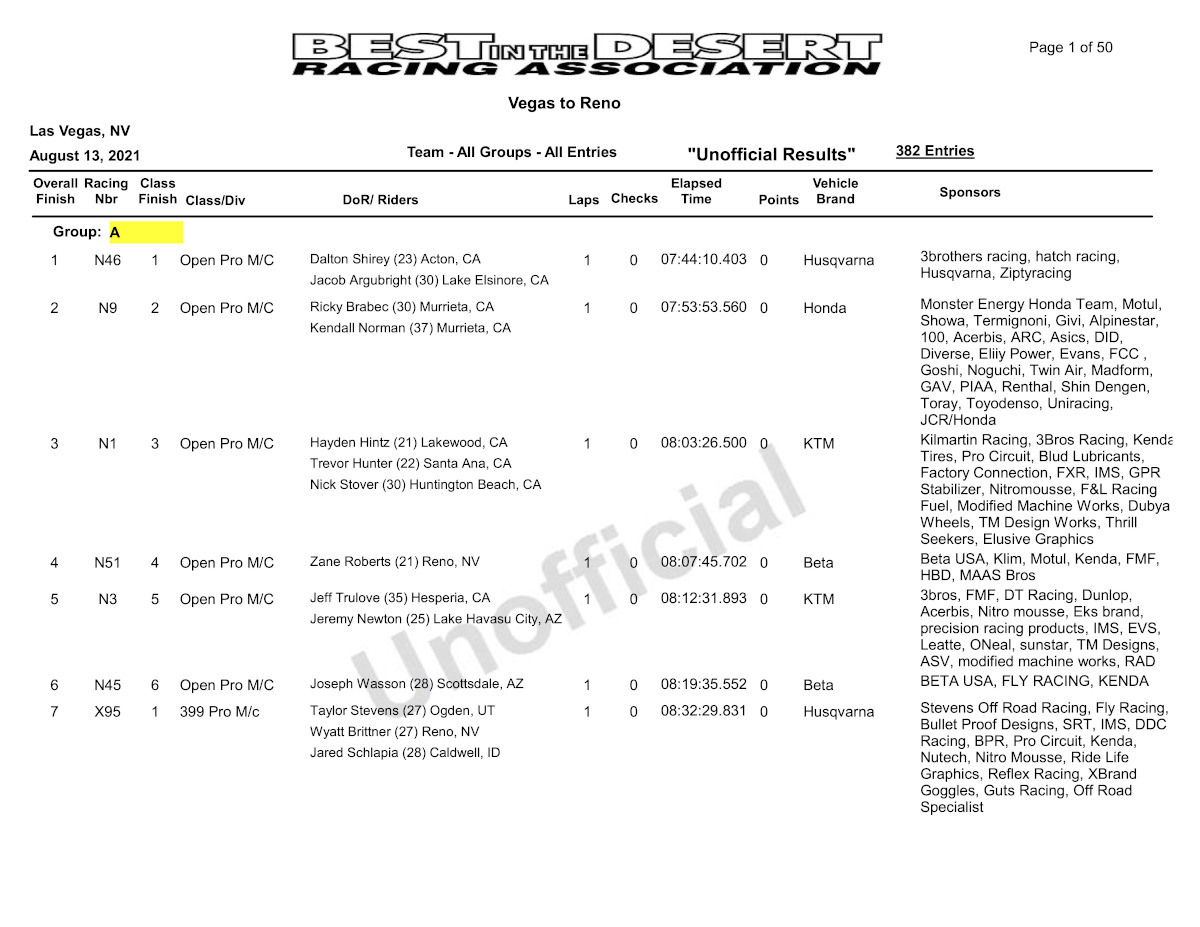 Photo Credit: HRC + AMA Hare and Hound