"I made my first roadbook holder out of cardboard" – Mason Klein talks taking on the Rally world
From best-placed Dakar Rookie and a top 10 overall to Rally 2 World Championship leader, Mason Klein is a young rider who's burst on the Rally-Raid World Championship scene with a bang.
Fastest rookie at the 2022 Dakar Rally and the runaway leader of the new Rally 2 category in the Rally-Raid World Championship, 20-year-old American Mason Klein is making a hell of a name for himself.
The BAS World KTM Racing team rider just completed round two of the FIM Rally-Raid World Championship in Abu Dhabi where he took victory number two of the season by over 30 minutes after five days racing – add that to a victory of nearly two hours after 12 days of Dakar back in January.
Enduro21 catches up with Klein to find out more about the young rider who isn't just following in the wheel tracks blazed by Ricky Brabec and Skyler Howes on the world rally stage, but actually challenging those two big-name factory riders for stage results and establishing himself as a serious contender in the new world championship.
Hi Mason, firstly can you tell us a little bit about your riding background? What were you doing before arriving on the rally-raid world stage?
Mason Klein: "Hi, yeah, I started out with GP-style racing which is kinda half off-road and half desert racing. Since around 2012 my brother, my dad and me and that was as good start for me.
After that we went to more off-road races, similar to what you guys call Baja races in Europe and that's basically how we started, following a ribbon, racing through the desert.
"My younger brother and I train together – all his training I do, all my rally training he does and that helps us both a lot."
When was your first actual rally?
"That was the 2020 Sonora Rally in Mexico. It was a super-nice race for me. I had a big mechanical issue on day one which took me out of the overall result but after that I had some really good daily results behind Ricky [Brabec] and Skyler [Howes] and that was a really good confidence boost."
You spend time training with Skyler back home, was he the inspiration or how did you get the bug for Rally?
"Normally I train with Skyler Howes and this works really well for me (and him I hope!). We make our own roadbooks and when we get out there on our dirt bikes, we have a plan and we are definitely there to do the work. We have fun afterwards but it's nice knowing and working with someone at such a level who has the same goals.
"Being in America there are not many people out there making roadbooks for rally. So I kinda started on my own with a rally navigator programme basically."
"We train until our brains are tired"
"Around 2019 I was making my own roadbooks before I even had a roadbook holder, I figured it out all on my own pretty much.
"I did a KTM Adventure Rally with a company called Moto Minded and they had two bikes with the roadbook holders and even just seeing those made me realise I just wanted to do it.
"I was at the adventure rally because I was sick of doing the same thing, following the ribbon and whatnot. I wanted to be on the bike for a longer time and just knew that's what I wanted to do. When I saw the bikes with the roadbooks on, I realised rally was my dream sport."
Had you ever ridden with a roadbook before that?
"No, never. It was amazing for me, that moment. After that I had to prove to my dad that I really wanted it. I made my first roadbook holder out of a cardboard box, some pencils and some rubber bands. I took my brother and my dad on a ride in the mountains near my house and they were surprised we were able to do anything with the contraption I had set up on my bars.
"From there he invested a bit more in me and we got a nav tower and it is history from that point on."
Day-to-day, how do you train back home? What do you actually do with Skyler?
"Training for rally is a big deal, different from other off-road sports let's say. You need to be an amazing rider and you need to be really thoughtful with all your actions on the bike.
"My brother and I train together a lot in the gym – minimum three days a week but usually nearly every day. We focus on strength training in the gym so when we get out on the bike we can focus on endurance riding, speed and really learning how to ride the bike to the best.
"We try to maximise our time on the bike because that's for sure the best training for racing, being on the bike.
"The reason why it works so good with Skyler is because he has a rally bike too and we are able to get long days of 10 hours riding in Utah, California or Glamis, Mexico.
"When we train, we try to do it until our brains are tired. It doesn't really matter how far you go but it does matter that you do it for a long time. So sometimes we go for a workout before we ride and that means you're already physically and mentally tired before you start and that is huge in rally riding.
"At the Dakar you're on the bike for a really long time and if you're not used to that mental and physical side of it, you'll have a hard time."
You're in your second year with the BAS team now, right? How is it working with these experienced guys?
"Again, that has been a super-nice for me and they are one of the best teams you can pay to go racing with, nice people and like a family really. I would say they are as good as a factory team because they take such good care of your bike and the rider.
"I actually found them through being at the Andalucia Rally with Skyler. I wasn't there to race, just there with Skyler because I really wanted to do rally but it wasn't an option to race at that time. But Skyler was racing with them and it was obvious it was the team to be with."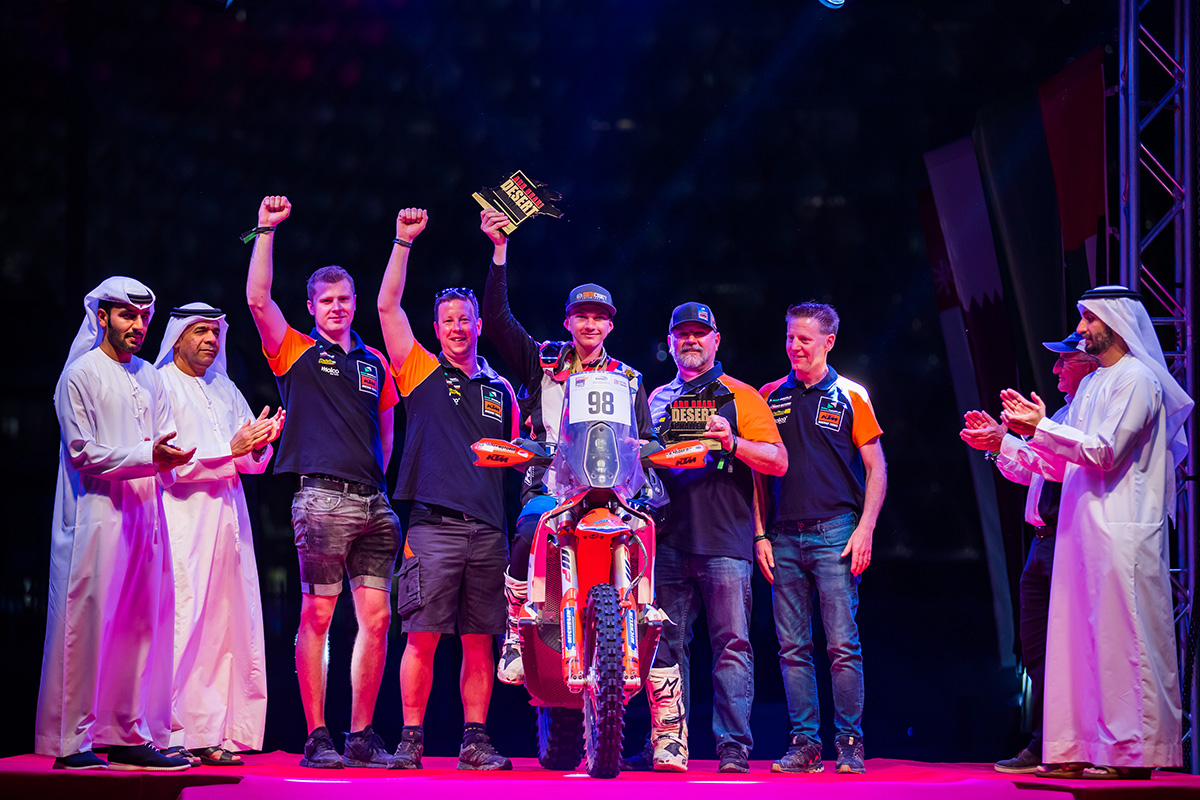 The '22 Dakar was obviously an amazing result for you – when you started ticking off great stage results did it feel surreal or were you just doing your thing?
"The one day I had a plan for doing really good and the result was not very good! When I did my best I just went out and had fun. I treated it like a trail ride, when I leave the start line I don't get on the gas I just try to set off smooth and steady and focus on myself.
"One of the hardest things is when you go past someone and you feel pressure to go faster and do what they're doing but you have to do your own thing."
"Stage two at Dakar I lost something like 40 minutes and learned a hard lesson in trusting yourself. I started fifth and arrived at a spot where there were only two tracks ahead of me, I looked back and there was another rider but I thought to myself there's no way this top factory rider is wrong. But we were wrong.
"It was a hard lesson because the answer isn't to just follow the other guys because they can be wrong. If you're following, the best skill to have is to be the first one to know when and if you're going the wrong way. You have to always stay on top of your navigation no matter what."
Did you have pinch yourself sometimes riding alongside some of the legends and Dakar winners?
"Yeah, for sure. One of my favourite experiences was riding alongside Sam and Matthias and also Skyler of course. You almost forget you're riding yourself and end up watching them ride. It's an amazing experience to ride with those guys through the wide-open desert, and the dunes, it is hard to focus on yourself.
"I try to learn from it as well and I found myself riding alongside Toby Price most days in the second week at the Dakar. The way he rides is so effortless it was amazing to watch."
"We stole some fuel from them using an old bottle from the side of the road"
Is it still a learning curve for you and if so what do you take from racing with those guys?
"One big thing I took away from that is you can't beat experience. There are many situations that I found myself in where I just had no clue what to do. For example, when I get lost, I sit around too much but these guys keep moving, you have to if you want to keep moving forward."
How hard is it really to ride at their pace, or the pace needed to set the top times in a stage?
"Even though we are going over 100 miles an hour at some points of the day, the pace is not as important as your ability to read the roadbook. No matter how fast you're going, if you're going the wrong way then you're going slower than the other guy.
"I think that was a big plus for me because I didn't focus on going too fast but more on my navigation, going the right way, getting all the waypoints and having fun."
What's the hardest thing about riding at that pace?
"Staying focused is hard. You have to look down so much during a day and you can crash so easily because you don't see a rock, bush or tree and your day can be over so quickly. So I think the trick is to stay mentally sharp all day long."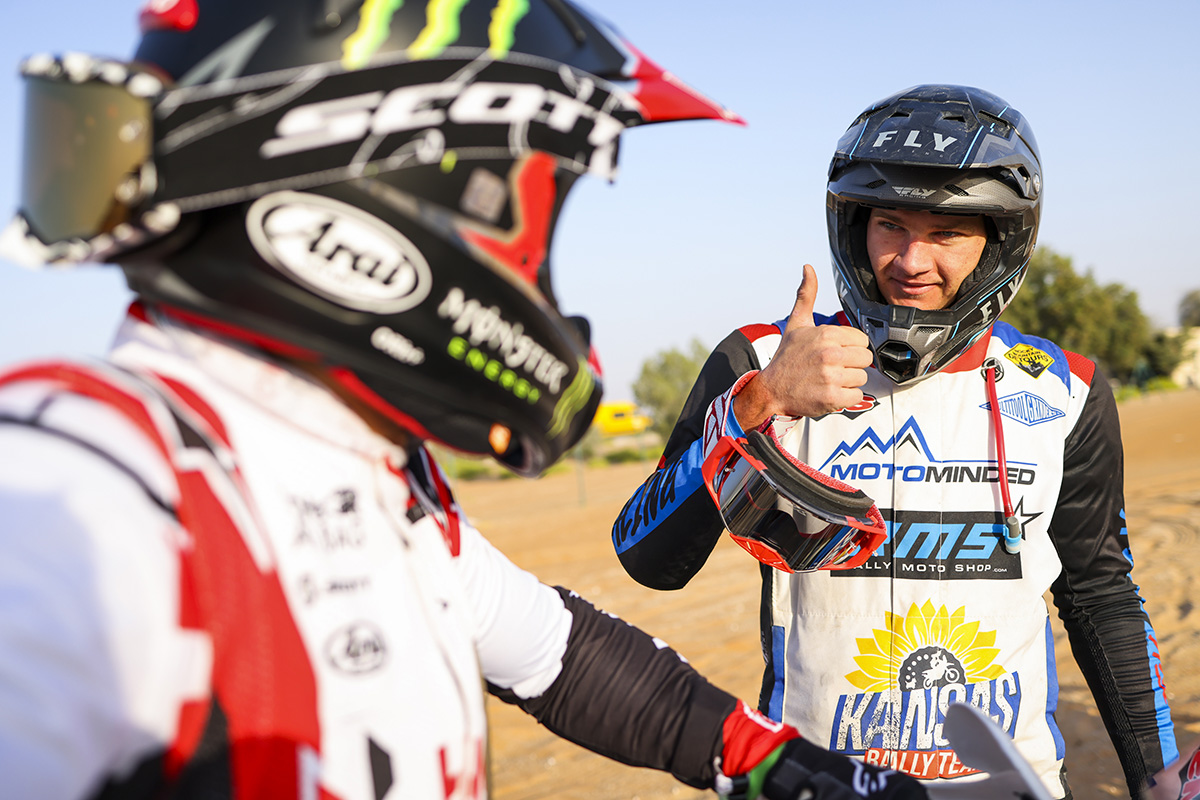 A lot happens on a stage that most people watching will never know about. What are the biggest unseen things no-one would know but were a big deal for you at the time?
"One of the simplest things was on my best day, when I finished third on stage three. On the way back on the liaison I ran out of fuel. I missed the fuel point at the finish of the special, I didn't see it and wasn't thinking and that could have been the end of my race. If you don't finish the liaison you're done. It comes down to focus again.
"Daniel Sanders and Bradley Cox pulled over and we stole some fuel from them using an old bottle from the side of the road. I'm really grateful for their help at that moment."
You are very young for a rally rider, and it is generally understood a smart head is important. Are you mindful of that, not overriding yourself and going crazy?
"For sure. Skyler Howes comes to me most days and he is definitely my mentor. He really keeps my head on straight and he's almost like a dad. He's also my best friend at the same time but he can also be really serious and he keeps me in check. I'm really grateful to have him."
The Rally 2 class is competitive, is winning that your goal this year?
"Right now, Rally 2 is my goal for sure. I want to get a championship before moving up to Rally GP class because that is the elite. That's the end goal but right now I want to do well in Rally 2.
"With the BAS Dakar Team it is going to be a long season and it is more important to get finishes than wins so for these next rounds I'm less focused on the speed and more on surviving and making sure that I'm learning as much as I can."
And beyond that to Dakar '23, are you already looking towards that?
"Yeah, for sure I'm already looking forward to that. The plan is with BAS again because they are a really great team and I think we can get another good finish, maybe even better.
"I think I know what I need to work on from the last event. Firstly, that is doing the world rally events to gain more experience but secondly fitness. I had a pretty good 'rally bod' going into Dakar this year but it was something that I really felt midway through the race – particularly in my back and my shoulders because there's a lot of hanging on.
"The dunes are a big struggle of mine also because of experience riding them but you can always get better in every aspect."
What about the future, you must be attracting attention from the factory teams?
"Yeah, I think there is some interest from them but at the moment there is nothing going on and I am more than happy where I am. For me to stay with Bart in the BAS team is perfect.
"For sure in the future if I can sign with a factory team then it will allow me to keep racing and build a career but they are goals, big goals. For now, I am happy having fun and learning."
Photo Credit: A.S.O J. Delfosse + B. Roux