Rallye du Maroc: Walkner leads a Honda sandstorm after stage 2
Race report and video highlights from stage two of the Rallye Du Maroc round of the 2021 Cross-Country Rallies World Championship where Matthias Walkner holds a narrow lead ahead of a battalion of Honda riders after two days of epic desert racing.
At a total of 609 kilometers, stage two of the 2021 Rallye du Maroc was the longest of the race and included a challenging 334 kilometers timed special in the epic Erg Chebbi dunes, which peaked at heights of 150 metres in places.
Matthias Walkner is on course to hit his target of the 2021 Rally world title after topping day two and a solid fourth place finish on day one, a day which saw his Red Bull KTM teammates suffer various issues with navigation in some rough, sandstorm conditions.
Behind Walkner overall is the impressive Monster Energy Honda squad who placed first to third on day one meaning the Austrian had three red riders to chase which helped him win stage two by one minute and 19 seconds to head the provisional overall rankings by just 19 seconds.
Working together to open the way and limit the damage, the Honda boys are certainly scoring the squad goals so far this week in Morocco. Although Walkner leads he will have to open day three and overall is only 19 seconds ahead of Pablo Quintanilla on the Honda who will start second, one minute ahead of teammate Ricky Brabec and three minutes in front of Joan Barreda back in 11th.
Say what? Top three riders talk after stage 2:
Matthias Walkner: "It was a really good day for me today. I set out looking to minimize any mistakes again and I found it easier to get into a good pace early on. My navigation was good, and I think after about 100 kilometers I could see the guys in front of me. I pushed on from there and by kilometer 300 I caught them and the four of us rode in a group to the finish.
"I'm pleased to have won the stage but it means opening tomorrow, which will be tough. We're fighting for the top spot on the podium though, so I'll do my best and hopefully do a good job."
Pablo Quintanilla: "This second stage of the rally was very long and very tough. A liaison of 200 kilometres very early in the morning and the special stage of about 350 kilometres with fast, parallel tracks, stones, dunes and dry river beds. It was a high-speed special stage.
"I knew I was going to drop some time starting third, but in the end it went better than expected and I finished third. I'm happy, I'm second now. I feel comfortable with the bike and I'm very motivated for what lies ahead."
Ricky Brabec: "The team is doing a good job. Stage two was one of the longer stages. Joan opened the track for 98% of the day and I was there trailing him all day. He would make a slight mistake and I would be there to help him, then he would take over the opening role again. He did a really good job today.
"Then a little bit before refuelling Pablo caught up with us and from there we rode together as a team. It worked really well. With the first two days in the books, we are looking pretty good and now we've got three days left, so let's keep the focus."
KTM boys need to regroup
Kevin Benavides rode the new, 2022 KTM 450 to fifth place, just over four minutes back but the closest teammate able to help champion elect, Walkner. Following navigational issues in a mighty sandstorm on stage one which affected many riders, Toby Price is the furthest Red Bull KTM rider back and started today's special in 29th.
The Australian was then quickest to the first checkpoint but caught other riders from that point onwards and the dust slowed his progress to an eventual finish o13th.
"Day two was a much better stage for me." Explains Toby. "I had to start quite far back, and that meant passing quite a few guys ahead and having to get through their dust, but all in all it was a fun day with no big issues.
"I gave away a lot on day one, which is frustrating, but from here, I just need to stay on two wheels, bring it home every day and get to the finish."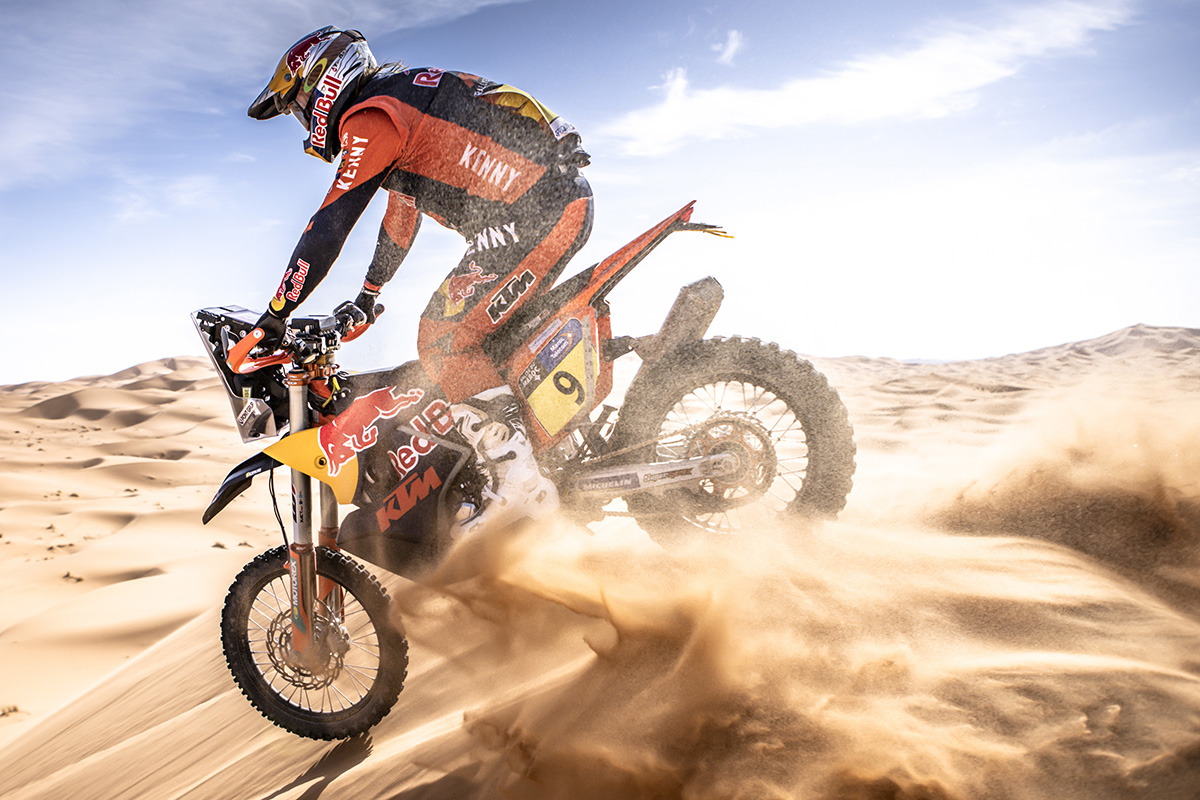 Big losers on stage two in the high temperatures were Franco Caimi (Hero Motorsport) and Stefan Svitko (KTM Svitko) both of whom broke engines.
Stage three of the 2021 Rallye du Maroc features the second longest timed special of the event at 341 kilometres. In total, riders will cover over 600 kilometers on a looped stage, starting and finishing at the bivouac in Zagora.
Provisional Results – Stage 2 Rally du Maroc 2021
1. Matthias Walkner (AUT), KTM, 3:40:32
2. Jose Ignacio Cornejo (CHI), Honda, 3:41:51
3. Pablo Quintanilla (CHI), Honda, 3:43:22
4. Daniel Sanders (AUS), GASGAS, 3:44:12
5. Kevin Benavides (ARG), KTM, 3:44:36
6. Ross Branch (Yamaha) 3:45:25
7. Ricky Brabec (Honda) 3:46:20
8. Sam Sunderland (GBR), KTM, 3:46:35
9. Skyler Howes (Husqvarna) 3:47:32
10. Joan Barreda (Honda) 3:49:15
Provisional Standings – Rally du Maroc 2021 after 2 of 5 stages
1. Matthias Walkner (AUT), KTM, 7:12:11
2. Pablo Quintanilla (CHI), Honda, 7:12:30
3. Ricky Brabec (USA), Honda, 7:13:11
4. Joan Barreda (ESP), Honda, 7:15:12
5. Daniel Sanders (AUS), GASGAS, 7:17:08
6. Nacho Cornejo (Honda) 7:18:08
7. Kevin Benavides (ARG), KTM, 7:23:29
8. Adrien Van Beveren (Yamaha) 7:24:58
9. Sam Sunderland (GBR), KTM, 7:30:20
10. Luciano Benavides (Husqvarna) 7:30:52
Photo Credit: Marcin Kin + Rally Zone