Rallye du Maroc: Quintanilla wins the race, Walkner wins the World Championship
KTM Factory Racing's Matthias Walkner has secured his second Cross-Country Rallies World Championship title with runner-up finish at the 2021 Rallye du Maroc – Honda's Pablo Quintanilla wins the rally in Morocco while Daniel Sanders takes his and GASGAS' first-ever podium.
Coming into the Rallye du Maroc with a 20-point advantage at the top of the championship standings, Matthias Walkner needed a strong performance at the penultimate round to clinch his second Cross-Country Rallies world title.
After coming back from a bad day three, Walkner still had work to do when the fifth and final day was shortened to just 166 kilometres by the organisers. It meant times were very close across the whole field with Pablo Quintanilla heading home first on the day, Walkner did enough with eighth fastest time to finish second overall for the event and secure the 2021 FIM Cross-Country Rallies World Championship.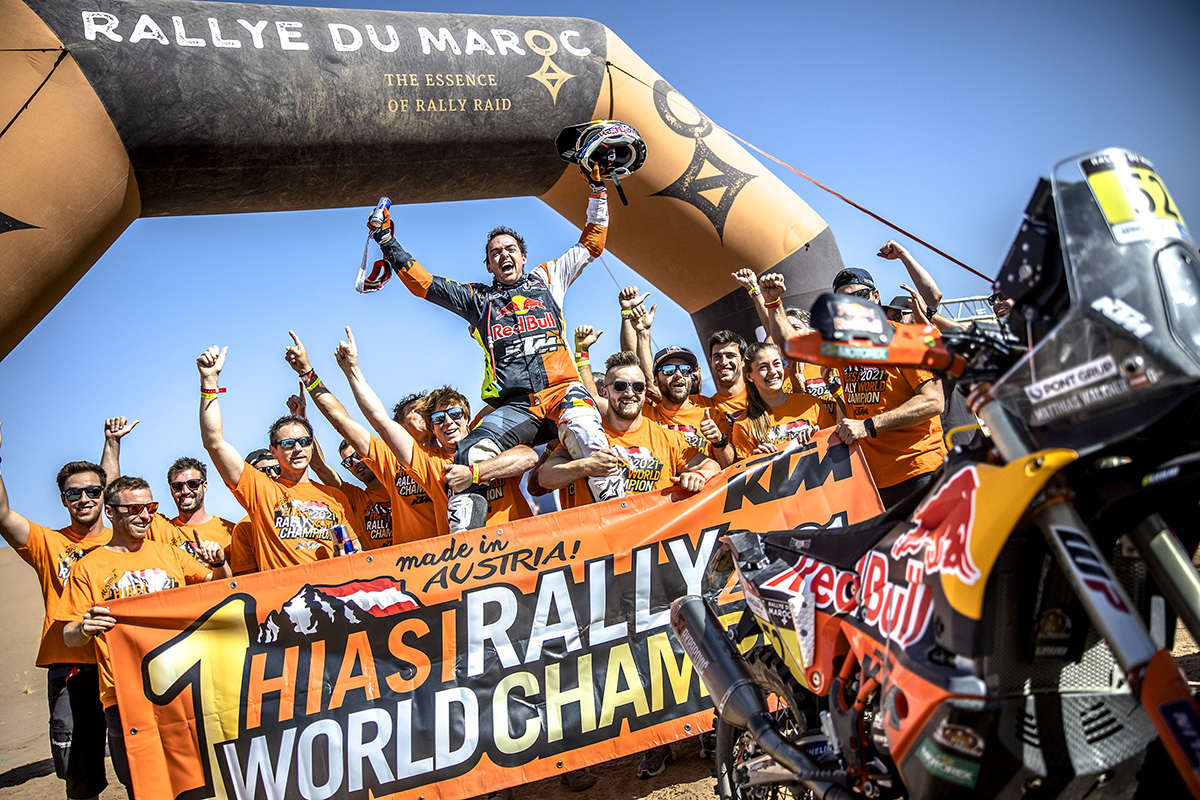 "It's been a super cool rally for me." Said Walkner. "I set out this morning hoping to take the win, but I made a small mistake about halfway through that only maybe cost me a minute, but it was enough on the shortened stage to lose out.
"Second place overall is great though and to win the world championship title early is amazing. The team have been great all year, so a big thank you to them. It's time to relax now and really enjoy the moment."
Of the three championship rounds raced so far in 2021, Walkner has shown consistency finishing as runner-up at the high-speed Rally Kazakhstan, before taking the win in the contrasting conditions of the epic Silk Way Rally, held in Russia less than one month later. The P2 result in Morocco was enough to secure the title a round early.
Quintanilla takes debut Honda win
After some high-profile switching of teams between the top riders after Dakar 2021, Pablo Quintanilla arrived in Rally du Maroc facing his first real challenge for the Monster Energy Honda Rally Team. The Chilean has adapted quickly to teh HRC machine and delivered his first major win in Dakar-like conditions and ahead of his more experienced (with this bike) Honda teammates.
"I am very happy with the victory." Says Pablo. "It was a very difficult week and I want to thank the whole team for the great job they did. It was fantastic for us. Personally, I felt very comfortable, I was riding with great pace, with good navigation and that's very good for my confidence. I am also very motivated for the next objective, which is the Dakar."
The Honda team tally finished at three stage wins in Morocco where they put on a strong collective performance. Incidentally, Honda's last win in Morocco was achieved by Paulo Gonçalves in the 2013 edition.
Sanders takes maiden World Championship podium
Daniel Sanders secured third overall and with it his and GASGAS' first ever podium result in the FIM Cross-Country Rallies World Championship.
After some issues on day three, the Aussie turned things around on the final two stages, upping his pace and rapidly closing in on the leader to complete the rally just over five minutes short of Walkner.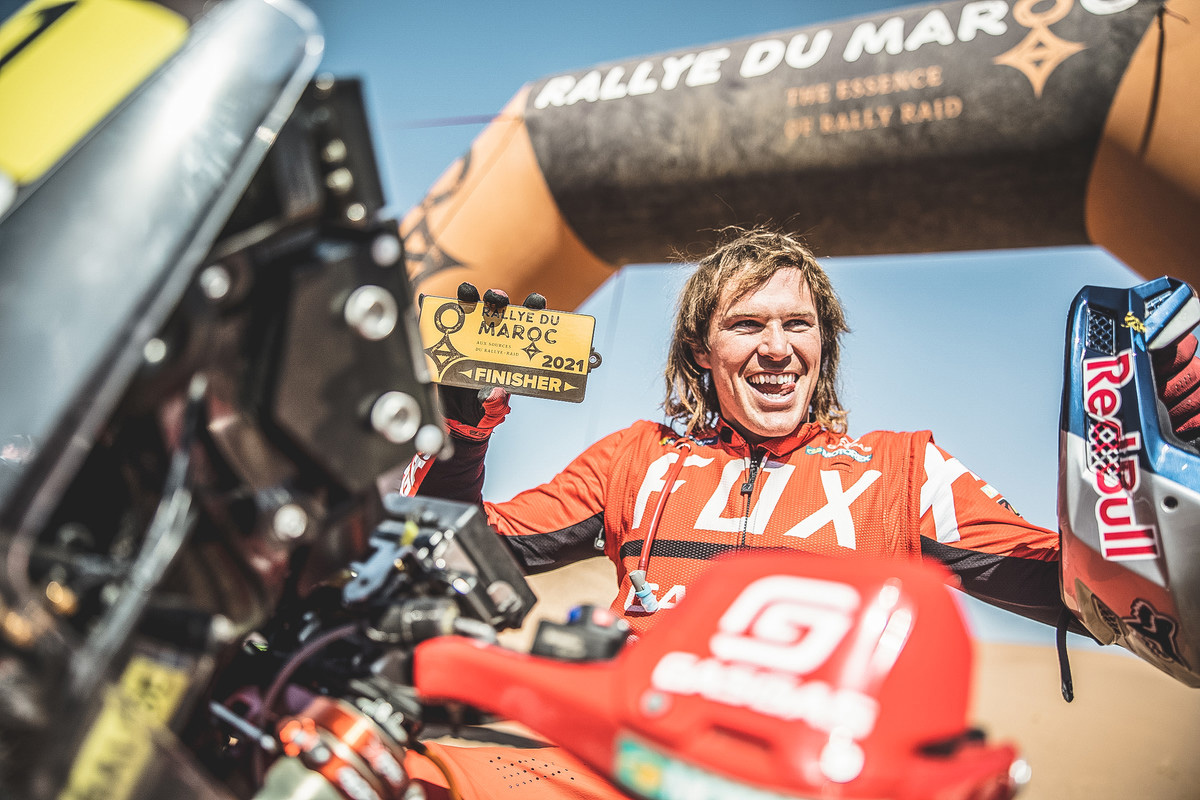 "Opening the final stage was pretty cool." Said Sanders. "After around 80 kilometres the navigation became a bit more tricky so I had to slow my pace to make sure I was on the right path. I actually had a small crash in the dunes but I was up quick and straight back on a decent rhythm. I'm really happy to have finished third on this stage after opening and overall it's been a great week. To end it with a podium and secure the first podium result for GASGAS in the world championship is really cool."
It was a close thing, Honda's Ricky Brabec was also gunning for the podium but with near identical times to Sanders on the final stage, the American made no ground on the final day and ended fourth ahead of Adrien Van Beveren in fifth on the Yamaha.
Provisional Results – Stage 5 Rally du Maroc 2021
1. Pablo Quintanilla (CHI), Honda, 1:39:12
2. Ricky Brabec (USA), Honda, 1:39:29 +0:17
3. Daniel Sanders (AUS), GASGAS, 1:39:30 +0:18
4. Toby Price (AUS), KTM, 1:39:49 +0:37
5. Ross Branch (BWA), Yamaha, 1:39:49 +0:37
Provisional Standings – Rally du Maroc 2021 after 5 of 5 stages
1. Pablo Quintanilla (CHI), Honda, 16:26:51
2. Matthias Walkner (AUT), KTM, 16:28:50 +1:59
3. Daniel Sanders (AUS), GASGAS, 16:32:18 +5:27
4. Ricky Brabec (USA), Honda, 16:34:05 +7:14
5. Adrien Van Beveren (FRA), Yamaha, 16:44:52 +18:01
The next major race ahead of Dakar 2022 is the Abu Dhabi Desert Challenge, held from November 6 to 12.
Photo Credit: Marcin Kin + Rally Zone