Abu Dhabi Desert Challenge: Walkner leads Van Beveren after stage 2
Stage two of the 2021 Abu Dhabi Desert Challenge, the final round of the FIM Cross-Country Rallies World Championship, sees Monster Energy Yamaha Adrien Van Beveren fastest while Red Bull KTM Factory Racing's Matthias Walkner takes the rally lead with three days remaining.
Following on from Ross Branch's victory on the opening day of the 2021 Abu Dhabi Desert Challenge, Monster Energy Yamaha Rally Team's Adrien Van Beveren won stage two, continuing the team's positive start to the rally.
Also making a positive start to the rally was newly crowned world champion Matthias Walkner who finished second today but leads overall ahead of Van Beveren. Walkner lead form the front for most of the day two stage after catching and passing day one winner Ross Branch. The two riders battled it out for the first half of the stage, swapping positions at the front, up to the refuelling station.
In the second half of the special, Walkner continued to push and pulled a gap on his rivals. A win on the trail meant second fastest for the day but Matthias moves into the provisional lead of the event, over two-and-a-half minutes ahead of AVB.
"Another day done, and it was a tough one!" Said Walkner. "Setting off this morning I thought that by the end of the stage most of the riders behind would have caught up with those opening the special. At the refueling we could see that wasn't the case, so Ross and I decided to keep pushing to see if we could stay out front. We took it in turns to open with each rider leading the way for 30km or so.
"For the last 100km I found myself alone out front and just gave it my all. I really was pushing hard and, thankfully, everything went well, and I was able to bring it home for a good, safe finish. The long stage took it out of me, so I'll try to relax now and recharge before tomorrow."
AVB continues strong start for Yamaha
As the fifth rider to enter stage two, Adrien Van Beveren capitalised by following in the wheel tracks of the riders in front and put in a strong day to secure the stage win. The Frenchman is a fan of the dunes and was in his element racing through the sand sea which formed a large part of the stage.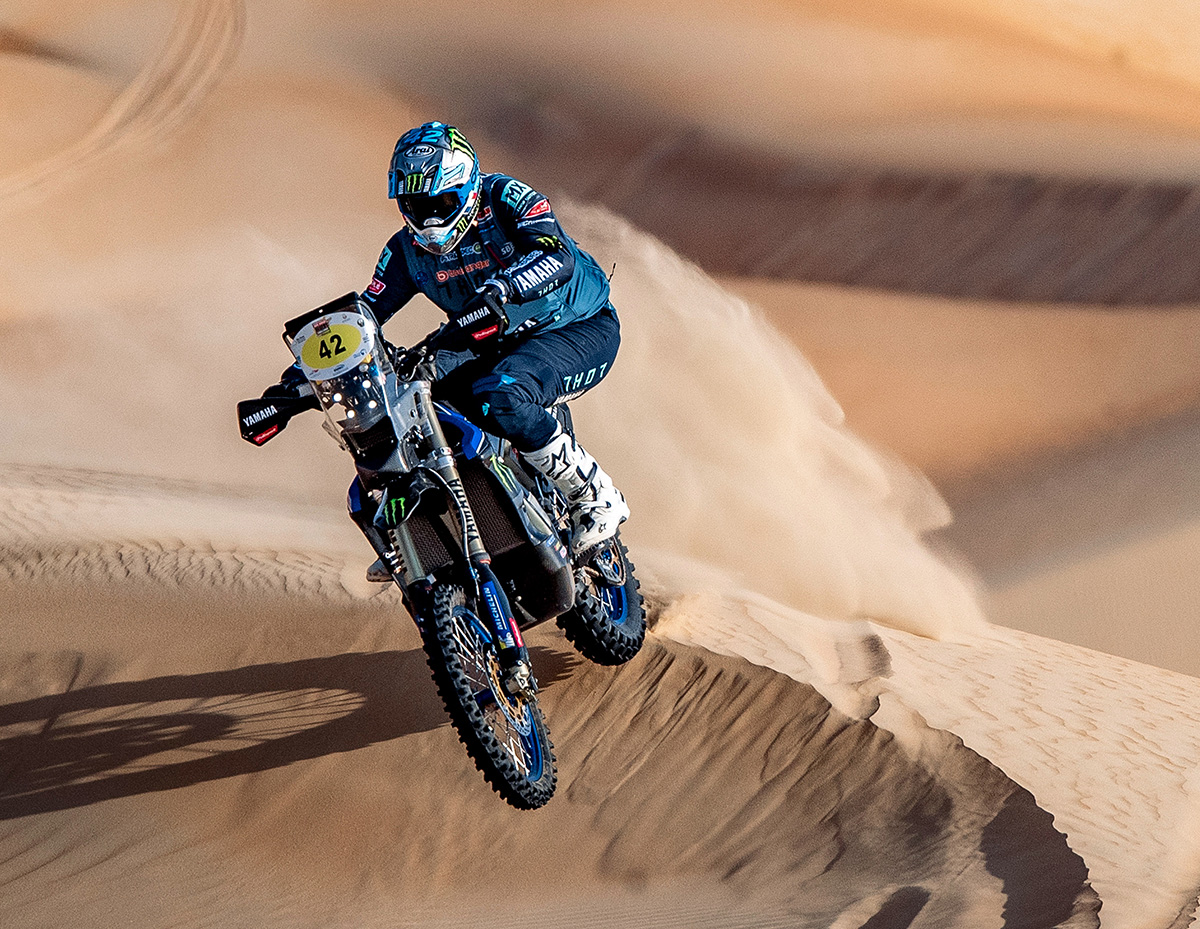 "I've had a really good day and I'm really happy to have won today." Says Adrien. "I made up a lot of time before refuelling and with some calculations, I thought it would be possible to catch the leaders on the stage. My speed was good but I came up a little short.
"Today's stage had the perfect terrain for me, so I'm really pleased that I could show what I can do when it's almost all sand dunes like it was today. It's still early in the rally and tomorrow I will open the stage so it's likely that I will lose some time, but I will do my best to minimise that and focus on my navigation to ensure another strong result."
Sanders third despite crashes and getting stuck
"Day two went ok for me," explained GASGAS Factory Racing's Daniel Sanders, "but not as well as I'd hoped. I found it hard to get into a good rhythm early on – I had a couple more scary calls with some drops as I'm still learning how to read the terrain here in the desert. I had a couple of crashes too – one gave me quite a knock and I ended up in a hole in the dunes. I had to dig the bike out a little and that cost me some time."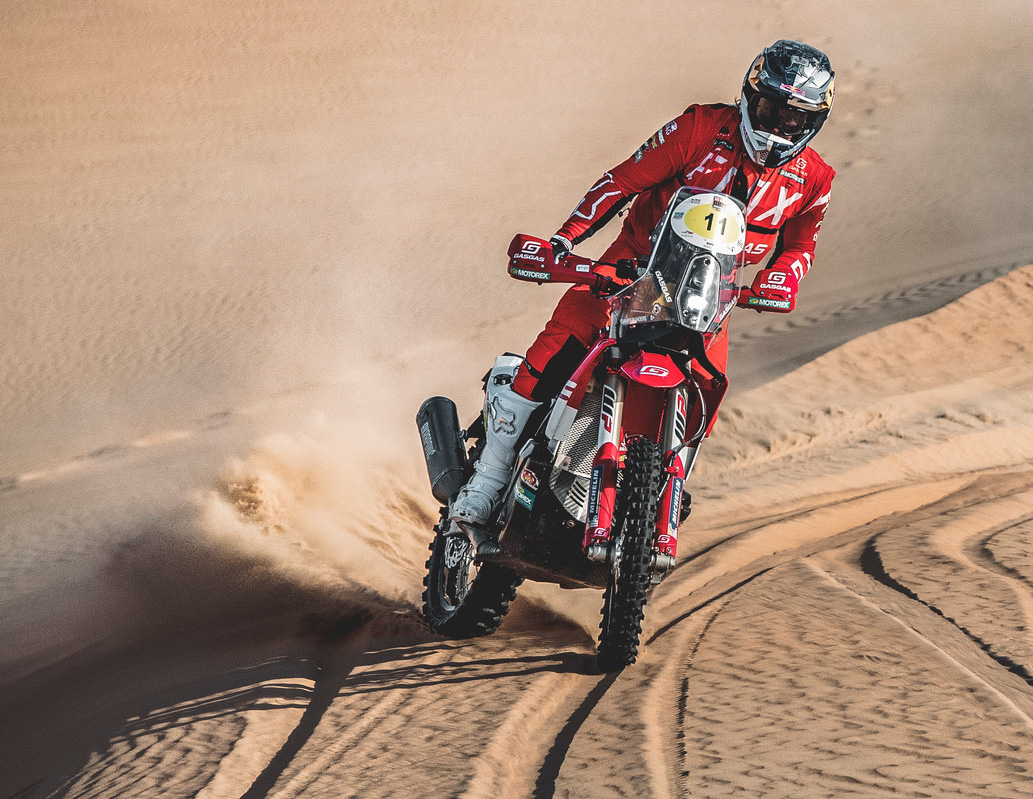 "I got to the refuel and managed to get some food and water into me, recharged and felt a lot better after that. For the second half of the stage, I felt a lot better and managed to find a good pace. The terrain suited me better too, with more tracks and plateaus. I finished third-fastest today, which puts me in a good spot for tomorrow."
Results – Stage 2:
1. Adrien Van Beveren (FRA), Yamaha, 4:24:34
2. Matthias Walkner (AUT), KTM, 4:26:56 +2:22
3. Daniel Sanders (AUS), GASGAS, 4:27:35 +3:01
4. Ross Branch (BWA), Yamaha, 4:32:36 +8:02
5. Aaron Mare (RSA), KTM, 4:40:16 +15:42
Provisional Standings after 2 of 5 stages:
1. Matthias Walkner (AUT), KTM, 7:52:31
2. Adrien Van Beveren (FRA), Yamaha, 7:55:10 +2:38
3. Daniel Sanders (AUS), GASGAS, 7:56:13 +3:41
4. Ross Branch (BWA), Yamaha, 7:58:07 +5:36
5. Joaquim Rodrigues (POR), Hero, 8:16:27 +23:55
Tuesday's stage three of the Abu Dhabi Desert Challenge, the half way point of this last major rally event before Dakar 2022, covers a total distance of 327.62 kilometres and will see riders take on a timed special of 293 kilometres.
Photo Credit: Rally Zone