World Rally-Raid Championship: Quintanilla on top after Abu Dhabi stage 1
Monster Energy Honda's Pablo Quintanilla takes the early lead with prologue and stage one win at the Abu Dhabi Desert Challenge, round two of the 2023 FIM World Rally-Raid Championship.
2023 ADDC stage one in a nutshell:
Day two, stage one is in the books at the second stop for the Rally-Raid World Championship and it is former champ Pablo Quintanilla who has made the strongest start in the Abu Dhabi dunes.
The Chilean won the short and sharp prologue yesterday ahead of his Monster Energy Honda teammate Adrien Van Beveren and the duo used their favourable start positions to back it up with a stage one win.
Today's stage was 404 kilometres in total from the bivouac at Al Dhannah city and heading for Qasr Al Sarab in the Liwa desert on a 59-kilometer liaison ahead of a 242km timed special on dunes and sandy tracks.
It proved to be a day for caution in the dunes with most riders talking about the drops off the blind side of dunes holding their tempo and rhythm.
Toby Price says it was "a little bit different to what we've seen in the past at this event." Although it was on familiar territory in the empty bottom corner of the Arabian peninsula, very much like some of the Dakar stages which aren't so many kilometres away.
Quintanilla took the win and holds the early rally lead just over two minutes ahead of his French teammate, with Ross Branch (Hero MotoSports) in third place at 3′14″ down.
Honda's Nacho Cornejo, posted the fourth fastest time at 4′16″ with Toby Price (Red Bull KTM Factory Racing) in fifth at 4′37″ behind.
Quintanilla is 2′16″ ahead of VBA and 5′17″ clear of Price in third just three seconds ahead of Branch.
'23 Dakar podium finisher Skyler Howes says it was pretty tough leading out front with Nacho Cornejo, but good fun stage. "I set off second, caught Balooshi by around kilometre 10, then when Nacho (Cornejo) caught me at around kilometre 150, we rode together, pushing each other to the finish. The stage was tricky enough that you had to stay focused to make sure you didn't make any huge mistakes over some of the big dunes."
In the Rally2 class, Paolo Lucci (BAS World KTM Racing) took over the reins of the race from Konrad Dąbrowski (Duust Diverse Racing), who finished minutes back today. Jean-Loup Lepan is third.
2023 Abu Dhabi Desert Challenge stage 1 results: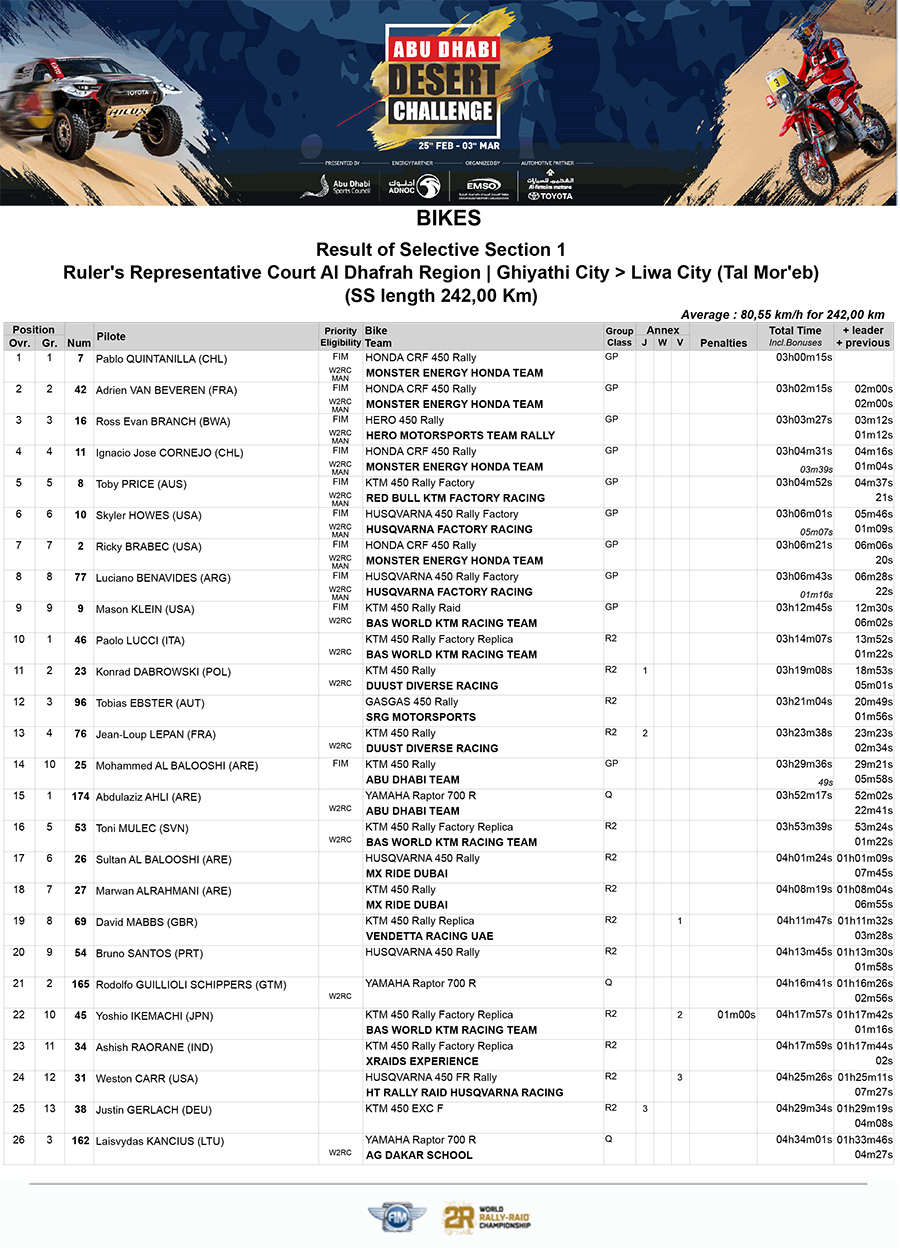 2023 Abu Dhabi Desert Challenge classification after stage 1: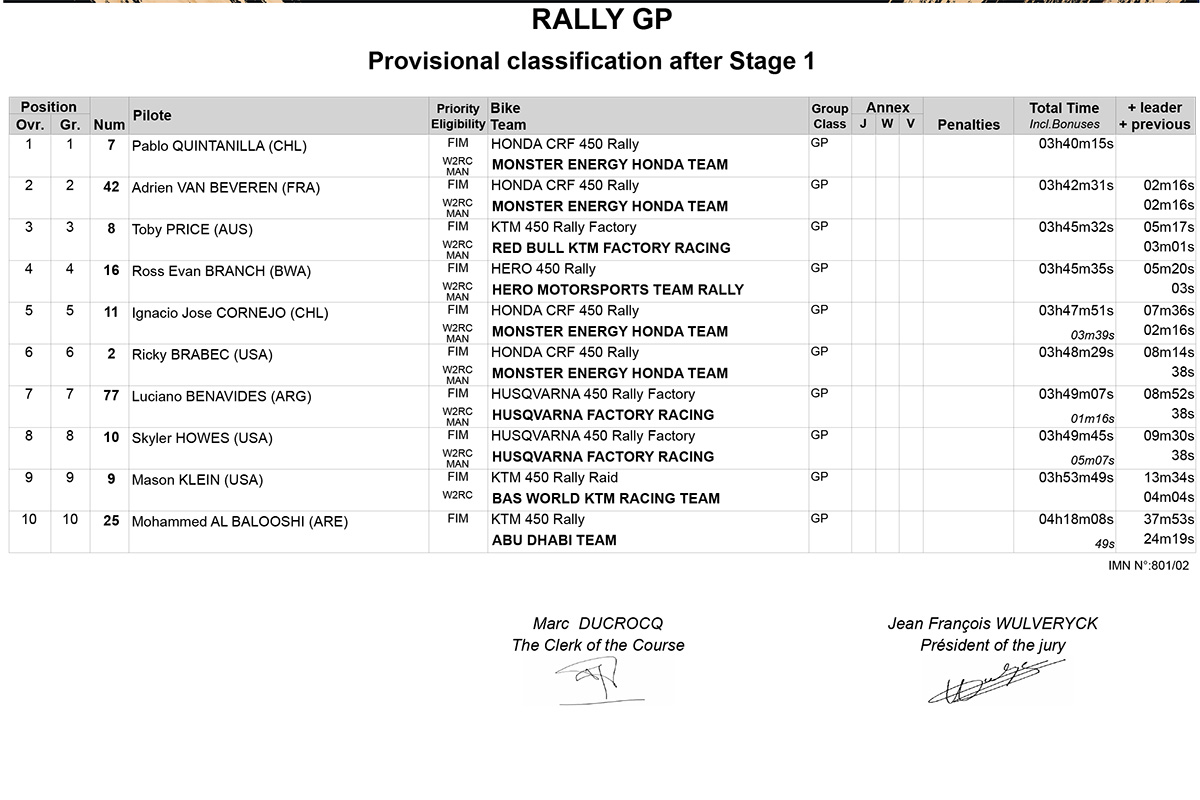 Photo Credit: MCH Photo + Rally Zone