Say what? Pro riders explain SuperEnduro Rnd2 in Budapest
How was your night? Hear what the Prestige (Pro) class riders had to say after round two of the 2022 SuperEnduro World Championship in Budapest, Hungary.
The result might have been the same at the second SuperEnduro round of the season, but the back story is anything but equal.
After a dominant start to the season in Poland back in December 2021, Billy Bolt again went 2-1-1 in Budapest for the overall win and extended his lead in the championship to 123 points, 33 clear of second place.
But apart from a certain amount of carnage on the tough track (see start line crashes, legs in back wheels and arm pump across the board) the story is the boys got closer to Billy.
Are you ready yet?
Frankly at round one it looked like Billy arrived ready to go while the rest were still unpacking their bags. In this super-intense SuperEnduro championship you haven't got time for figuring things out on track, you need to be on it from the first gate drop.
On Saturday night more riders arrived ready to party and when Taddy broke Billy's lock-out with his, and anyone's, first race win, it pointed to the fact the season finally started.
Budapest put on a great show and was classic SuperEnduro from a spectators point of view. Although Billy happily walked away with a bigger lead, the fight for podium places has also tightened right up with Haaker second on 88 points, one ahead of Blazusiak and Walker jointly on 87 with Will Hoare fifth on 56 points.
2022 SuperEnduro World Championship points after round two: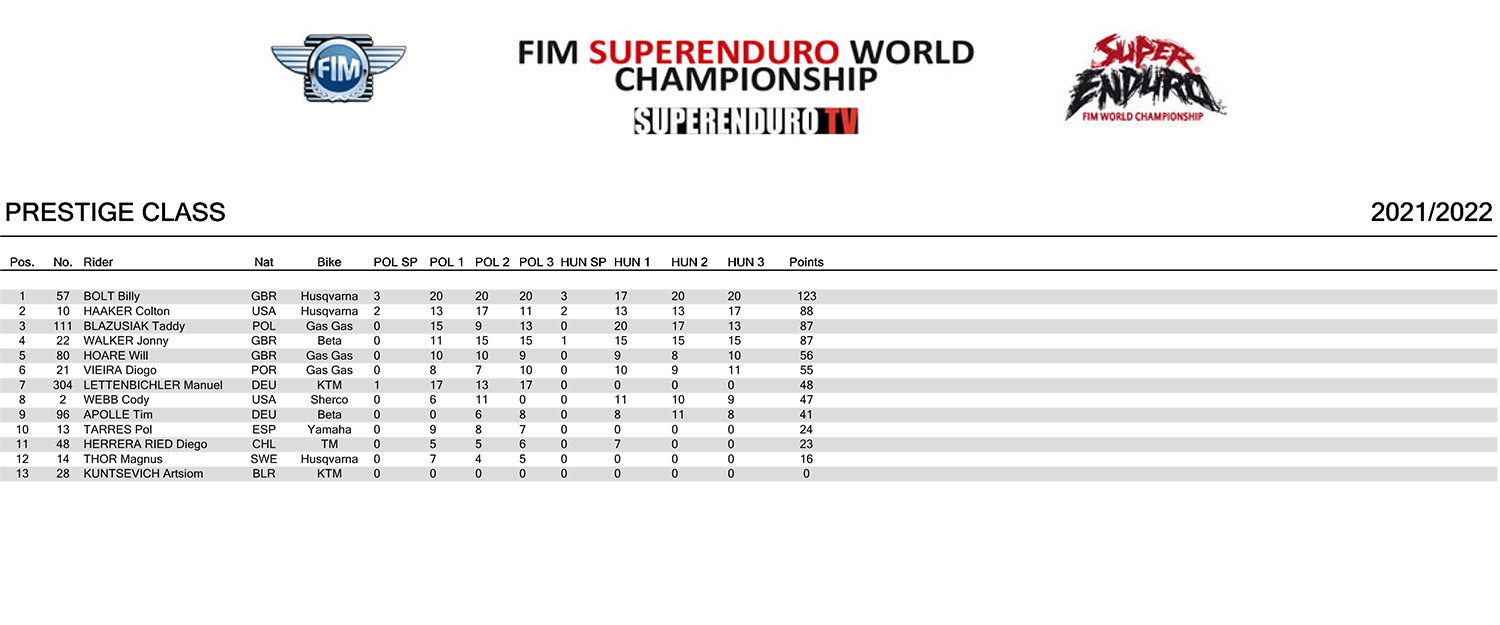 Near identical race times
After the opening race chaos and dropping his first a moto win of the season, Billy Bolt went on to define the point that consistency is key in this game. Motos two and three on the night saw Billy post 6:48.249 and 6:48.474 total race times respectively. How do you do that on a track with so many variables?
"It was a really difficult night, and a really difficult track to race, nice to race but super-tight with not a lot of traction." Says Bolt. "I made a lot of mistakes and got a lot of arm pump like most people I think. But I can't complain because as bad as it was going early on in the night to win overall and extend the championship lead I can't complain."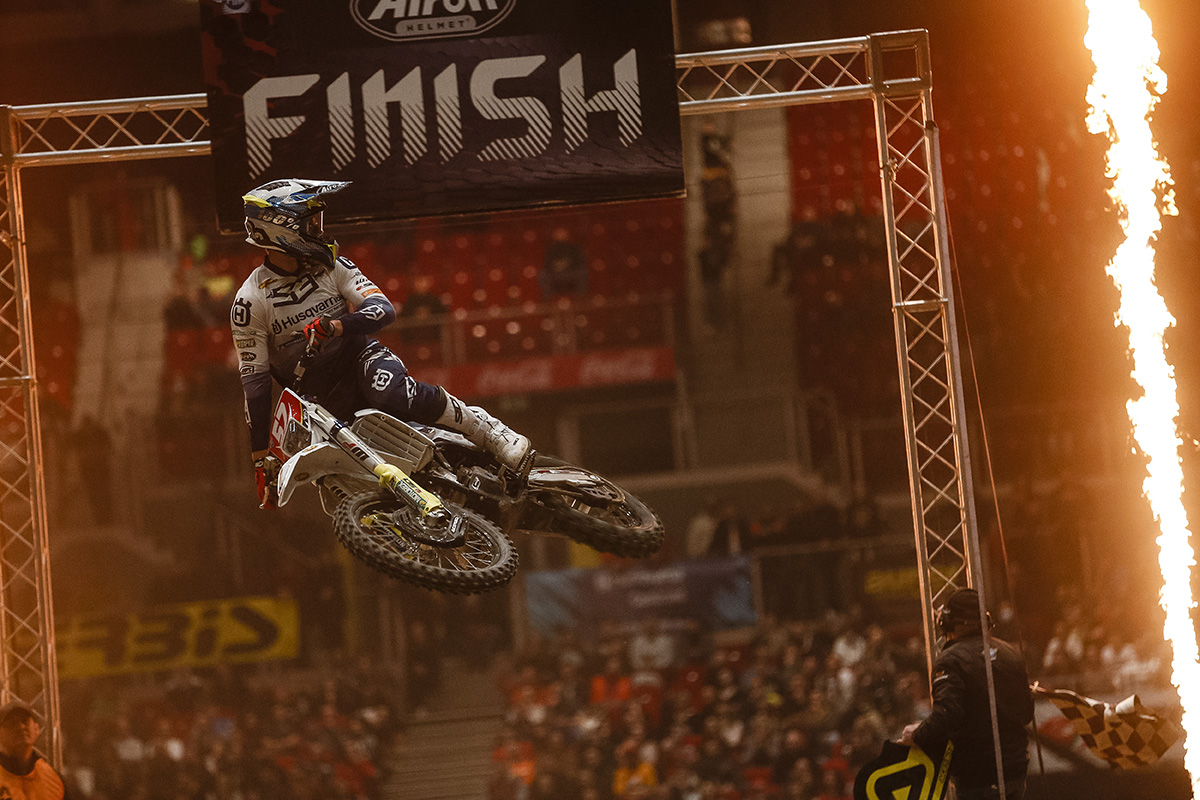 "Qualifying and SuperPole went well, but then in race one I struggled to find my rhythm and got caught up a few times. Race two went much better, and then race three was near enough perfect – I was able to manage my pace once I got to the front and held on to take the win and the overall."
Taddy back on the box and winning motos
It looked like, and certainly Taddy told us, that round one in Poland wasn't his luckiest-ever night on track. But Hungary treated the former champion better and on this tight track he looked more at home.
Indoor enduro has always been the very best recipe for arm pump and overall fitness is essential. But Bolt is forging a new era in SuperEnduro where muscle matters more in making the obstacles easier. Mistakes are easy and common indoors, but part of Billy's technique is 'muscling it' when things would be going wrong for normal humans.
Taddy looked as fit as ever in Budapest and showed no signs of age knocking any edge off his physical or mental approach to racing indoors. His scraps with Walker on the night were some of the best racing to watch.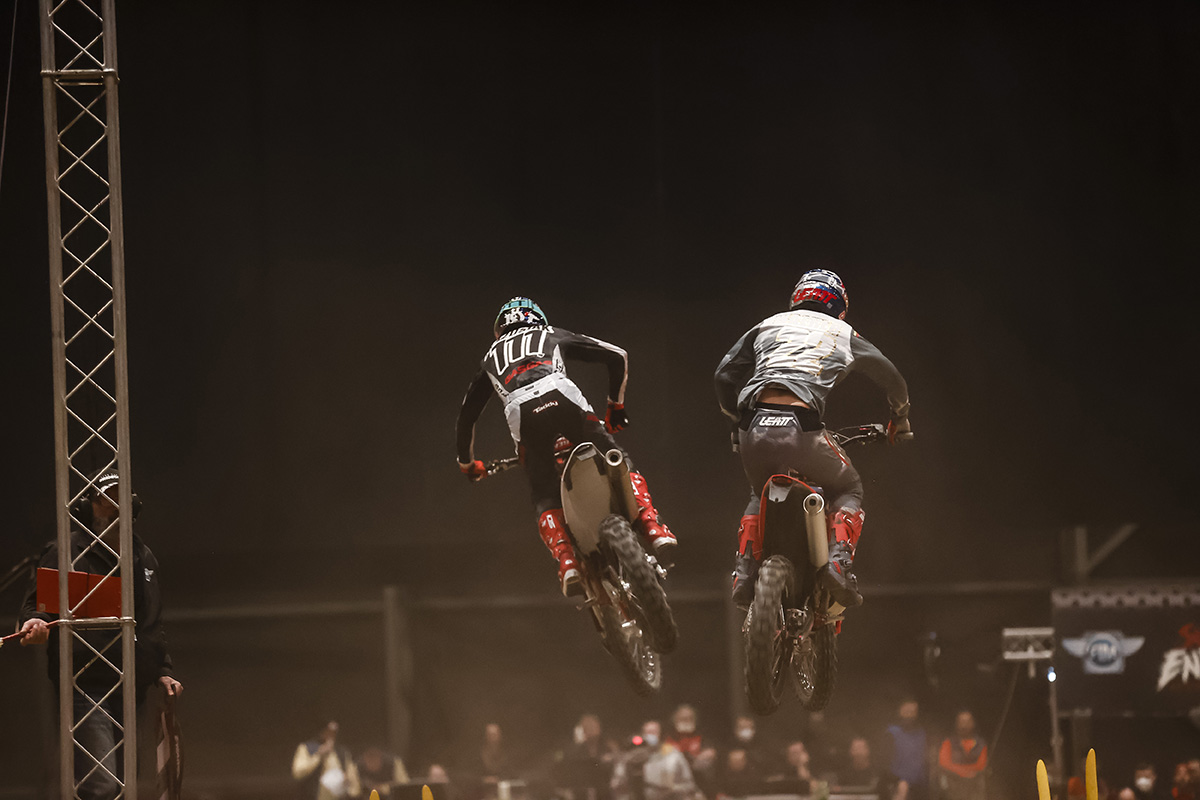 "I'm really happy with how things have gone tonight." Says Taddy. "It's great to be back up there battling at the front. The first heat went well, I hit my lines, didn't make too many mistakes, so it was good. I pumped up so I had to let Billy go about halfway through the first moto. But he made a mistake and I got him back for the win. I felt like I had the pace to be able to race with Billy but sometimes just ran into trouble.
"In the final heat I went all-in but tucked the front in the first corner and had to come from dead last. But overall I'm happy with the progress, happy with the fitness and happy with the bike. Compared to the luck we had in Poland we're more where we need to be and we can build on that."
Is it harder on the two-stroke for Jonny Walker?
The Beta rider arrived in Hungary looking a lot more like his old self indoors; determined, fast and pushing for the wins.
But Jonny is the only one of the top guys racing a two-stroke and after Saturday night he admitted there are times when the four-strokes have an advantage.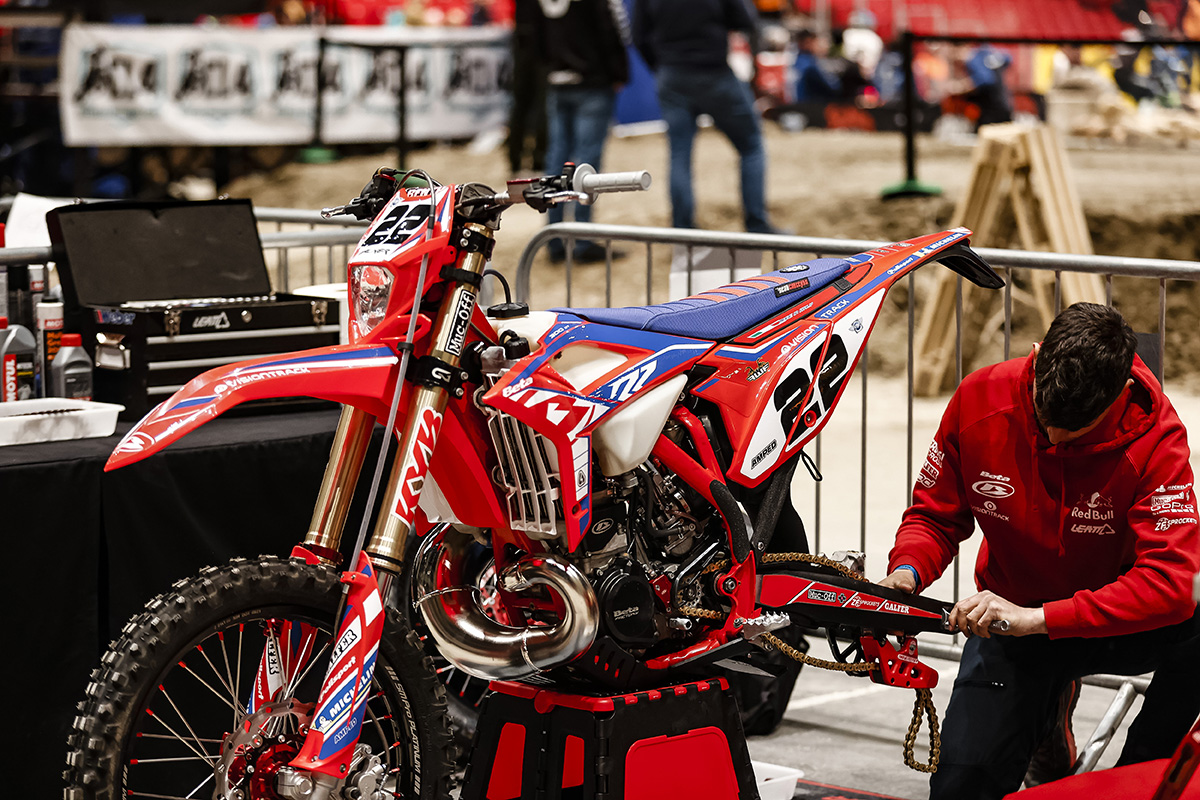 "It was a good night for me, three third place results to get on the podium in third is really positive." Explained Jonny. "I had some good battles and I wasn't miles off the pace, it was close. After the first round and tonight I am happy with how I'm riding and my bike, although we have a few things to work on still.
"It was different here than Poland, the dirt was a lot drier than we had in Poland and in places I found it hard to get the traction. There was one place on the track where the other guys were jumping and I had to roll.
"I have a few things to work on though but I'm super-happy and I'm really looking forward to the next round now, these first two events have been good for me."
Colton Haaker suffers with the cold
Where you live and ride can have a big affect you in sport and Colton Haaker just proved it. His move from the infamous Hacienda home and training ground in the California sunshine to colder, Northern climes may have a quality of life payback but it makes training in the winter tough, if not impossible.
There's a reason why Bolt, Walker, Blazusiak and the boys are all training in Spain at this time and Colton admitted it's been tough getting on the bike since round one in Poland.
"I've got good speed and good skills but I rode three times since Poland – it's been cold and a bit of snow means there's not anything I could do to ride. I need excuses aplenty, I got two kids, I'm a dad, a husband…I got a lot of stuff going on!" Colton laughs.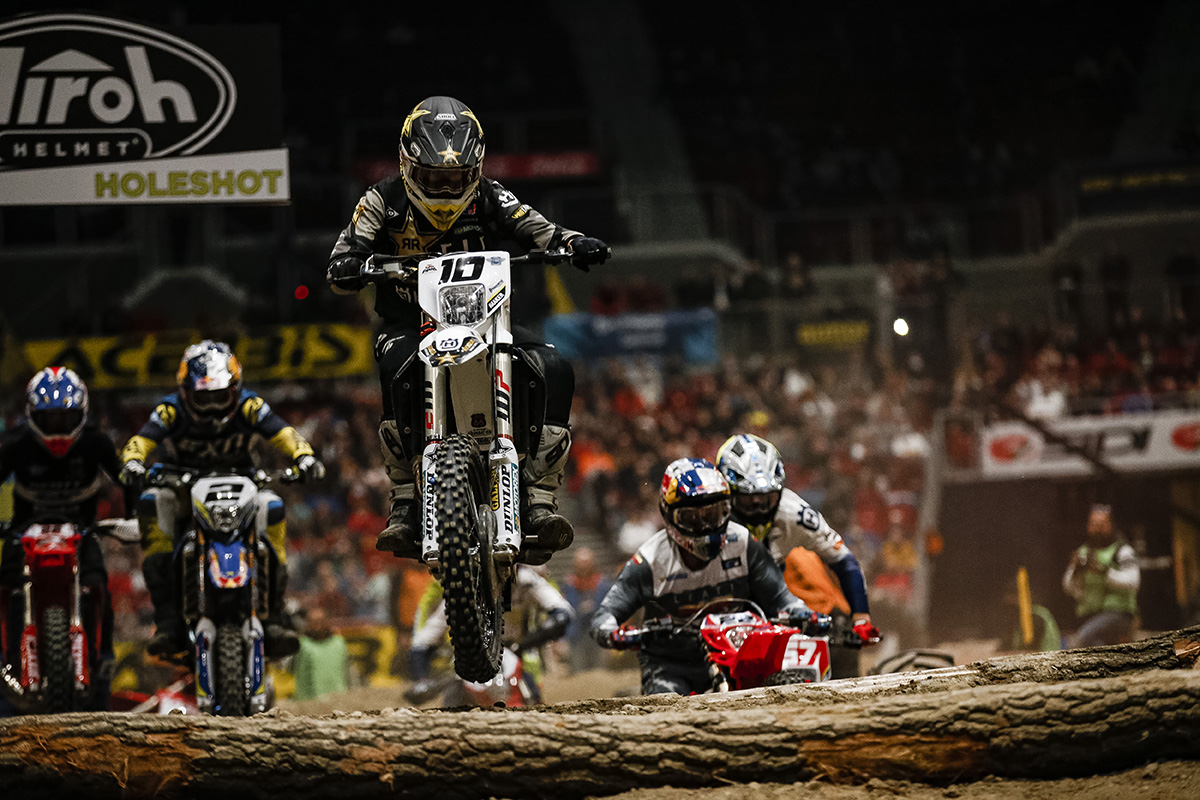 "I'm leaving here with a smile because I did the best I could but I wasn't going to go to Israel but then that got postponed, then there was a question mark if Budapest was even gonna happen.
"For me personally I would love to be 100% all-in but there's a lot of uncertainty so that means what do I do? I'm faced with training away from home and my family for two months because I live where it snows now and for a race that may not happen or, you know, it is what it is.
"So, I did the best I could and I appreciate my sponsors for letting be here and I thought I represented well. I'm here to win but I'm a realistic person and given different circumstances I don't doubt that I could be up there."
Find results from all classes in Budapest in our seperate story: 2022 SuperEnduro World Championship: results from a wild Rnd 2 in Budapest
Or check out the video highlights here: SuperEnduro video highlights from Rnd2 in Budapest
Round three of the 2022 SuperEnduro World Championship is on Thursday, March 3 in Israel.
Photo Credit: future7Media | Andrea Belluschi