Swedish Enduro 2020: Elowson and Bengtsson share Rnd 1+2 wins
The 2020 Knobby Swedish Enduro Championship finally got underway with round one and two in Skövde – Albin Elowson and Filip Bengtsson share the day wins.
It was a case of look what could have been in Skövde for EnduroGP fans – the ski town (actually more like an enduro Mecca) was set to host the Swedish GP before Covid caused the postponement of the event this year. But world enduro's loss was Sweden's gain as the 2020 championship got underway with a typically tough weekend.
In mixed weather conditions – the first day was very wet and around 12 degrees while day two, round two the sun came out and the tests dried up – Swedish Enduro Championship finally got underway with three tests for each of three laps which took around seven hours to complete.
The first of three tests in a quarry had a "very international layout" and was around 10 minutes long, the second test on a Skövde ski slope, was three minutes of grass tracking and the last one a typical Swedish enduro test with roots, stones and sand which got very broken down during the weekend and was a tough one.
Check out the enduro test POV:
Day one belongs to Elowson
Mikael Persson started off well on his KTM 350 but Albin Elowson (now on a 450 Husqvarna) led after the first lap, in front of Persson and young guns Max Ahlin, 350 Husky, and Oskar Ljungström, 450 Husky.
Persson in fact had a bad crash in test one, the quarry on the second lap and although he didn't hurt himself did lose around four minutes among large rocks getting back on the track. "I had to play Graham Jarvis to get back up on the track, but I am not Jarvis", Mikael said.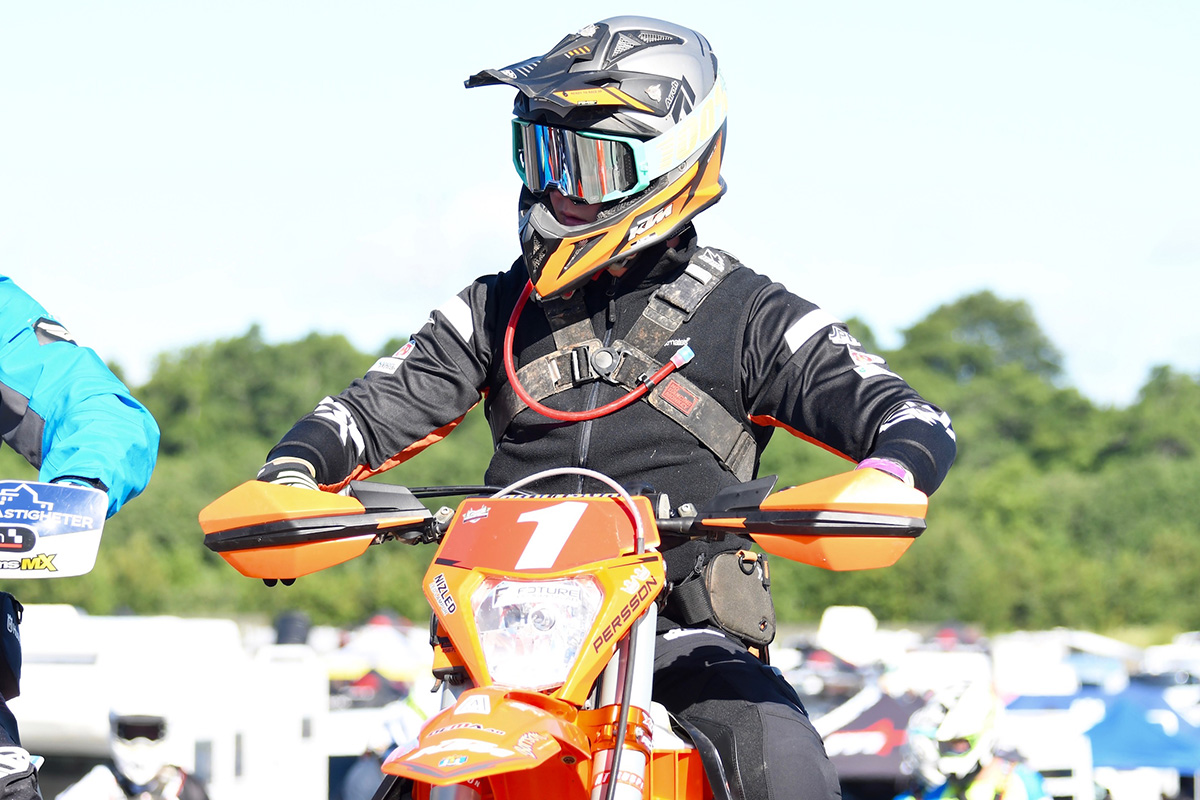 By the end of lap three Oskar Ljungström had ridden really well for second overall, his best result ever in the Knobby series. But it was Elowson who has recovered from arm surgery during the very long off-season, who won the day by 17 seconds. "I got some good answers today after a long time without races. I got hurt during Novemberkåsan last year, had surgery on my elbow and it has been a long way back. The feeling on the new bike was very good, I couldn't have asked for more", said Elowson.
Max Ahlin got third, also his best ever result in the Swedish series ahead of Joakim Grelsson forth and the five-time Swedish MX champion Filip Bengtsson fifth for an almost Husky white-wash. Bengtsson won Gotland Grand National last year but this was his first-ever national enduro.
Class acts
Class victories went to Niklas Persson was sixth overall E1 winner, Elowson won E2 and former motocross rider Jimmy Wicksell (son of former European and World Champion Dick Wicksell) won E3. Johansson Yamaha rider Alex Walton made the trip from the UK to Sweden for a positive day one taking 11th overall and the Junior E1 class and Oskar Ljungström won Junior E2.
In the Women's class Martina Reimander took great relief at sealing her first-ever victory after 21 podiums over the last three years ahead of Hanna Berzelius who was the fastest overall but got a two minute penalty when she was late for a time check. That placed Hedvig Malm in second and Emelie Nilsson third.
Bengtsson shines on day two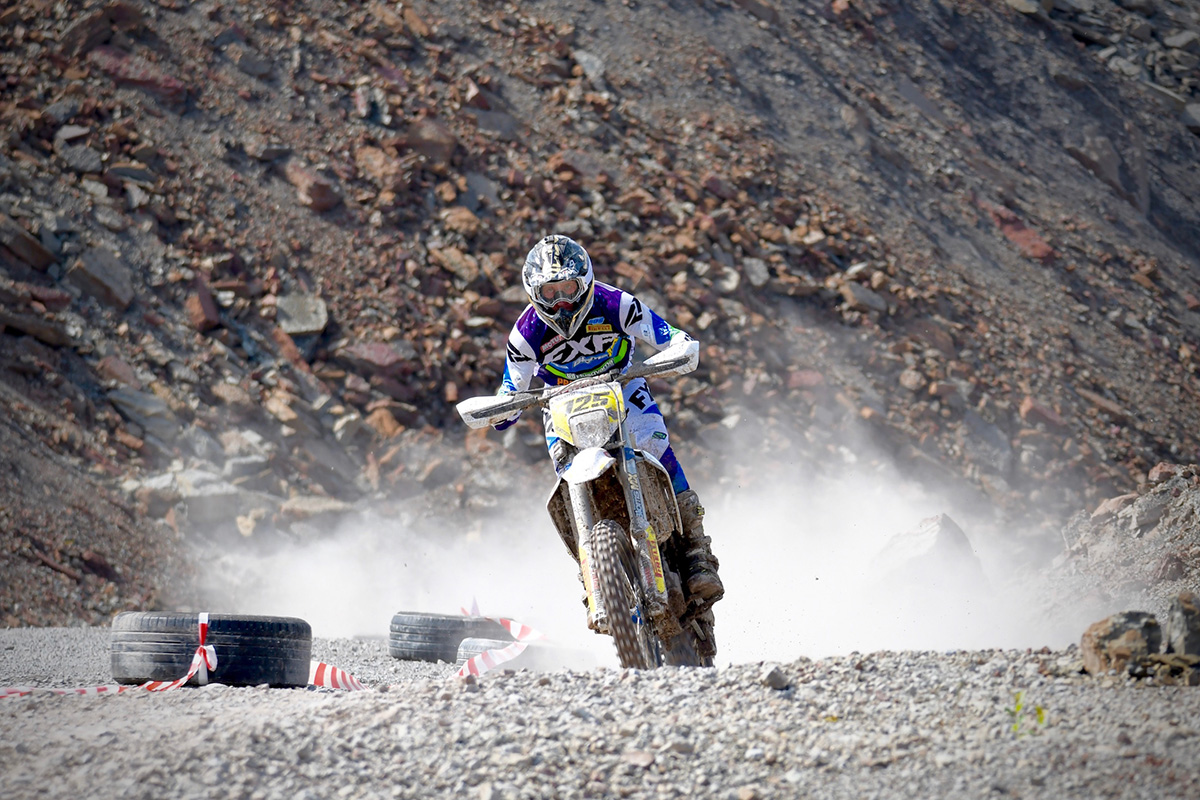 On the second day the rain was gone and with sunshine and warmer conditions the tests dried up. Mikael Persson started off fastest again but Filip Bengtsson took over the lead after the first lap. Bengtsson showed good speed and adapted quickly to the different conditions in the enduro tests by winning two tests on the second lap to gain himself a 15 second lead in front of Persson.
Persson tried to got some time back on the last lap but Bengtsson was able to retain the lead for his first win. "I was kind of nervous the first day as everything was very new to me. On the second day I was a lot calmer, I showed some good speed and was able to get the win. I had a lot of fun and want to do more enduros, but my contract is still to do the Swedish motocross championship this year. Maybe I can get some more enduro races later this year", said Bengtsson who has said before he also wants to try some GP's and the ISDE – on this form he surely stakes a claim to be among the Swedish team.
After topping the timing sheets on day one Albin Elowson started day two with a disaster losing around a minute on the first test due to a mechanical issue. Albin was able to climb his way back through the day and eventually got third overall behind Bengtsson and Persson. The three of them was also on top of the E2 category.
E1 class on day two went to Niklas Persson got a second win over Anton Sandstedt, with Linus Fasth third, E3 went the way of Adam Andersson over Jimmy Wicksell and Johan Edlund.
The Junior E1 class again went to Alex Walton who also took 11th overall. Marcus Adielsson got second in Junior E1, with Calle Johansson third.
Grass test action featuring Alex Walton:
https://www.facebook.com/johanssonmpe/videos/299016144545568
In Junior E2 Joakim Grelsson took the win on the second day, ahead of Max Ahlin and Oskar Ljungström third – the fast trio were also fourth, fifth and sixth overall.
Hanna Berzelius hit the time checks better and took the win in the Women's category on day two in front of Martina Reimander and Emma Wennbom.
Knobby Swedish Enduro Championship overall points after Rnds 1+2: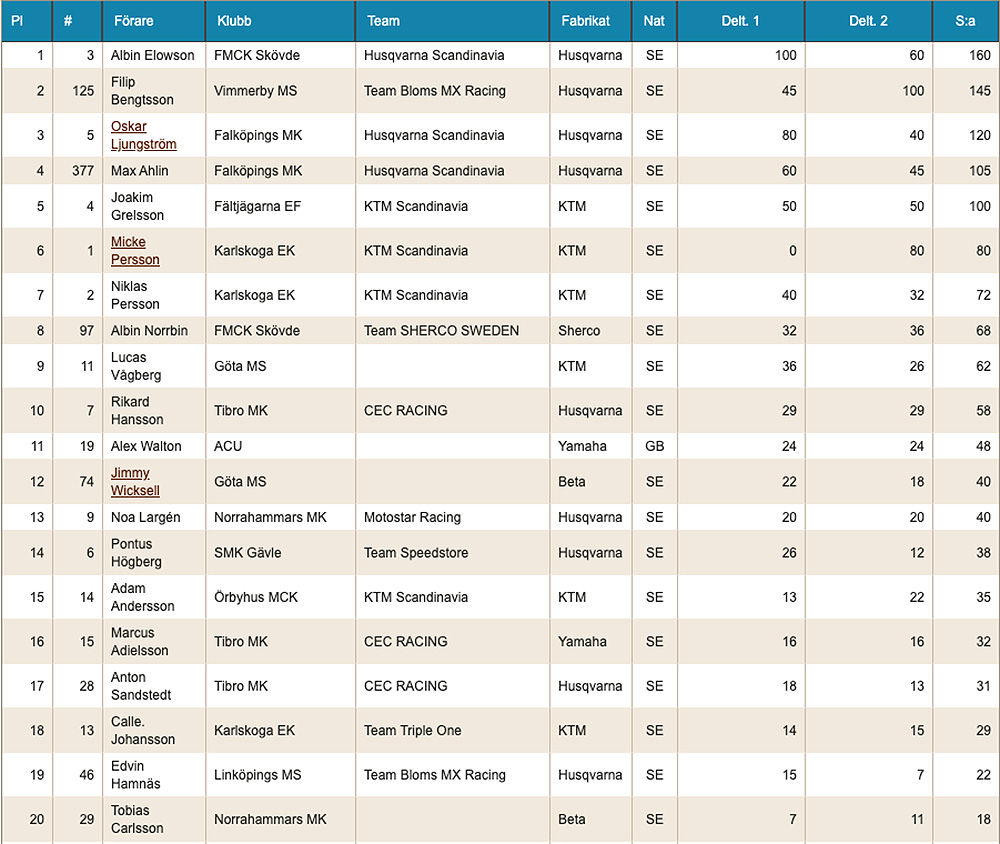 Photo Credit and words help: Race Magazine/Kalle Lundstedt