AMA National Enduro: Baylor Brothers battle for the Cajun Classic win
Steward Baylor took advantage of his brother Grant's crashes to steal the victory in the final test at the 2021 AMA National Enduro round two, the Cajun Enduro in Forest Hills, Louisiana.
Heavy rains on Friday night nearly forced the cancelation of this second round of the 2021 AMA National Enduro series after leaving deep water standing in places around the course. However, the organisers Acadiana Dirt Riders, along with the NEPG crew, did a great job of salvaging the course.
Despite getting stuck in one of the many resulting mud holes littered around the course, Steward Baylor took his AMPro Yamaha to the opening test fastest time but it was his KLM GASGAS mounted brother Grant who took a commanding lead at the halfway point of the race after turning in particularly strong rides in tests two and three.
With two tests remaining, Grant held a 30-second advantage over Steward, however, that's when the fortunes changed. Steward started chipping away at Grant's lead as Grant fell victim to a string of mishaps.
Heading into the fifth and final test of the day, Steward trailed Grant by 17 seconds but turned an ultra-fast test time while his brother had a couple of tip-overs to take the win by less than three seconds.
"In the fourth test I just hit a root in a really fast straightaway and it sent me cartwheeling," said Grant. "I bent the front end of my bike up really bad. I rode over half of that test with the front end of the bike just all mangled up. Then I ended up wrecking again because the front end was so twisted that I couldn't go straight. I tried to bounce back in the fifth test, but just got edged out by Steward. I went down two times in that last test again and it cost me a win."
The Baylor brothers accounted for all five test wins, with Steward winning three tests, while Grant won the other two.
KTM duo fight for third on the podium
FMF KTM rider Josh Toth finished outside of the top-10 at the series opener in South Carolina while riding with an injured hand, but turned that around for a third in Louisiana. Toth was fifth-fastest in the first test after taking a small crash, but came back with the second-fastest time in test three followed by the third-fastest time in the remaining three tests.
"I just had a tip-over trying to get around a lapper in that first test," said Toth. "I couldn't really read the trail ahead of him and just hit a root and went down. I had another mishap where a vine grabbed me by the neck and that cost me a bit of time. So, I lost a little bit early in the day to the Baylors, but I tried to keep them honest all day. Those two are both national enduro champs for a reason, so I can't complain, although as we go north, I'm hoping to put a hurting on them."
"It was mayhem out there" says Ben Kelley who finished 50 seconds behind his KTM teammate for fourth overall. "It was a pretty good day overall, but the course was crazy," said Kelley. "It was definitely mayhem out there. So many deep ruts, guys buried everywhere. The dirt was slick. Some sandy stuff with some big roots in it, and then some hard-pack, super slick stuff there at the end of the day. Overall, it was an okay day and I ended up fourth."
Ansley miles clear for Pro2 win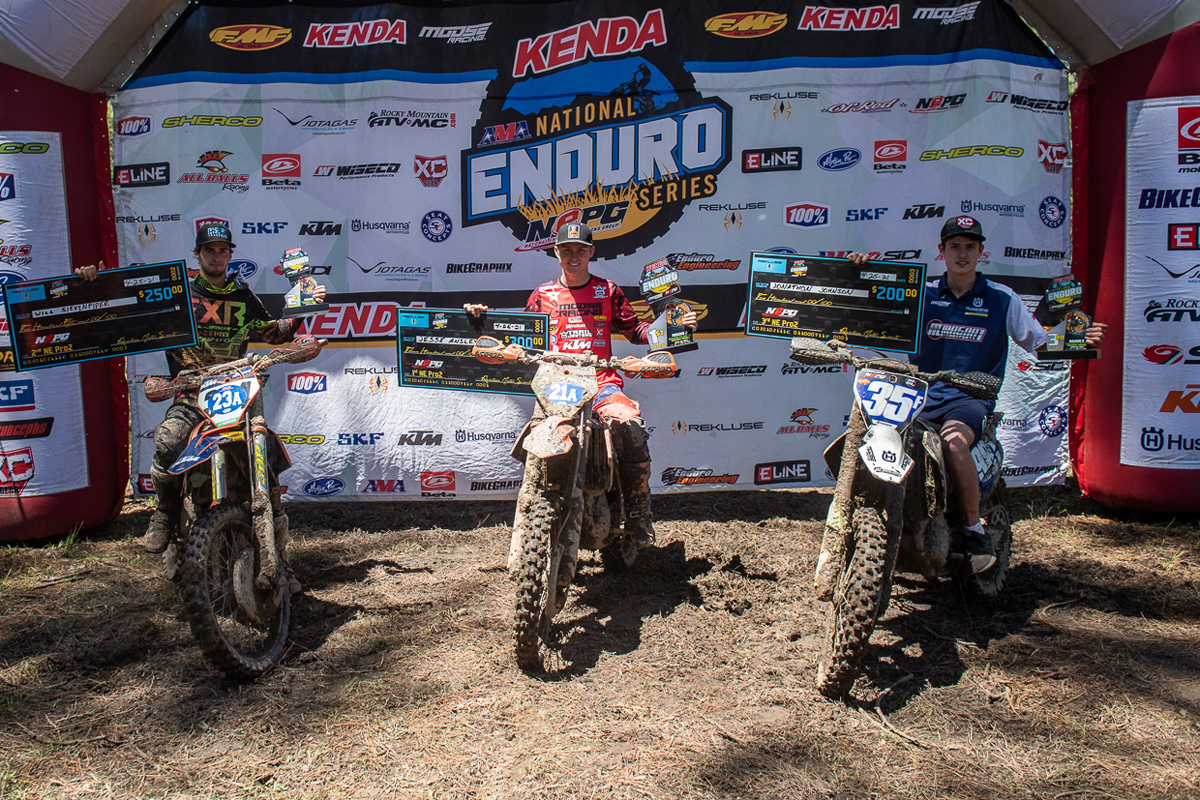 Jesse Ansley was fifth overall and with that took first place in the NE Pro2 class by a huge margin. The Trail Jesters Racing KTM rider had not planned on riding the national enduro series this year, but he rode the first round in South Carolina round as a warm-up for the season and ended up winning the Pro2 class, so he made the trip to Louisiana to try his luck again and came away with another win.
"The hand is still a little sore, with the scare tissue and stuff," said Ansley who is coming off a hand injury that kept him sidelined for a few weeks. "At the national enduros I have to be cautious with it because I can't really take a hit to it. I really had no clue how I was doing all day until the last test I heard I was winning by over two minutes so I was like, oh my gosh. So it was good. I'm just happy to get another Pro2 win."
Rockstar Energy Husqvarna's Craig Delong was fifth in the NE Pro1 class and sixth overall. Will Sievenpiper (KTM) buried his bike in the first test, but managed to rebound to claim a solid seventh overall and second in the NE Pro2 division.
Rockstar Energy Husqvarna's Trevor Bollinger finished the day in eighth, just over four seconds behind Sievenpiper with Evan Smith and Jonathan Johnson rounding out the top 10. Johnson also finished third in the NE Pro2 division.
Cajun National Enduro overall results: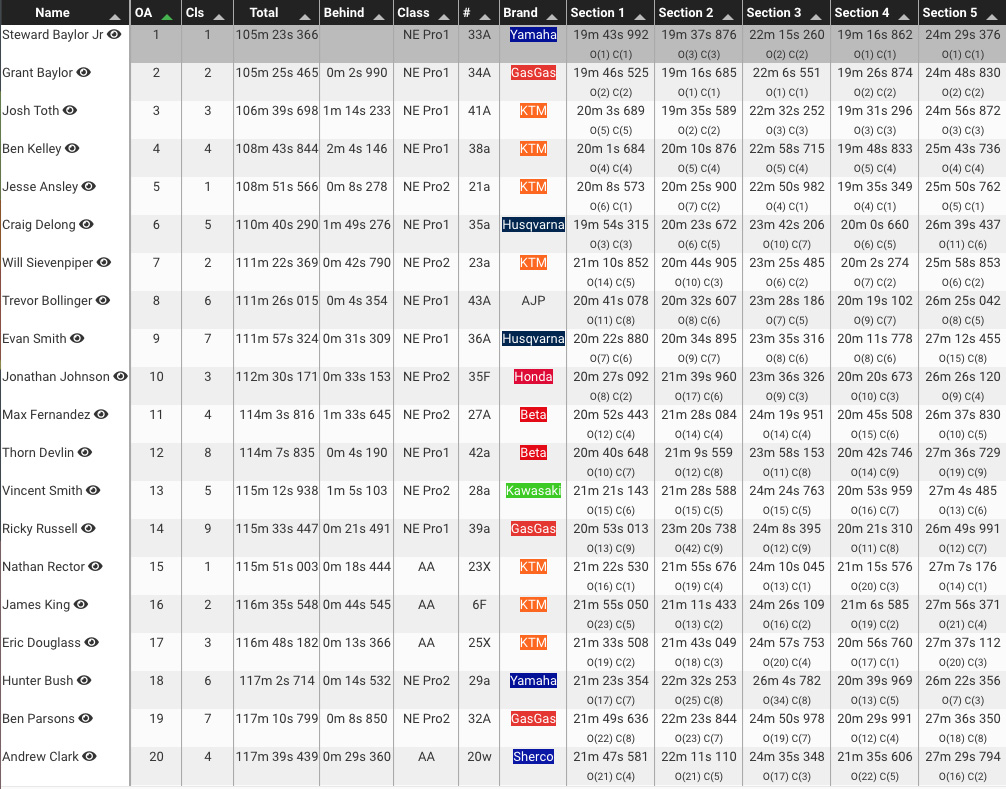 Shelby Turner avoids the mud holes for Women's win
In the Women's Elite division, Beta USA's Rachel Gutish won three of the four tests but getting caught out for "over four minutes" meant four-time AMA EnduroCross Champion Shelby Turner took the win.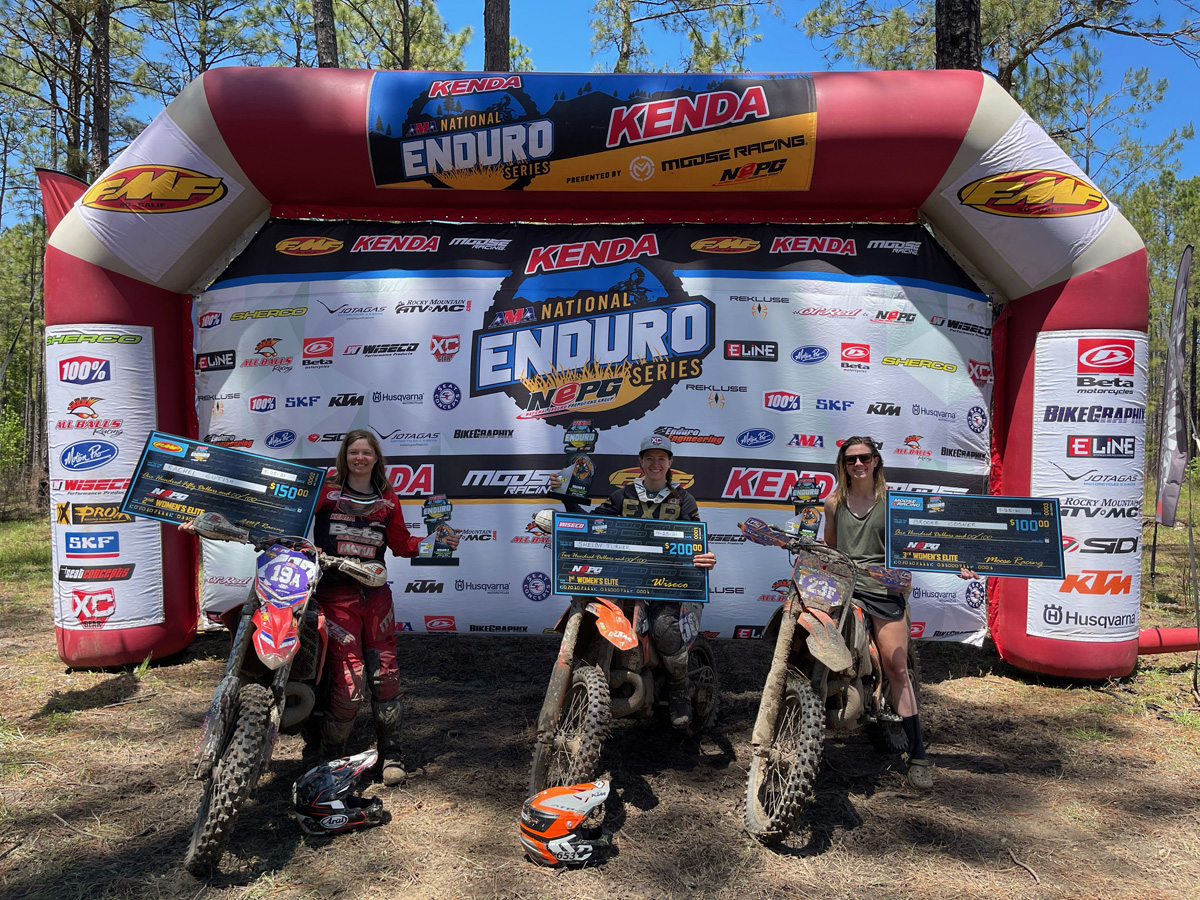 "In test two I got caught up in one of the mudholes," said Gutish. "Just an unfortunate line choice, with some assistance from a slower rider as well. I ended up stuck for a little over four minutes, which at the time I thought pretty well sunk my day. But as it turns out conditions had deteriorated so badly in that test that every Women's Elite rider besides Shelby also got stuck, which gave me a fighting chance."
GASGAS rider Brooke Cosner was third behind Turner and Gutish.
Cole Forbes was tops in the new Enduro Futures class, which is for riders 12-15 years old riding 98-200cc bikes. James Jenkins was second on a Kawasaki, with Ryder Sigety finishing third on a Yamaha.
The Kenda AMA National Enduro Series resumes for round three on May 16 at the Dragon's Back National Enduro in Arrington, Virginia.
More information: www.nationalenduro.com
Words and Photo Credit: Shan Moore