AMA National Enduro: Revenge for Grant Baylor at Dragon's Back NEPG
Defending AMA National Enduro Champion Grant Baylor took his first win in the 2021 series after exacting sweet revenge and holding off his brother Steward Baylor in the final test at the Dragon's Back, NEPG round three in Arrington, Virginia.
If you haven't been following the 2021 National Enduro series, AmPro Yamaha's Steward won the opening round in South Carolina ahead of Grant. At round two the KLM GASGAS rider had the lead but Steward turned around a 17-second deficit heading into the final test in Louisiana to nab his second win of the year.
The Dragon's Back Enduro came down to pretty much the same scenario with Grant leading Steward by 13 seconds heading into the final test. Steward has a knack for turning up the heat at the end of a race and all eyes were on the clock to see who would come out on top.
When the scores were tallied at the end of the day, Grant managed to hold off Steward, and even gained some time on him, to claim his first win of the year by just over 16 seconds.
"He should have beat me" – Grant Baylor
"The Louisiana race was definitely in my head," said Grant. "He got in my head today with test five when he came in ten seconds faster and it was only a four-and-a-half-mile test. You do the math, four-and-a-half-mile test, ten seconds faster, last test is eight miles…he should have realistically beat me if we ran that same section again.
"But luckily the last test, I went out there knowing that he was only twelve, thirteen seconds behind me and I knew I had to just make it all connect and bring it home. So that was what I did. I definitely didn't want to throw it away again like I did in Louisiana. That was pretty tough."
Stew rues second test
A shaky run in the second test put Steward in a hole he couldn't dig out of, but despite the runner-up finish, the Yamaha rider still maintains the point lead after three rounds, 85 points to 80, over Grant.
"I just gave away way too much time in that second test," said Steward. "You have one bad test and it's hard to ever make up that time. Giving up 20 seconds in a section, it's almost impossible to catch up. That one test was the deciding factor of the day.
"I went into that last test and I said we've got to crush this. I actually crashed in the test before and still won, so I knew I had the speed. We got in that last test and it was the slickest section of the day by far. I think I was just over-riding it when I needed to be more patient. By the time I figured that out, it was just too late."
FMF KTM's Ben Kelley was in the tight group at the top of the timing sheets at Dragon's Back. After getting off to a disappointing start to the series, Ben has now had two solid rides, finishing fourth in Louisiana and landing on the podium in Virginia with a third.
"I'm happy to finally put in a good ride at one of these," said Kelley. "I went back home this past week and kind of got to regroup. It was just refreshing. I just rode good. Had two crashes out there, but still solid test times. Overall, I'm happy to just put in a good ride finally."
FMF KTM's Josh Toth came into Virginia hoping to improve on his third-place finish in Louisiana, and came on strong in the final few tests, but couldn't break into the top three. "It was a pretty uneventful day," said Toth. "It was pretty slick from the race so I just tried to stay of ground in the first few tests. Near the end I started picking it up but it was a little too late."
Craig DeLong rounded out the top five in Arrington. The Rockstar Energy Husqvarna rider got off to a slow start in the first test but was able to make some adjustments on the trail and pick up his times. DeLong ran in fourth at one point, but settled for fifth in the end.
"I don't know where I was in the first test but I was a good-ways off the top guys," said DeLong. "Luckily, I had the right tools in my tool belt and I was able to make some adjustments and I had a good second test, which put me back in the top five. I was just kind of there the rest of the day."
Rockstar Energy Husqvarna's Trevor Bollinger is still racing himself back into form from injury but managed to turn the third-fastest time in test two and would go on to end the day in sixth. "I think that second test just fit my style; it was pretty wide open," said Bollinger. "The rest of the day I was just battling with Josh and Craig and that's how it turned out in the end."
Second Pro2 win for Ansley
Trail Jesters Racing's KTM rider Jesse Ansley picked up his third NE Pro2 win of the year with a seventh overall. "The day started off really well with the first test and then I lost the second test." Explained Ansley. "I was kind of mad about that, to be honest. I really wanted to win all the tests today. But I can't complain. I won five tests out of six, so that was really good. Got to keep the streak alive."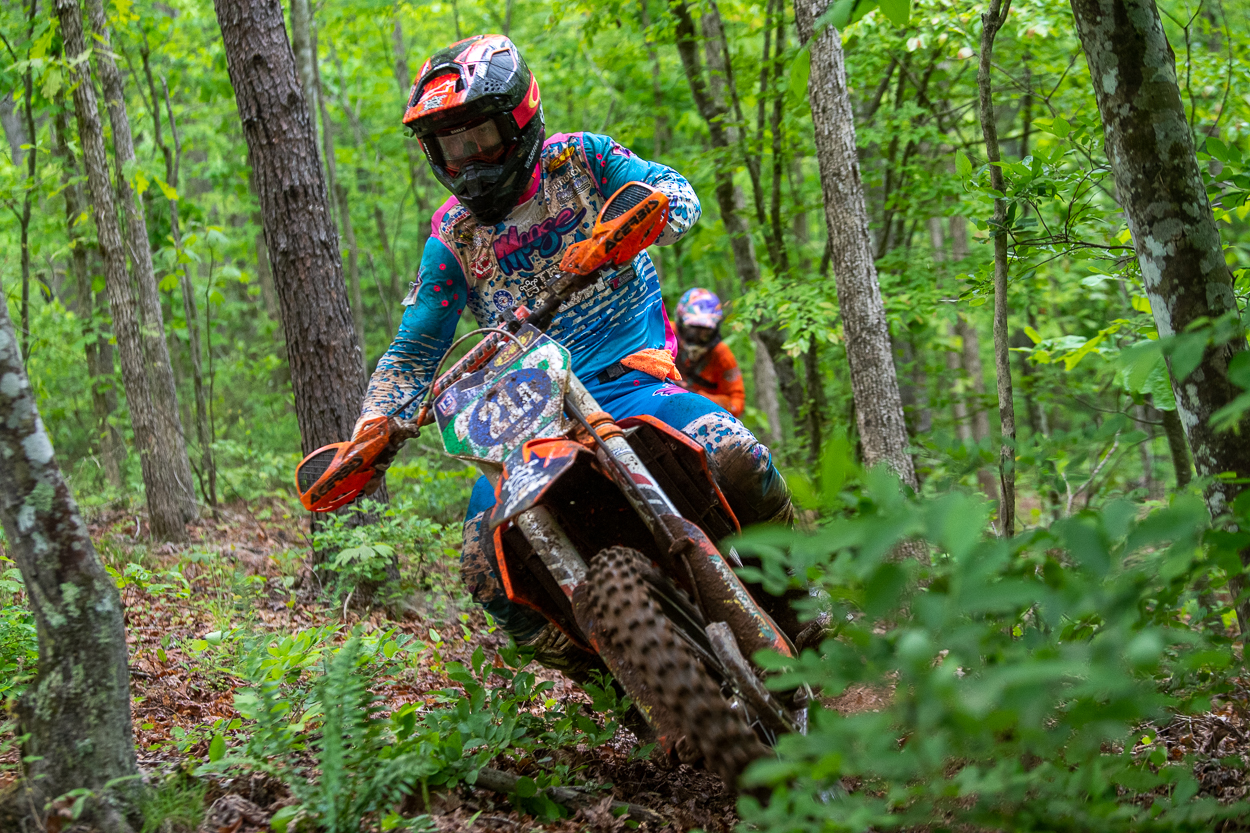 Coastal Racing GasGas' Ricky Russell is still getting his enduro legs under him but showed improvement with an eighth overall. Meanwhile, Beta USA's Thorn Devlin rode to the (unnofficial) best two-stroke award to finish ninth overall with Evan Smith rounding out the top 10.
760 Husqvarna's Ben Nelko ran in third place in the NE Pro2 class for most of the day, but came on strong in the end to beat out Johnathon Johnson for second in class and 11th overall, while Johnson was 12th overall and third in the NE Pro 2 class.
Tricker back on top
Mackenzie Tricker is another competitor that is riding her way back into racing form, after undergoing knee surgery late last year. The Enduro Engineering/Fly Racing KTM took two test wins on the way to victory in the Women's Elite class.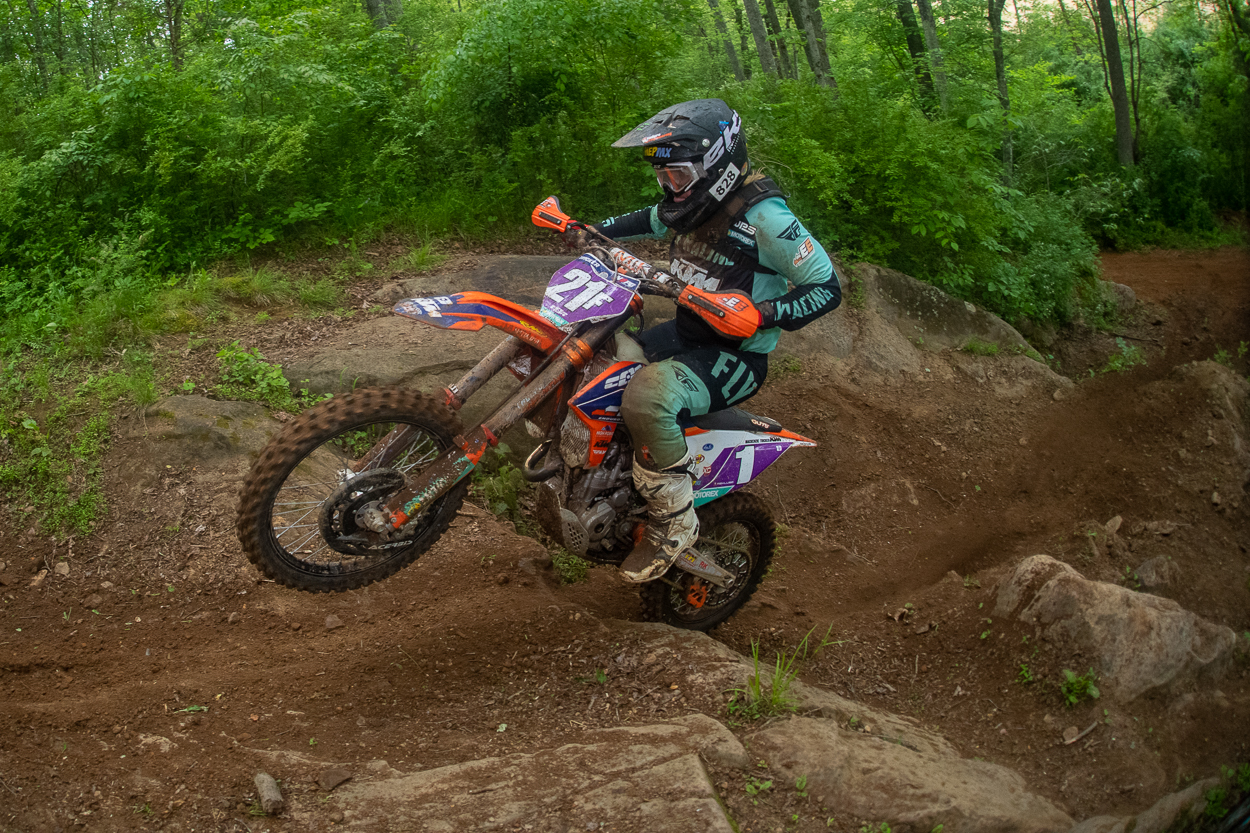 "It's been a long road back from knee surgery," said Tricker. "I'm still kind of struggling with my knee a little bit, but today was good. It was good to get back, get the train back on the tracks. Obviously, Louisiana I didn't do too good. I got fourth there. It was good to bounce back."
Four-time AMA EnduroCross Champion Shelby Turner also won two tests and finished second. "I had a little bit of a slow start test one and two and then got things going with three, four, five," said Turner. "It was a good day. This place is awesome. Probably one of the best single tracks I've rode in a long time."
Beta USA's Rachel Gutish claimed third, 19 seconds ahead of GASGAS-mounted Brooke Cosner.
2021 Dragon's Back National Enduro top 15 results: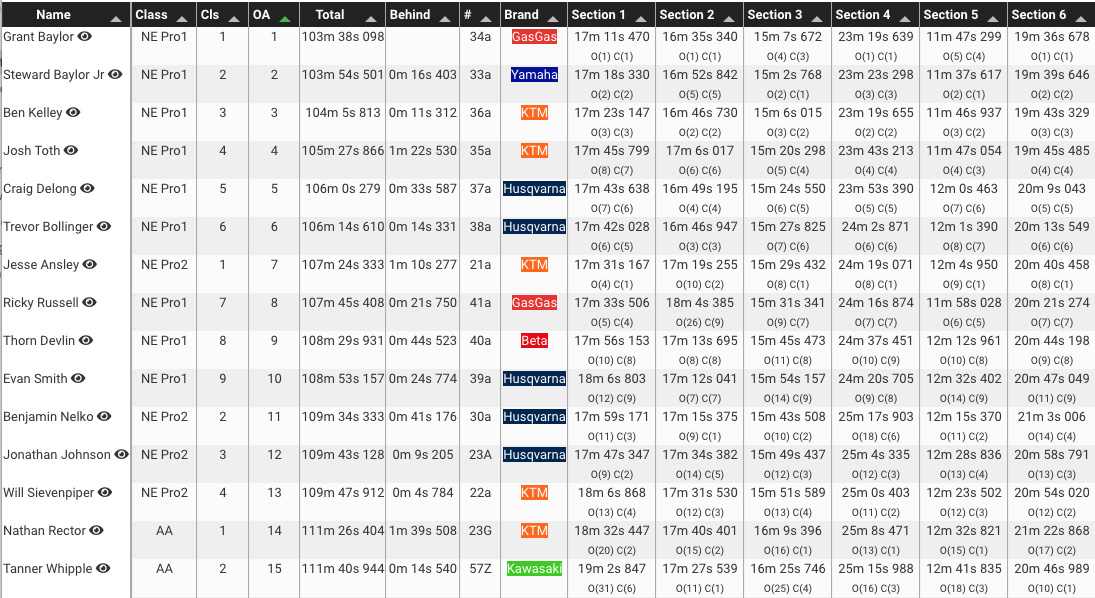 The Kenda AMA National Enduro Series resumes at round four on June 13th for the Cherokee National Enduro in Greensboro, Georgia.
More information: www.nationalenduro.com
Words and Photo Credit: Shan Moore