US National Enduro: Toth puts it to the Baylors at Cherokee NEPG
Josh Toth took his first win of the year at this weekend's Cherokee National Enduro, NEPG round four, proving Steward and Grant Baylor aren't the only riders who can nail it through the trees in NEPG enduros.
FMF KTM rider Josh Toth has been behind the limelight of his teammate Ben Kelley for much of 2021 but finally shone brightest in Greensboro, Georgia for round four of the NEPG series.
Toth may have only topped two of the seven tests all day, but the two he did win he did so by big margins, while his remaining test times saw him sticking tight to his top two challengers, Steward Baylor (AmPro Yamaha) and Grant Baylor (KLM/Milwaukee/GASGAS).
Toth started the day on the front foot by winning the first test by 14 seconds over Grant; and when Steward drew to within four seconds of Toth heading into the final test of the day, the KTM rider busted out an incredible ride to add another 15 seconds to his cushion to seal the win.
"I rode pretty smart in the first test," said Toth. "I didn't overshoot any turns. It was a short test so I knew any mistake was going to be hard to make up, so I just rode really smart. I kind of thought I was a little on the cautious side and I came in and I crushed the first test, so I was pretty taken aback by that.
"Then the Baylor's were on the hunt for me all day. Going into the last test I knew it was going to be a tight one and they were strong in it. I put my head down and charged. Fortunately, there were some roots and rocks and stuff as well as the tight stuff, so I was able to lay down a heater in the last test and hold Stew off."
Check out the tracking cam footage care of Paddy Holloway...
Like he has done so many times before, Steward looked as though he might pull out another win in the final test after he closed to within four seconds of Toth in test six. However, Toth was at home in the rocky final test and kept Steward at bay.
"I closed the gap on him before the final test," said Steward. "I don't think Grant or I have ever been beat in a true "old school" tight enduro test until today. I got to give it to Josh. That's what Grant and I grew up riding and I know where he's from they don't even have trees that tight. So, hats off to him in that last section. I really came out the other side thinking that we got it, and we saw the times and I was like, wow, he learned how to ride the tight stuff."
Crash rules Grant out of the win
Grant and Steward were in a tight fight for second after the first test, but then Grant took a clear lead over his brother after winning tests two, three and four. However, a mishap in five cost Grant considerable time, leaving Steward to chase Toth to the finish.
"Josh had a good lead after the first test," said Grant. "I clicked away a little bit on that one in the second and third test there. Then I think it was test five, I was coming down the straightaway behind one of the faster pro women riders and the rider in front of her moved off the trail for her, and then instead of looking to pull back out in the straightaway, they just pulled right back out into me and I hit them going 30 or 40 miles an hour. It sent me and them flipping over the bars.
"It took me a while to get up after that. My bike was all mangled up. I got up and tried to get back going, but I couldn't get back into the mode."
Rockstar Energy Husqvarna's Trevor Bollinger ran fifth and sixth most of the day, but snuck past FMF KTM's Ben Kelley in the final test to claim fourth, his best national enduro finish.
"We're finally feeling better on the bike," said Bollinger. "It's a broken record, but with all the injuries I've had it's just taken me a while to get back to where I was. I like this track. There were a few sections where it was pretty tight for my liking, but the rest of it was pretty good. I felt like I rode, I wouldn't say exceptional but I rode good all day and didn't make one mistake."
Crash also costs Kelley
"I was kind of in that fourth-place position all day," said GNCC points leader Ben Kelley. "I felt like I was riding pretty good, just a little bit off the top three. I had a little mistake in the fifth test, and then the seventh test had a crash and just struggled with that super tight trail. Trevor was able to sneak by me so I ended up fifth on the day, but overall happy with my ride."
Rockstar Energy Husqvarna's Craig DeLong struggled with setup and settled for sixth. Husqvarna/Max Motorsports/FXR Racing's Evan Smith turned in a solid ride which left him with a seventh ahead of Trail Jesters Racing KTM's Jesse Ansley who chalked up another win in the NE Pro2 division with an eighth overall, making four wins in four races.
"This was a lot tighter than I would have liked, but to keep the win streak alive is pretty cool," said Ansley. "It was hot. It was brutal today. I almost overheated that last test. It was super tight. I knew I had like a minute buffer, but I still wanted to put in a good test score. So, to leave here with another win, really can't complain."
XC Gear/Enduro Engineering/Moose Racing/Husqvarna's Ryder Lafferty returned from a two-race absence due to a broken collarbone to log a ninth ahead of 760 Husqvarna's Ben Nelko rounded out the top 10 and second in the NE Pro2 class.
Cherokee National Enduro top 10 overall results:

First-ever Women's class victory for Korie Steede
The Babbitt's Online Monster Energy Kawasaki rider Korie Steede claimed her first major Pro win with a victory in the Women's Elite class after dominating all six tests.
"I was expecting it to be pretty tight and I'm not very good in the tight stuff," said Steede. "Obviously, I'm getting better at it, so I'm pretty stoked on my day to win every test. I was just consistent out there and it paid off."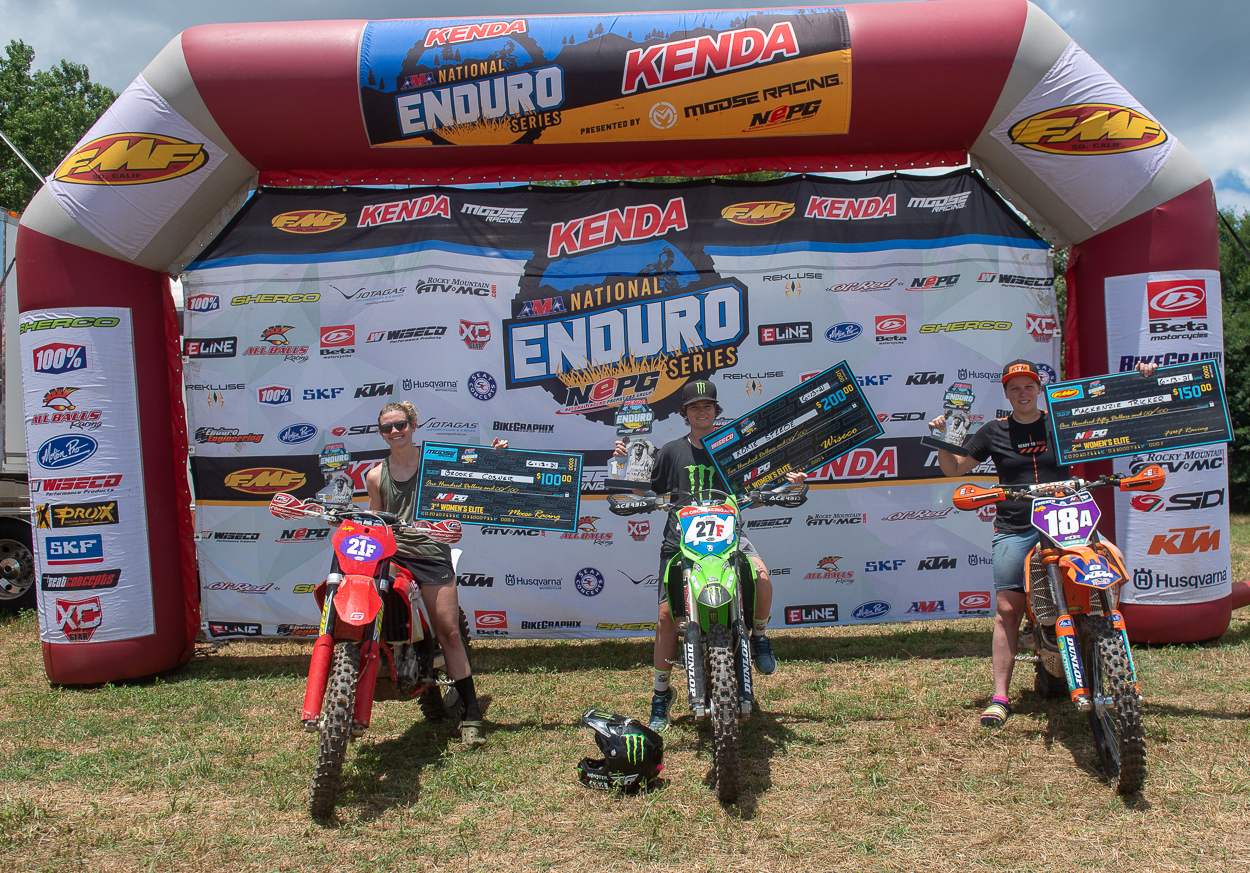 Enduro Engineering/Fly Racing KTM's Mackenzie Tricker topped Sherco's Brooke Cosner for second, while four-time AMA EnduroCross Champion Shelby Turner (KTM) finished fourth ahead of Beta USA's Rachel Gutish.
Women's Elite class results:

Babbitt's Online Monster Energy Kawasaki Tanner Whipple won the AA class ahead of Zack Brown (KTM) and Andrew Clark (Shr), while Gavin Sievenpiper (KTM) topped Devin Gravitt (Yam) and Josh Monsrud (KTM) for the win in the Open A class.
The Kenda AMA National Enduro Series resumes on July 25 for the Rattlesnake National Enduro, round five of the series, in Cross Fork, Pennsylvania.
More information: www.nationalenduro.com
Words and Photo Credit: Shan Moore