Josh Toth bounces back with Cherokee National Enduro victory
After a four-month lay-off after breaking his leg, FMF KTM Factory Racing's Josh Toth returned an impressive victory at round two of the Kenda AMA National Enduro series in Greensboro, Georgia…
The Kenda AMA National Enduro Series has had its own four month lay-off due to Covid-19 restrictions but resumed action at the Cherokee National Enduro in fantastic riding conditions albeit with "social distancing" and preventative measures in place.
Josh Toth meant business from the get-go by winning the first four of the six-tests in a 70-mile race. It established a lead which eventually saw Josh finish 46 seconds ahead of runner-up Grant Baylor on the FactoryONE Sherco.
Toth skipped the series altogether in 2019, so the Cherokee marked his first Enduro in over a year-and-a-half but says it felt good. "It's been a long road coming back from breaking my leg twice, and these are hard to come by, so I definitely cherish it," said Toth.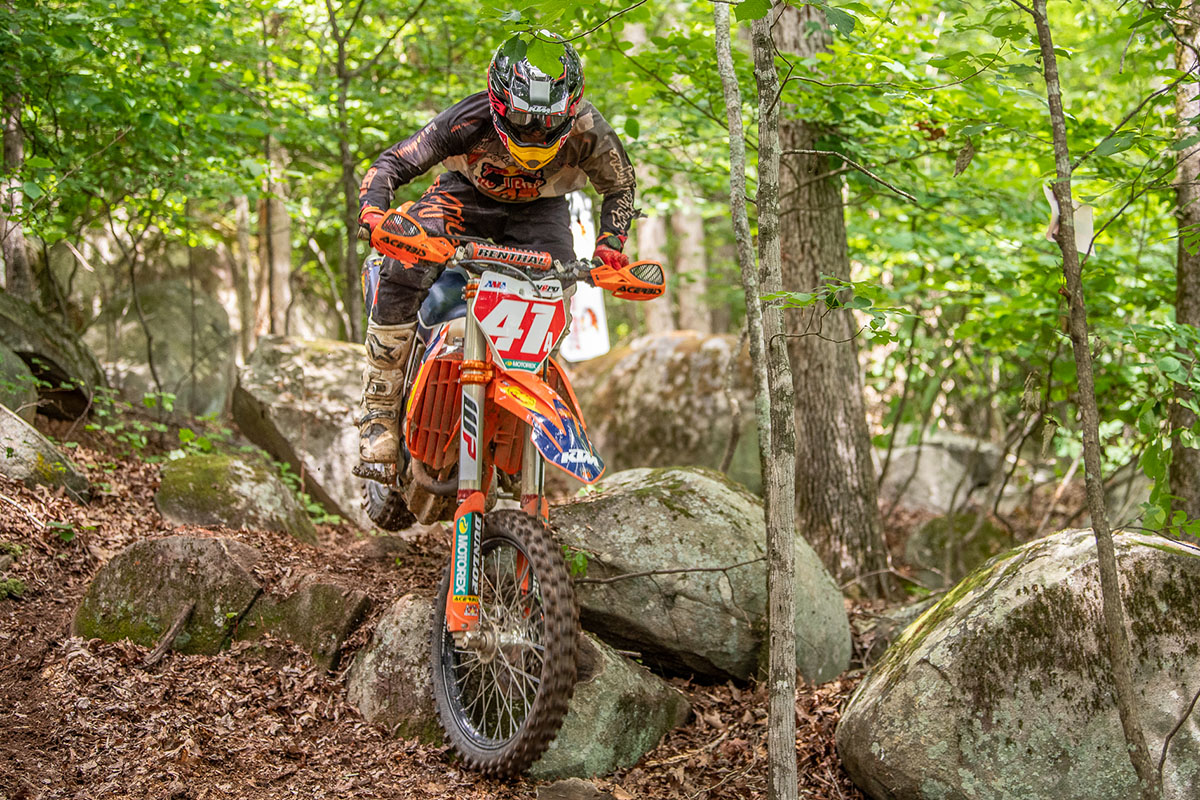 "The fifth test I laid it over a couple times," said Josh. "I got the bike caught in some saplings and ended up losing that test. Then the last test it was so tight and I made a little mistake. I don't know really what happened. It sent me into a big tree and I had a big crash.
"The track was so tight and physical. At the end I couldn't catch my breath. Once you stopped, the heat hit you so hard. I was really gasping for air and struggling to finish that last test. But luckily, I had a cushion and was able to get the win."
Grant Baylor got off to a slow start and trailed Toth by a minute-and-a-half heading into the final test but cut that gap considerably with a clean and fast ride to finish off the day. "I spent the first few tests trying to find my flow," said Baylor. "I made some adjustments to the bike mid-race and it seemed to benefit and make it better.
"Towards the end of the race I started to improve my times a little bit and actually ended up winning the last test there by a good chunk, but it wasn't enough to get the job done. We're only two rounds into this, so I need to keep it consistent and keep it on the box."
Ryder Lafferty puts it on the box
The surprise performance of the day went to Ryder Lafferty, who put his XC Gear Enduro Engineering Husqvarna into third overall. "It was pretty good," said Lafferty. "I didn't feel the greatest and struggled a little bit with the bike – the front end kind of felt a little twitchy. Then we put on a different front tire, the new Washougal 3 and it really helped out a lot.
"From there on out it felt like I was pretty solid and I had some good times. I kind of battled my way back up to make up some ground on Grant. So I felt good."
FMF KTM's Ben Kelley finished fourth in his first race since having twelve weeks off for a shoulder injury and continues to lead the 2020 championship overall on 48 points to Grant Baylor on 46. Fifth went to Gnarly Routes KTM's Russell Bobbitt, who has spent most of his time recently, adventure riding. "It was such a good Cherokee," said Bobbitt. "The trails were perfect, perfect dirt. I rode my 300 today, pretty much my favorite kind of bike."
Speaking about the widely praised Cherokee course, Bobbitt said: "The last test I think was brand-new and actually really tight. The dirt was dark brown like fertilizer. So that was really like a true, old-school kind of enduro test I think I got second in there and I think I got third in the second test. For riding a dual sport in the Rockies, leading up to this… I'm pretty stoked for the fifth on the day."
Two-stroke takes Pro2 class win
Beta USA's Cody Barnes finishes seventh overall and with it took the NE Pro2 win ahead of Craig DeLong on the Rockstar Energy Racing Husqvarna by 20 seconds. It is a rare sight these days to see a two-stroke on top of a podium.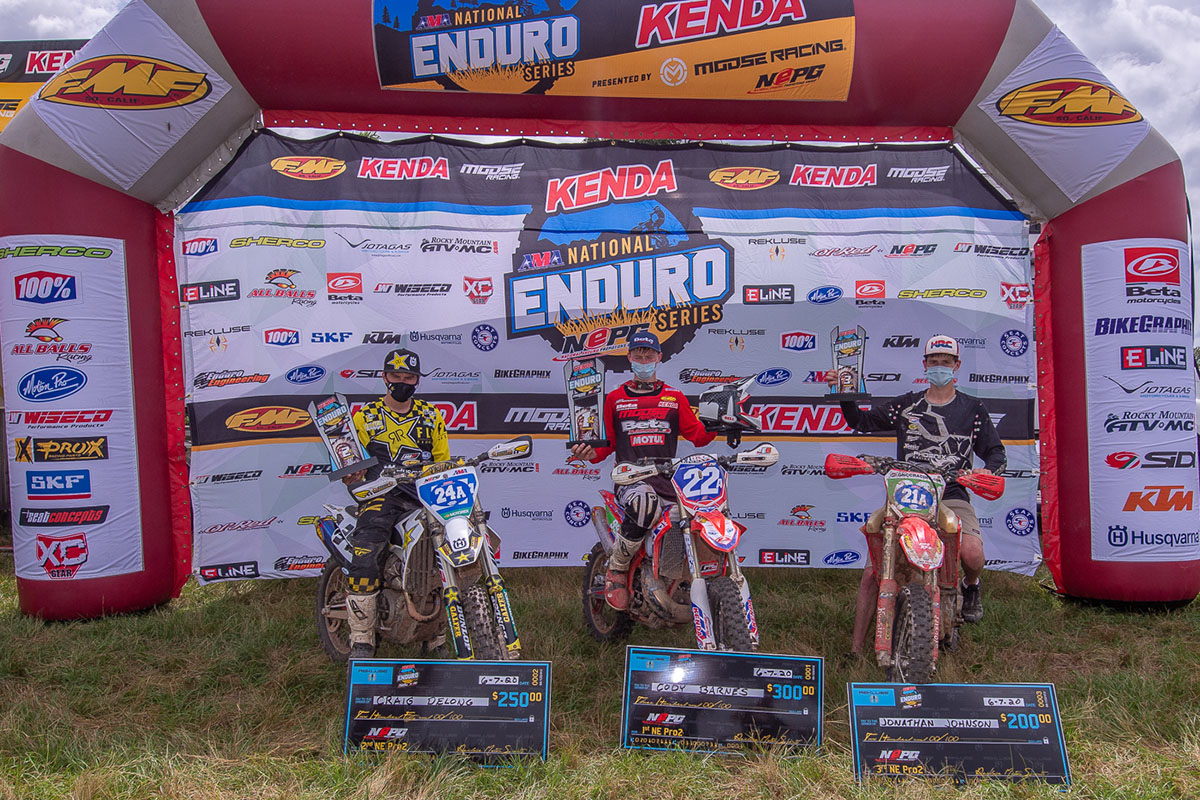 In the Women's Elite class, MacKenzie Tricker took the overall win on her MEPMX/Fly Racing/Grizzly Peak/Travelers Rest Speedway/KTM by 34 seconds over Sherco's Brooke Cosner, with Beta USA's Rachel Gutish finishing third, another 27 seconds back.
Overall top 15 results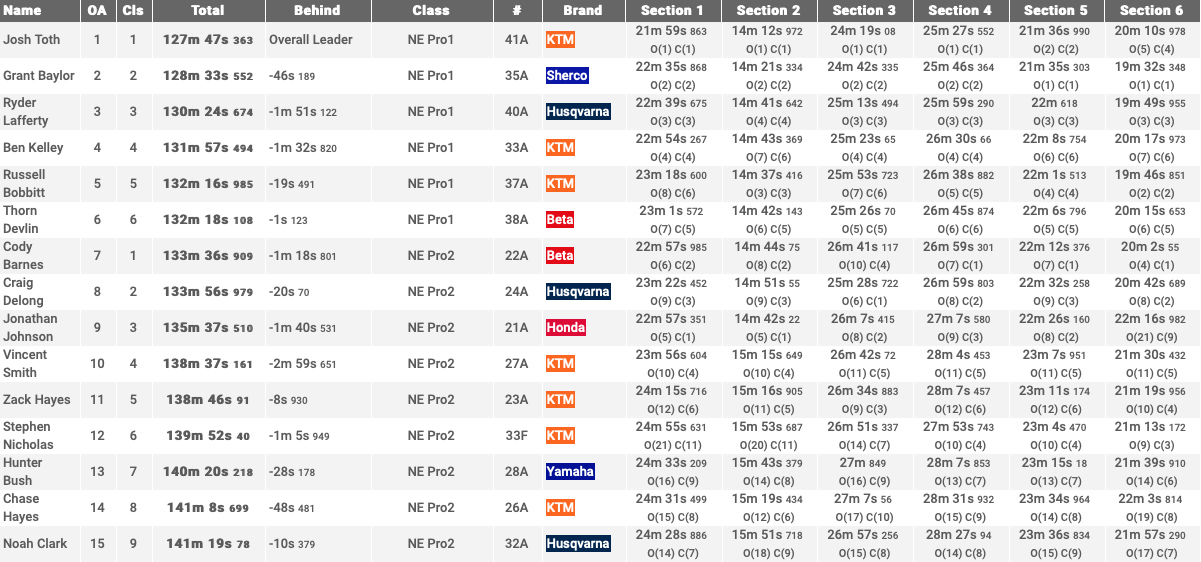 The Kenda AMA National Enduro Series returns to action on July 28 in Cross Fork, Pennsylvania, for the Rattlesnake National Enduro.
More information: NationalEnduro.com
Photo Credit: Shan Moor