Little Raccoon National Enduro: "Send it" Steward takes victory in final test
Results and race report from the 49th Annual Little Raccoon National Enduro, round seven of the 2023 AMA National Enduro Series in Southern Ohio where the Baylor brothers took the win right down to the wire.
Wellston, Ohio has been dry most of the year and the 70-miles of tight, flowing, technical, single-track enduro course made for dusty conditions at the 2023 Little Raccoon National Enduro.
Approaching its half century of running, the Magna 1 AMA National Enduro Series presented by Moose Racing arrived for its annual stop in mining country and it was Monster Energy Babbitts Racing Kawasaki rider Grant Baylor who started the race on fire, winning both the first two tests for the day, despite having a big crash in test 2.
Grant fell a little off the pace in test three allowing Coastal GASGAS rider Ryder Lafferty to grab the win. Ryder Lafferty also was able to put in the fastest time for the fifth test which ultimately landed him in the third spot on the overall podium. "I have been dealing with some sickness this year and feel like I am finally on the upward trend and getting back to where I was before," Said Ryder. "It was some tight tests that we had today and I felt good, it felt like home."
Looks like home to us but remember, these tests are ridden blind...
Grant Baylor also took test four and was carrying the lead into the final test of the day, but his brother Steward had other ideas: "It was kind of a bummer to lead all day and give it up on the last test of the day." Said Grant. "I had a branch across my goggles in the start of the last test and then biffed it and ended up in the dirt. Not a good way to start the last test, just tried to cruise it out to finish the day.
"All-in-all it was a good day with the points and I have a chance to wrap up the championship at the next round in Indiana." Grant now holds a 37-point lead over second place Josh Toth and can mathematically wrap up the 2023 Championship a round early next time out.
Watch follow-cam GoPro footage from Paddy Holloway following the leading riders: NEPG Little Raccoon follow-cam – tree-dodging on a grand scale!
Send it Steward
Rocky Mountain ATV/MC Tely Energy KTM rider Steward Baylor Jr seemed to be consistent all day long but wasn't able to grab a test win until that last test of the day. In typical Stu fashion, he threw down the fastest time of the field to sneak past everyone and take the overall win on the day.
"I was not the fastest guy but I knew I had to make up 12 or 14 seconds on Grant in the last test. I knew I was going into the last section down like that, I've done that a lot of times and won a lot of my championships and races because of that last test." said Steward.
"Everyone talks about in Enduros that slower is faster, but when you gotta make up time like that there is no slower, its straight sending it. I knew if I went down and he got me at least I knew I was giving it everything I had."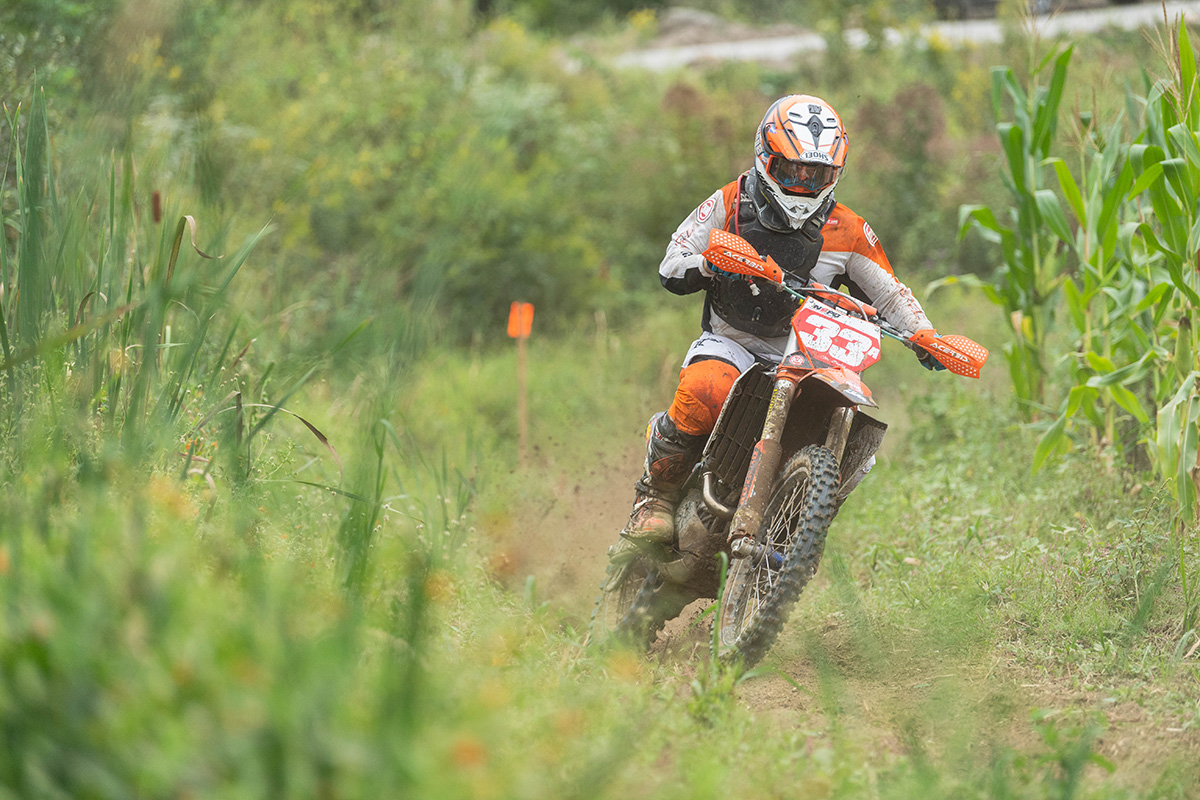 Towards the end of the last test there was some technical ups and downs with some ledges and Steward hit some of those flat out and blind (National Enduro riders do not walk the course so never see the trail before they race it). "I sent some things at the end of that last one and if I had seen them before I probably wouldn't have hit them as hard. That's the cool thing about Enduros and I think in those I got pretty lucky." Steward added.
Steward won the day over Grant by just nine seconds with Ryder Lafferty another 16 seconds back in third place. Rockstar Energy Factory Husqvarna's Craig Delong was fourth ahead of Redbull Factory KTM rider Ben Kelley, Enduro Engineering GASGAS's Josh Toth, AM-Pro Yamaha's Ricky Russell and Rockstar Energy Factory Husqvarna rider Trevor Bollinger completing the top 8 overall, all from the NE Pro1 class.
2023 Little Raccoon National Enduro results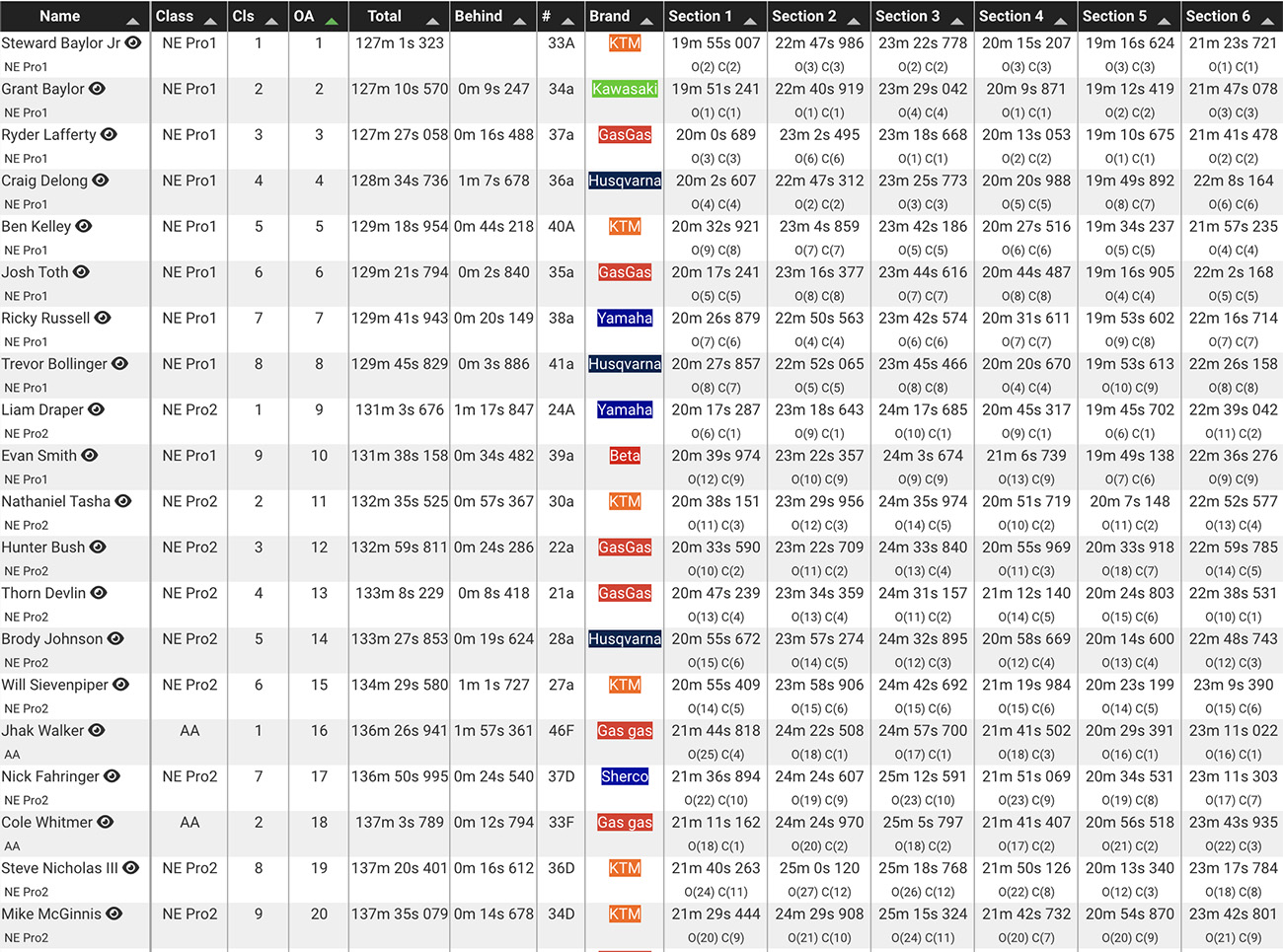 Top 10 brings Pro2 win for Liam Draper
Ninth overall and first in the NE Pro2 class was AM-Pro Yamaha rider Liam Draper who has been trading wins all season with GASGAS rider Thorn Devlin. "It was a good day, I was a little worried how dusty it was going to be, but it was actually pretty good. I felt good and was a little bummed to see I lost the last test by one second to not have the clean sweep on the day." said Draper. Liam won each of the first five tests in the NE Pro2 class before getting edged out on the final test by Devlin who actually only finished fourth in the class for the day.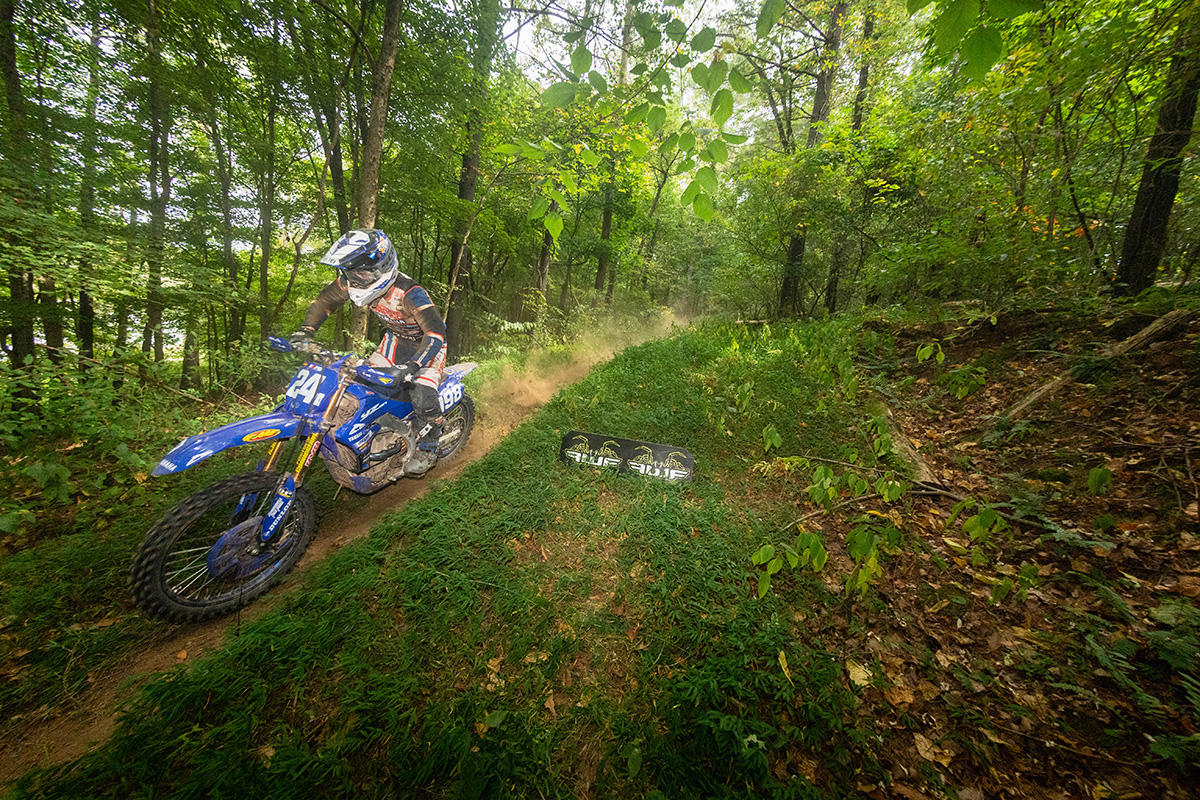 Returning to the NE Pro2 podium was Rocky Mountain ATV/MC Tely Energy KTM rider Nathaniel 'Bubz' Tasha. Bubz said, "I felt like I was riding good at the beginning of the day but my times were not that good. Then at the end of the day I didn't feel as good but the times were good. Maybe I need to turn it back 5% or so to go faster." Bubz was 2nd in the NE Pro 2 class and 11th overall behind Factory Beta rider Evan Smith from the NE Pro1 class in 10th overall.
12th overall and 3rd in the NE Pro2 class was Reiner Pump GASGAS rider Hunter Bush: "After getting my first podium in Pennsylvania it was a big confidence boost for me. I have been working hard since then to make sure I get up here once again." said Bush.
Tricker bags Women's Pro win
Winning the Women's Elite overall for the 2023 Little Raccoon National Enduro was Enduro Engineering GASGAS's Mackenzie Tricker. Mackenzie won three of the five tests to win by just over one minute. "I started off pretty good, I usually start off pretty slow but today was good. Then I won a few tests until test four where I had a pretty good crash and busted my lip and I thought I threw it away." said Tricker.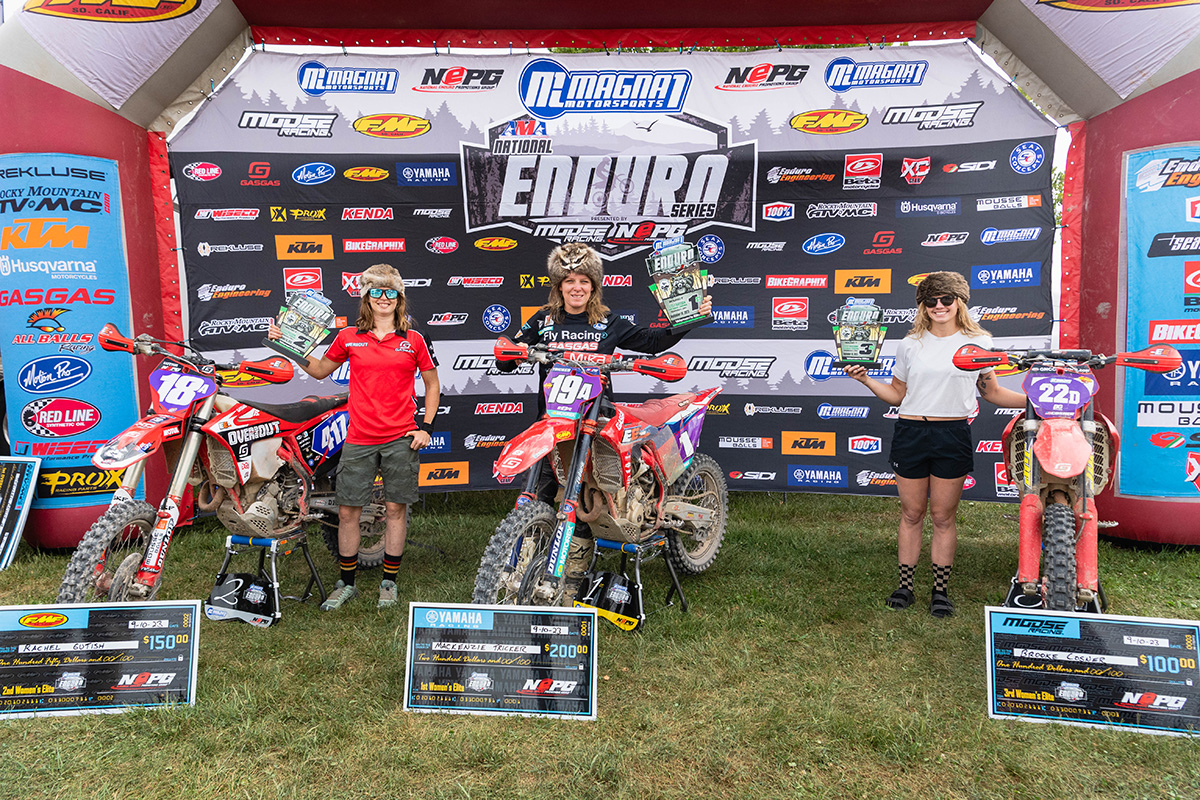 In the end she still was able to edge out Over and Out GASGAS's Rachel Gutish in second and Brooke Cosner in third.
The top AA rider for the Ohio round was GasGas rider Jhak Walker. Overall A rider was Zack Toh on a KTM. Overall B rider was James Jenkins on a Beta and Overall C rider was Luke Praksti on a KTM.
The National Enduro Series continues on October 1st for the Muddobbers National Enduro at the Cumberland Covered Bridge in Matthews, IN.
More information and full results: www.nationalenduro.com
Phot Credit: Mack Faint
Words Credit: Logan Densmore