Muddobbers National Enduro: Grant Baylor crowned 2023 NEPG Champion as Steward wins Rnd 8
The 2023 Magna 1 AMA National Enduro Series penultimate round, the Muddobbers National Enduro, saw Steward Baylor take his third victory on the bounce and Grant Baylor claim back-to-back NE Pro 1 championships.
Conditions were at an all-time high at the famous Cumberland Covered Bridge venue in Matthews, Indiana. Fall colours were starting to show in the sunshine, 80 degrees tempeeratures, and perfect soil made for a fitting atmosphere at this the 70th edition of the historic Muddobbers event.
As we've become accustomed to the National Enduro series it was the Baylor brothers who stole the headlines. Rocky Mountain ATV/MC Tely Energy KTM's Steward Baylor Jr. was able to put in a second half of the day charge to take a commanding win over Enduro Engineering GasGas rider Josh Toth in second.
But the big winner on the day was Monster Energy Babbitts Kawasaki's Grant Baylor who had to settle for third place but secures his second National Enduro overall championship in a row, and third in total.
Steward had a pair of second place times with a win in test two that had him with a one second lead over Josh Toth at the halfway point. Steward made some set-up changes to the bike at the half way gas stop to more of a GNCC-style set-up and that helped him dominate the final three tests of the day to stack up a 53 second win, his first in 11 years at this track.
Toth back pushing for the win
Bouncing back from racing under the weather at the previous round of the series, former champion Josh Toth said he wanted to come out swinging in Indiana after a poor performance in Ohio.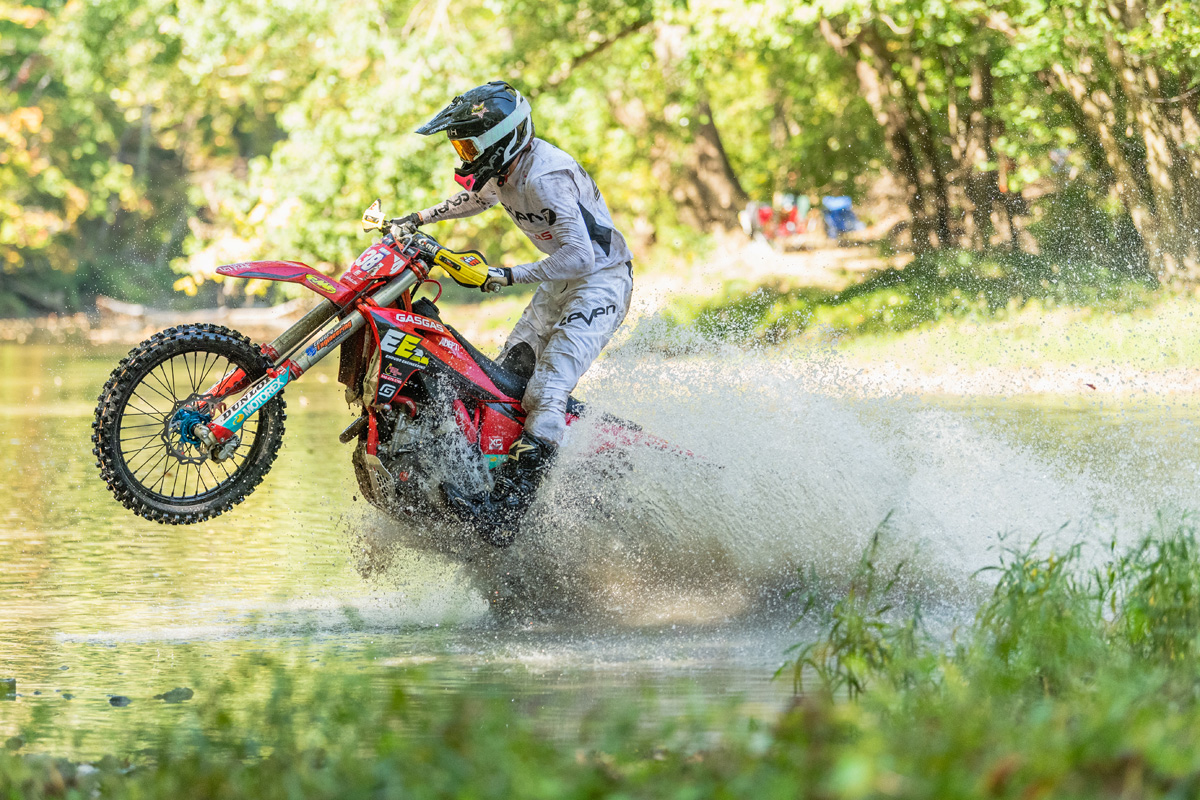 He did just that by winning the first test but with roughly four miles to go in test two, Toth ripped the shifter off his bike: "We got into a tighter spot in the test and I kind of pin-balled off a couple of trees and clipped the shifter and broke it off, so I was stuck in third gear." Toth was able to carry on that test to second overall and went onto win test three also but fell short in the second half of the day to the charging Baylor.
Title number three for Grant
Grant Baylor needed to beat Josh Toth or at least finish one place behind him in order to wrap-up the 2023 Championship a round early. Grant said he came into the race ready to go for the win but a big crash early into test one and another crash in test two made him settle for a safe result.
He knew Steward and Toth were flying and he needed to start thinking about the championship so kept it solid and, with the help of his brother taking the win, wrapped up what is Grant's third NE Pro1 title in four years. That also makes it seven championships in a row for the Baylor Brothers.
Finishing fourth overall was AM-Pro Yamaha rider Ricky Russell ahead of a season best fifth overall for Rockstar Energy Factory Husqvarna rider Trevor Bollinger.
Pro class podium interviews:
NE Pro 2 victory for Liam Draper
Sixth overall and 1st in NE Pro 2 was AM-Pro Yamaha rider Liam Draper. Draper become the first NE Pro 2 rider to win two races in a row. Winning three of the six tests of the day with second place class times for the other three put Draper just 13 seconds ahead of Grant Davis.
Liam said: "My main goal coming into the race was to finally hold the 21A plate for two races in a row since no one has been able to do that all year. I am happy I was able to win today and do that."
Finishing on the Podium for the second time this season in the NE Pro 2 class and eighth overall is Trail Jester KTM rider Grant Davis. Davis won two tests on the day.
Ninth overall was Rockstar Energy Factory Husqvarna rider Craig Delong with Coastal GasGas rider Ryder Lafferty completing the top 10.
Third in NE Pro 2 and 11th overall was Thorn Devlin meaning for the first time all season both NE Pro 2 Championship contenders finished on the podium together. Thorn said: "I thought I was riding great until I looked at the test times and saw I was getting smoked by Liam and Grant. I just didn't have anything for them today."
2023 Muddobbers National Enduro Results (top 25):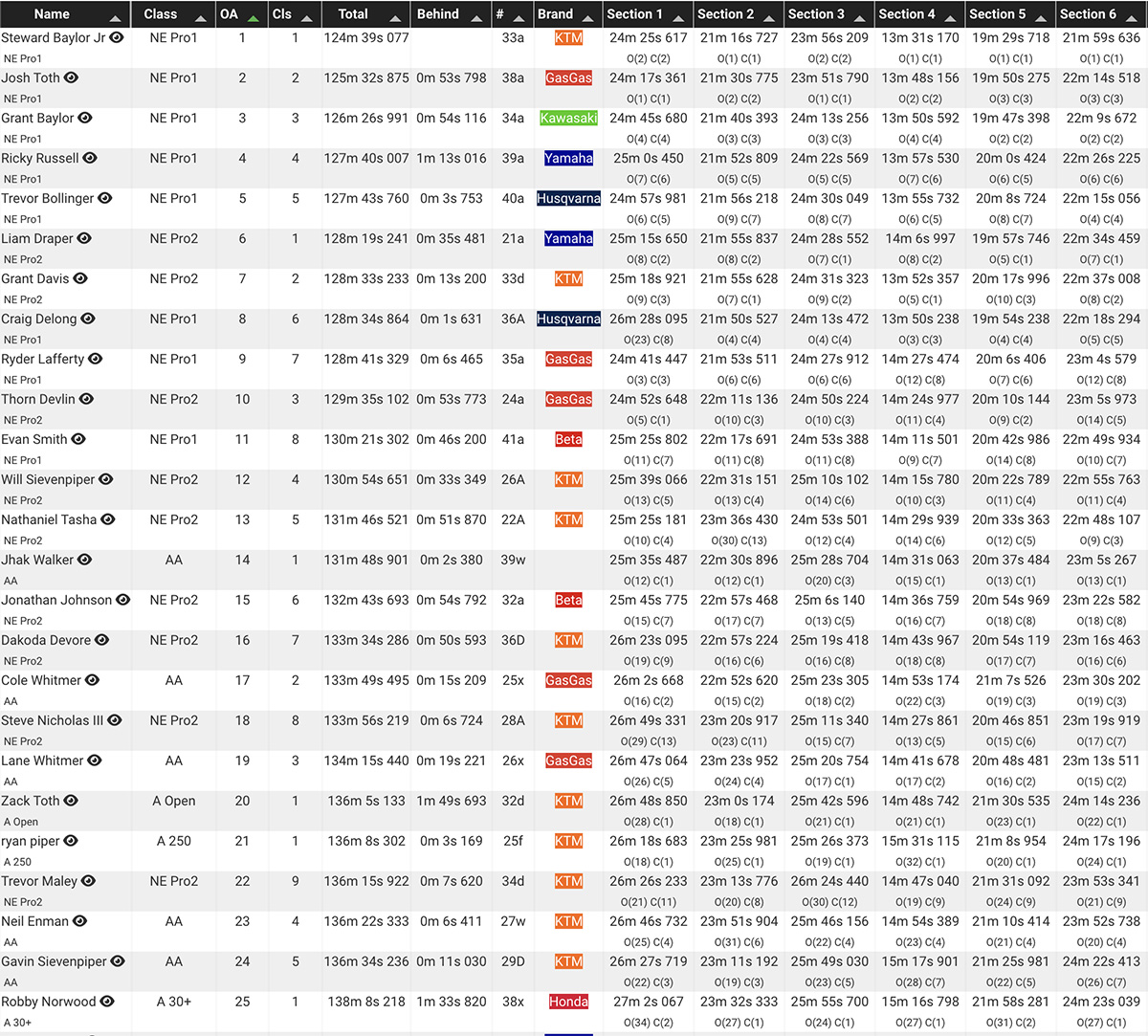 Mackenzie Tricker fifth Women's Elite Championship
Mackenzie Tricker of the Enduro Engineering GasGas team claim a remarkable fifth race of the season that was enough to seal her fifth Women's Elite Championship in a row: "I love this race; I have won it five times in a row now. I really like racing here and have always done well here."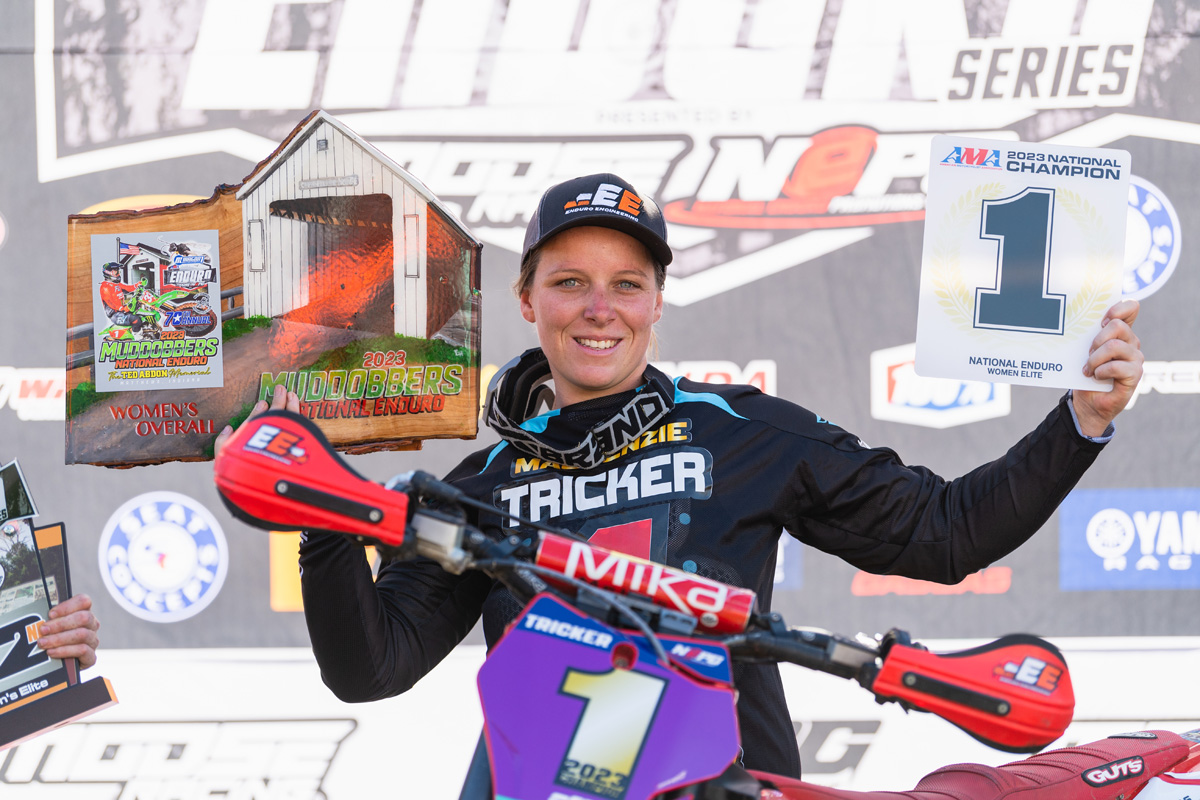 Mackenzie won four of their five tests on the day ahead of OverandOut GasGas rider Rachel Gutish finishing second in what would be considered a home race as she lives just a couple of hours from Matthews, IN.
Third on the day in the Women's Elite Class was Trail Jester KTM rider Korie Steede after missing the previous two rounds from injury.
Top AA rider for the day was Jhak Walker on a GasGas.
New format tried and tested
Race organisers NEPG tried a slightly modified format in partnership with the Muddobbers Enduro Club. Similar to a golf outing shotgun start where riders started on different tests. The A/AA/Pro/Womens Elite classes were 5 on a row on the South 3 test of the race while the B/C/Womens Am/Enduro Futures/60+/65+/A 55+/Sportsman classes started on the North 3 tests of the race with five per row.
After three tests both groups came back to staging for the gas available and raced the opposite three tests after that.
One round remains in the 2023 Magna 1 AMA National Enduro Series, the Gobbler Getter National Enduro in Stanton Alabama on October 29.
More information: www.nationalenduro.com
Words Credit: Logan Densmore
Photos Credit: Mack Faint