2022 US Sprint Enduro: Johnny Girroir dominates season opener in South Carolina
Johnny Girroir drew first blood in the 2022 US Sprint Enduro Series with a dominant win at Moree's Paradise in South Carolina as defending champion Layne Michael "struggles" – Johnny takes maiden outright win in the Pro division.
Snow and freezing temperatures greeted the riders at round one of the 2022 US Sprint Enduro series but it didn't deter a large group from racing in what turned out to be a very successful and enjoyable weekend.
Over the two-day weekend Coastal Racing GASGAS rider Johnny Girroir began the season in dominant form by winning four of six tests on Saturday and going two better on the Sunday with a clean-sweap.
"Everything went smoothly," said Girroir. "I had a little crash in the last enduro test on Sunday, but I had a pretty mistake-free weekend. The woods test was kinda sketchy, so I felt more comfortable on the cross test. It got pretty gnarly out there; just mud, ruts, and roots. That really keeps you on your toes, but I felt good in both tests."
The Cross test looked a little something like this (only colder…)
"Smart" P2 for Toth
Josh Toth was second overall, with one test win and a series of consistent second and third place test finishes. The FMF/KTM rider came to South Carolina to get in some sand riding to tune up for the new year.
"I haven't raced in a while, and this was a last-minute decision," said Toth. "Just trying to stay sharp on the bike. I did have expectations for myself, but no pressure. I would say I rode a little cautious. Of course, I came into the last two seasons with injuries, so I've been a little on the cautious side and just staying smart, really."
Bad start to title defense for Michael
Defending series champion Layne Michael had a weekend he'd rather forget. After winning the first test on Saturday, the Am Pro Yamaha rider admittedly struggled for the remainder of the day. Michael got back into the groove on Sunday, but could not stop Girroir from sweeping the day.
"I just struggled this weekend," said Michael. "I felt like I kind of got back on track there today but in the last test I made a small mistake and crashed. I just kind of clipped a root wrong and it pitched me pretty good. Just some mental errors this weekend. Hopefully, figure that out for the next one and come back stronger for sure."
Pro 2 fight between Barnes and Snodgrass
Phoenix Honda's Cody Barnes capitalized on a strong performance on Saturday to take the win in the Pro 2 class and finish fourth in the overall standings on the brand new CRF250. Babbitt's Racing Team Green Kawasaki's Lyndon Snodgrass beat out Barnes for top Pro 2 honors on Sunday, but it was not enough to erase to lead that Barnes had built on Saturday.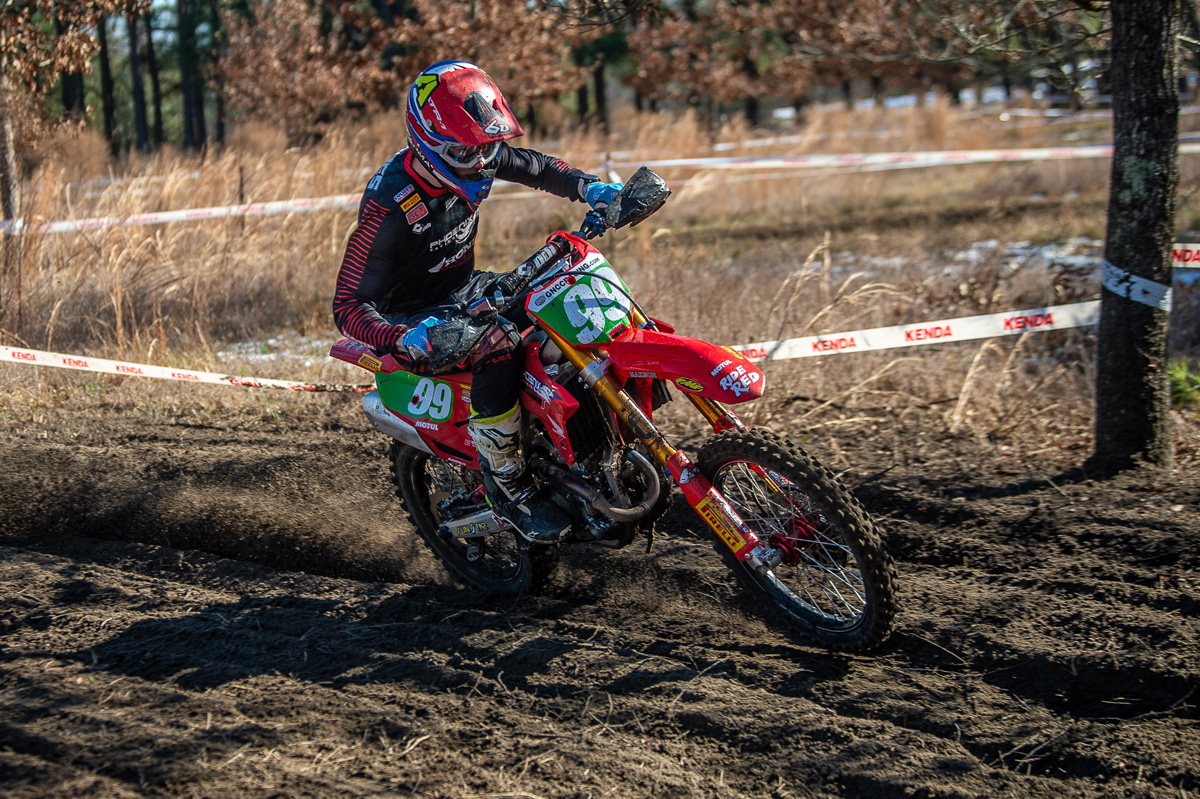 "I had a really good day on Saturday," said Barnes. "I made only one mistake. Only had one crash. Then today, I struggled a little bit on the cross test, but all in all, it was a good day. I was able to come out with the overall for the weekend. It's a good way to start off the year."
Snodgrass took third scratch on the Sunday and says considering the conditions he was happy with his overall weekend.
"I've never really ridden in ice or snow or anything like that before, so right off the bat I was kind of just too hesitant," said Snodgrass. "I kind of just didn't really get into a flow. I wasn't really confident on that slippery, icy dirt. Never really got a flow going. We came out today [Sunday] and made a couple of changes this morning and I think that helped. Right off the bat, first cross test, I was a lot more competitive and just had a much better day today."
Thorn Devlin put his 760 Husqvarna into sixth overall and third in the Pro 2 division, finishing just 15 seconds behind Snodgrass. After riding for another team in 2021, Devlin was making his debut on the new bike.
"First go on the new bike and everything went well," said Devlin. "Yesterday, I was just trying to maintain on the cross test and then do the work in the enduro test where I kind of shine a little bit more. It was kind of a management day today, and then just kind of watched the times and making up when I could and be reserved when it was appropriate."
Debut ride in the US for Mason Semmens
American off-road racing has a new, young Australian to keep an eye on in 2022. Mason Semmens made his US Sprint debut on the South Carolina soil and came away with seventh overall. The Trail Jesters Racing KTM rider was also fourth in the Pro 2 division.
"The sprint enduro format is definitely cool," said Semmens. "Coming from a motocross background, the enduro test seemed tight, so it was definitely a big learning curve. My knuckles are pretty busted up, and my neck, too. The trees definitely don't move when you run into them, but all in all it was a good learning weekend."
Tely Racing KTM's Liam Draper returned to racing having spent the last four months recovering from knee surgery and came away with fourth in the Pro division and eighth overall. Meanwhile, RPM Racing's Angus Riordan (another Australian) was ninth overall and fifth in the Pro 2 class.
Tayla Jones starts 2022 in fine form
Rockstar Energy Husqvarna's Tayla Jones was back to fitness and fine form as she sailed ot eh win in the Women's Pro class after topping nine of the 12 tests.
"I was a little nervous about racing in the snow but it turned out to be fun," said Jones. "I got some test wins and got settled into my new bike so all is good."
Trail Jesters Racing KTM's Kori Steede made sa strong start to the season also and won three tests on the way to second overall in Women's Pro. Meanwhile, Bonanza Plumbing KTM's Rachel Gutish rounded out the podium in third.
Bubz Tasha (KTM) won the Pro-Am division with a 10th overall finish. First in the 250A class was KTM up-and-comer Cole Forbes, who also claimed the Top Amateur award, while James Skinner won the Open A class ahead of Tim Murphy and David Hojnowski Jr.
US Sprint Enduro Rnd 1, day 1 results: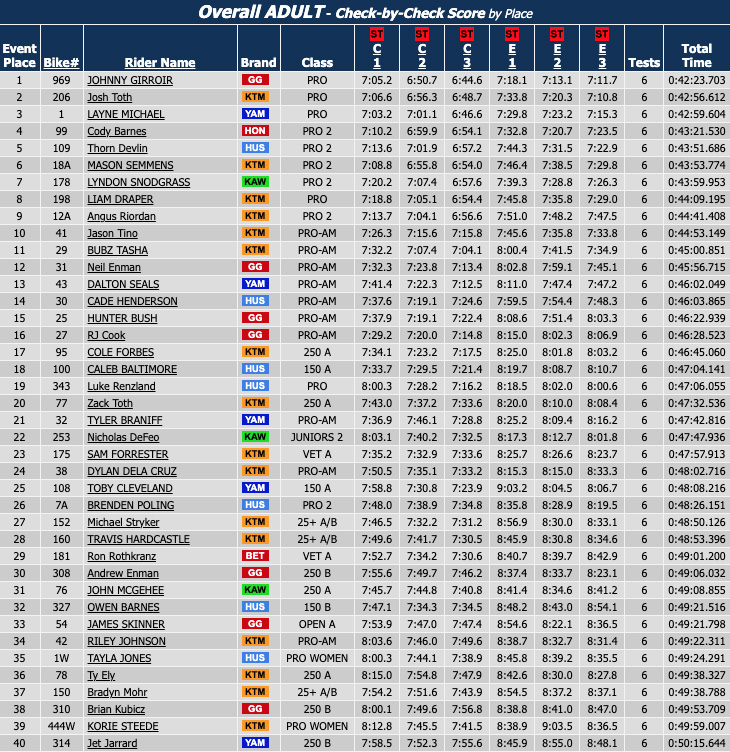 US Sprint Enduro Rnd 1, day 2 results: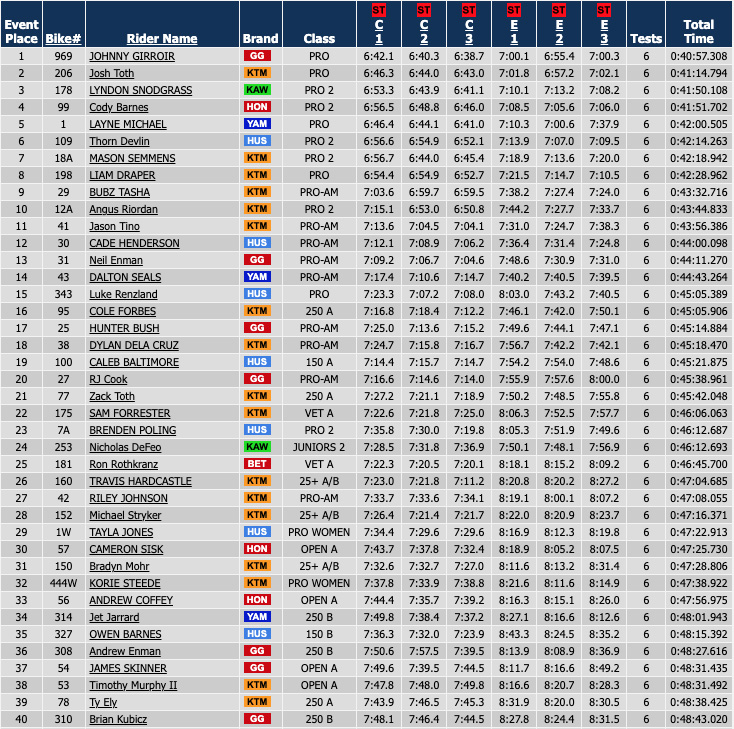 Words and Photo Credit: Shan Moore