US Sprint Enduro: Narrow Round 2 win for Girroir at South of Border
Coastal Racing GASGAS' Johnny Girroir and AmPro Yamaha's Layne Michael split wins at this weekend's two-day South of the Border US Sprint Enduro in Hamer, South Carolina, with Girroir taking a narrow overall victory on combined time.
After dealing with cold temperatures and snow at the series opener, round two at South of the Border MX featured beautiful weather, with temperatures reaching the 70's on Saturday and in the mid-50s on Sunday. Three hundred riders (221 adult and 79 youth riders) enjoyed excellent conditions on both days. The event also doubled as an ISDE Qualifier, with 21 Letter of Intent (LOI) riders signed up.
Girroir kicked off the 2022 season back in January with a double victory in Sellars, South Carolina. And after his win this weekend on Saturday, the New Jersey rider appeared capable of running away with this year's championship. However, on Sunday, Michael put a stop to Girroir's winning streak with an impressive victory of his own.
Girroir beating Michael by 17 seconds on Saturday, while Michael eked out Sunday's win by a narrow two seconds in a nail-biter that came down the final test.
The Enduro test was a tight one...
On Saturday, Girroir won two of the six tests, as did Michael. However, Michael lost a lot of ground after suffering a mishap in the first Enduro test, putting him in a hole he would not be able to dig out of.
Pro2 rider Cody Barnes wedged his way between the top two pros by winning the final cross test of the day outright on his Phoenix Honda, in addition to winning all six tests in the Pro 2 division.
At the end of Saturday's event, Girroir finished on top of the time sheets for the win with Barnes in second and Michael in third.
Reigning champ turns it around on Sunday
Girroir opened with wins in the first two tests on Sunday, however, Michael started to match Girroir's pace beginning with the second set of tests – although Barnes was having another stormer taking the win in the second cross test.
After trading wins in the next few tests, Michael entered the sixth and final test of the day leading Girroir by a mere tenth of a second. After turning in one of his best performances of the day, Michael emerged from the final test with the fastest time and Sunday's win.
Girroir posted the second-fastest time in the test, was second on the day and his 1-2 performance earning him first overall for the weekend.
"Today, I started off firing out of the gate with the first two tests and got a comfy lead, then it was a battle from there," said Girroir. "Everyone's really close. Layne is riding really good and Cody Barnes is riding really good from the Pro 2 class. So, it's been good competition.
"I had the lead over Layne by just a second or two the whole day, and then that last one he took it away from me. Layne rode good all day today and he got the win for the day by just about three seconds on me. I got the overall for the weekend, so it was good. Good racing. It's going to be a good season."
"I was able to squeeze out the win there in the last test," said Michael after day two. "Obviously, we didn't get the overall win, but to at least split days with Johnny was a huge step in the right direction.
"Yesterday was a bit disappointing, but today I felt really good. I knew I had to try to start limiting the damage. He's won every day so far, until today. Yesterday, I had a fall in the first enduro test and kind of lost the majority of that time, but it was still 17 seconds. Today we were pretty even. I was able to nip him a couple times and on that last test I think it was the furthest gap we had all day.
"It was a good weekend for me. It's definitely going to be an exciting year with Johnny and I going at it. It's good to stop some bleeding and carry this momentum into the next one."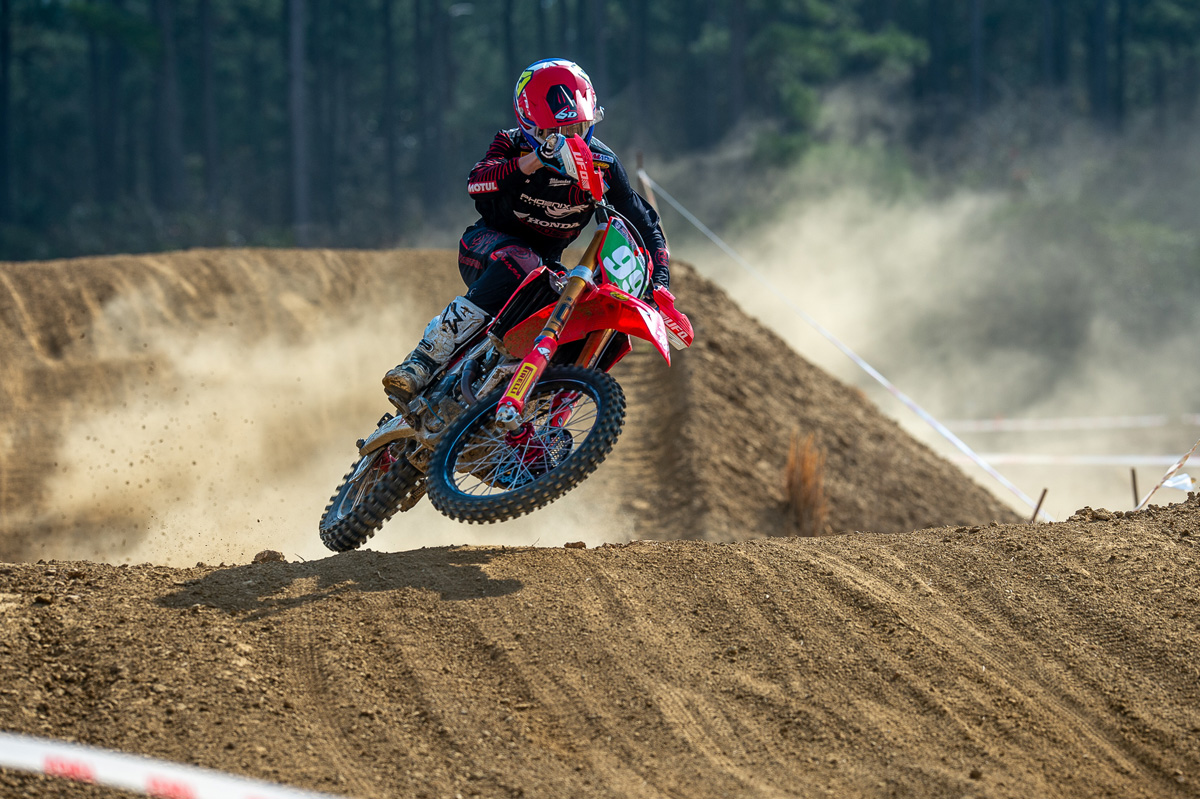 Barnes was third overall for the weekend with a 2-3 performance for the weekend and first in the Pro 2 class with a win in class on each day. In addition to his two outright wins, Barnes also won all 12 tests in the Pro 2 class and looks good on the new baby Honda CRF.
"I kind of struggled a little bit in the first cross test. It was really hard-packed and slick, but I kind of got a good feel for it and ended up winning one of the next two," said Barnes. "The enduro test was challenging. There were a lot of tree roots, a lot of chop, so you had to ride smart and not make a lot of mistakes. I was able to do that and have some really good times. Overall, it was a really good weekend. I didn't crash and I'm really happy with how my bike is working."
FMF KTM's Josh Toth won the final enduro test on Saturday and came away with fourth overall (third Pro rider) for the weekend, despite a huge mistake in the first test on Saturday that cost him considerable time.
"I just started off on the wrong foot," said Toth. "Nothing serious, but just jumped off the track and got in the soft stuff and went down. Just lost a ton of time and there's really no time to make it up. The racing is so tight and there are so many guys riding really good here. I just need to get back up to the Sprint speed and I got some good seat time here."
2022 US Sprint Enduro overall results, round 2: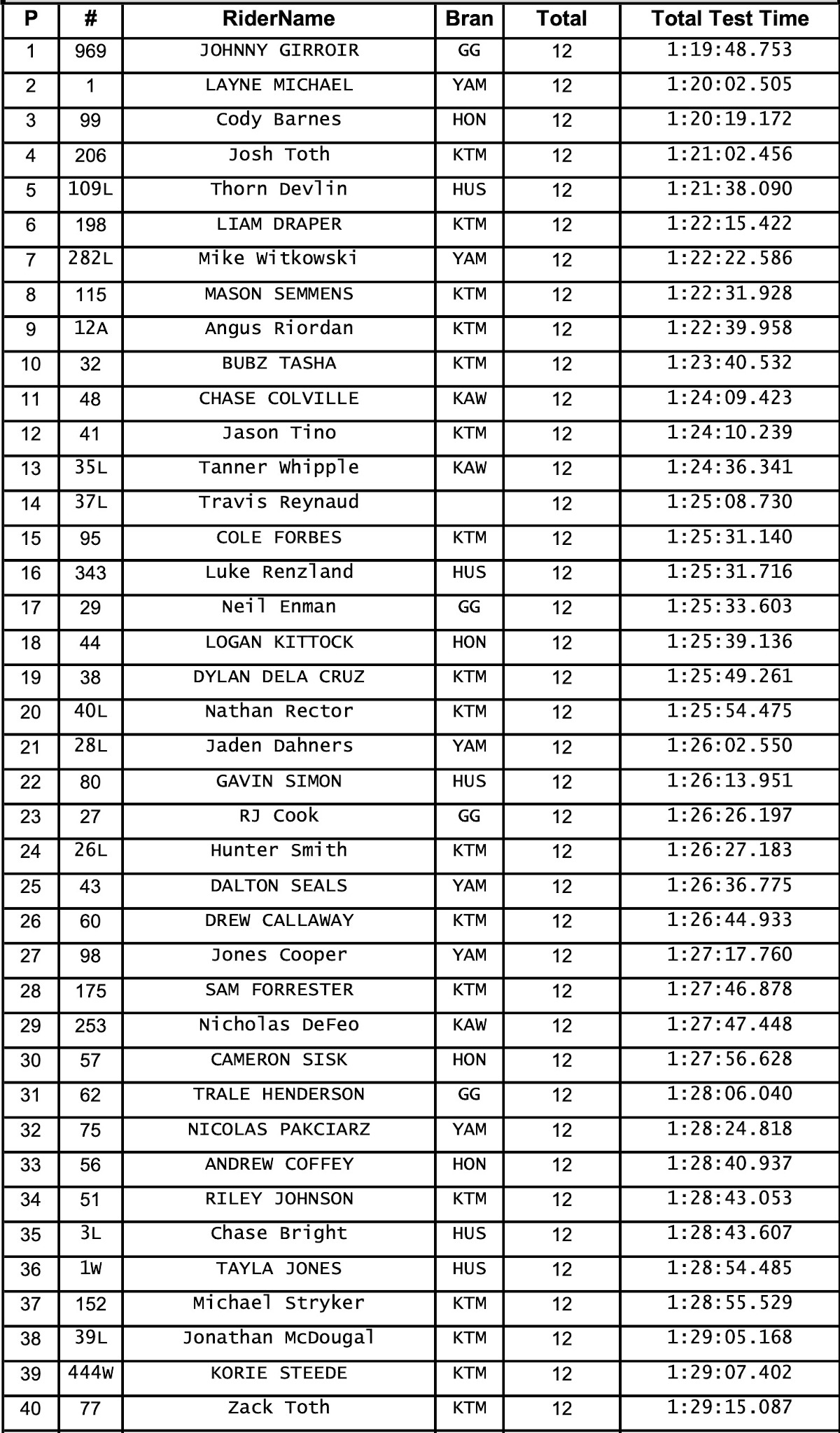 ISDE qualifiers
The South of the Border race also doubled as an ISDE Qualifier with 21 Letter of Intent (LOI) riders signed up. Seven-Sixty Husqvarna's Thorn Devlin topped all of the LOI riders and finished second in the Pro 2 division with a fifth overall finish.
Devlin was all set to compete in the 2019 Six Days in Portugal, but a crash two weeks before the event kept him from competing.
"In 2019 I qualified for my first ISDE," said Devlin. "I did the whole nine yards, I qualified, I paid the whole thing and the bike was already over there. Two weeks before, I crashed and it put me out of my Six Days. So, I went there and watched. Since then, I've been bugging to get back. I've got a good bike. I've got a team behind me who wants to go to Six Days. So, I'm hoping I can make it this year."
Tely Racing KTM's Liam Draper, who is still recovering from knee surgery, went 8-7 for the two days and finished sixth overall.
Also an LOI rider, AmPro Yamaha's Mike Witkowski finished third in the Pro 2 class and seventh overall, despite being out of his comfort zone at the Sprints.
"This was definitely a big learning experience," said Witkowski. "I don't really do these Sprint Enduros, but honestly I kind of told myself this year I'd do the stuff I'm uncomfortable with or not so good at.
"I think it was a positive for myself and just a big learning thing. Hopefully, I can make the ISDE team, the Junior team, this year and go over there and really experience that. That's why I'm here today, really."
Trail Jesters Racing KTM's Mason Semmens ran as high as second in the Pro 2 division, but a crash in the final test that injured his collar bone knocked him down to fourth in the Pro 2 class and eighth overall.
"I had really good tests right up to this last one, but for some reason, I don't know, I had one decent crash and I got up from that and I was still moving along," said the Australian. "I was a little bit dazzled, and then I hit a tree. I've done a little bit of damage, but just hit my head a little bit and my shoulder and things like that. So, we'll get fixed up and we'll come back."
RPM Racing KTM's Angus Riordan finished fifth in Pro 2 and ninth overall just eight seconds behind Semmens.
Boston, Massachusetts rider Bubz Tasha (KTM) was 10th overall and top Pro-Am rider. Tasha built a 22-second lead on Saturday and then just held on for the class win on Sunday.
Chase Collville (Kaw) was second in the Am-Pro class, with Jason Tino (KTM) finishing third.
Tayla Jones continues 100% record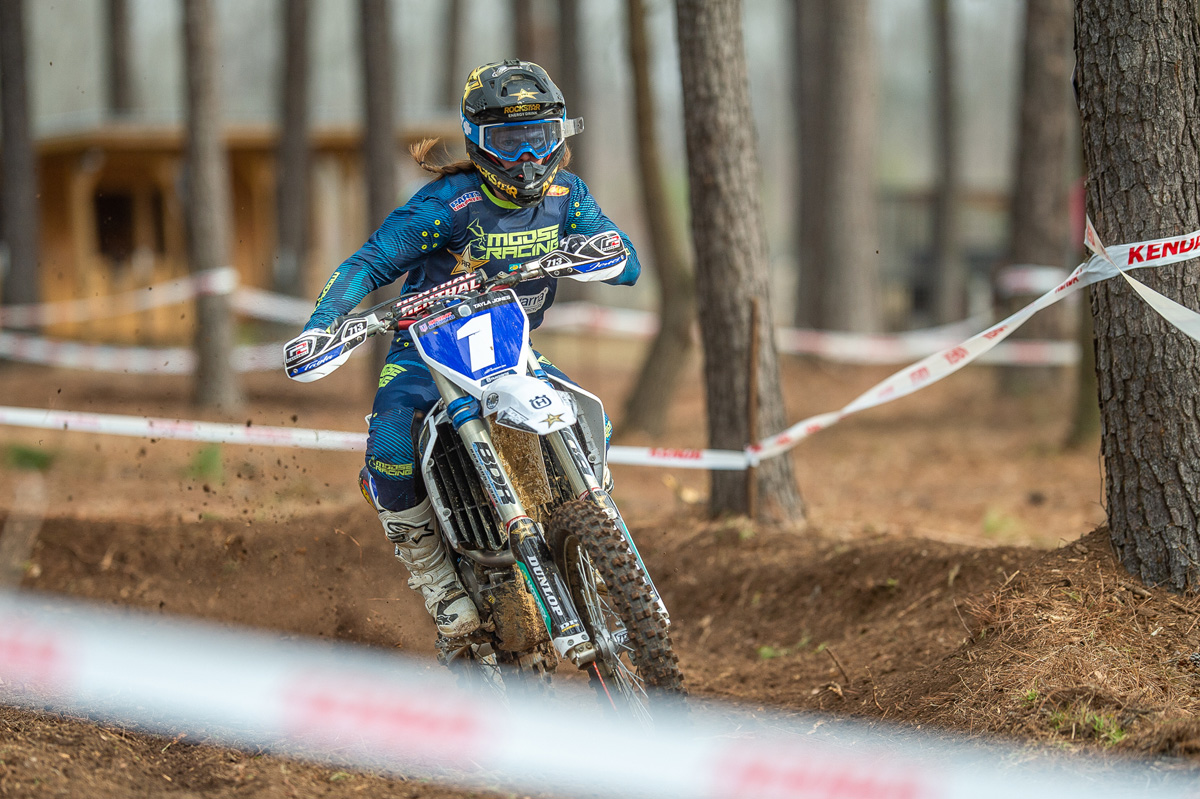 The Women's Pro class at round two was won by Rockstar Energy Husqvarna's Tayla Jones who has won every test so far this year.
"It ended up being a good weekend in the end," said Jones. "My shoulder wasn't great coming into this round, so we didn't know how it would hold up. But I had some good tests, a few crashes here and there, but overall I had a good weekend. The tracks are fun and we got the win."
Trail Jesters Racing KTM's Kori Steede was second overall in the Women's class, with FXR Racing KTM's Shelby Turner in third.
First in the Open A class was Drew Callaway, who took the win ahead of Cameron Sisk and Trale Henderson. Meanwhile, KTM's Cole Forbes was first in the 250 A division and he also took the Top Amateur award.
In the Youth Classes, Mason Raynor was tops ahead of fellow KTM riders Jonathan Snyder and Austin Tsakanikas. Raynor won the 85 SR class, while Snyder and Tsakanikas were first and second in the Super Mini Sr class.
The Super Mini Jr class was won by Jacob McPherson (KTM), with Kamden Krause (KTM) in second and Alexander Ghetta (KTM) in third.
The 85 Jr class saw Hunter Porco (Yam) take the win ahead of Chance Burkett (KTM) and John Berry (Yam).
Other Youth winners included Hunter Hawkinberry (65 Sr); Kayky Depinho (65 JR); Korah Grace Jones (Girls); Grayson Porco (50 Sr) and Maura Tsakanikas (50 Jr).
The US Sprint Enduro Series returns to action on February 26-27 for round three of the series at Dreamville MX in Raeford, North Carolina. For
More information: www.ussprintenduro.com
Words and Photo Credit: Shan Moore