US Sprint Enduro: Josh Toth in charge at round three
Josh Toth took an impressive victory at round three of the US Sprint Enduro Series at Dreamville MX Raceway in Raeford, North Carolina with eight test wins and a 35-second advantage over runner-up Cody Barnes.
For the second US Sprint Enduro race in a row, Cody Barnes challenged for the overall win from the Pro 2 class and the Phoenix Honda rider drew first blood on Saturday, posting the fastest overall time in test one.
Josh Toth was hot on his heels on the FMF KTM ahead of AmPro Yamaha's Layne Michael, who was just one of the riders nursing injuries from the previous weekend's Big Buck GNCC – notably US Sprint rounds one and two winner Johnny Girroir who wasn't able to race this weekend.
Toth was recovered though and took control of the race from test two before going on to reel off five-straight test wins to finish out the day on top.
Michael finished second in tests two and three but couldn't maintain the pace due to a torn shoulder and which allowed Barnes through to second and Seven-Sixty Husqvarna's Thorn Devlin into third on day one.
Then came the rains
While Saturday's racing took place under clear skies and dry conditions, Sunday's event in Dreamville MX was wet and slippery thanks to rain that set in over the area.
Toth got off to a quick start in Sunday's mud, taking the win in the opening test ahead of Barnes who would keep Toth on his toes all day and would end up splitting wins with the Connecticut rider, with each rider claiming three apiece.
At the end of the day, Toth was quickest where it counted and beat out Barnes by 11 seconds for Sunday's win, which sealed the overall win for the weekend.
"It's been a while since I won a sprint race," said Toth. "I was riding good this weekend, like I felt like I should have been at the first two rounds. It was very slippery: dry and slick the first day, and then wet and slick today. I laid it down a couple times, but nothing serious."
Toth says the win will give him momentum heading into the remainder of the year, "This gives me a boost. I feel like I should have been a little bit closer at the first two rounds. The first round I was close. Second round, I was a little off the pace. I'm looking forward to the next round."
Pro 2 win and P2 overall for Barnes
Cody Barnes meanwhile has had a solid start to 2022 and his four test wins outright (one on Saturday and three on Sunday) gave him the runner-up slot for the weekend as well as first in the Pro 2 division.
"The track was fast and the cross-test was really hard packed, so I just tried to eliminate mistakes and not crash," said Cody. "Today we got a bunch of rain and it made the track gnarly. The woods test got super rutted and super rough. So, really it was just about not making mistakes and going down or even getting stuck. There were a couple spots that really rutted up. Overall, it was a great weekend. Hopefully can carry this momentum into the rest of the year."
Despite the injury to his shoulder, Layne Michael managed to salvage third overall and, more importantly for the number one plate holder, second place points in the Pro class.
"That was the plan coming in, to salvage as many points as possible," said Layne. "I wasn't sure if I was really going to be able to race, but I knew I was going to give it a go. With it being dry [day one] I was able to kind of just ride smooth and kind of manage it. Then today with the rain it made it a lot tougher on the shoulder.
"I lost my rear brakes the beginning of the last test and pretty much had to ride without rear brakes, and then obviously with not having much upper body strength it was quite difficult. Overall, the plan was to at least show up and get decent points."
Liam Draper turned in an excellent ride on Sunday and finished out the weekend with fourth overall, just four seconds behind Michael.
"It was a really good weekend for me," said Draper. "I finally found myself riding up to what I know how to ride. Yesterday was good. I was close with the boys all day. Then today I rode really well. Me and Layne came down to the last test. He got me by four seconds for the weekend."
Thorn Devlin, who is still adjusting to a four-stroke, was second in the Pro 2 class with a fifth overall finish. "I rode really well this weekend, as I'm trying to progress and learn the four-stroke," said Devlin. "I rode pretty well yesterday, but I messed it up today. I lost too much time. Pretty disappointed in myself how I rode today, but happy to be second."
RPM Racing KTM's Angus Riordan continues to gain momentum as he gains experience in the sprint series. The Australian finished off the weekend with sixth overall and third in the Pro 2 class. "I'm slowly getting there; it's just the terrain I need to get used to," said Angus. "I'm slowly getting used to it and slowly improving. I'm enjoying it."
After getting off to a rough start on Saturday, Massachusetts rider Bubz Tasha (KTM) claimed his best finish of the year with seventh overall and first in the Pro-Am class after a good race with Cade Henderson.
"Cade was ripping it," said Tasha. "He was putting in some good times and I tried to play catch-up all weekend, and luckily got it done. Just pitched my times away and tried to catch up at the end and got it done by a hair."
After running as high as seventh overall on Saturday, Forbes Racing's Cole Forbes turned in his best performance to date with an eighth overall, first in the 250 A class and top amateur.
"I was running up with Bubz and all them on Saturday," said Forbes. "I got them on the overall. Today, I don't know what happened. The track was all muddy and I couldn't keep it together. I stayed on two wheels the whole weekend and wrapped it up with eighth overall."
Steed steals it
The Women's Pro class was as competitve as ever but day two made life tougher in the mud and ruts and it was Trail Jesters Racing KTM's Kori Steede came out on top. Steede impressively beat Rockstar Energy Husqvarna's Tayla Jones by over a minute for the overall win taking nine tests over the course of the two-day event, while Jones won three.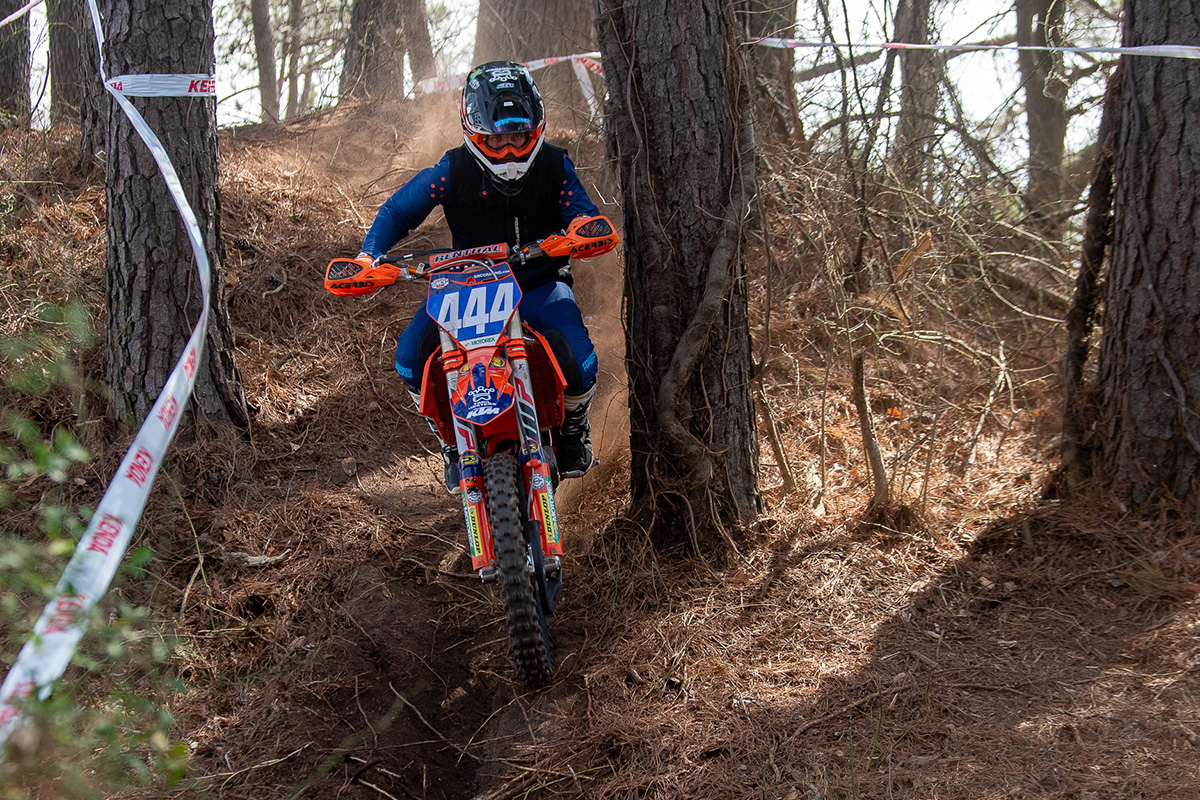 "I stayed super consistent and it ended up paying off big time," said Steede. "This weekend you just had to be super consistent with how gnarly the tracks were. So, I'm pumped."
Jones put together some test wins over the weekend but "ended absolutely killing myself in the enduro test" when she collected a pine tree.
Third overall went to FXR Racing KTM's Shelby Turner.
2022 US Sprint Enduro round 3 results (day 1):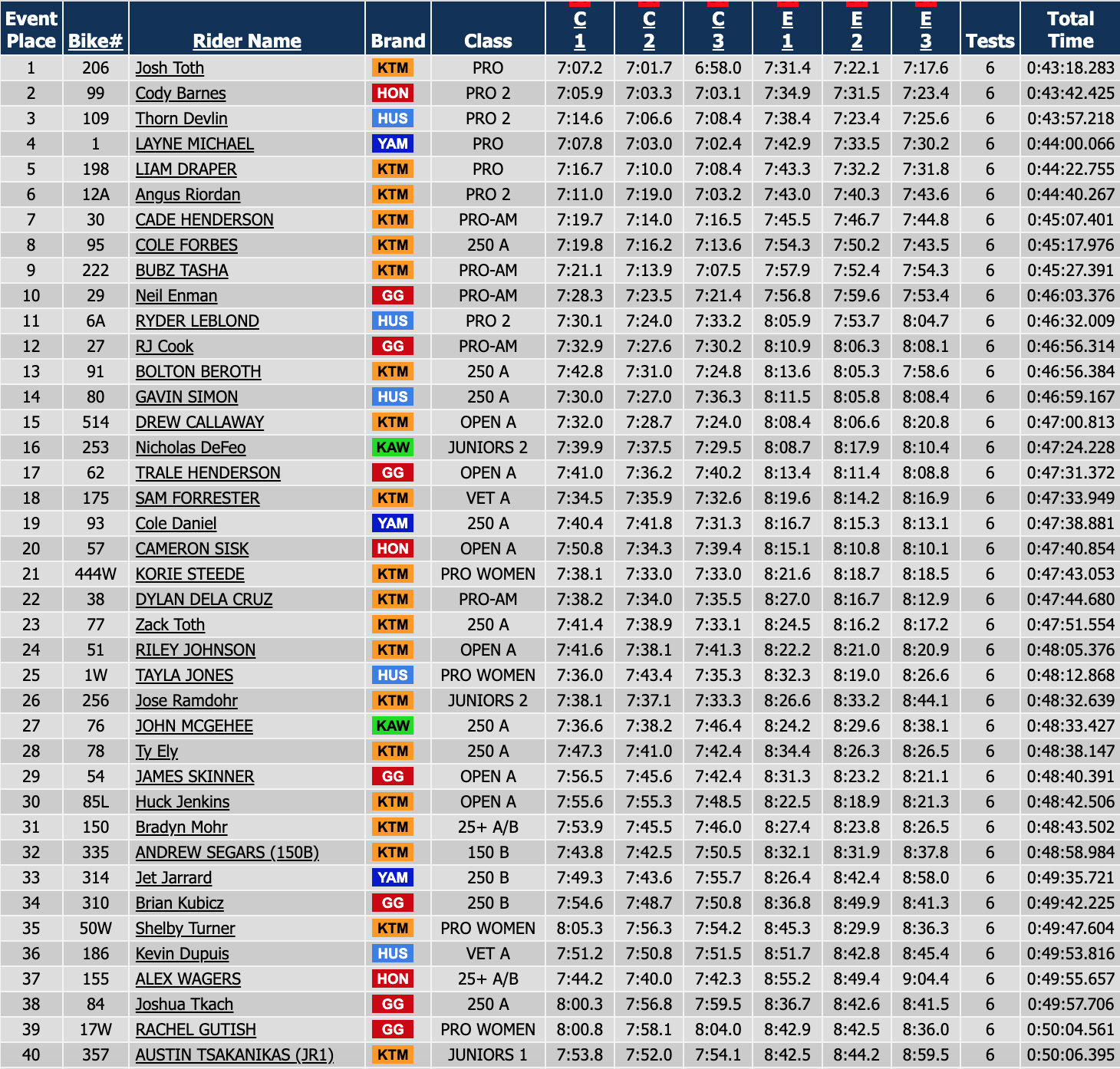 (day 2):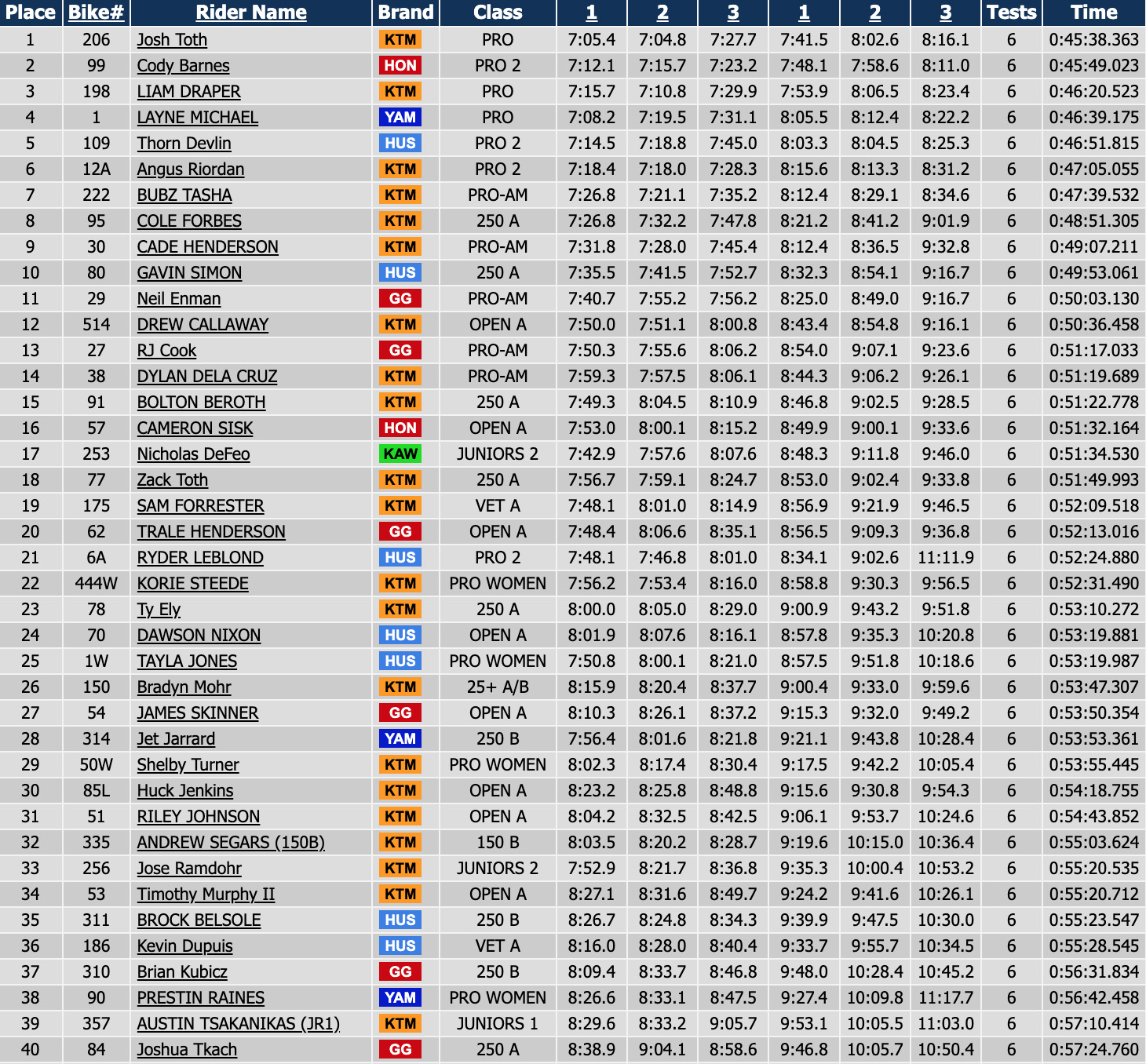 In the Youth Classes, Payton Feather took the win in the Super Mini SR (14-15) ahead of fellow KTM riders Jonathan Snyder and Austin Tsakanikas. Jacob McPherson beat out Kamden Krause and Juan Ramdohr for the win in the Super Mini JR (12-13) class.
The 85 SR (12-15) class was a battle between Tyler Yost, Mason Raynor and Mason Tsakanikas, with Yost taking the overall win ahead of Raynor and Tsakanikas.
Hunter Porco was tops in the 85 JR (7-11) class, finishing ahead of Nash Pearson and Chance Burkett for the win. The 65 SR (10-11) Division was won by Hayden Dupius, with Hunter Hawkinberry in second and Case Kight in third. Colt Chaney claimed the victory in the 65 JR (7-9) class, with Landyn Dalmasso in second and Brody Haugh in third.
The Girls (10-16) class went to Korah Grace Jones, with Lola Grozbean and Nicole Rupert in second and third.
Maura Tsakanikas, James Dietrich and Oliver Stewart finished 1-2-3 in the 50 JR (4-6) class, while Grayson Porco, Mason Ransey and Ellis Austin were first, second and third in the 50 SR (7-8) class.
The US Sprint Enduro Series returns on March 19-20 for round four at Boswell Farm in Greensboro, Georgia. More information: www.ussprintenduro.com
Words and photo credit: Shan Moore