US Sprint Enduro Series: Toth the boss of Boswell Farm
FMF KTM's Josh Toth claimed his second US Sprint Enduro Series win in a row at the Boswell Farm Sprint Enduro, round four of 2022 in Greensboro, Georgia.
Josh Toth is on a roll right now and though he took a relatively easy win on day one of round four this weekend, defending champion Layne Michael made him work hard for Sunday's win with a lead going into the final Enduro test.
Toth was fast all weekend in the Enduro tests but Michael held a two second lead heading into that final run. In the end, despite both riders going down on the final test, the KTM rider emerged with the win by a narrow three seconds, sealing Sunday and the overall result.
In total Toth won nine tests, five on Saturday and four on Sunday, while, Michael topped three tests over the weekend, one test on Saturday and two tests on Sunday.
"The cross tests were close all day on Sunday and I thought I had a big advantage coming into today with the enduro test," said championship leader Toth. "I rode well, but everyone just stepped it up on Sunday and the times got way closer.
"Me and Layne went down to the wire. He beat me by a second or two in the cross test, and then I'd pull him a little bit in the enduro test. Going into that last one, he had a second and a half on me. He ended up going down at the end. I saw him a turn ahead and I was like, 'I just got to ride it in, I have it.' Then, of course, I dump it on a root. I just had to sprint to the finish. It was a close race. I was able to grab that test win and just barely beat Layne for the day and the overall."
US Sprint Enduro round four, day 1 results: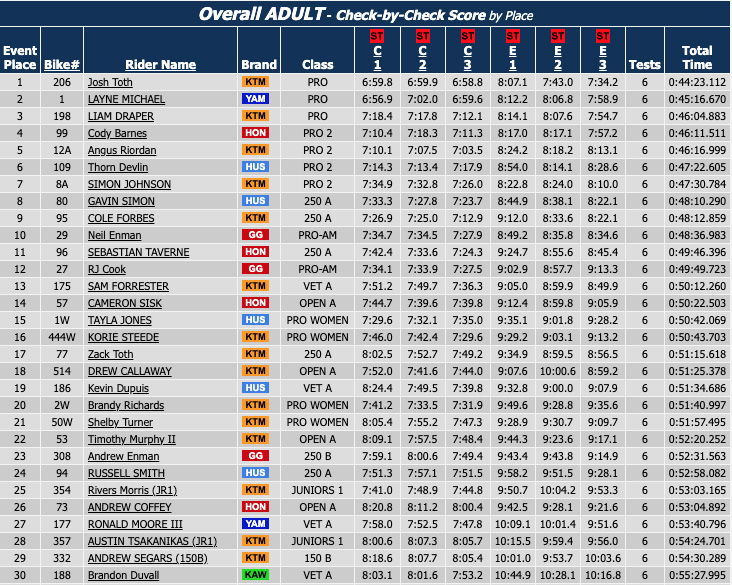 Defending champ puts up a fight
Michael, the defending US Sprint series champ, was still feeling the effects of a shoulder separation suffered in mid-February and was frustrated by missing out on Sunday's win by such a small margin.
"Obviously it's still not 100%," Michael said of his shoulder, "but I felt like I could be competitive this weekend. Yesterday I got smoked in the enduro test. It was super slick and technical and I just struggled. So, I knew today I needed to go out and definitely try to win the day.
"We went into that last test and I was up by almost a couple seconds. I had my best test all weekend, and just unfortunately in a simple right-hander out in the field I just tucked the front. It was all me. I kind of looked back as I was picking my bike up and Josh was just coming out of the woods, so I knew I had a pretty good gap. I think it would have been close."
US Sprint Enduro round four, day 2 results: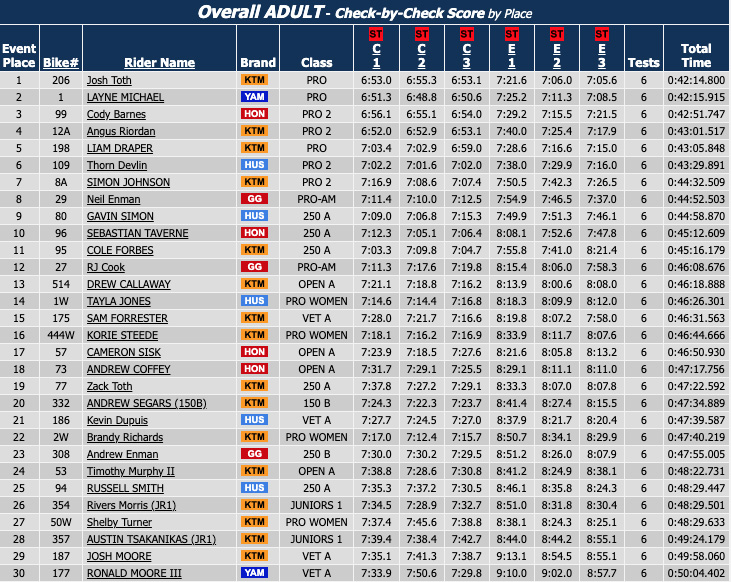 Pro and scratch podium for Barnes
Pro 2 rider, Phoenix Racing Honda's Cody Barnes has been pushing the Pro riders at the last few rounds and picked it right back up at round four. Despite hitting the dirt a few times in tests, the Illinois rider came away with third overall for the weekend and first in the Pro 2 class.
"The weekend for me was a little bit challenging," said Barnes. "I just kind of struggled with the cross test. I was riding good in the enduro, but was just making some really rookie mistakes crashing in the cross test."
Tely Energy KTM's Liam Draper was third in the Pro division and fourth overall. "I was looking forward to this weekend," said Draper. "I've done good here in the past with national enduro. I had three crashes in the cross tests and two in the enduro test. But overall, I think I rode good."
RPM Racing's Angus Riordan by contrast won all six cross tests for the weekend in the Pro 2 class, and finished second in Pro 2 plus fifth overall."I did well on the cross test, so I was happy about that, but I was lacking a bit in the woods, but still learning as I go. Enjoyed it," said Riordan.
Thorn Devlin put his Seven-Sixty Husqvarna into sixth overall and third in the Pro 2 division with the help of a couple of test wins."This weekend was just an off weekend for me," said Devlin. "I just struggled and didn't have the times I needed to. But we'll bounce back and be ready for the next one."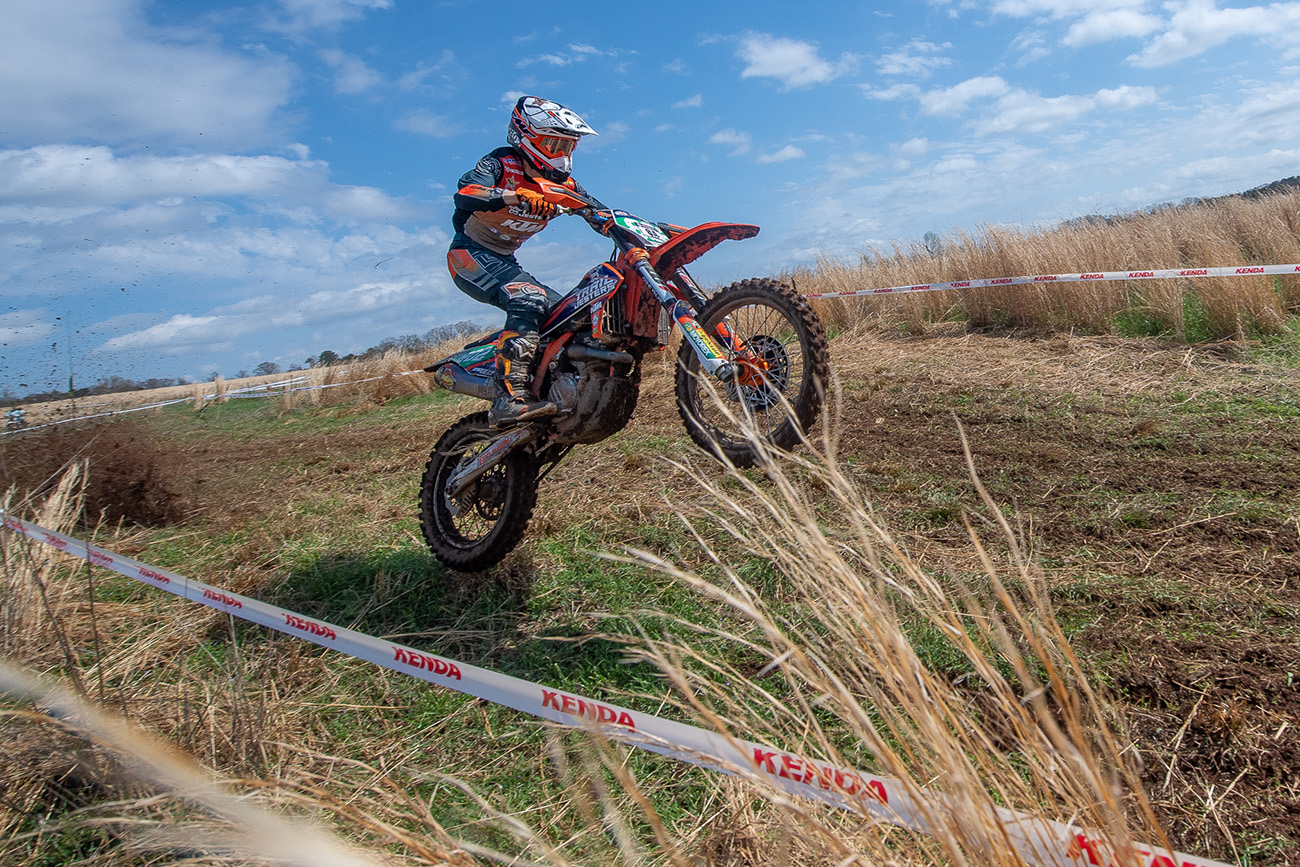 Trail Jesters Racing KTM's Simon Johnson made his first appearance of the season at the Boswell Farm event and came away with a solid seventh overall and fourth in the Pro 2 division.
A pair of 250 A riders also jumped into the top 10 overall with Gavin Simon eighth and Cole Forbes ninth. Simon was also top Amateur.
Top 10 cross test times for Jones in Pro Women class
Rockstar Energy Husqvarna's Tayla Jones took the win in the Pro Women's class and got her first overall top ten finish in the first cross test on Saturday. Jones won six of the 12 tests on the weekend and posted top 15 overall on both days.
"The weekend was really good," said Jones. "Obviously, yesterday was super muddy and slippery and I had a bunch of crashes and lost a heap of time. Today was a really good day. I started flowing and was consistent, so I was really happy about that. We got the day win and the overall and I'm super pumped. Hopefully we can keep the momentum going into the next round."
Trail Jesters Racing KTM's Kori Steede rode a consistent race to finish second overall with three test wins. KTM's Brandy Richards came all the way from the west coast to finish third with two test wins and tick off some practice in the tests no doubt ahead of the ISDE in France this year.
FXR Racing KTM's Shelby Turner had one test win en route to fourth place.
Youth class run down
In the Youth Classes, Payton Feather took another win in the Super Mini SR (14-15) ahead of Rivers Morris (Super SR) and Jonathan Snyder, with Austin Tsakanikas in fourth.
Jacob McPherson won the Super Mini JR (12-13) class. The 85 SR (12-15) class was won by Mason Tsakanikas, with Tyler Yost in second. John Berry was tops in the 85 JR (7-11) class.
The 65 SR (10-11) Division was one of the biggest classes and it was won by Hayden Dupius, with Hunter Hawkinberry in second and Nolan Hudson in third.
Rylan Dupuis claimed the victory in the 65 JR (7-9) class, with Aubrey Tsakanikas finishing second and Donnie Ryan in third. The Girls (10-16) class went to Korah Grace Jones, with Tristan Grubb in second.
Maura Tsakanikas, Bennett George and Sadie Daniels finished 1-2-3 in the 50 JR (4-6) class, while Mason Ramsey and Jake Howard were first and second in the 50 SR (7-8) class.
The Trail Bike class was a battle between Cory Deming, Maci Ryan and Jake Howard, with Deming getting the win over Ryan and Hoard.
The US Sprint Enduro Series returns to action on April 2-3 for round five at Old Mill Farm in Charlotte, Maryland.
More information: www.ussprintenduro.com
Words and Photo Credit: Shan Moore