Toth and Michael lock horns at Olde Mill Farm Sprint Enduro
US Sprint Enduro Series round five headed to Olde Mill Farm in Maryland for some classic enduro tests and a showdown for the overall with Josh Toth and Layne Michael separated by just three seconds at the finish.
FMF KTM's Josh Toth may have taken his third win of the 2022 US Sprint Enduro season but reigning champion, AmPro Yamaha's Layne Michael, finally turned up at this weekend's Olde Mill Farm Sprint Enduro, round five of the series in Charlotte, Maryland.
The two riders split day wins in the Pro division, taking the overall win for the weekend to just under three seconds for the two days combined. On day one the pair had to play second fiddle to the flying 250 of Cody Barnes who took his first overall day win.
"It came down to the very last test and I was able to win it," said Toth after sealing the overall. "Layne was super-fast in the cross test on Saturday and I just had to try to make it up in the enduro test. On Sunday, I managed to pick up the pace in the cross test too and that was the difference."
Michael was fast in the three cross tests on Saturday, beating Toth in each and establishing an early lead. The Yamaha rider topped Toth in the first of the three enduro tests too but Toth picked up the pace in the final two enduro tests but Michael eventually beat Toth by eight seconds for Saturday's top Pro honours.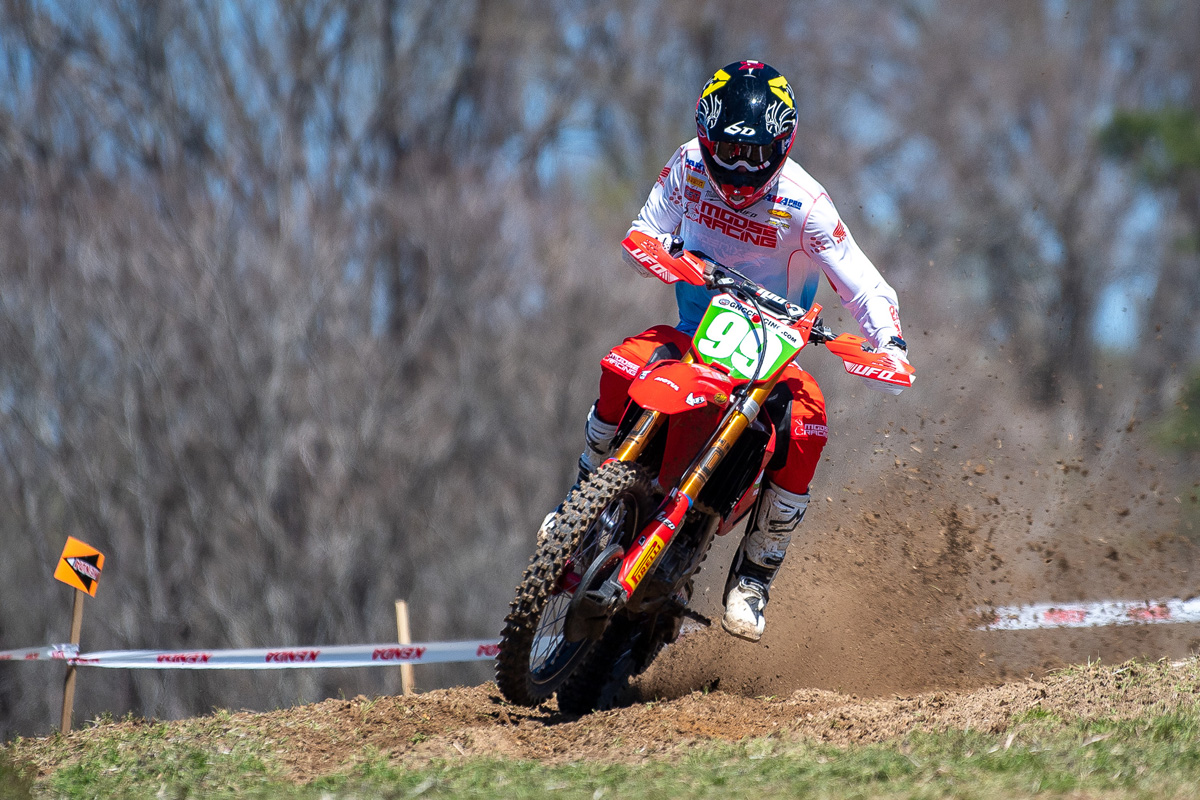 The overall day win though went to Pro 2 rider Cody Barnes (Phoenix Racing Honda) who posted Saturday's fastest overall time – his first time clocking the best scratch time. Barnes turned the quickest time in all three cross tests as well as in the first enduro test. At the end of the day, Barnes was six seconds quicker than Michael.
"I was just riding good and I was having a lot of fun," said Barnes. "I think I just kind of flowed because I was enjoying it."
Sunday goes down to the wire
Josh Toth came out swinging in Sunday's first enduro test, beating Michael by 12 seconds to work his way back in the lead for the overall.
Michael won the first two cross tests, but by not nearly as much as he did on Saturday, as Toth was clearly picking up the pace in the cross tests, and it was a nail-biter all day.
Heading into the sixth and final test of the weekend, Toth and Michael were virtually tied for the overall win, with Toth holding less than a second lead. Josh had won the previous two enduro tests on Sunday and he was quickest again in the final one, beating Michael by a little over two seconds and sealing the day win and the overall victory for the weekend.
"The cross test was just super slippery and I kind of just struggled all day on Saturday and I just kind of fell back," said Toth. "Those guys kind of took advantage of that on day one, but as the day went on I got better. I went a little softer on suspension just because the track wasn't really getting tore up and those changes helped a lot. Then going into today, I knew I needed to make up some time on the cross test, not just the enduro, and I manage to do it. I took it to the last test and was able to beat Layne."
The win was Toth's fifth day win in the last six rounds (third overall win in a row this season) and he now leads Michael by 19 points in the series standings.
Michael's win on Saturday keeps him in contention for the championship."Toth obviously had us covered in the enduro test," said Michael. "Today I was much better in the enduro test. Unfortunately, I crashed in the first one and lost about seven seconds, and then lost out for the overall by just under three seconds. I'm kicking myself right now. It's a little mental error. It would have been nice to win the overall, but we at least swapped days on points and we live to fight another day." Added Michael who's still battling an injured shoulder.
Barnes storms it
Cody Barnes is obviously improving with every US Sprint race and on Saturday he was clearly the fastest, matching Johnny Girroir in taking a rare overall day win on a 250. The Illinois rider finished third overall for the weekend and first in the Pro 2 class.
"Saturday I was riding super well and grabbing my first overall for the day, so that was pretty cool," said Barnes. "Today I still rode good, but I just made a couple little mistakes in the enduro test, I had an easy fall in the first one. Josh and Layne, they were going at it and they definitely stepped it up. Overall, just to be competitive with those guys and even have tests that are close to them and battle for test wins with them, it's awesome for me."
Tely Energy KTM's Liam Draper turned in some impressive test times on route to third in the Pro division and fourth overall. Seven-Sixty Husqvarna's Thorn Devlin finished a strong fifth overall and second in the Pro 2 division, including one Pro 2 test win. RPM Racing KTM's Gus Riordan says he struggled with the woods section but still managed sixth overall and third Pro 2 rider.
Forbes Racing KTM's Cole Forbes turned in his best performance of the season with seventh overall and first in the 250 A division.
Husqvarna rider Gavin Simon gave Forbes a run for his money, but in the end settled for second in the 250 A class and eighth overall. Neil Enman (GG) topped the Pro-Am class with a ninth overall. RJ Cook (GG) rounded out the top 10 overall and second Pro-Am rider.
P15 overall brings Women's Pro win for Jones
Rockstar Energy Husqvarna's Tayla Jones won nine of the 12 tests (and took 15th place overall) to take her second win on the bounce in the Women's Pro division. "Coming in here, I was super excited. Being so close to Budds Creek, I thought the dirt is going to be prime, and it was," said Jones. "I had a good weekend. I had a couple crashes, but overall I had fun and I rode like I know how to and we got the overall both days. So, I'm pumped."
Trail Jesters Racing KTM's Kori Steede won the remaining three tests to finish second, while FXR Racing KTM's Shelby Turner was third.
US Sprint Enduro round 5 overall results: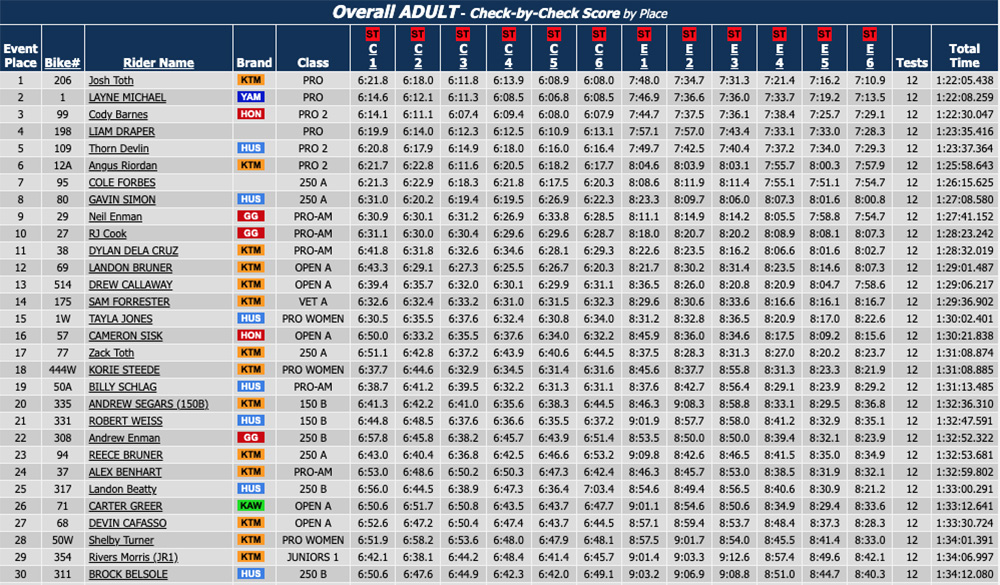 Youth class run-down
In the Youth Classes, Payton Feather topped Austin Tsakanikas to win the Super Mini SR (14-15), with Rivers Morris (Super SR) in third and Jonathan Snyder in fourth.
Jacob McPherson won the Super Mini JR (12-13) class ahead of Carter Przemelewski and Kamden Krause.
The 85 SR (12-15) class was won by Mason Tsakanikas, with Tyler Yost in second and Noah Beddingfield in third and Noah Orsini in fourth.
John Berry beat Tanner Emmons and Braxtyn Chaney to win the 85 JR (7-11) class, while Trace Yost was fourth.
The 65 SR (10-11) Division was won by Hunter Hawkinberry, with Case Kight and Nolan Hudson in second and third.
Colt Chaney claimed the victory in the 65 JR (7-9) class, with Landon Dalmasso and Aubrey Tsakanikas finishing second and third.
Girls, girls, girls
The Girls (10-16) class was one of the biggest classes of the day and the win went to Lola Grozbean with Nicole Ruppert in second and Zoey Kimble in third.
Mason Ramsey and Braydon Lucas were first and second in the 50 SR (7-8) class, with Kobe Hudson in third.
Maura Tsakanikas and Louie Dalmasso were first and second in the 50 JR (4-6) class. James Dietrich was third.
The Trail Bike class was won by Jacob Glenn, with Cory Deming and Maci Ryan in third and fourth.
The US Sprint Enduro Series returns to action on April 23-24 for round six at Track 93 in Fairmont, West Virginia.
More information: www.ussprintenduro.com
Words and Photo Credit: Shan Moore