Kailub Russell takes GTR Full Gas Sprint Enduro Victory – round 1 of 2020
Dominant win for birthday boy Kailub Russell at the opening Full Gas Sprint Enduro of 2020 at Gaston – Snodgrass tops Pro2 class.

Kailub Russell drew first blood in the 2020 Kenda Full Gas Sprint Enduro Series with a decisive victory at the opening round which saw a bumper entry of nearly 500 riders racing the prime conditions at the GTR Complex in Gaston, South Carolina.
FMF/KTM Factory Racing rider Russell celebrated his 30th birthday in style by topping the Saturday time charts over Coastal Racing Husqvarna's Ricky Russell, while Team Babbitt's Online/Monster Energy/Kawasaki Team Green's Josh Strang finished third.
"I felt pretty decent and I was pretty happy with where I was on the track and physically," said Kailub after the race. "Everything was kind of flowing and I was not trying overly hard to put in the times that I was putting in.
"We made a bunch of changes throughout the weekend with the bike, playing around with it and just trying to figure out which direction to go when the track gets a certain kind of condition. It was a really solid weekend of tuning and testing and having good results."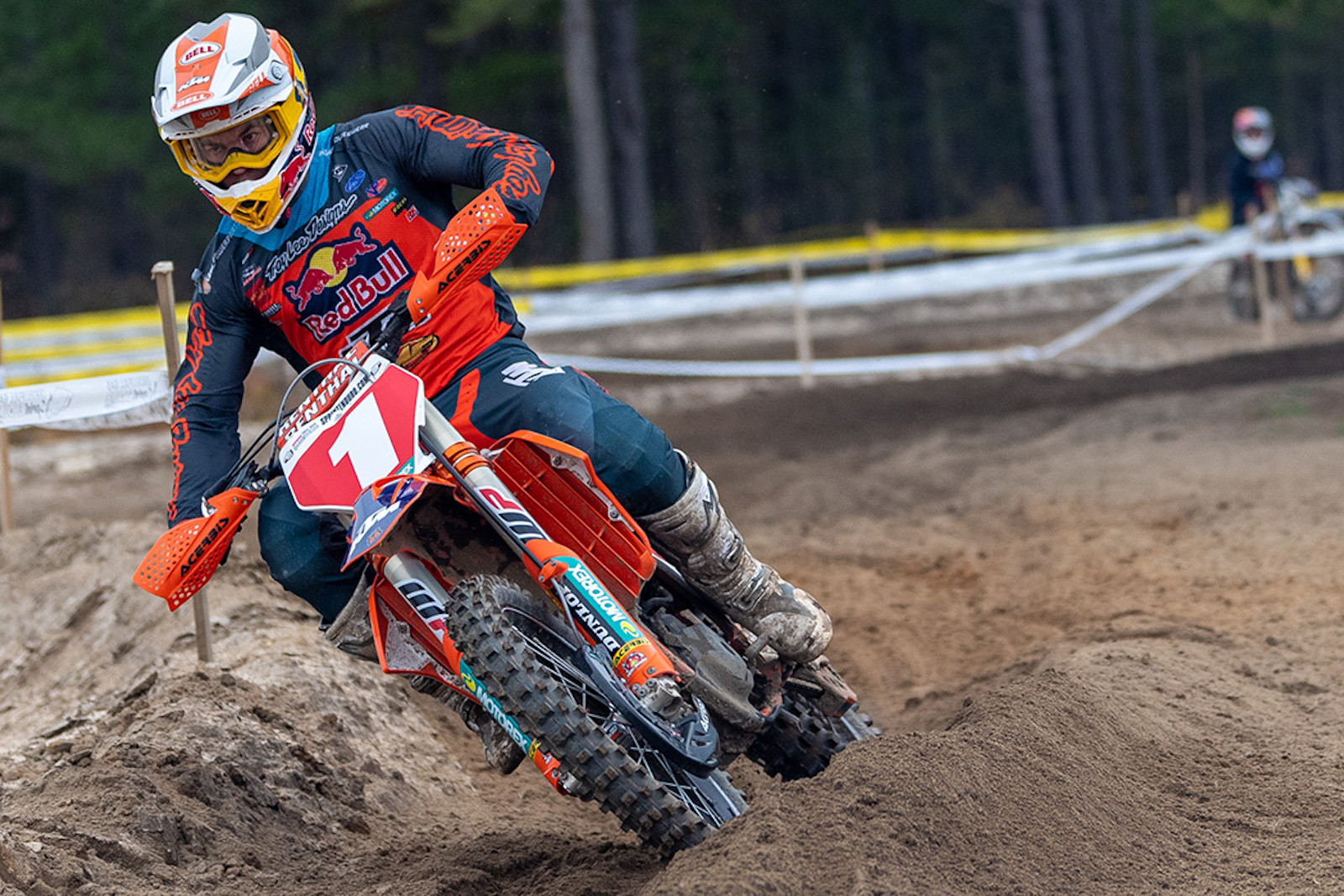 On Saturday, Kailub won four of the five tests, finishing second in test three when he dropped his front wheel in a hole and went down. Am Pro Yamaha's Layne Michael took advantage of the situation to nip Kailub by about 1.5 seconds at the finish for that test win but it was one of the few Russell dropped. Kailub backed up that performance on Sunday by winning five of six tests for the overall victory.
Just 6.3 seconds down, Coastal Racing Husqvarna's Ricky Russell went 6-2-6-3-2 in the five tests with his worst two scores (two sixths) coming in the Cross Test.
"I usually struggle in the Cross Tests, they're just different. I think it's a European-type thing, but I think going to Six Days last year helped me," said Ricky Russell, who switched to Coastal Racing Husqvarna during the off-season.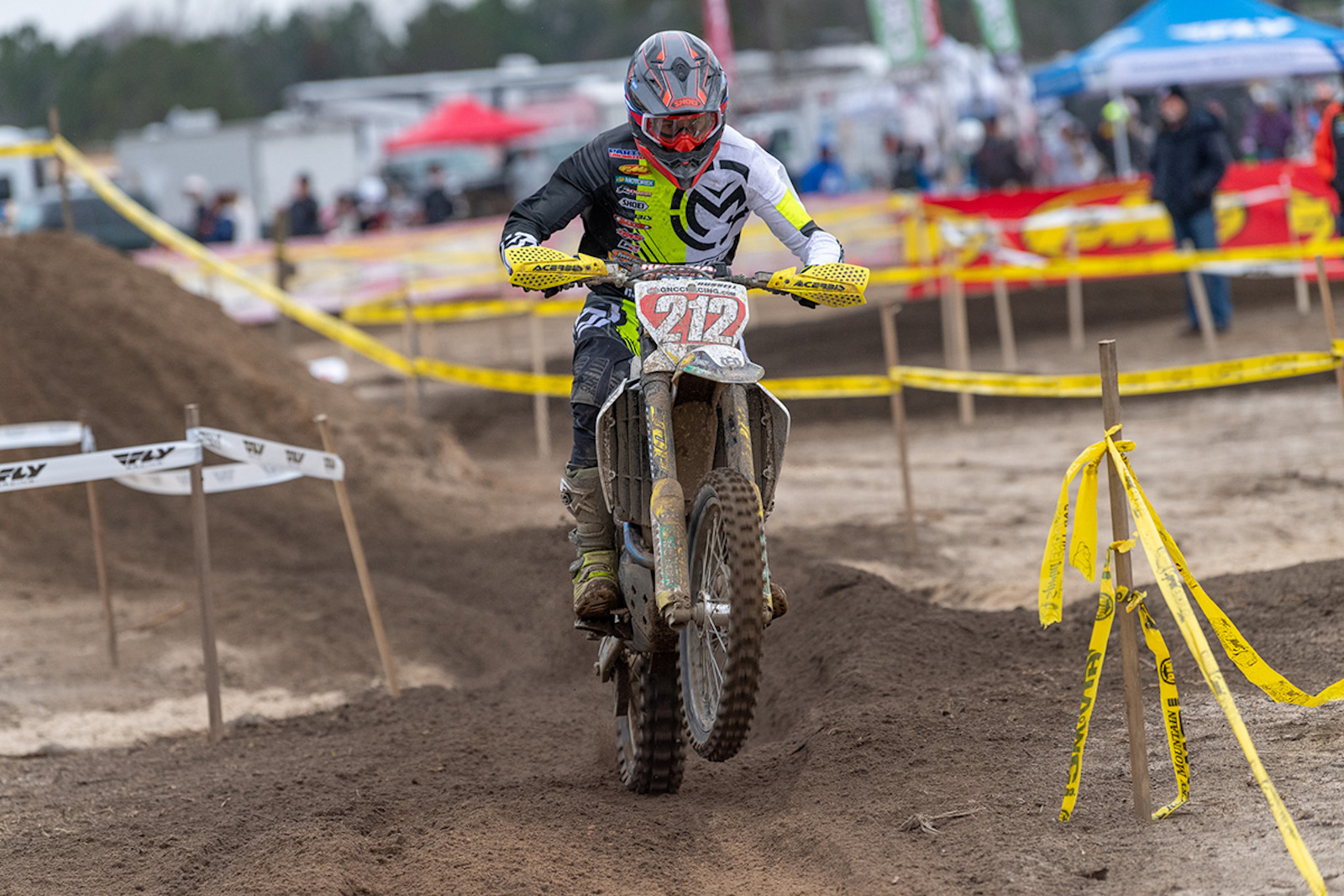 Josh Strang rounded out Saturday's top three, 4.5 seconds behind Ricky Russell, while Layne Michael, Craig DeLong, Liam Draper and Jordan Ashburn rounded out the top seven.
"Kailub was off in a world of his own, checking out and killing it, while everyone else was really tight." Explained Ricky Russell. "Me, Layne, and Strang were all within ten seconds of each other. It was tight racing. They'd get me on the cross, and then I'd get them a little bit on the enduro. We'd go back and forth and then before I know it I'm in the hunt. I was good fun."
On Sunday, Kailub showed he meant business by winning the opening test by nearly eight seconds over Ricky Russell. Draper turned in one of his best performances of the weekend for third.
For the rest of the day, Strang, Michael and Ricky Russell battled over second, while Kailub dominated out front. In the final test, with the race well in hand, Kailub finished second to a hard-charging Michael, who grabbed his second test win of the weekend. Kailub, of course, took the overall, with Ricky Russell edging Michael by 5.3 seconds for the runner-up slot.
Layne Michael might have had a better shot at second had he not wrapped his brake pedal around his foot peg on Saturday, which cost him a lot of time.
"Yesterday [Saturday] was going pretty good," said Michael. "I stayed pretty mistake-free all day, just kind of started off slow. I was picking up speed as the day went and I felt really good and then in the last test I didn't know what happened. I just kind of went against the bank and then I was on the ground.
"There was just a little hidden stump kind of in the track, or where we banked off and it just happened to grab my foot peg and broke the brake tip off. It actually bent the rest of the pedal that was left on top of my foot peg, so I couldn't even have my foot hardly on the peg and it cost me a lot of time."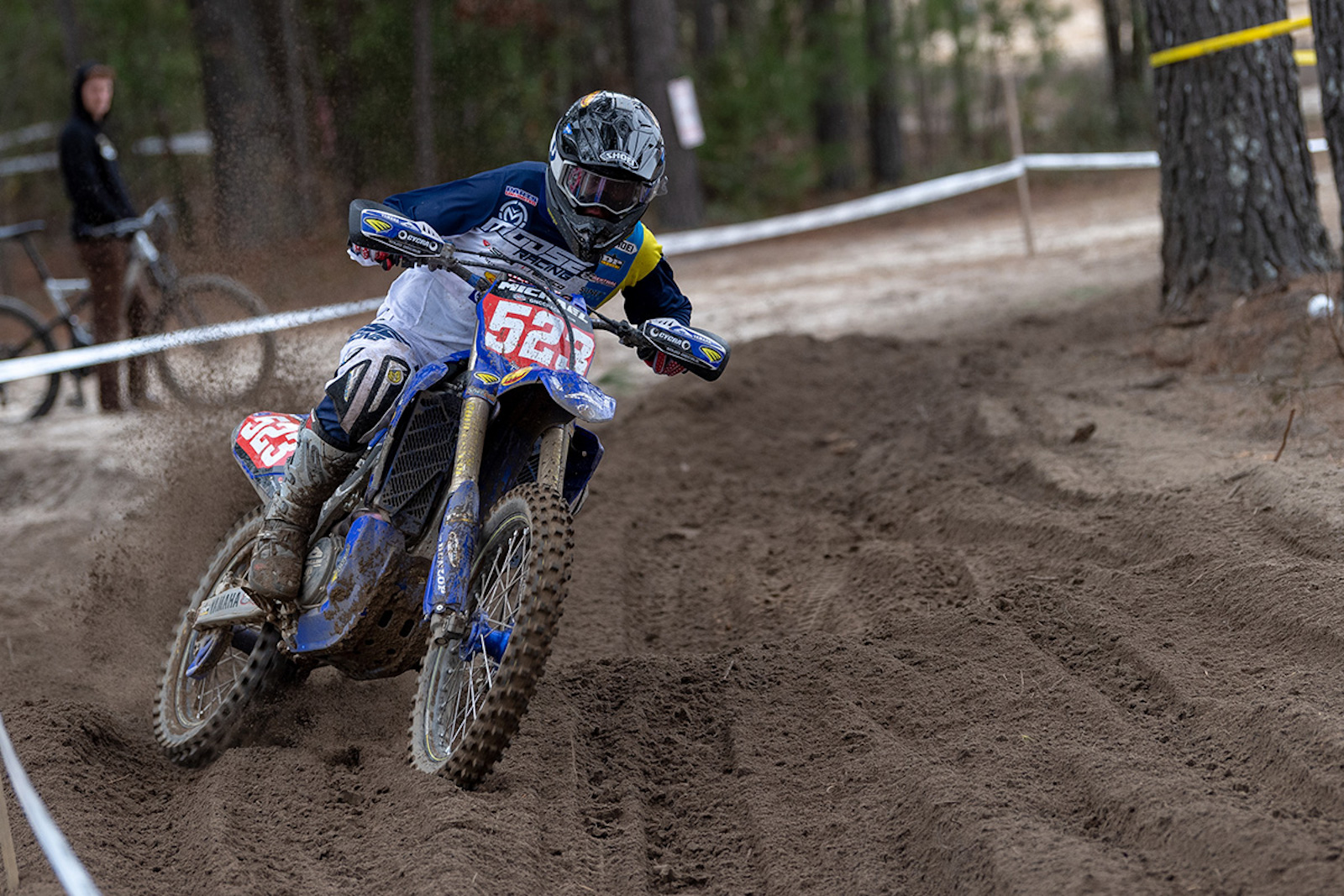 Michael made up for the incident by winning a test each day to salvage third overall.
Josh Strang was frustrated with fourth overall after a close battle all weekend. The 2018 series champ looked as though he would finish second on Saturday, but test five had to be thrown out for the Pro class due to a banner that got taken down, which dropped him to third.
"It was a bit disappointing," said Strang. "I think I might have finished third if we had that test in. I struggled a little bit all weekend, but other than that, it's good to be back racing.
"The track got really rough this weekend, so I think compared to last year it was maybe rougher. The sand was a little wetter than normal and it created some more bumps. But it was good."
Aussie Snodgrass bangs in the Pro 2 win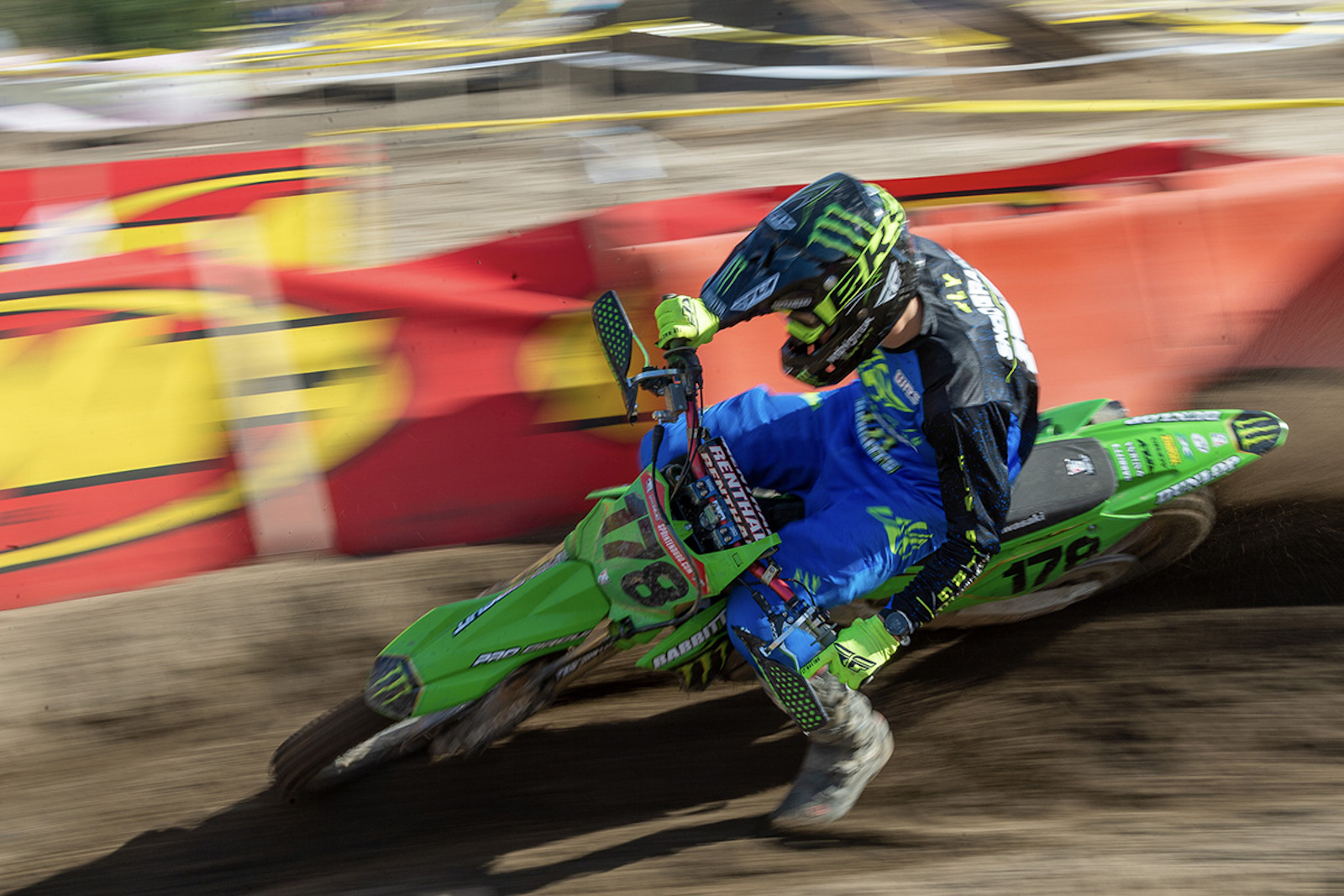 Team Babbitt's Online/Monster Energy/Kawasaki Team Green's Lyndon Snodgrass from Australia won the Pro2 division on a by 7.4 seconds over Trail Jesters KTM's Johnny Girroir. Snodgrass won every test on Saturday except for the final Enduro test, which was won by Girroir. Added to that Snodgrass was fourth overall in the time sheets.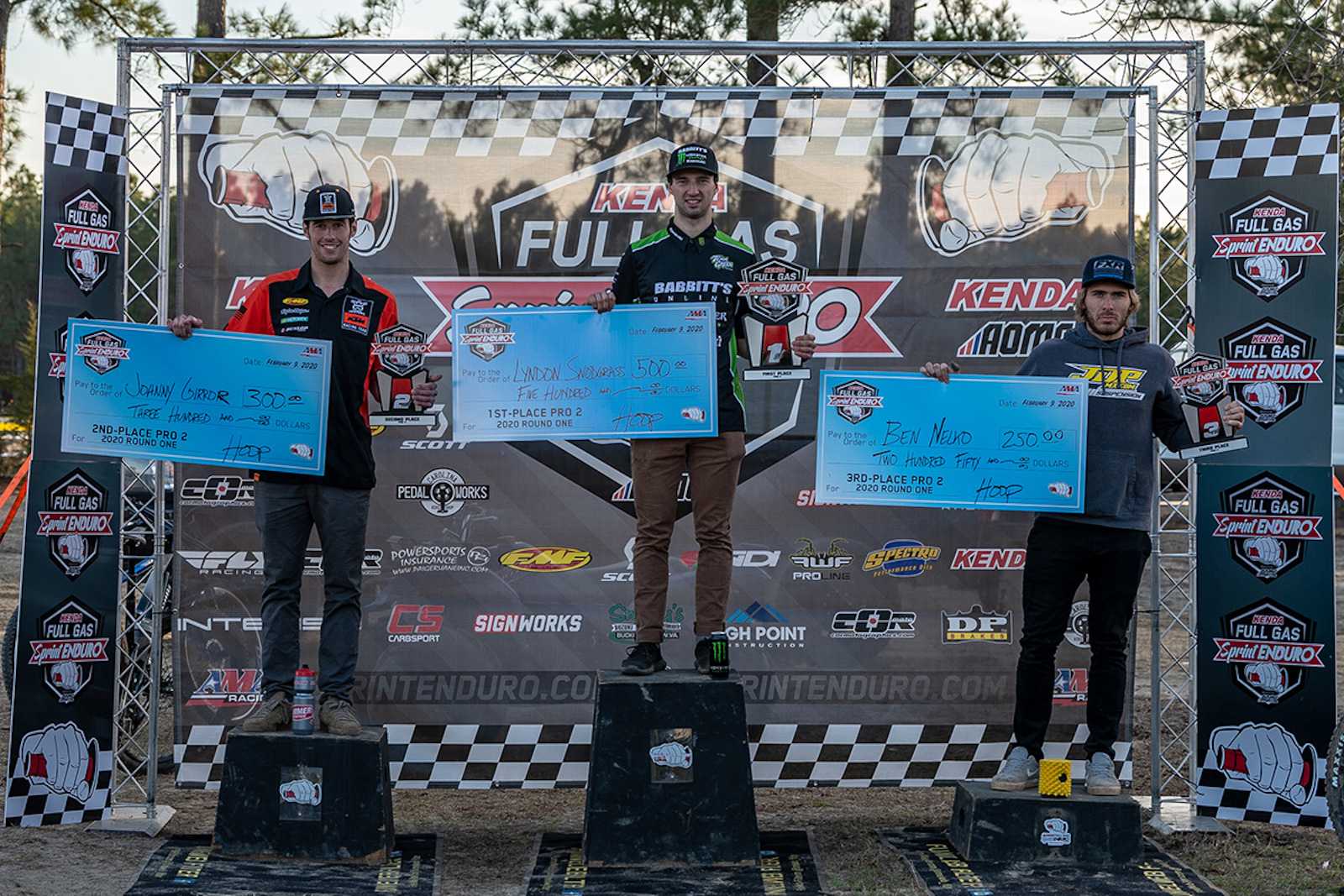 On Sunday, Snodgrass and Girroir went back and forth, with Snodgrass taking the overall thanks to his strong performance on Saturday. "Johnny beat me by a few seconds today, but we've got the overall for the weekend, so that's pretty cool," said Snodgrass. "I've enjoyed myself out here. We finished up with no injuries or nothing, so that's good as well."
Tayla Jones wins Women's Pro class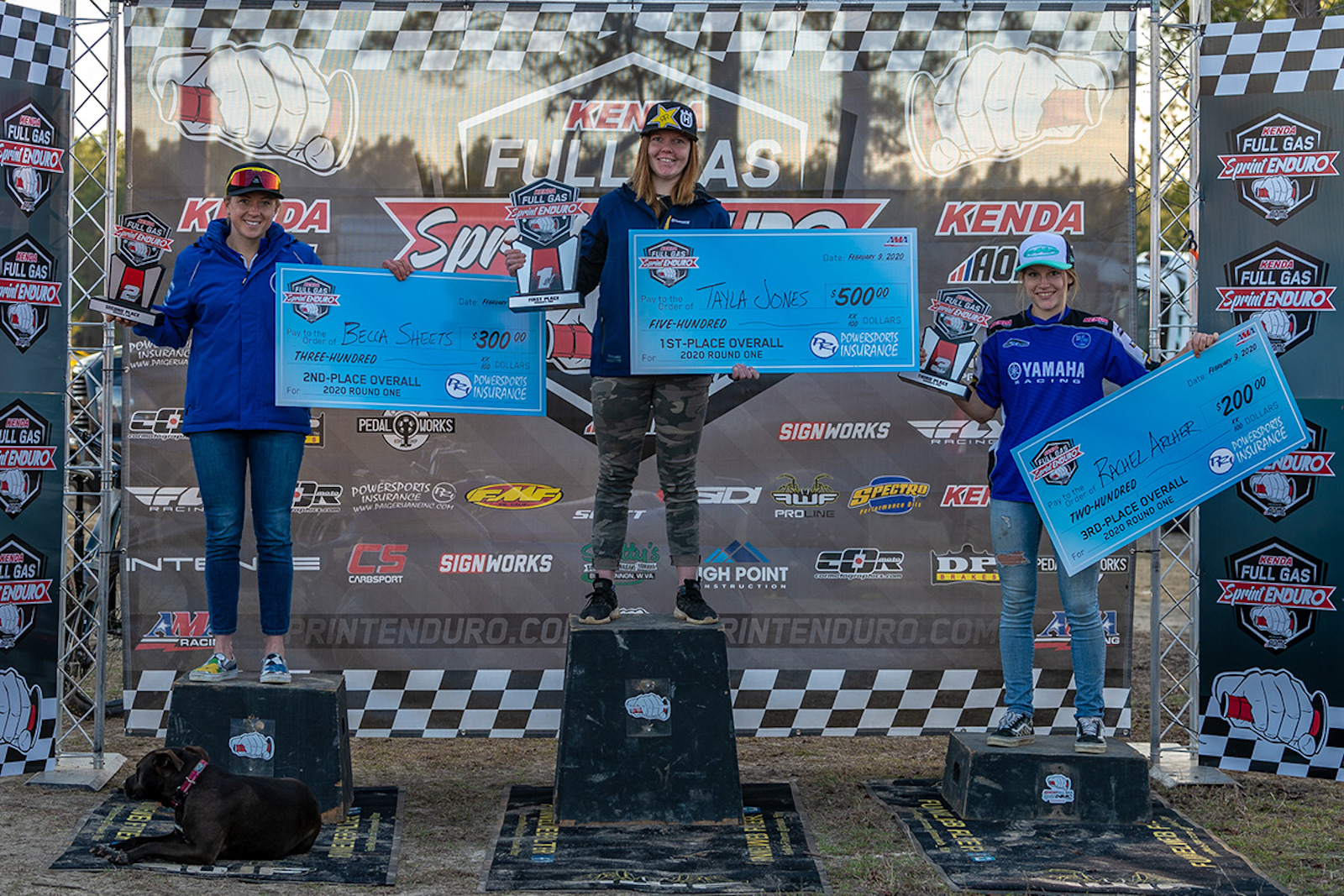 Despite getting stuck in a mudhole on Saturday and losing considerable time, Rockstar Husqvarna Lan Mills XC rider Tayla Jones beat out BABS Racing/Maxxis/Fly Yamaha's Becca Sheets by nearly 15 seconds for the win in the Women's Pro class. On Sunday, Jones won every test.
"The tracks are super-rough, but overall I had a lot of fun," said Jones. "The first race of the season went really well, so I can't really complain. Saturday, I ended up getting stuck in a mud hole and lost like a minute thirty, so I had to come back from that. So that kind of sucked and put me behind going into the last couple tests, but I ended up making up the time. I won yesterday and today, so I'm pretty stoked."
New Zealand's Rachel Archer was third on an Am Pro Yamaha, while Beta USA's Rachel Gutish finished fourth and Canada's Shelby Turner was fifth.
The Open A class was won by Andrew Mattison, with Cope Beckert in second and Zack Tussell in third.
Full Gas Sprint Enduro round 1 results: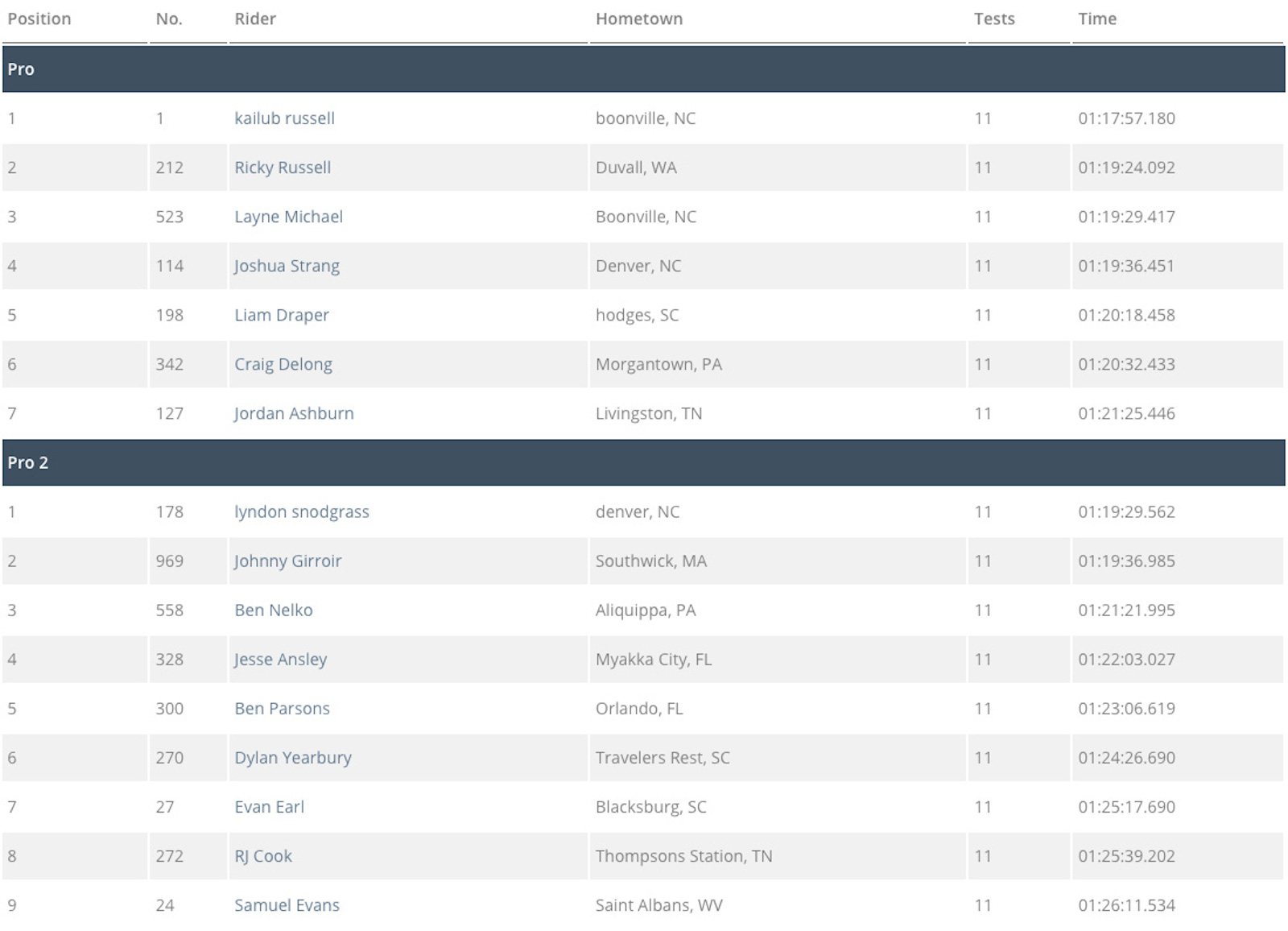 The 2020 Kenda Full Gas Sprint Enduro Series resumes on February 29-March 1 at Lane Farm MX in Garfield, Georgia for round two if the series.
More information: SprintEnduro.com
Photo and Word Credit: Shan Moore