US Sprint Enduro: Girroir is the Mac Daddy Master at Rnd2
FMF KTM's Johnny Girroir continued his dominating start to the season by winning the Mac Daddy's XC Paradise US Sprint Enduro, round two of the 2023 season in Hephzibah, Georgia.
The Georgia state town hosted two days of racing at round two of the 2023 US Sprint Enduro Series presented by Moose Racing. 12 tests spread across Saturday and Sunday's racing couldn't have been more different with rain a feature on both days, the sandy soil soaked it up on Saturday and made for perfect racing dirt.
While on Sunday, the sand had taken all it could handle, and with more rain falling turned the final day into a slippery affair.
"Conditions were a 180 from Saturday," said third-overall finisher Cody Barnes, who also won the Pro 2 division on his Phoenix Racing Honda. "Yesterday was real fast and sandy and today was slick with lot of ruts and a lot of feet off the pegs. I think in these conditions I'm a little bit better. I grew up riding a lot in the mud and racing these conditions, so it was good."
As Barnes mentioned, the conditions had little effect on the top riders, as most had few problems with the tricky ruts and slippery riding.
Most notably Johnny Girroir revellin gin his new birth at FMF KTM and winning 11 of the 12 tests, losing only to the guy he replaced, Josh Toth, in the second Enduro test on Sunday.
Girroir set the tone for the event when he topped RPM Racing's Angus Riordan by 7.5 seconds in Saturday's opening test, a sandy Cross test. Thad DuVall kept Girroir honest all day though, barely losing out by mere seconds to the KTM rider in several tests.
But by the end of the day, Girroir held a 19.4-second lead over DuVall to take Saturday's win, with Pro 2 rider, Barnes holding down third overall, another 33.6 seconds back.
Riordan sat fourth after Day One, while Engineering GasGas' Toth followed in fifth overall, this weekend riding a 250 two-stroke.
2023 US Sprint Enduro Rnd2, Day 1 results: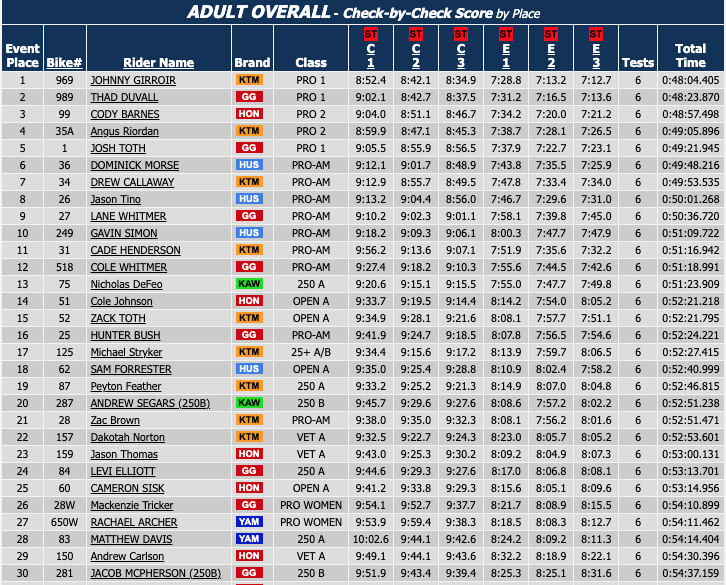 Repeat performance on day two
Even though Toth won one of the Enduro tests on Sunday, Girroir still topped the day by 30 seconds over DuVall, with Barnes again in third, 15 seconds behind DuVall. Phoenix Honda Racing's Ruy Barbosa and Toth were fourth and fifth respectively.
In overall scoring, that meant Girroir was the clear winner, beating out DuVall by 49.4 seconds, with Barnes winning the Pro 2 division with a third-overall finish., another 49 seconds behind.
Missing from this event was AmPro Yamaha's Zach Osborne who'd finished second to Girroir at round one but announced he'd broken his elbow earlier in the week.
Girroir was gracious in victory on the podium. "These guys kept me honest," said Girroir. "I felt I rode well for just not knowing how it was going to go, but I was able to ride smooth. I kind of got him [DuVall] the first two tests each day, but other than that, he was nipping at my heels and we were fighting for test wins, for sure. And you always got to expect Toth to come out and get a test win or have a fire day. You can never count him out, even if he was struggling on the two-stroke a little bit."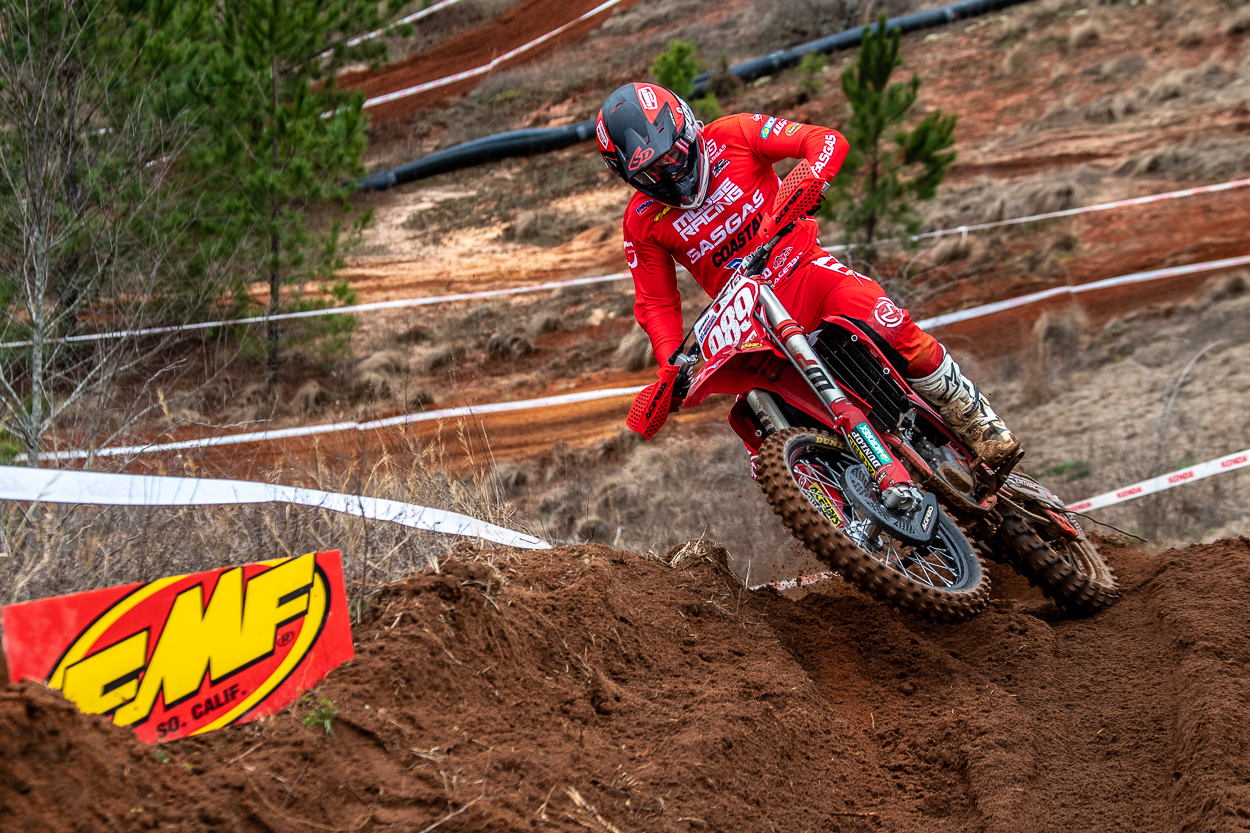 DuVall happy with improvements
"This was a lot better than round one," said second placed Thad DuVall. "I just needed to be more comfortable being uncomfortable. I went back to Kailub Russell's place in Florida and just learned how to go fast. I knew the speed was there because I've been riding with Johnny all month and I never really got discouraged after round one. Just kind of held my head high and put it down this weekend and tried to keep Johnny as honest as I could, but he's really fast."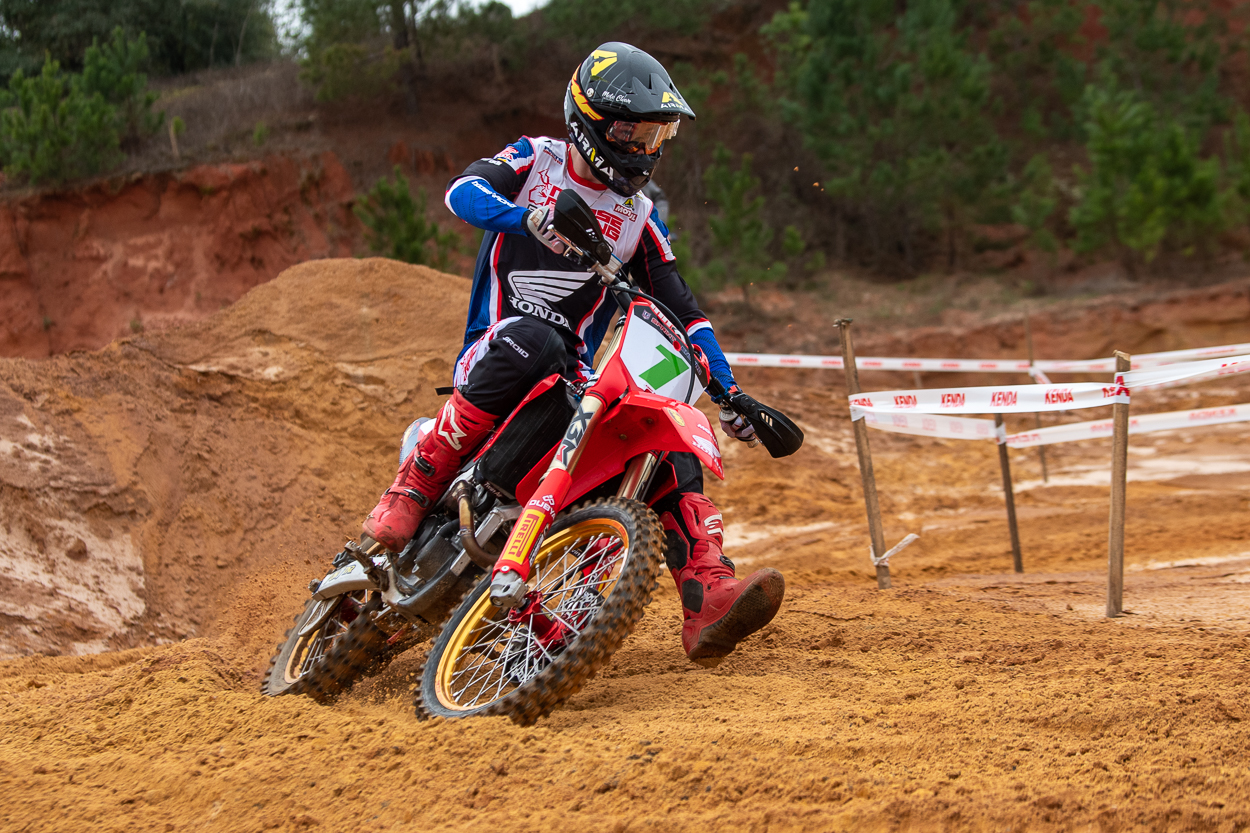 Cody Barnes filled out the final spot on the overall podium and topped the Pro 2 podium:"I just had one small mistake in the last cross test right here before the finish, but besides that, the weekend was pretty solid," said Barnes. "I didn't make a lot of mistakes and just tried to ride smart. The enduro test got real beat up, so it was real easy to hit a stump right next to the rut and hit tree roots that kind of weren't exposed. So, I just tried to ride smart and have a good time."
Josh Toth meanwhile was at somewhat of a disadvantage riding a 250cc two-stroke in the Pro class, but wanted to change things up he said before admitting"it's a handful," of the two-stroke 250 GasGas. "I'm starting to figure it out by the end of today, I feel like and making some adjustments, but it's a handful. Out of the corner, it rips and when I hit the next corner I can't stop."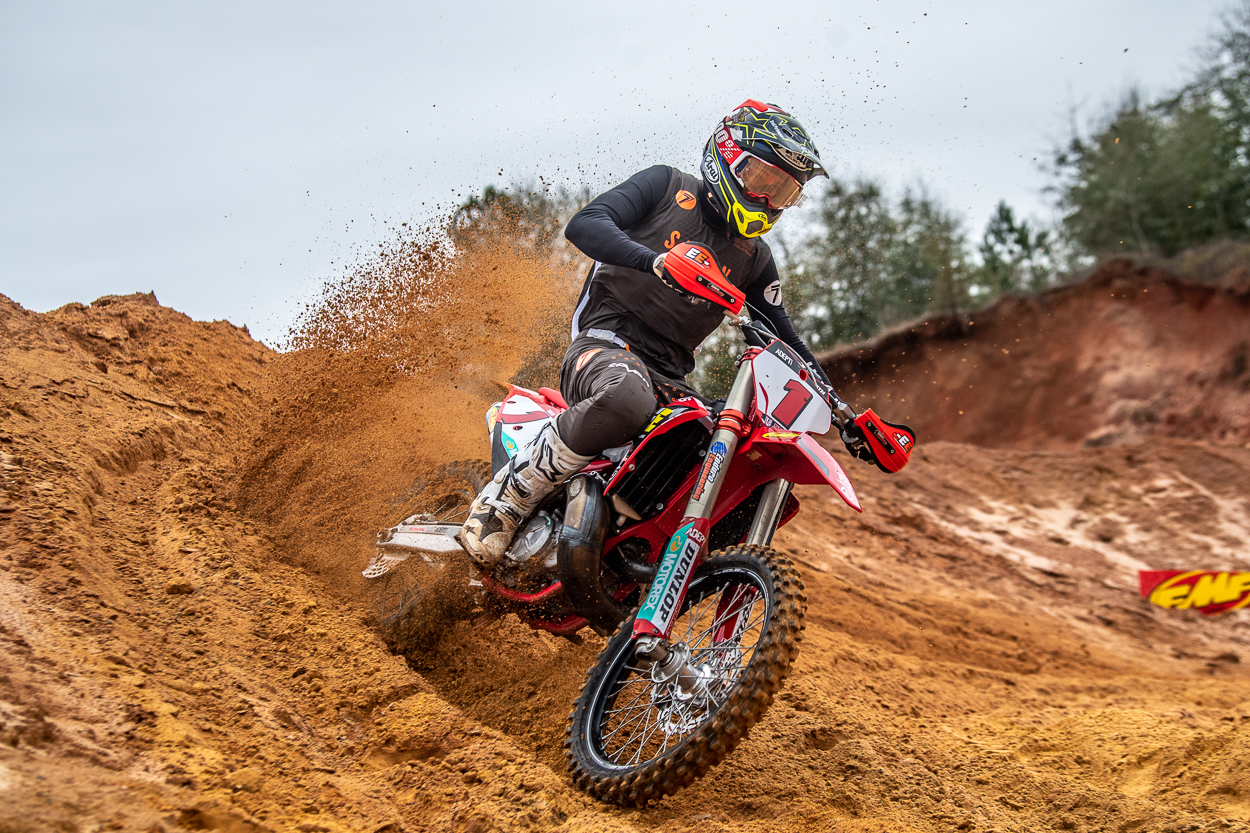 The only rider to beat Girroir in a test: "I kind of got a little lucky there. I made a bobble in the beginning, and Thad made a mistake right after so I caught him and just latched on and shredded from there so I was able to get that test win and shut Johnny down."
RPM KTM's Angus Riordan got off to a fast start, finishing second to Girroir in the first test of the weekend, and eventually finished fifth overall and second in the Pro 2 class. "Yesterday was good fun, and then today I must have had a run," said Angus. "I don't know what happened."
2023 US Sprint Enduro Rnd2, Day 2 results: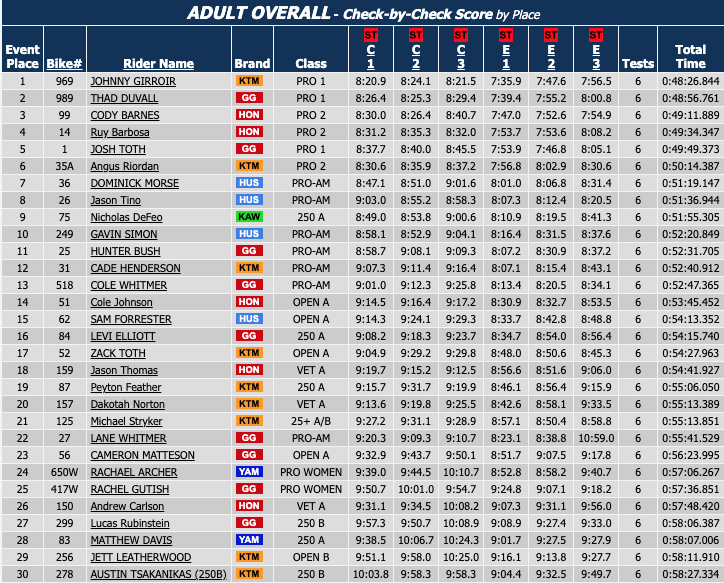 Morse cracks the Pro-Am code
The lead swapped in nearly every test in the stacked Pro-Am division, however, in the end, Precision Offroad Racing's Dominik Morse built a dominating lead in the first four tests of day two which carried him on on top of the box at the end of the weekend. Morse also finished an impressive sixth overall.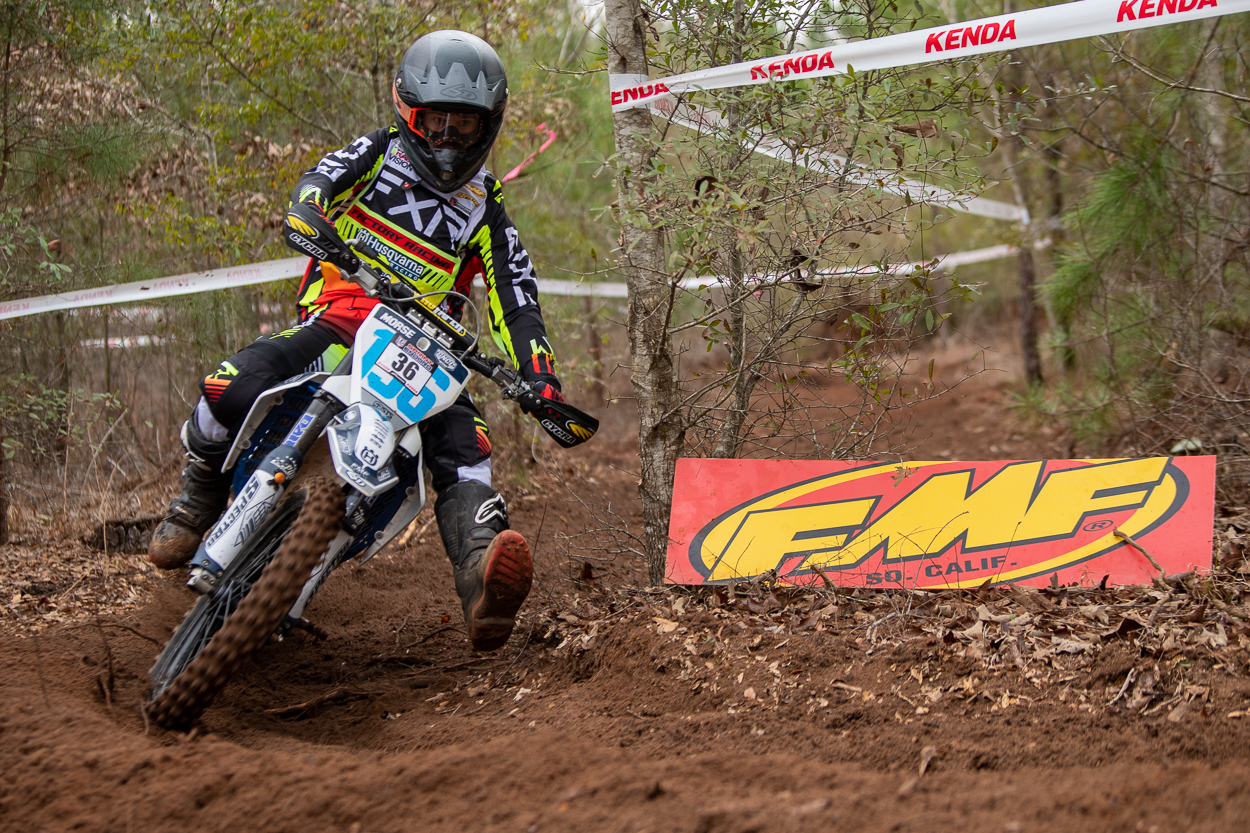 "I Started off a little slow," said Morse. "I'm not really used to the sand and sending it, so I just kind of started sending it and clicked off some wins at the end of the day and got the lead at the last test. Congrats to Jason. It was just overall a blast of a weekend. I love the mud."
As mentioned above, Jason Tino was seventh overall and third in the Pro-Am class, while Nicholas DeFeo won the 250A class in eighth overall. Gavin Simon and Cade Henderson rounded out the top 10 and were third and fourth in the Pro-Am class, respectively.
Archer topsTricker in close battle for Women's honours
AmPro Yamaha's Rachel Archer topped the Women's Pro class after going 2-1 over the course of the two-day event. Enduro Engineering GasGas' Mackenzie Tricker beat Archer in a close race on Saturday by a mere 0.6-seconds. However, Tricker fell near the start of test one on Sunday, injuring her collarbone and was forced to drop out, leaving Archer a clear way to victory on Sunday, including the overall win.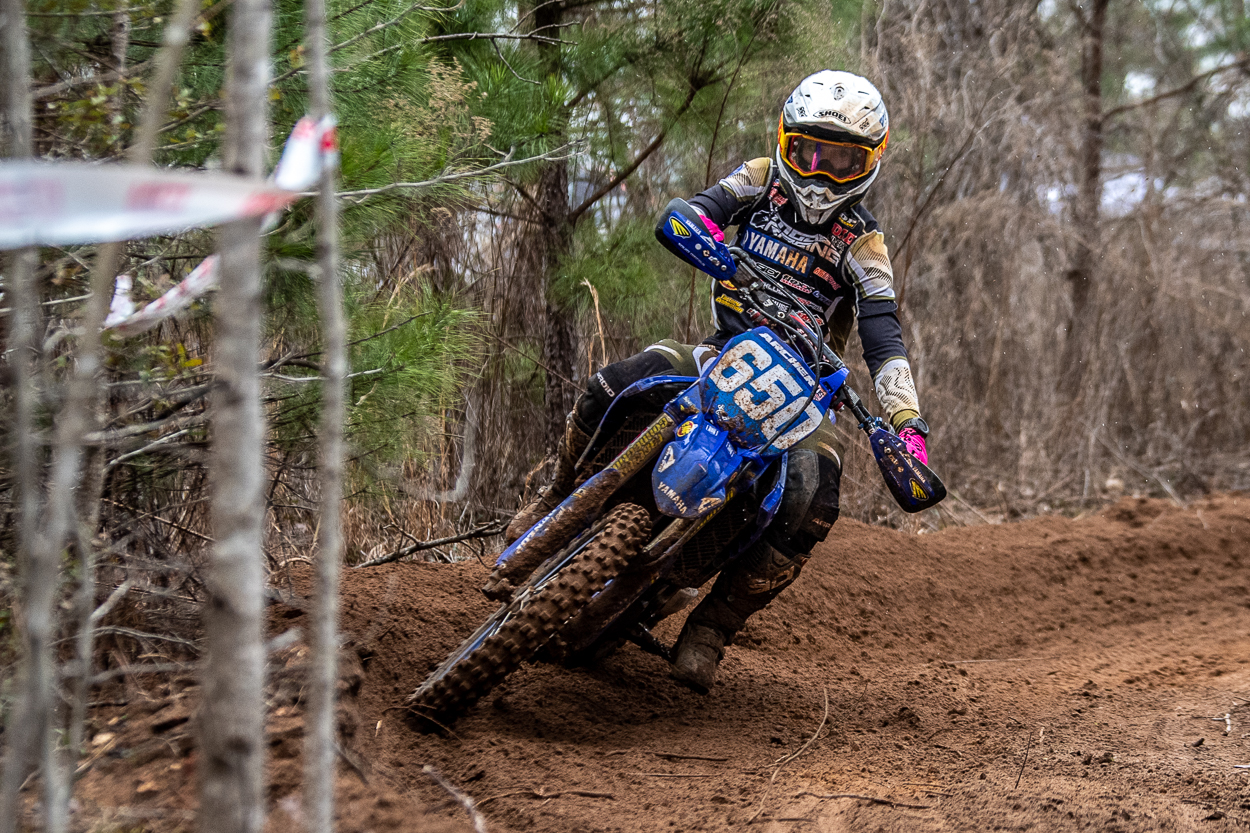 "Me and Kenzie were pretty tight all day yesterday," said Archer. "So, I knew today was going to be a long day, but, unfortunately, she crashed. It sucks to see a friend go down, but I hope she heals quickly. There was a good change in conditions from yesterday to today, so it took me a little while to find my flow, but eventually we got there. Went down a couple times in the last test in those deep ruts, but still made it happen. Massive thanks to my mechanic, Derek, and the whole am-pro Yamaha team and all our sponsors."
GasGas' Rachel Gutish finished second ahead of FLY Racing KTM's Shelby Turner.
Youth class results...
In the Youth Divisions, Austin Tsakanikas and Jayden Riley went head-to-head in the Super Mini Senior (14-15) class, with Tsakanikas getting the win over riley and Jacob McPherson on Saturday. Riley took the win on Sunday with McPherson again in third.
Mason Tsakanikas won both days of the Super Mini Junior class, beating Ryan Smith and Koen Bunch each day to take the overall.
John Berry, Brenan Mazzola and Tyler Yost went 1-2-3 on both days in the 85 Senior division, which also reflected their overall finish.
Brody Boland and Nolan Hudson swapped firsts and seconds over the two days of competition in the 85 Junior division, with Braxtyn Cheney getting third on each day. Boland won on Saturday, while Hudson won on Sunday. Boland finished with the overall win.
Rylan Roberts won the 65 Senior class on both day; ahead of Donnie Ryan and Rylan Engle, who were second and third each day.
Nicole Rupert was the lone entry on each day in the Girls (10-16) division, giving her the overall win.
Colt Chaney won the 65 Junior class ahead of Jameson Sowers and Aubrey Tsakanikas on Saturday. Sunday saw the exact same order play out. Maci Ryan was the lone entry in the Trail Bike class, winning each day. Maura Tsakanikas was tops in the 50 Senior (7-8) division, beating Oliver Stewart and Latham Parkman on both days for the overall win.
In the 50cc Junior division (4-6) Ryder Baricska was first on each day with Carson Zink in second and in Gracelynn Bunch taking third each day.
The US Sprint Enduro Series resumes action on February 25-26 at Carolina Adventure World in Winnsboro, South Carolina, for round three of the series.
More information: www.ussprintenduro.com
Words and Photo Credit: Shan Moore