US Sprint Enduro: Girroir takes shock win at High Voltage Sprint Enduro
Johnny Girroir and Layne Michael split the day wins at round seven of the 2022 US Sprint Enduro Series, the High Voltage Sprint Enduro in Dilliner, Pennsylvania but it was the Coastal Racing GASGAS rider Girroir who took the combined overall victory on his first race back from injury.
It's fair to say Johhny Girroir was surprisingly fast at the High Voltage Sprint Enduro. Not because he doesn't excel on the slick and technical course, but because this was his first race back after breaking his iliac crest on the left side of his pelvis back in March.
After winning the opening test of the day, Girroir carried on the momentum to beat AM Pro Yamaha's Michael by 12 seconds for the day.
"It's no secret I like technical tracks, and with the conditions Saturday I felt right at home," said Girroir. "I'm a little shocked about how I did, but I came into it wanting to win and that's what I did. Layne was really on it on Sunday and really fast in the cross test, but I had a little advantage on him in the woods. I'm glad, because he probably would have got me… He did get me today, but he probably would have got me for the overall."
Sunday's course was more hard-pack, and Yamaha's Michael shined as he usually does in those conditions. After winning all three of Sunday's cross tests, Michael went into the final test of the day leading Girroir by just 0.6 seconds for the day win. Michael emerged with a five second advantage over Girroir giving him Sunday's win, however, it was not enough to surpass Girroir for the two-day combined overall win.
"Saturday, honestly I just struggled with the conditions," said Michael. "I kind of got better as the day went on and the track dried up, but when it was wet and slick, I was really struggling. Today it was dry and Johnny and I were going back and forth all day. I had a costly mistake in the first enduro test and had a crash and for sure lost quite a bit of time. So, that one is eating at me a little bit. But other than that, we came down to the last test."
With his performance over the two days, Michael moved past Josh Toth to take the series point lead with one racing remaining on the schedule.
Meanwhile, FMF KTM's Toth had a weekend to forget. A slip in the first turn of the very first test set the tone for the Connecticut rider's weekend and he eventually finished fifth overall after a crash-filled two days. "I started off the weekend with a crash in the first turn and it didn't get much better," said Toth. "I just couldn't find my flow this weekend. Had an issue with my brakes and lost a ton of time yesterday. So, that really set me back. Definitely a bummer weekend."
Tely Energy KTM's Liam Draper was third overall for the weekend, beating out Barnes by just 0.2 seconds. "It was close," said the understated Draper. "I had some good tests and some little mistakes in the enduro in the second one, but it was a good weekend. I was happy with my riding."
In all, Girroir won five of the 12 tests, while Michael won four, Cody Barnes accounted for two wins, with Toth taking another.
US Sprint Enduro round 7 results: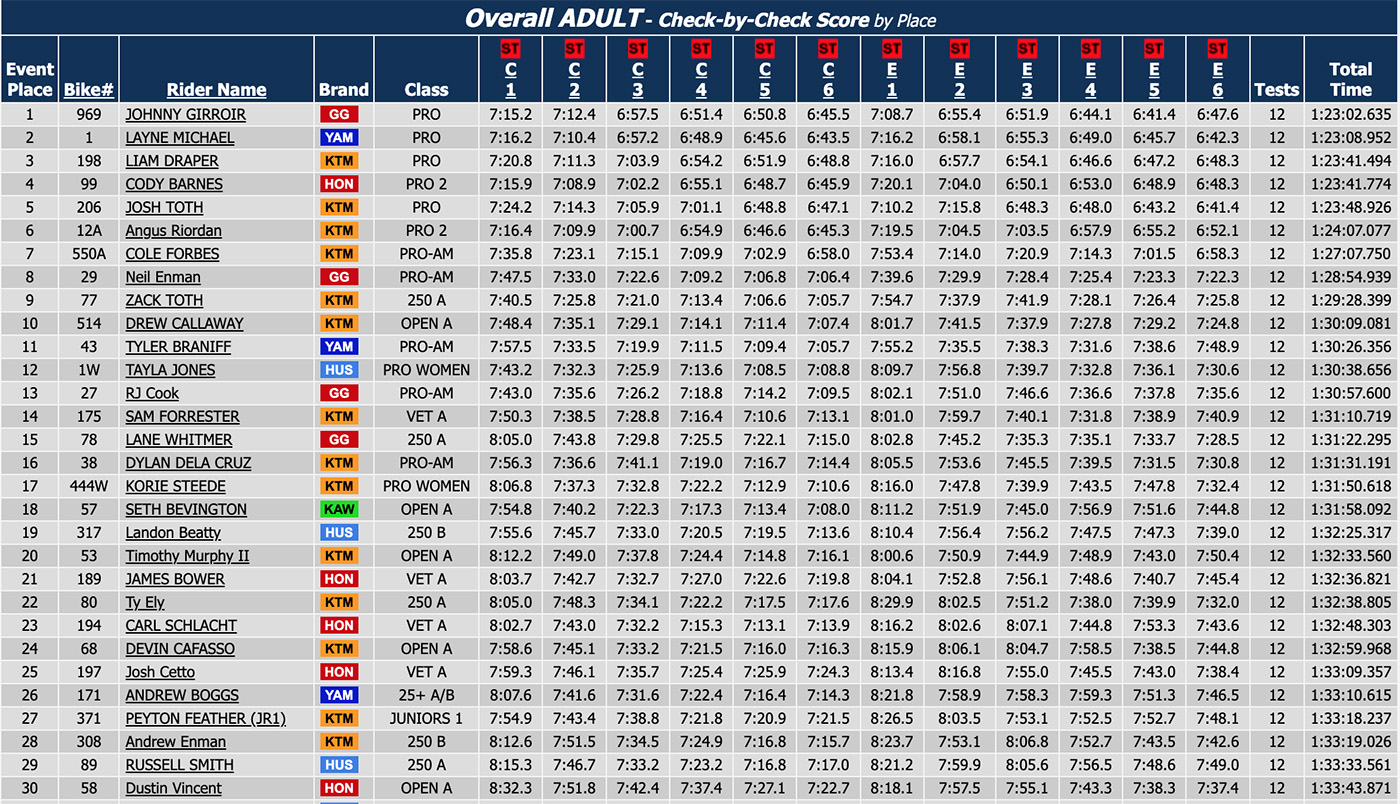 Pro 2 win brings 2022 title for Barnes
Phoenix Honda Racing's Cody Barnes won the Pro 2 class though, taking the win ahead of RPM Racing's Gus Riordan after a tight battle all weekend. Barnes was spectacular in two tests, topping even the Pro riders in each. In all, he had seven tests in the Pro2 class, while Riordan accounted for the remaining five wins. Barnes ended up fourth overall for the weekend and wrapped up the Pro 2 title with his performance.
"Saturday was really slick and I kind of rode a little bit too cautious in those opening tests, especially the enduro test," said Barnes. "I had no crashes on the weekend, so that was a big thing on the slick stuff. Pretty pumped to wrap up my first US Sprint Enduro championship."
Riordan was 18 seconds behind Toth for sixth overall and second in the Pro2 division. "There was some tight racing with Cody, but he would always pull those extra few seconds in the woods which would make it really hard to pull it back in the cross tests," said Riordan. "It seems we were like 0.2, 0.5 apart. It was really good. I enjoyed it."
Forbes Racing KTM's Cole Forbes suffered a couple of crashes but still managed to win the Pro-Am division with a solid seventh overall. Neil Enman was second in the Pro-Am class and eighth overall, while Zack Toth (Josh's brother) won the 250 A class and finished ninth overall.
Drew Callaway claimed his best finish to date with a 10th overall and first in the Open A class.
Tayla Jones crowned champion
In the Pro Women's class, Rockstar Energy Husqvarna's Tayla Jones won all 12 tests for the win and also clinched the class championship one race early.
"The tracks were so fast and really fun to race on," said Jones. "Saturday it was so slippery that it was hard to try and push and get some speed going, but today was the complete opposite. It was so much faster than yesterday. It was cool to have a mixture of both sides. I felt really great on the bike. I had really good days both days. I had one crash yesterday, but I went six for six today so I'm pumped.
"To wrap up the title early, I'm so over the moon right now. This is my sixth sprint title. I love this style of racing and I'm so stoked to have another title."
Trail Jesters Racing KTM's Kori Steede was a solid second with RPM Racing KTM's Kaitlyn Jacobs making the trip from the west coast to give east coast racing a try and coming away with third.
Round eight of hte US Sprint Enduro Series takes place on June 18-19 at Harleywood, VA.
More information: www.uspsrintenduro.com
Words and Photo Credit: Shan Moore