US Sprint Enduro: Toth takes 2022 title at Harleywood Sprint Enduro
Coastal Racing GASGAS' Johnny Girroir won the fight, taking the overall win for the weekend at the Harleywood Sprint Enduro in Harleywood, Virginia, but it was FMF KTM's Josh Toth who won the war, edging out AmPro Yamaha's Layne Michael for the 2022 US Sprint Enduro championship in a title fight that went down to the wire.
Josh Toth and defending champion, Layne Michael have spent the first seven rounds of the 2022 US Sprint Enduro series taking turns exchanging the point lead, with each rider dealing with multiple injuries throughout the season.
Coming into the eighth and final round in Virginia last weekend, Michael held a slight seven-point lead over Toth and had the upper hand.
Still in only his second race back from injury, Johnny Girroir wasn't going to let the title fight stop him from having split wins with Michael at the previous round, he took the overall despite missing most of the season with a broken pelvis.
Toth came out swinging on Saturday, winning all three enduro tests and topped Girroir by 16 seconds for the win. Tely Energy Racing's Liam Draper also had one of his best days of the season with a third on Saturday, dropping Michael to fourth by 28 seconds.
Toth's win on Saturday moved him into the lead in the title chase by five points over Michael going into Sunday's round, in addition to the 16 seconds he had on Girroir for the weekend overall.
Girroir shines
On Sunday, it was Girroir's turn to shine, as he won five of the six tests for Sunday's win. The Connecticut rider also made up the 16 seconds he had given up the day before to Toth, beating out the KTM rider by three-tenths of a second to claim the overall win for the weekend.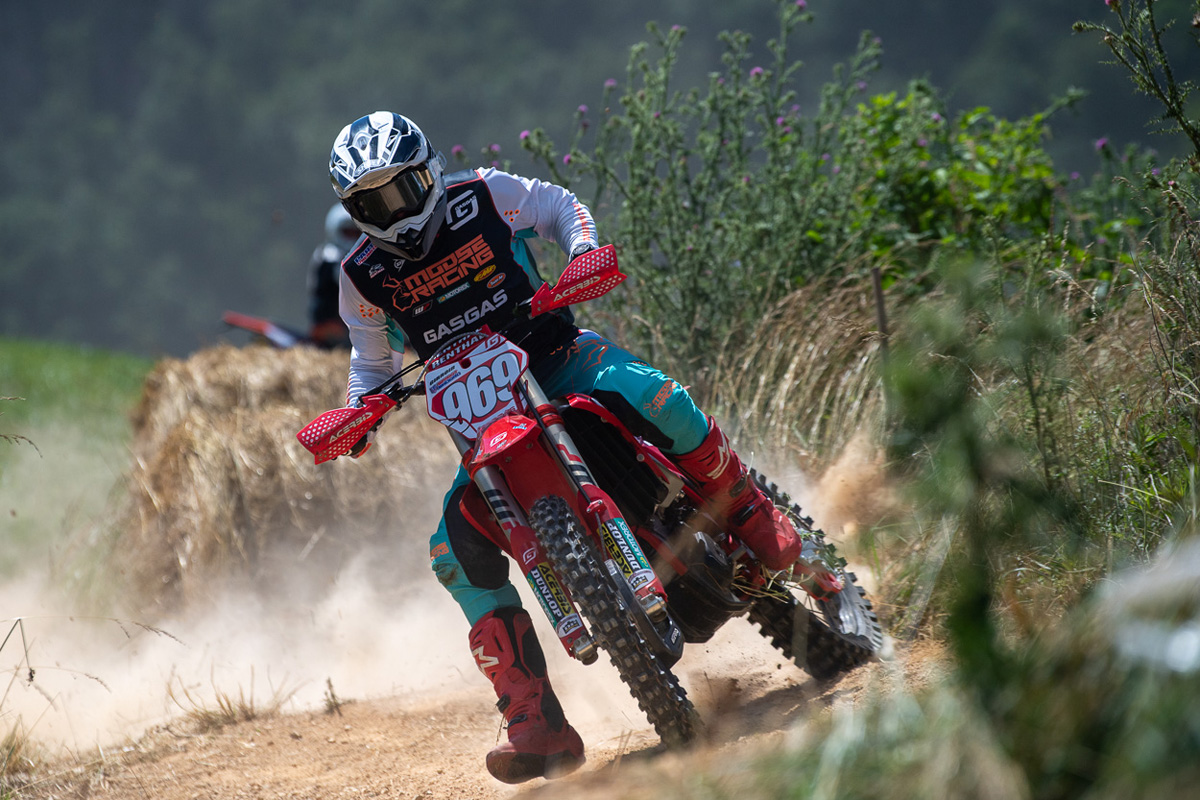 Toth finished second for the day though, which was more than enough to claim take the championship title ahead of Michael, who was fourth again behind Draper for the day.
"Man, it's such a relief," said Toth. "It was stressful coming into this weekend. I had such a bad round the last one and put myself in the hole when I had the points lead. Coming into this weekend down, I knew I needed to beat Layne both days. Like I said, it is stressful but I knew what I needed to do. Just a huge relief, really. "
Girroir's overall win was his second in a row since returning from injury. "I rode good Saturday, but I just couldn't stay off the ground and ended up having three crashes," said Girroir. "Josh was riding phenomenal. He aced it and did what he had to do. I was sixteen seconds down coming into Sunday and I went to sleep last night knowing that I had to come out swinging today. That's exactly what I did. I had a little four-second cushion going into the last test, and Josh beat me by 3.7. It was as close as racing gets."
Layne Michael put up a valiant fight all year, dealing with a shoulder injury for much of the season. "Unfortunately, at the last GNCC banged my other shoulder up," said Michael. "Luckily, nothing was torn but I got an MRI and stuff and I've just got a bone bruise and some muscle bruising and some bleeding around the rotator cuff. The pain was pretty bad and I definitely struggled with it yesterday.
"Today I think everyone just kind of slowed down a little bit, or how I was riding the bike kind of played in favor today. I tried to keep it close until the end, and I did, but unfortunately there in the last cross test I had a crash that kind of flustered me a bit. Went into the last test and just had another error and pretty much knew that was it."
Draper's third overall marked his ninth podium finish of the year. "I started off Saturday with the first win on the day on the cross test, which is very unlike me to win a cross test," said Draper. "So, I led going into the enduro test but I made too many mistakes, so I dropped back to third. But my riding was good all weekend. I feel like I'm back to the Liam who knows how to ride properly, battling with Johnny and Layne and Josh all weekend."
2022 Harleywood Sprint Enduro results: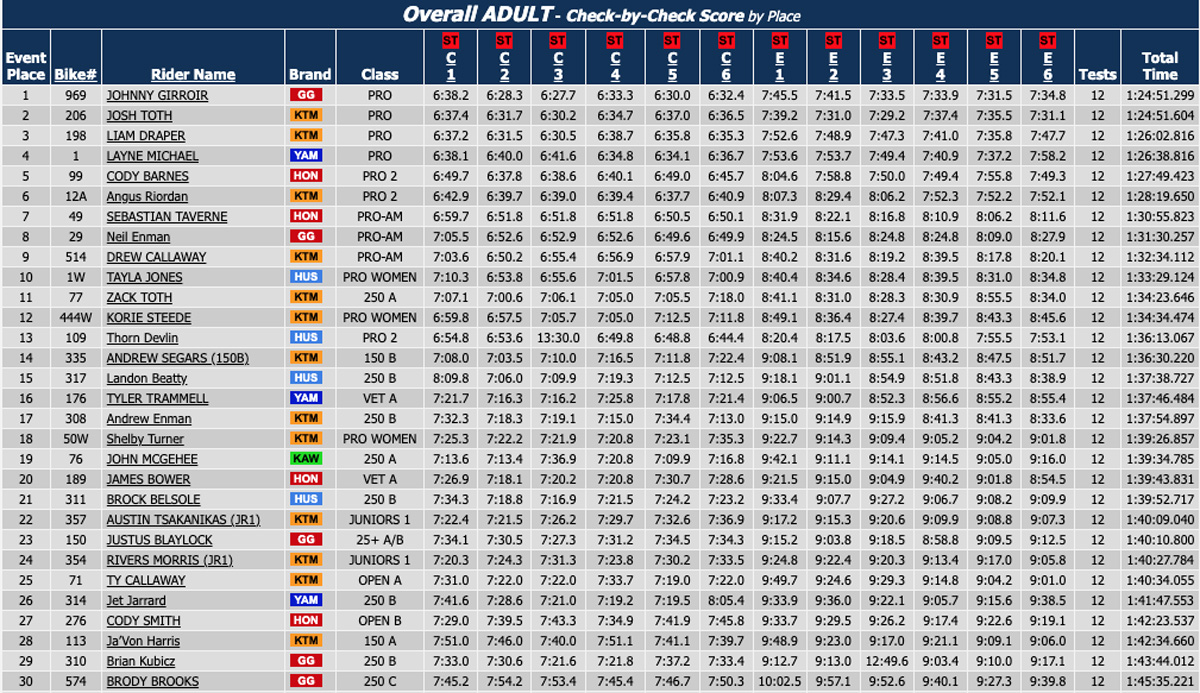 Pro 2 title for Barnes and Phoenix Honda
Phoenix Honda Racing's Cody Barnes' claimed fifth overall which gave him the overall win in the Pro 2 class, which means he swept all eight overall victories in the division, although RPM Racing's Angus Riordan beat Barnes out for the day win on Sunday.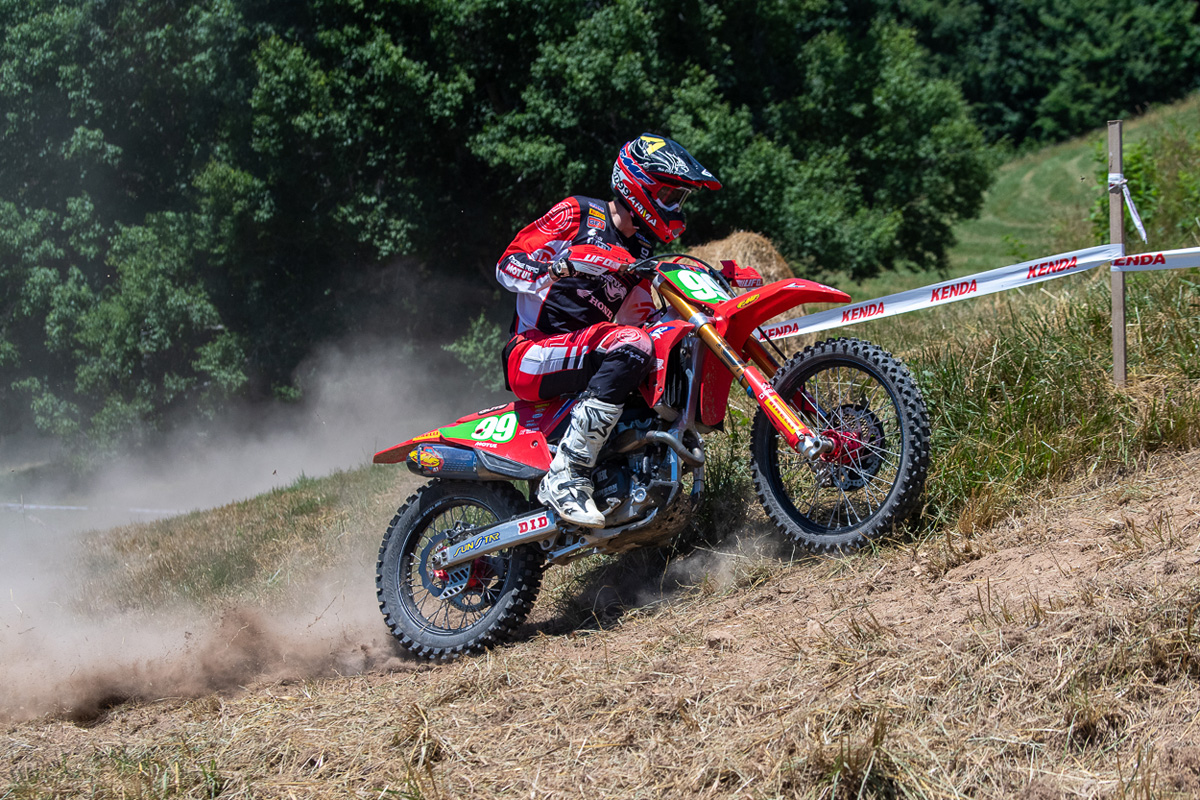 "I just made a mistake in the cross test," said Barnes. "It was really hard packed, really dusty and I was just a bit too aggressive. I blew through a powdered berm and ended up going down. It was a mistake and Angus was able to capitalize on the day. I was riding really good yesterday and had a big enough cushion to still come out with the overall for the weekend, so I'm happy."
Riordan's win on Sunday was his first day win of the season and landed him in sixth overall. "I was sort of battling with Cody for the lead, and then I hit a tree yesterday and I sort of got my bike caught in it, so I couldn't get it out for a little bit," said Riordan. "That sort of wrecked my day yesterday. Then today, me and Cody started battling again. Then he went down and hurt his shoulder, which sort of gave me that nine seconds that test he went down."
Sebastian Taverne of Chile was seventh overall and first in the Pro-Am class. "Yesterday was very good and I finished first, but only by two seconds," said Treverne. "Today I finished first again, but with more margin. I am very happy because I had a big crash in April. I had a big surgery to my collarbone and scapula, but now I am okay."
GasGas rider Neil Enman was eighth overall and second in the Pro-Am class, while Drew Callaway was ninth overall on a KTM and third in the Pro-Am division.
Women's Pro title and P10 overall for Jones
Rockstar Energy Husqvarna's Tayla Jones won the Women's Pro overall, topping 10 of the 12 tests, and she also finished 10th overall. It was her second Women's Pro title in a row.
"It was a sick weekend. The tracks got very gnarly. I had a lot of fun. I only crashed once, so that was a positive. We sent it," said Jones. "I got a ninth overall in the first test, so that was my first top ten. I was pretty pumped about that. The track started to get pretty rough. I was just kind of fighting the bike a little bit. I just need to ride this more often, get ready for Six Days and get a good setup going and just get comfortable."
Trail Jesters Racing KTM's Kori Steede accounted for the other two test wins and was second in the Women's Pro class ahead of FMF KTM's Shelby Turner in third.
Youth class round-up
In Youth divisions, Maura Tsakanikas took the overall in the 4-6 class, also beating the the 7-8 class for the weekend. This makes two years in a row she's won the 4-6 championship after a battle with Ryder Bower, and James Dietrich in class.
Austin Tsakanikas and Jonathan Snyder went toe-to-toe in the Super Mini Senior (14-15) class, with the outcome coming down to the final test. Tsakanikas needed to make up about six seconds going into that last test, and pulled it off to go 1-2 on the weekend for the victory.
Mason Tsakanikas made it very much a family affair and took the win in the 85 Senior class with Tyler Yost in second and Adun Hurley in third.
Nash Peerson dominated the 85 7-11 class, topping John Berry and Braxtyn Cheney. Berry needed a good ride to win the 85 Junior class championship, and he delivered with a 2-2 on the weekend to take the championship by one point. Liam Young won the 65 (10-11) over Mason Helton.
There was a good battle in the Girls 10-16 class, with Kora Grace and Zoey Kimble going back and forth before Kora Grace was able to separate herself and take the win. Zoey Kimble and Nicole Rupert were second and third.
65 Junior class went to Cold Chaney, with Aubrey Tsakanikas in second and Donnie Ryan in third.
In the Trail Bike class, Aubrey Self claimed her first win in the series, going 1-1 to beat out Maci Ryan's 2-2.
In the 50cc Micro divisions, in the 4-6 year-old class, Maura Tsakanikas took the overall beating the 7-8 year-old class for the weekend. She also won the 4-6 championship two years in a row. Tsakanikas with Ryder Bower, and James Dietrich.
Kingston McClintic won the 50 Sr 7-8 class, with Mike Jones and John Tunnell in second and third.
More information on US Sprint Enduro Series: www.ussprintenduro.com
The World Sprint Enduro race takes place on July 9-10 held at Rivers Edge Outdoors in Sandy Level, Virginia. www.sprintenduroworldchampionship.com
Words and photos credit: Shan Moore