Wil Ruprecht crowned 2021 Assoluti Italian Enduro Champion
Video highlights and results from the final Italian Enduro Championship round of 2021 where Australian Wil Ruprecht has capped off a stella season to beat Brad Freeman to the coveted Ahola Trophy and the "Assoluti" overall title.
The "Assoluti d'Italia" – Absolute Italian Enduro Championship – concluded in Maniago in the pre-Alps hills with two days racing to decide outright classification and classes.
It's the hottest domestic championship in Europe right now with many of the EnduroGP factory teams hailing from Italy and their international riders electing to race there to keep sponsors happy and bodies sharp for the GPs.
Sharpest of all this season has been TM Boano race team's Will Ruprecht who gets his hands on a much-prized Ahola Trophy for the overall championship. It is the Australian's first major title in Europe since making that jump up to the northern hemisphere to pursue a career on the world stage.
Italian Enduro Championship round nine, Maniago in a nutshell:
Brad Freeman took the victory on both days in some style with 30-plus second margins on both days – it remains a shame we did not see this guy (at least) showing this form on the Italian tests at the ISDE…
An up and down set of results earlier in the season means it was too late for Freeman to take the Ahola Trophy. Brad finishes six points behind Ruprecht who took a 4-5 scorecard this weekend.
Steve Holcombe was back in action following an injury lay-off this summer and finished second to his teammate on day one, and sixth on day two.
Thomas Oldrati, Andrea Verona and Matteo Cavallo played out a contest for best Italian rider scratch with Oldrati faring best with P2 on Sunday ahead of Verona who'd taken P3 on the Saturday. For both though it was not quite enough to win their classes with Oldrati conceding the 450 class title to Alex Salvini who's had some major injury issues this last couple of seasons but takes his 14th career title.
Similarly, Matteo Cavallo finished second to Verona at this round but had done enough to take the points haul for the 250 4T trophy. Verona finishes the season in fourth scratch though with Oldrati fifth.
Team Boano have been very sucesful in their first season as the official TM Racing team with Ruprecht taking Assoluti title, Matteo Pavoni dominating the Juniors, Lorenzo Macoritto the 250 2T class.
The Youth class battle was also a hot one with Team Fantic Jet Racing's Riccardo Fabris taking a narrow victory in the last tests over Kevin Cristino on the D'Arpa Racing Fantic.
Gianluca Martini took one trophy for Beta with the 300 2T win while one of the stars of the ISDE this year, Davide Guarneri, won the 125 2T class on the E50 Racing Fantic.
2021 Assoluti d'Italia Enduro Championship final standings: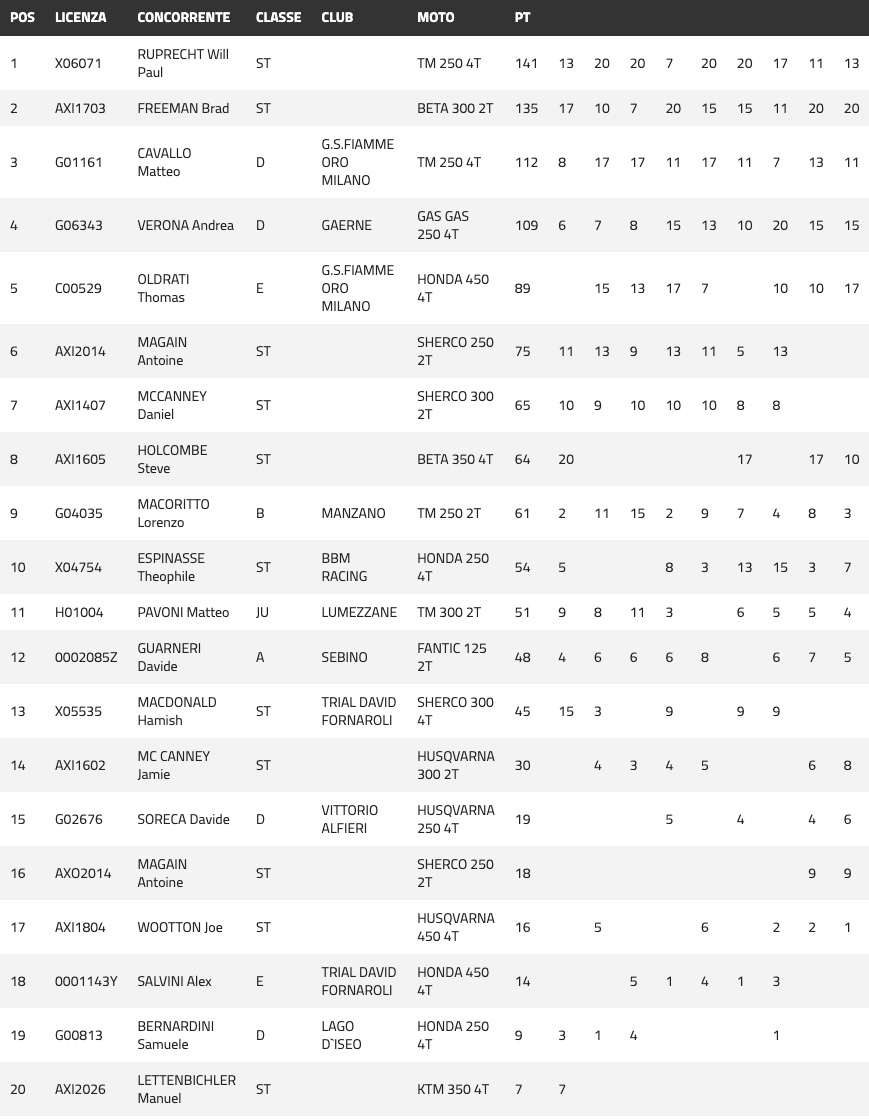 Day two video highlights and rider interviews:
Class 125 2T
1. Guarneri (Fantic), 180 points
2. Mancuso (Fantic), 134
3. Colarusso (Husqvarna), 105
4. Rota (KTM), 75
5. Celesti (Sherco), 41
Class 250 2T
1. Macoritto (TM-Boano), 180
2. Micheluz (Husqvarna), 153
3. Conforti (Husqvarna), 131
4. Grigis T. (GASGAS), 113
5. Marmi (KTM), 104
Class 300 2T
1. Martini (Beta), 171
2. Marini (TM-Boano), 155
3. Staccioli (Husqvarna), 103
4. Moroni (KTM), 82
5. Musso (Sherco), 66
Class 250 4T
1. Cavallo (TM-Boano), 168
2. Verona (GASGAS), 165
3. Bernardini (Honda-RedMoto), 125
4. Aresi (GASGAS), 90
5. Soreca (Husqvarna), 86
Class 450 4T
1. Salvini (Honda-RedMoto), 155
2. Oldrati (Honda-RedMoto), 140
3. Recchia (GASGAS), 137
4. Grimani (Beta), 75
5. Bazzurri (Beta), 55
Junior "Under 23"
1. Pavoni (TM-Boano), 160
2. Spanu (Husqvarna-Osellini), 139
3. Morettini (KTM), 131
4. Rinaldi (GASGAS), 124
5. Zilli (Honda), 107
Youth "Under 21"
1. Fabris (Fantic), 146
2. Delbono (Fantic), 144
3. Cristino (Fantic), 139
4. Pasinetti (Beta), 124
5. Bernini (KTM), 109
Full results on Italiano Enduro
Photo Credit: Italiano Enduro