Xrace of Champions: Finnish legends race one-off event for the hell of it
Finnish Enduro World Champions and ISDE Trophy Team legends amassing 56 world titles dusted off their riding gear to relive the old days in a secret 'Race of Champions' organised last weekend – just a gentle ride for old time's sake, nothing serious…
Nine riders with a total of 56 Enduro World Championship titles and ISDE Trophy world titles, not counting Junior trophies (think about that for a minute, nine people with 56 top class titles!) took part in the event organised by our friends at XRacing.fi.
The short list of legendary Finnish Enduro elite riders from the past got back together to meet old buddies, chew the fat and get between the trees for a race not intended to be serious but to celebrate, revisit and revive.
The list of riders was a like a Finnish hall of fame:
Juha Salminen (13 world titles + 6 ISDE Trophy titles)
Samuli Aro (5 world titles + 5 ISDE Trophy titles)
Petteri Silvan (5 world titles + 4 ISDE Trophy titles)
Vesa Kytönen (1 world titles + 3 ISDE Trophy titles)
Petri Pohjamo (1 world titles + 3 ISDE Trophy titles)
Jani Laaksonen (6 ISDE Trophy titles)
Jari Mattila (2 ISDE Trophy titles)
Matti Seistola (1 ISDE Trophy titles)
Valtteri Salonen (1 ISDE Trophy titles)
Dusting off the old bikes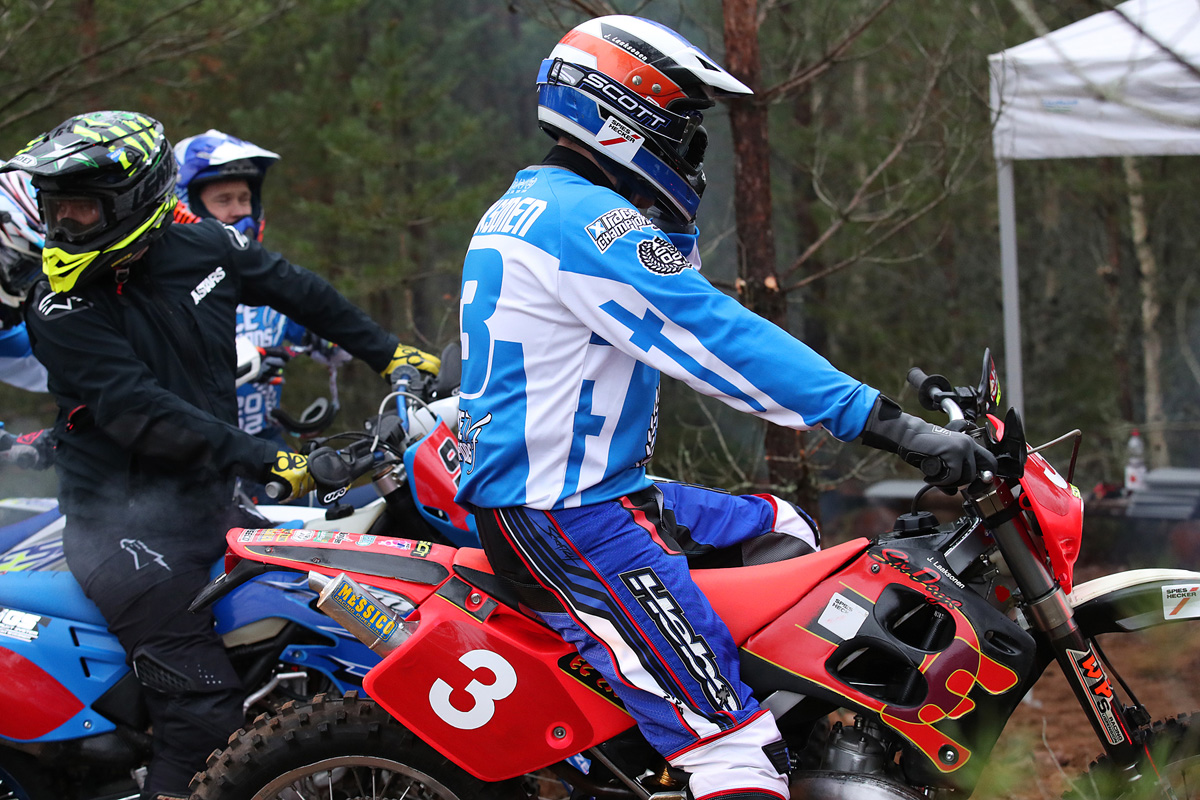 Some of the riders jumped on modern machines but some also opted to race special bikes for the event. Samuli Aro rode his 2004 KTM 525 Factory bike, Jani Laaksonen had his 1998 GasGas 250 Factory bike, Petri Pohjamo rode his 2005 TM Factory bike and Petteri Silvan had his 2007 Suzuki 250 two-stroke which he took to the Finnish championship that year.
Three tests, one lap and some bull shit!
The XRacing Race of Champions ran three special tests – MX, enduro and an extreme tests. The one lap, one attempt on each test produced what race organizer, Jani Hovi from Xracing.fi describes as "Epic".
"The guys rode so fast and you really could tell they were not messing about and that everyone was really badass back in the days." Says Jani. "It was not serious race, but boys went fast and their skills shone through. In the end there was lots of arm pump, lots of laughs and lot of bull shit!"
Although the full race, sauna and beer after the event was curtailed by Covid and no spectators were allowed, the hope is next year the event can grow and everyone will get the full experience. The riders are already asking for the event to happen again in 2021 says Hovi.
Enduro21 has a video coming from the event so stay tuned and also check in to www.Xracing.fi for more content.
Photo Credit: Xracing.fi