2022 Spanish Hard Enduro Championship: Kabakchiev steals it from Cyprian at Rnd 3
Results and video highlights from the third round of the 2022 Spanish Hard Enduro Championship where Teodor Kabakchiev sealed the win after a race long battle with David Cyprian.
More than 100 riders, and a growing international entry list, took on the third round of the 2022 Spanish Hard Enduro Championship which featured one of the longest and gnarliest course that we have seen in the series.
The weekend kicked off with the timed qualifications to set up Sunday's starting order and Teodor Kabachiev set the fastest time (check the onboard lap with Teo below) with David Cyprian 10 seconds behind in his first go at the Spanish championship, Ramon Quer completed the top three.
Saturday onboard prologue with Teodor Kabakchiev:
Rain during Saturday night changed track conditions for the main race which saw Cyprian lead for most of the race with Kabakchiev on his rear wheel. But the Czech rider, who is back from a serious knee injury last year, suffered bike issues in the last lap which allowed Kabakchiev to take the win. The fastest pair were the only riders to complete eight laps.
Xavi Leon and 2021 Spanish Hard Enduro Champion Josu Artola had a great battle for third place exchanging positions throughout the race. Just when it looked that they had the last podium spot sealed, former trials rider Francesc Moret stole the show and got third.
In Juniors Eric Miguel got the win followed by Marc Fernanded and Gabriel Giró and Sandra Gomez was the top female rider after finishing 17th overall.
2022 Spanish Hard Enduro Championship Rnd 3 results: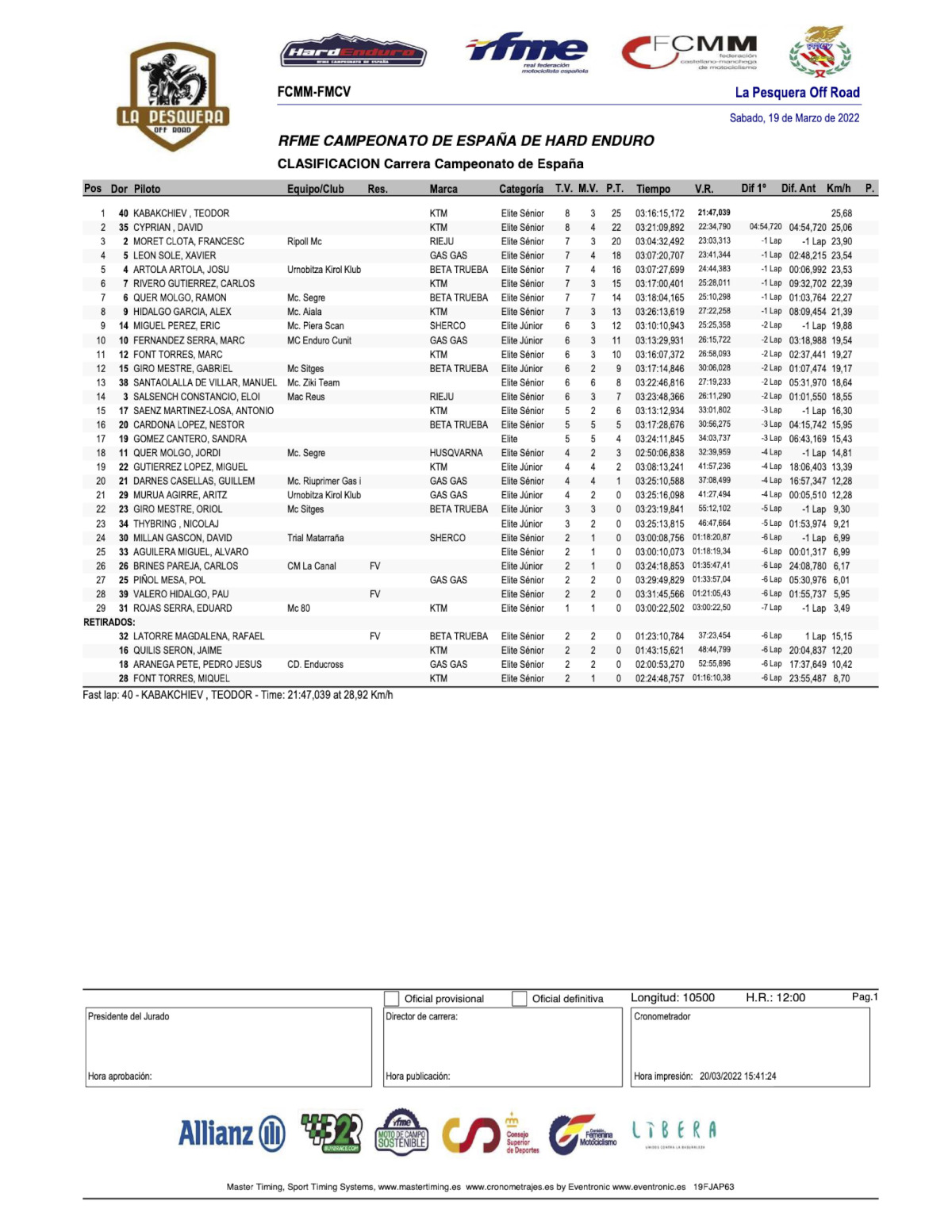 The Spanish Hard Enduro Championship will now take a long break for the summer and the Hard Enduro World Championship events take place until round four in Oviedo, Northern Spain, October 22-23.
Photo credit: Iván Terrón