Abu Dhabi Desert Challenge: Stage 4 video and results – win for Benavides
Video highlights and results from World Rally-Raid Championship round two in the Abu Dhabi Desert where Luciano Benavides led race leader Adrien Van Beveren home on the penultimate stage four.
ADDC Stage four in a nutshell:
A two-hour delay to the start of stage four Luciano Benavides took his Husqvarna Factory Racing FR450 to its second stage victory of the 2023 Abu Dhabi Desert Challenge, topping the time sheets from start to finish.
Second on the stage and, like Benavides, benefitting from a later start number (more on that in a moment), Adrien Van Beveren (Monster Energy Honda), who seized the overall lead two days ago, finished second on the day at 3′22″.
"It was a really good day in the desert for me." Said Benavides at the finish. "This stage on last year's race was the first stage I had ever won, so it was nice to top the timesheets again this year. There's one day left, and I will be opening the stage. My goal is to take the win, it won't be easy, but I'll certainly do my best."
Van Beveren meanwhile grew his overall lead: "I knew today was the day to push, so I did it from the beginning. I was able to reach Nacho at around kilometre 100 and then rode with him - it was great to have him by my side because when you ride alone it is more difficult to keep a high rhythm. We did a good job together and I am happy about my day."
Ross Branch came in third at 4′06″ adrift: "Today was a really long day with over 300 kms in the dunes." Said Branch. "There weren't as many drop-offs as in the past days, so we could open it up a little bit. Lots of flowing valleys, and some really good fun. I'm happy to be on the podium once again this week, and I know it's going to make things a lot more interesting tomorrow."
Benavides moves up the general standings, where he is now the Frenchman's closest contender at 2′58″ but starting one and two on the final stage, that margin will be tough to maintain. The Chilean Nacho Cornejo moves onto the provisional podium, 6′14″ behind his teammate. Ross Branch is fourth at 6′38″. Skyler Howes (Husqvarna Factory Racing) sits in fifth place at 7′16″.
Toby Price had the unenviable task of leading out today and after the initial two hour delay, and explains the visibility was tricky with the sun high, "when we finally got going, the sun was a lot higher in the sky, making it really difficult to see while opening the stage." Explained the Australian. "I did my best and didn't make any big mistakes anywhere, but with conditions like that, on the longest stage of the race, it was tough to lead out."
Price slipped down to sixth and 8′35″ behind the leader. Ricky Brabec (Monster Energy Honda) is seventh and around 20s further back.
Pablo Quintanilla, who was second at the start from Qasr Al Sarab today, is out of the race due to technical problems with his Honda.
Less than nine minutes separate the top seven with Benavides leading tomorrow's stage out and the race win is still open with more than 200 kilometres still to race.
In the Rally2 category, Paolo Lucci lost a tonne of time following a crash 20 kilometres from the finish. The BAS World KTM Racing rider surrendered the lead to Jean-Loup Lepan (Duust Diverse Racing) and is now almost 11 minutes back.
Stage 4 video highlights
Tomorrow's Stage 5 – the last one in the program – will leave Qasr Al Sarab in the direction of Abu Dhabi. Special stage will be 206 kilometers long – added by a liaison of 164 km. It will be the goodbye from the Empty Quarter and its amazing set of gigantic dunes and the last chance to change positions in the overall standings: just around eight minutes separate the Top7 riders, showing that all is still open and competition will be tackled until the last mile.
2023 ADDC, stage 4 results: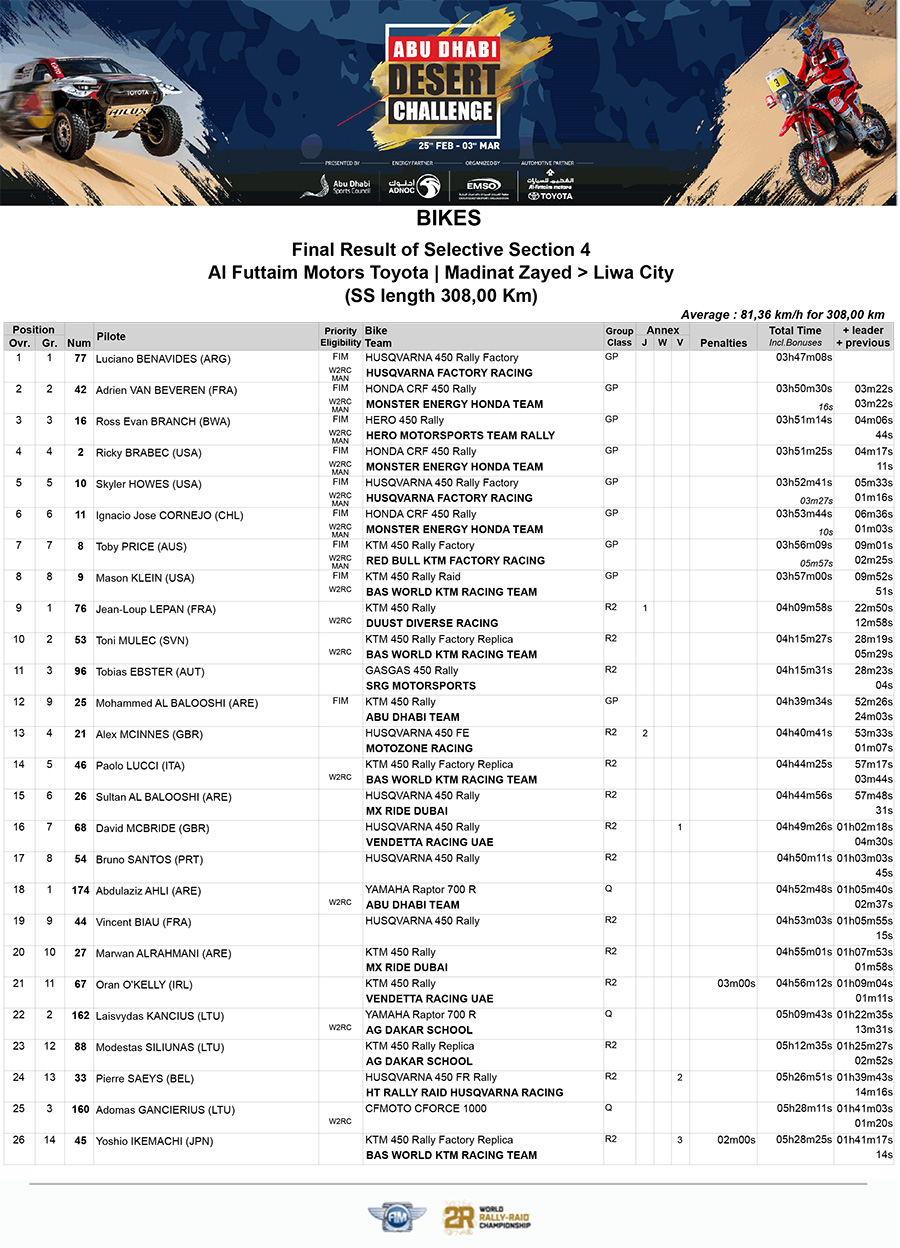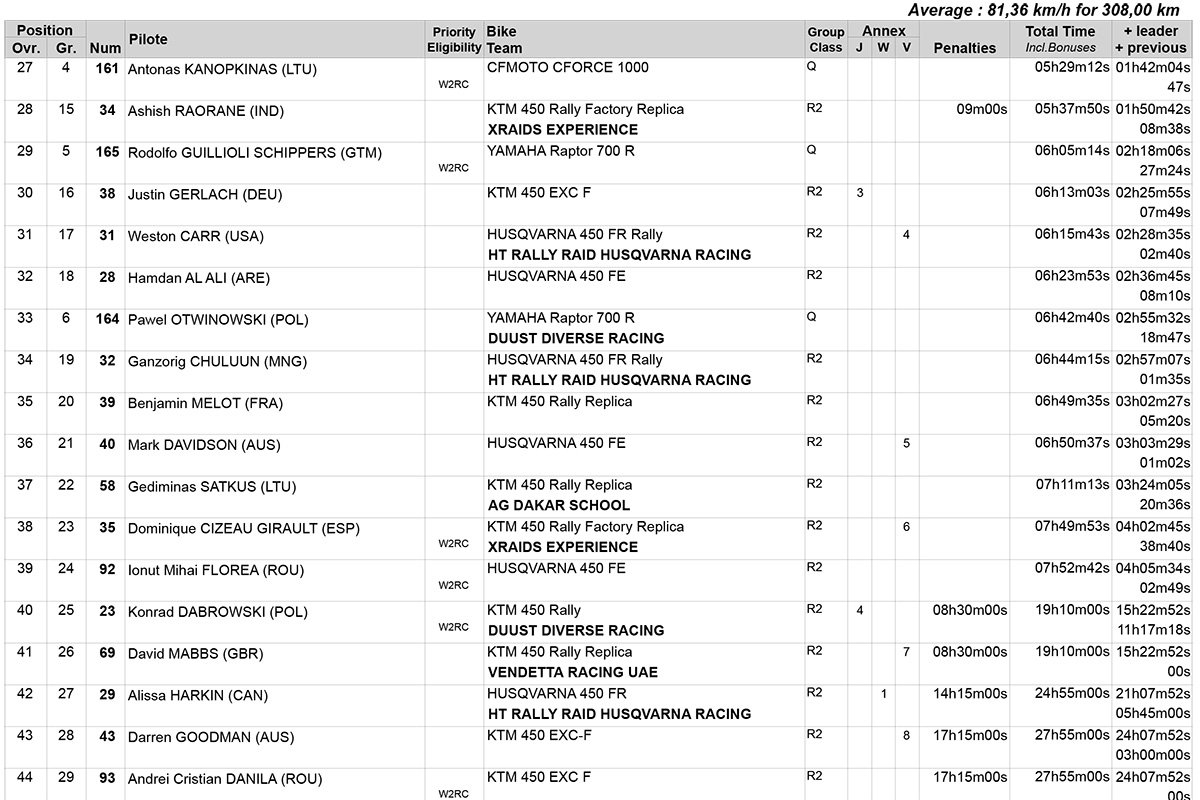 Overall classification after stage 4, RallyGP, one day remaining: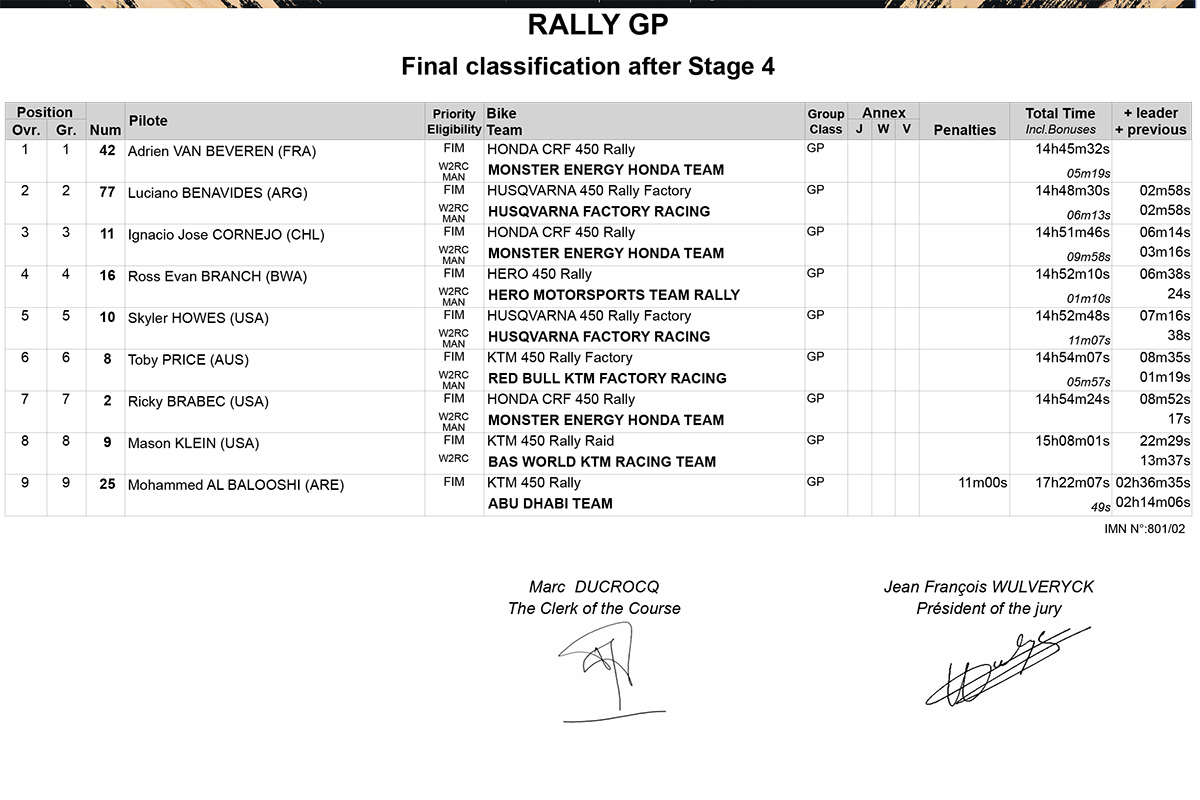 Photo Credit: Rally Zone + MCH Photo