Andalucia Rally: Stage 1B highlights and results – "the roadbook burned my head"
Video highlights and results from stage one proper (1B) at the 2022 Andalucia Rally, final round of the World Rally-Raid Championship where Adrien Van Beveren topped a competitive and controversial opening day on the fast, rocky and dusty trails in Spain where many riders received penalties and with champion elect Sam Sunderland placing second.
In the end everybody seems in agreement – stage one proper at the Andalucia Rally was tricky! A technical special with slippery tracks and difficult navigation through olive groves and wheat fields which riders either loved or loathed, depending on where they grew up riding.
Sam Sunderland adopted a 'take it or leave it' attitude but his decision to follow Kevin off the start line paid dividends, especially where the World Championship was concerned.
Adrien Van Beveren admitted the road book's complexity nearly fried his brain, but he also rose to the challenge. The man who really struggled was the man who really need to go well, Sunderland's closest challenger for the W2RC top spot, Ricky Brabec.
The Monster Energy Honda rider lost a heap of time trying to find a waypoint and speeding penalties…as did Kevin Benavides who clearly loved the conditions but paid the price with an additional six minutes. In the end, both on the stage and overall, van Beveren came out on top, ahead of Sunderland, with Kevin's brother Luciano third
"I am very happy with my stage win here in Andalucia Rally!" Said AVB. "Navigation was so difficult and technical. The roadbook nearly burned me head, because this is really different from desert riding. In the end I enjoyed and my Honda CRF450 RALLY was very good in this kind of terrain, with a lot of traction when its slippery and difficult to turn. Now I am looking forward for the next stage."
In Rally2 Mason Klein (BAS World KTM Racing) won, despite also collecting a two-minute penalty, with Toni Mulec (TS Racing) second and Bradley Cox (BAS World KTM Racing) third. French former EnduroGP rider Jeremy Miroir continues to lead the Rally3 category for converted enduro bikes.
Stage 1B results Rally GP class: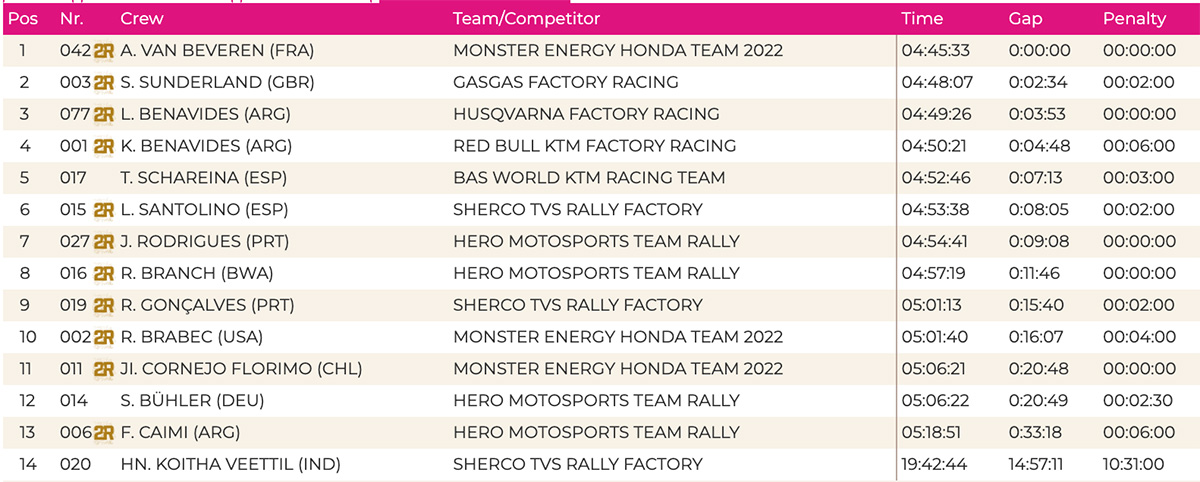 Rally 2 class: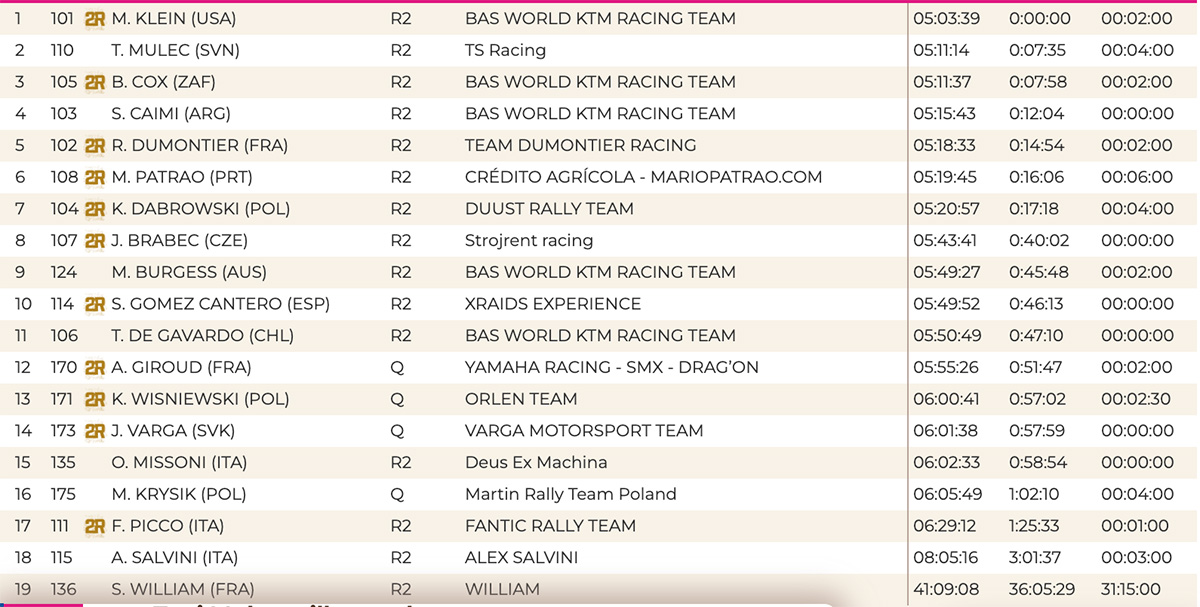 STAGE 2 details:
Scheduled liaison: 314 km / SS: 335 km (52%) / total: 649 km before bad weather caused the stage to be shortened and then finally cancelled due to safety reasons.