Desafio Ruta 40: Results and video highlights from stage 3
Stage three results and video highlights in the 2023 World Rally-Raid Championship round four at the Desafio Ruta 40 in Argentina – Tosha Schareina continues his winning form ahead of local favourite Luciano Benavides ticking closer to a championship points lead.
It was yet another stage victory for Tosha Schareina who claimed the third of five stage sat this year's Desafio Ruta 40 in just under three hours (in the timed special) on the clock. The second tier factory Honda rider once again benefitted from time bonuses awarded to the top three riders on the stage for leading along with second and third placed off the start, and in the stage, Luciano Benavides and Ricky Brabec.
Brabec was grumbling yesterday about the effort put in to be fast on the stage only to have time awarded to a "slower" rider in bonuses (see stage 2 highlights). But the American also benefited from the bonus system on stage three and will also know only too well how hard it is to lay down tracks out front in a rally, only for rivals to benefit following on behind and clocking faster times.
The benefits on the bonus system are clear – they favour the brave and both Schareina and Benavides have led the way confidently this week. Check the camel grass terrain they are riding though in the video highlights and spot the differences between being the first rider through and arriving later. The speed difference is clear.
There are two long stages left but Luciano Benavides is at the moment looking favourite to finish second in the Desafio and on top of the W2RC rankings with his nearest rivals in the points standings – Adrien Van Beveren and Toby Price – not having the best of weeks in Argentina.
Van Beveren finished seventh and talked about not feeling comfortable on the bike, plus has now made two costly navigations errors this week. He lies fifth overall behind Ross Branch having a good week on the Hero Motorsport machine.
Price meanwhile suffered a huge one-hour time deficit on stage two when his WP rear suspension collapsed. The Aussie finished today's stage in fifth place but sits 13th overall in among the Rally2 class riders. With Van Beveren off the boil, Benavides could take the points lead after this week.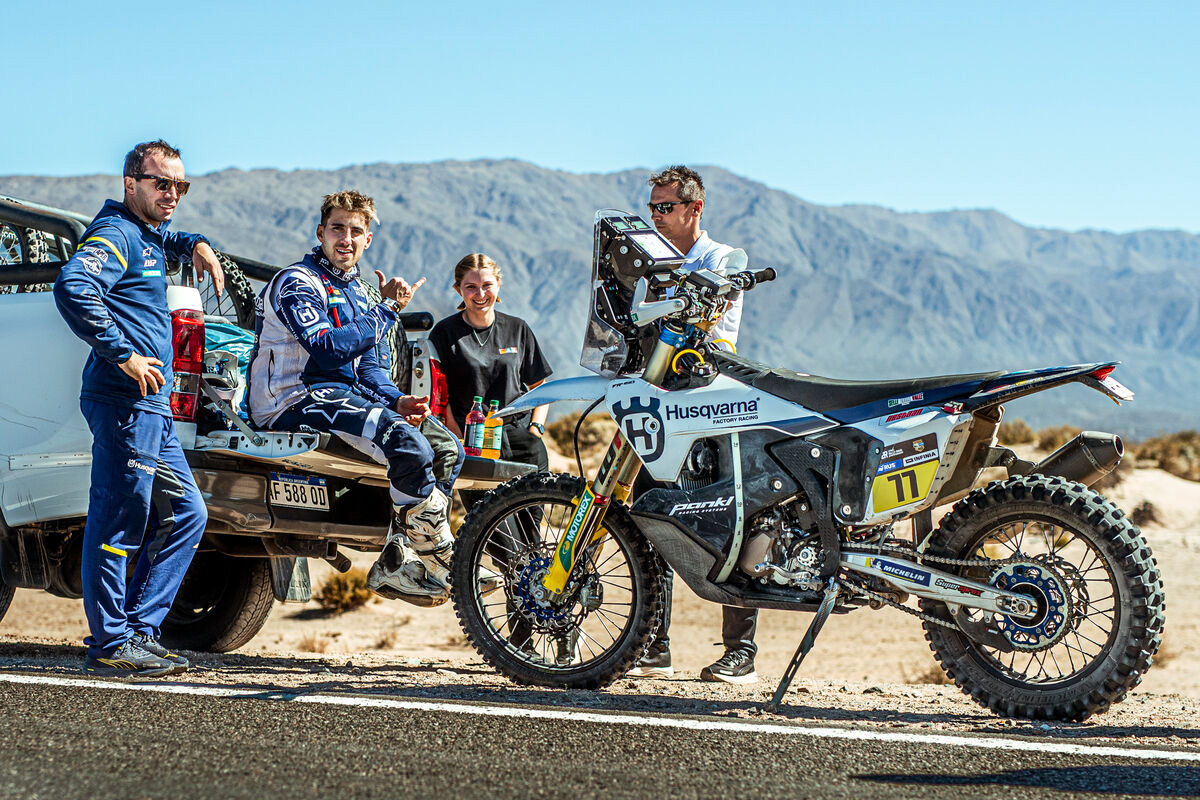 One notable withdrawal among a sea of riders seemingly not giving this one their all (team press release rider quotes are full of "I'm looking forward to going home" lines…) is Sam Sunderland. The GASGAS rider has had a torrid title defence of the W2RC crown and exited another race yesterday, this time with a stomach bug.
Speaking of Rally2 class Michael Docherty (BAS World KTM Racing) scooped up victory in the stage by 1′25″ over his teammate Bradley Cox. In the general standings, Cox defended his lead over the Duust riders Konrad Dąbrowski and Jean-Loup Lepan. The world championship leader, Paolo Lucci, did not line up for the start this morning after crashing in the previous special.
2023 Desafio Ruta 40 – Stage 3 Top 10 Classification:
1. Tosha Schareina (Honda) 2:58:13
2. Luciano Benavides (Husqvarna) 2:59:53
3. Ricky Brabec (Honda) 3:00:05
4. Ross Branch (Hero) 3:06:11
5. Toby Price (KTM) 3:08:13
6. Sebastian Buhler (Hero) 3:08:28
7. Adrien Van Beveren (Honda) 3:08:55
8. Nacho Cornejo (Honda) 3:09:56
9. Michael Docherty (BAS KTM) 3:10:21
10. Pablo Quintanilla (Honda) 3:11:08
Top 10 Overall Classification [after Stage 3]:
1. Tosha Schareina (Honda) 10:20:53
2. Luciano Benavides (Husqvarna) 10:27:16
3. Ricky Brabec (Honda) 10:42:56
4. Ross Branch (Hero) 10:43:29
5. Adrien Van Beveren (Honda) 10:44:55
6. Ignacio Cornejo (Honda) 10:53:28
7. Pablo Quintanilla (Honda) 10:54:23
8. Sebastien Buhler (Hero) 10:56:45
9. Bradley Cox (BAS KTM) 11:09:53
10. Konrad Dabrowski (Duust KTM) 11:34:05
Stage four details:
Stage 4 of the Desafio Ruta 40, the penultimate day's racing, heads into the dunes of Fiambalá. The start will take place in a dried-up río with plenty to watch out for followed by a sector with careful navigation in a sandy area with camel grass will come up next.
It's been a fairly physical rally so far for competitors and day four looks no different with the second part of the special centred on the famous dunes of Fiambalá, which make up 60 to 70% of the latter half of the course. The dunes will be interspersed with plateaus decked with camel grass. A long road section stretching for about two and a half hours will close the stage.
· Stage 4: Belén – Belén
· Total: 581 km
· Road sections: 236 km (9 + 227)
· Special: 345 km
Photo Credit: A.S.O. Julien Delfosse + Cin Cin Movies