Finnish Cross Country Championship: Remes closes on title in Jamsa
Video highlights and results from round four of the 2022 Finnish Cross Country Championship in Jamsa where Eero Remes makes it four from four taking the win from Roni Kytonen and Eemil Pohjola.
Autumn temperatures and some rain made the track really slippery and hard for everyone at round four of the Finnish XC series. Concentrating on Cross Country racing this season after his long career in EnduroGP, Eero Remes has won three previous rounds and an early lead in Jamsa showed he meant business this weekend.
Roni Kytonen was also jumping across from the World Championship duties for this race at least and made his first Finnish XC series start of this season, although that means the RedMoto rider got a bad starting position. It didn't affect him though as Kytonen made quick work, getting into second behind Remes at the end of the first lap.
Remes had an 18 seconds lead by then and Kytonen was charging closer to Remes in lap two. But the three-time world champ made his own charge on lap three and pushed the gap to 30 seconds. After that it was all Remes and the Husqvarna rider rode smooth and fast to take the win by two minutes over Kytonen.
"The track was really hard because of the rain. I also got stuck in one hill, with some lappers blocking all good lines. In lap three I really tried to push hard and that worked. After that I tried to see where Roni was and control my speed with that." Remes said after the race.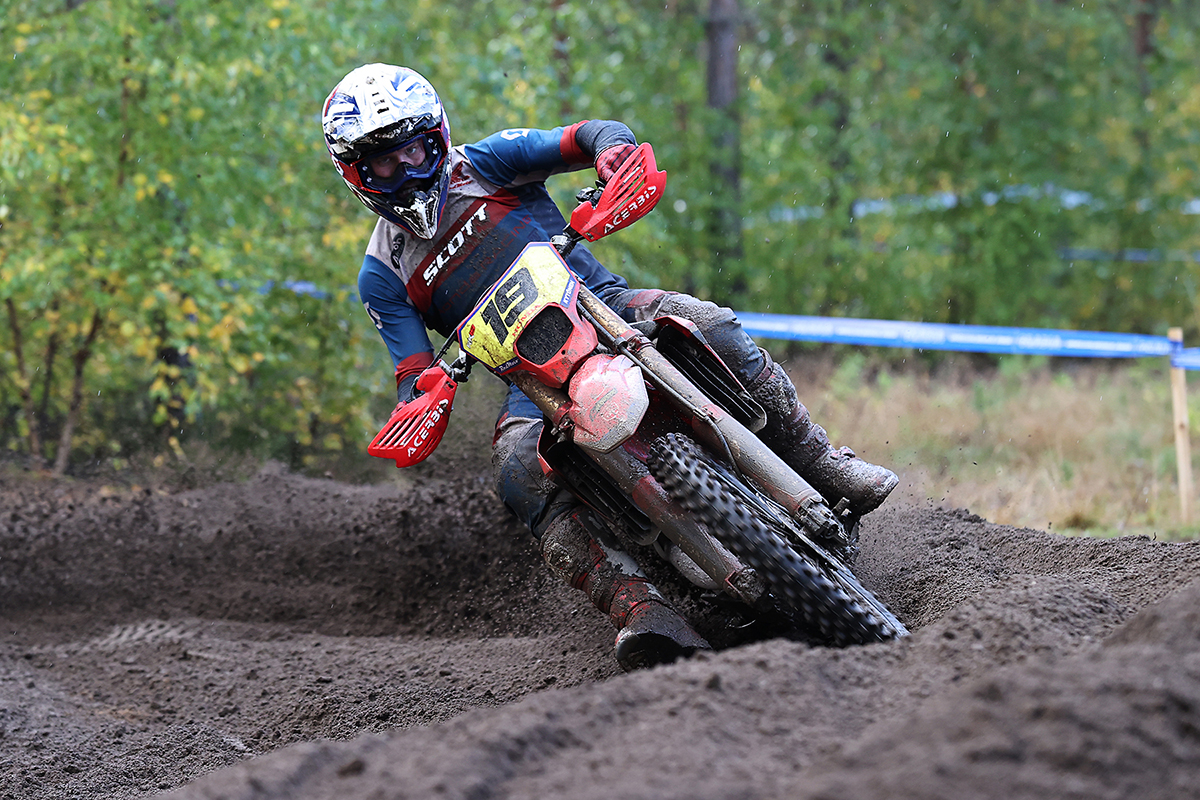 "I had to do one pit stop extra, to change my goggles." Said Kytonen. "Eero was riding good and took smart lines. I tried to catch him, but I did not have the speed. I´m definitely not disappointed with second, Eero is really fast."
Third in the race was Eemil Pohjola, who also struggled at the beginning because of his starting position. Antti Hänninen was fourth and Peetu Juupaluoma fifth.
The last round of the championship will be held in Kitee two weeks from now. Remes leds the championship by 20 points over Hänninen, so Remes will only need to finish in the top 16 to be crowned champion.
Jamsa Finnish XC Championship round 4 results:
Eero Remes 2:09:59
Roni Kytönen +2:11
Eemil Pohjola +2:55
Antti Hänninen +7:32
Peetu Juupaluoma +8:17
Roni Salin +1 lap
Jussi Arvaja +0:09
Dick Bergmnan +5:15
Jesse Viljakainen +10:06
Juha-Pekka Tirkkonen +10:20
Photo credit, words and video from our friends at www.XRacing.fi | Jani Hovi