First look: 2022 Kawasaki Off-Road models
Kawasaki has revealed the 2022 KX range including the Off-Road 450X and 250X competition models alongside the extensive KLX trail and dual-sport line-up.
When Kawasaki announced it was jumping back into the off-road market with two 'X' models derived from the KX motocross range last year it came as something of a surprise. At Enduro21 we'd gotten used to the few green machines around the paddocks with some notable race teams making them work at the highest levels but were not expecting bikes tailored for Cross-Country and Enduro from this Japanese manufacturer.
For 2022 the green team's two bike competition range of KX450X and KX250X again land derived feature from the motocross siblings but tweaked for off-road (softer suspension settings, shorter gearing, off-road 21"/18" wheel combination, Dunlop Geomax AT81 tyres, brake components, skid plate, and kickstand). Just as with the KX-F models, the Xs are unchanged for 2022.
What's the difference between Kawasaki MX and X bike?
The four-stroke, single cylinder, DOHC, water-cooled engine packages have revised mapping and settings for off-road racing and feature an electric start and a Li-ion battery.
Both X models use a close-ratio five speed transmission but with shorter gearing than the MX counterparts, with a final gear ratio of 51/13 (on both 450 and 250 models).
The transmission is paired with a coned disk-spring hydraulic clutch which they claim sees minimal changes in play as the clutch heats up during heavy use. The coned disc-spring makes for light clutch actuation and a wide clutch engagement range.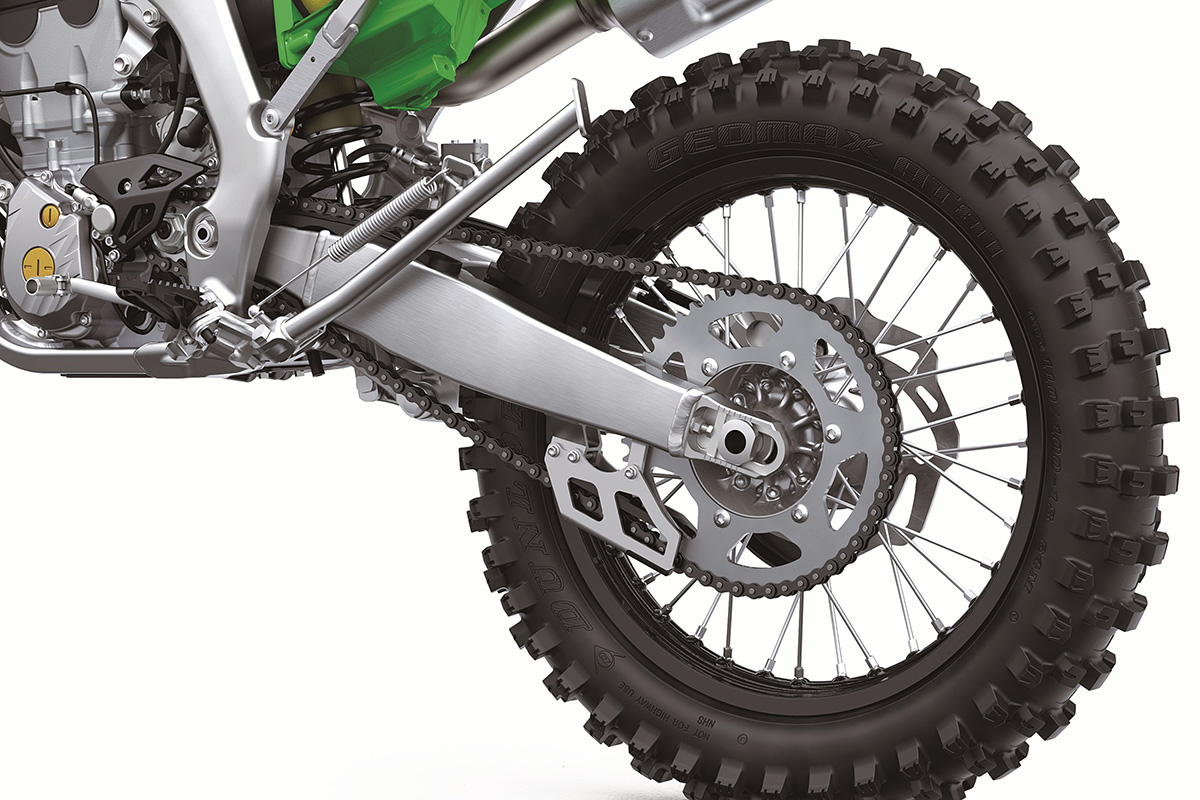 The aluminum perimeter frame composed of forged, extruded and cast parts was new on KX models for 2021 and included new dimensions for the swingarm.
The Showa suspension on both models feature front and rear spring rates and damping settings for off-road and cross-country racing. The Showa 49mm coil spring 450 front forks (48mm on the 250) with A-KIT technology feature large diameter inner tubes the same size as those found on Kawasaki's factory racing team's machines.
XC-specific components
The KX450XC is equipped with specific cross-country components including the 21" front and 18" rear wheel combination paired with Dunlop GEOMAX AT81 tires, which are well-proven in off-road conditions. Other Cross-Country specific parts include the plastic skid plate and a side stand.
De-tuned brakes
Petal-shaped rotors front (270mm) and rear (240mm) are from Braking and gripped by a Nissin master cylinder and caliper set-ups with XC-specific pads Kawasaki say.
Ergo-fit adjustable components
The X models also benefit from the range of adjustment as standard at the rider points of contact around the bike.
They are also equipped with factory-style 1-1/8" aluminium Renthal Fatbar handlebars as standard equipment which have four-way adjustable mounts with two mounting holes and 35mm of adjustability. 180-degree offset clamps also boast four individual settings to suit different size riders.
The footpegs have dual-position mounting points 5mm range – the lower setting effectively drops the centre of gravity when standing and reduces knee angle when taller riders are seated.
2022 Kawasaki KX prices (USD/GBP):
KX250 – $8,399/£7,699
KX450 – $9,499/£7,999
KX250X – $8,499/£7,799
KX450X – $9,699/£8,199
Availability is from now (June 2021) although Kawasaki say some models are following in July – check with your national distributor or nearest Kawasaki dealer for availability of different models in your country.
More information: www.kawasaki.com