Kawasaki is back – new XC off-road models launched
Kawasaki Motors has officially stepped back into off-road and enduro with the launch of two new models, the 2021 KX450XC and KX250XC.
Kawasaki is proud of its off-road racing history with, they remind us, more than 25 championships in WORCS, National Hare & Hound, GNCC, and Endurocross over the past 20 years. In recent seasons we have seen a resurgence of results with the PC Kawasaki Racing Team in WORCS and Babbitts Online Racing Team with Josh Strang storming to GNCC success including a race win this season. Tom Ellwood also took the inaugural Open World Cup 4T class win on a Kawasaki in 2019.
It's good news then to see Kawasaki have kicked back into off-road officially with the new KX250XC and KX450XC models for 2021. Based naturally on their motocross counterparts with common engine, frame, chassis and styling, the closed-course XC models differ with new and unique engine tuning, suspension settings and off-road specific components.
2021 KX XC model highlights:
New off-road engine mapping and tuning
New final drive gearing
Electric start
Softer Showa suspension settings
21" front wheel and 18" rear wheel combination
Dunlop GEOMAX AT81 tyres
New Braking brake rotors with Nissin master cylinders, calipers and pad compounds
New Skid plate
New Kickstand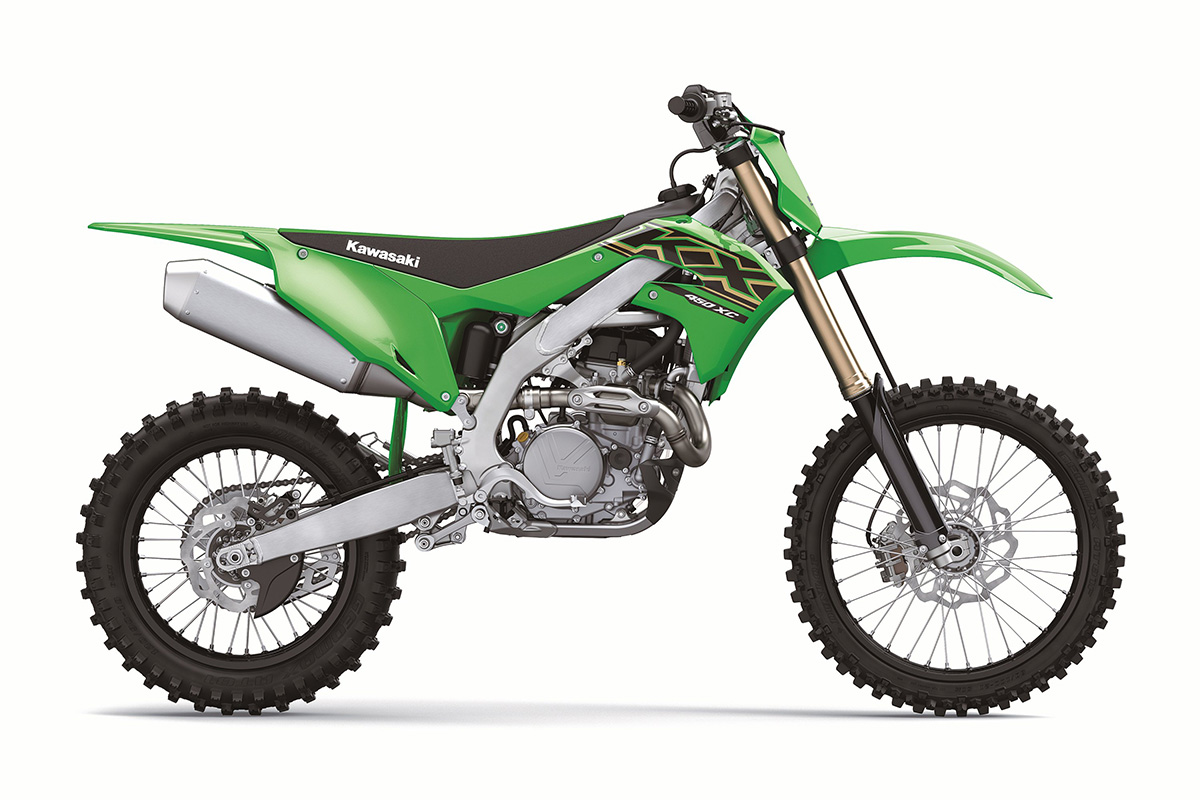 XCs in detail – Engine
The four-stroke, single cylinder, DOHC, water-cooled engine packages have revised mapping and settings for off-road racing and features an electric start, activated by the push of a button and powered by a compact Li-ion battery.
We need your support
If you've enjoyed this article, if you've found it informative, interesting, entertaining even, please consider supporting us.
Please consider a donation, every little helps…
Kawasaki say they brought top-level road racing technology to the KX XC valve trains, using designs from Kawasaki World Superbike engineers. It uses a finger-follower valve actuation, enabling larger-diameter valves and more aggressive cam profiles. The intake and exhaust valves are formed from lightwight titanium, while a bridged-box piston uses the same design as the Monster Energy Kawasaki race team's factory motorcycles. The piston also features a dry film lubricant coating on the skirt to reduce friction and improve performance.
The new XCs use a close-ratio five speed transmission but with shorter gearing than the MX counterparts, with a final gear ratio of 51/13 (on both 450 and 250 models).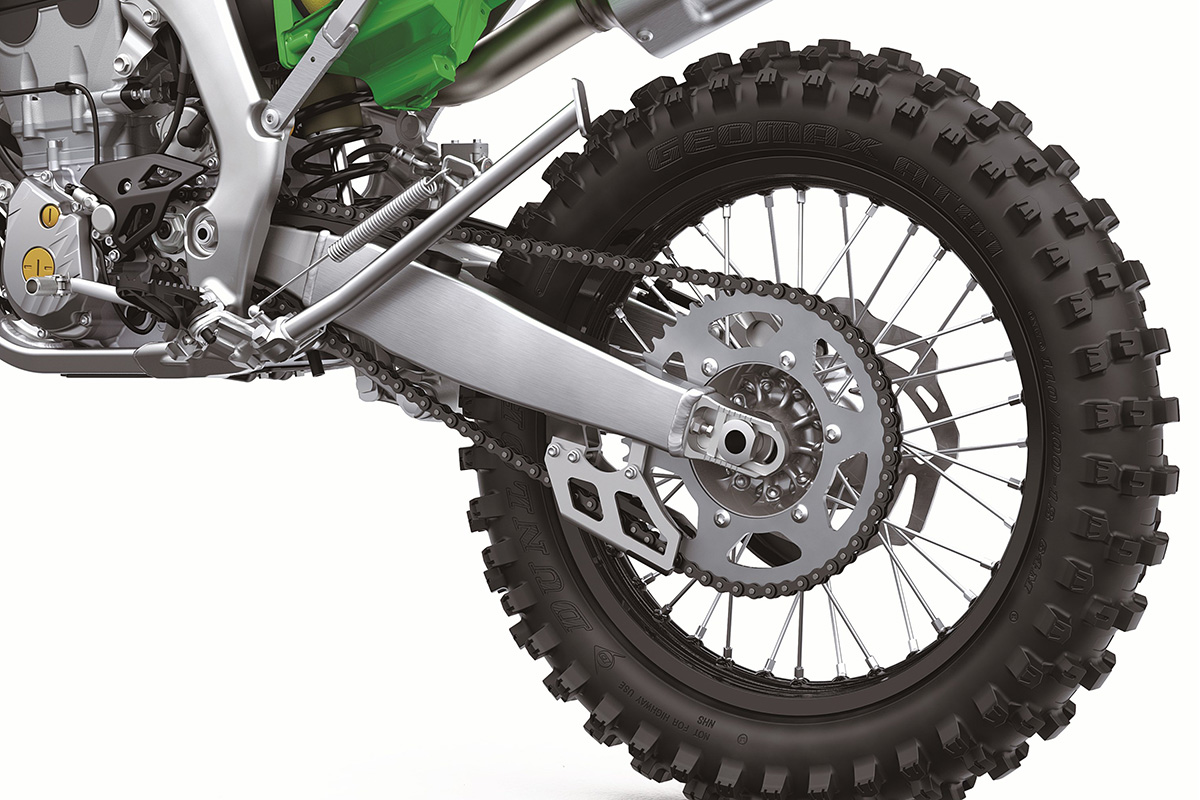 The transmission is paired with a coned disk-spring hydraulic clutch which they claim sees minimal changes in play as the clutch heats up during heavy use. The coned disc-spring makes for light clutch actuation and a wide clutch engagement range.
All-new chassis for 2021
The aluminum perimeter frame composed of forged, extruded and cast parts is all-new on KX models for 2021 – though it is not clear at time of writing exactly where the changes lay. The engine is used as a stressed member, adding to the frame rigidity however and the lightweight alloy swingarm is constructed of a cast front section and twin tapered hydro-formed spars.
Recent model engineering updates to the KX range included new dimensions for the swingarm pivot, output sprocket and rear axle locations, helping to focus on lower centre of gravity and balanced handling.
Softer Showas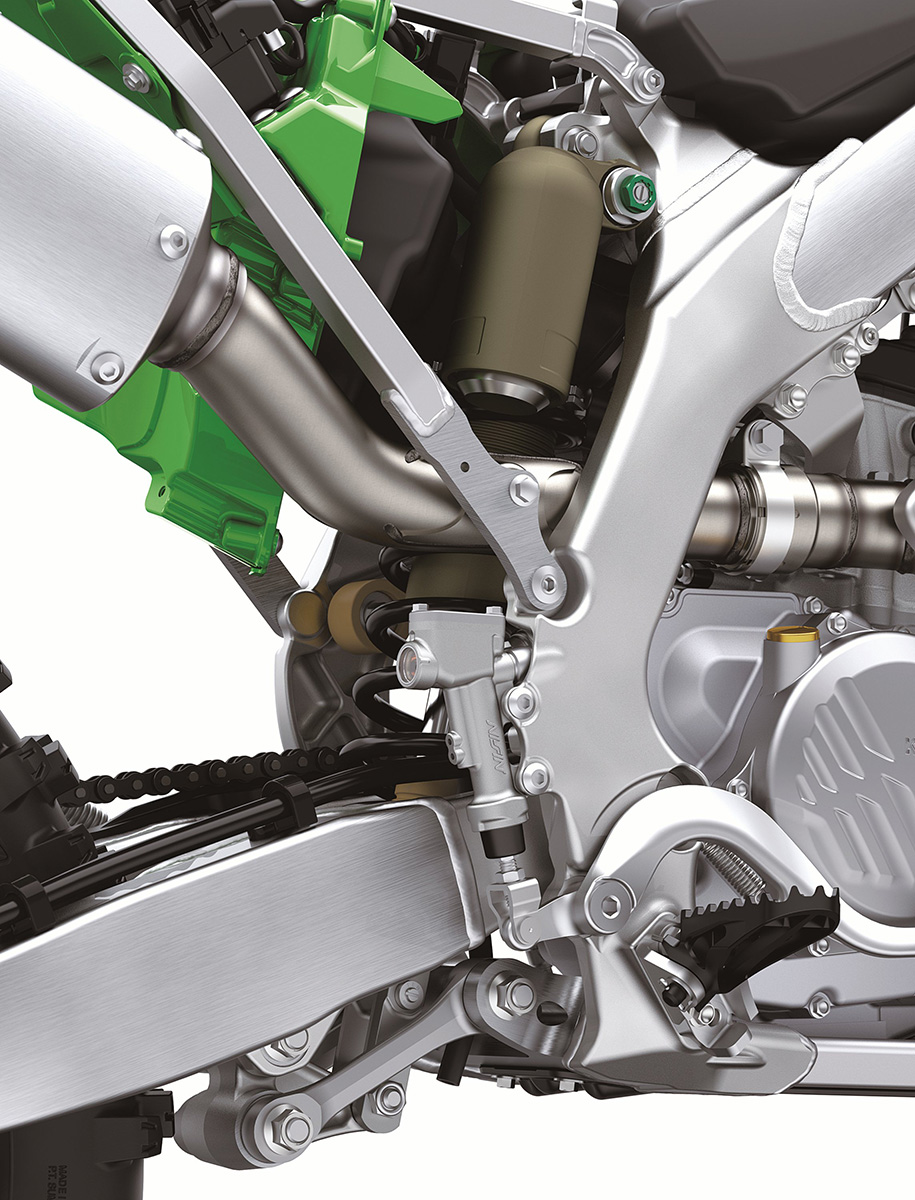 The Showa suspension on both models feature front and rear spring rates and damping settings adjusted for off-road and cross-country racing – read softer. The Showa 49mm coil spring 450 front forks (48mm on the 250) with A-KIT technology feature large diameter inner tubes the same size as those found on Kawasaki's factory racing team's machines.
Kawasaki list a healthy spec for their Showa forks including large damping pistons, a super-hard titanium coating on the outer surface of the inner/lower fork tubes and a Kashima Coating on the fork tubes all aimed at improving performance.
A new Uni-Trak linkage system at the rear works with the Showa shock, aluminum frame and swingarm. The linkage is mounted below the swingarm on KXs and allows a longer suspension stroke and more precise rear tuning. The shock also boasts A-KIT technology with large diameter compression adjusters, improving on the high frequency movements found when racing cross-country.
Easier on the brakes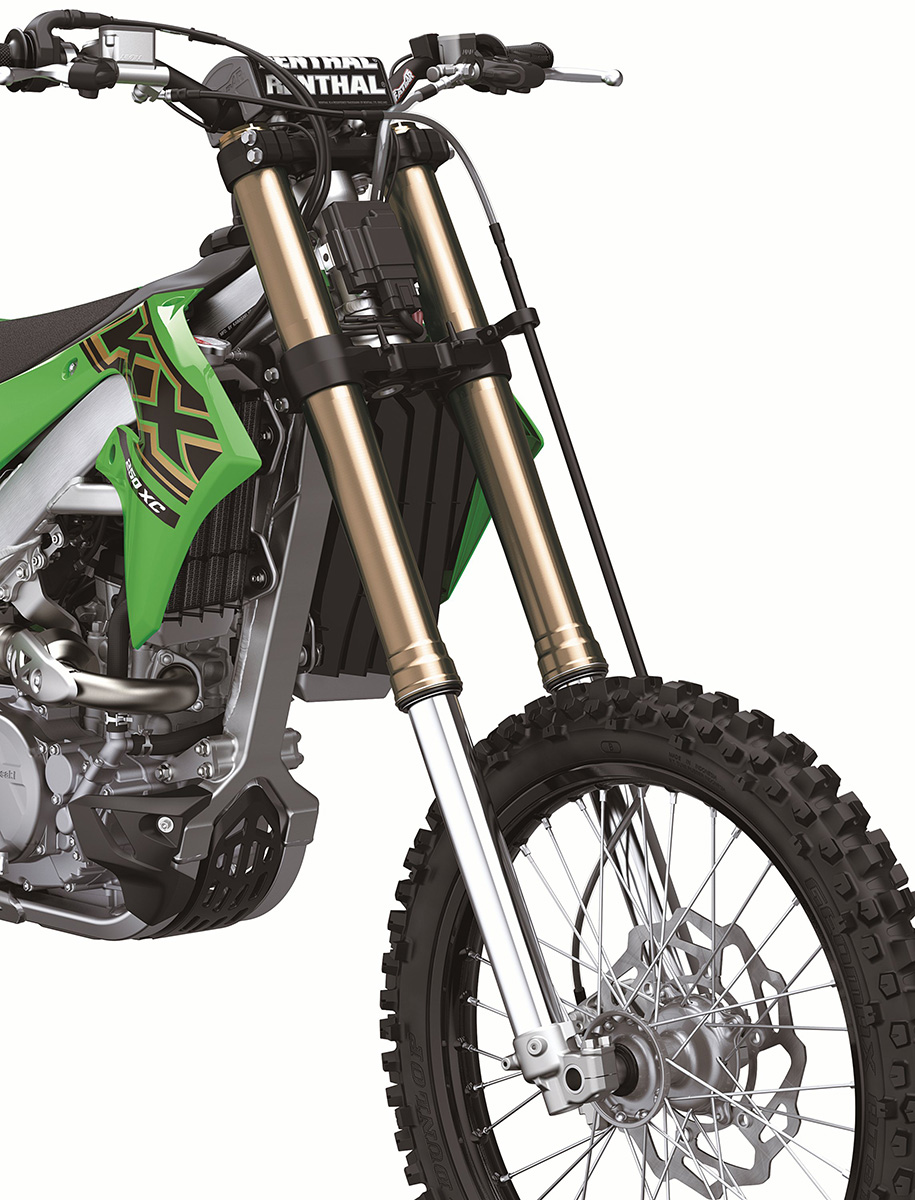 Petal-shaped rotors front (270mm) and rear (240mm) are from Braking and gripped by Nissin master cylinder and caliper set-ups with XC-specific pads.
XC-specific components
The KX450XC is equipped with specific cross-country components including the 21" front and 18" rear wheel combination paired with Dunlop GEOMAX AT81 tires, which are well-proven in off-road conditions. Other cross-country specific parts include the plastic skid plate and a side stand.
Ergo-fit adjustable components
Kawasaki's new XC models also benefit from the range of adjustment as standard at the rider points of contact around the bike - a definite benefit for off-road. ERGO-FIT adjustable handlebar mounting system and footpegs allow a variety of riders and riding styles the chance to fit the bike better.
The KX XCs are also equipped with factory-style 1-1/8" aluminium Renthal Fatbar handlebars as standard equipment which have four-way adjustable mounts with two mounting holes and 35mm of adjustability. 180-degree offset clamps also boast four individual settings to suit different size riders.
The footpegs have dual-position mounting points 5mm range – the lower setting effectively drops the centre of gravity when standing and reduces knee angle when taller riders are seated.
Colours: Lime Green
MSRP: $9599 (450)/$8399 (250)
Availability: Summer 2020 – note these models are not available in every country.
More information: Kawasaki.com