First look: 2022 KTM 300 EXC TPI Erzbergrodeo Edition
KTM has announced the 2022 KTM 300 EXC TPI Erzbergrodeo edition – based on the recently announced updated 300 EXC TPI, it arrives with a new set of graphics and a long list of upgrades tailored more for Extreme Enduro.
Celebrating more than 25 years and 16 wins at the Red Bull Erzbergrodeo dating back to its inception in 1995, KTM has updated the established always popular 300 EXC Erzbergrodeo model – although in a week when many of us should have been heading to Eisenerz in Austria for the 2022 race, it comes as bittersweet news.
Watch Mani Lettenbichler putting the new 2022 KTM 300 EXC TPI Erzbergrodeo model through its paces on the Iron Giant…
What's new for 2022?
Aside from the new graphics, the new 300 EXC Erzbergrodeo edition is based on the 300 EXC TPI recently announced in the new, 2022 KTM enduro model range. The Erzberg edition though steps up the stock bike spec list with a meaningful list of upgraded parts including closed handguards, clutch slave cylinder protection, CNC triple clamps, brake disc guards and radiator protection.
2022 KTM 300 EXC TPI Erzbergrodeo features:
Special Red Bull Erzbergrodeo graphics
Frame finishing coated in racing orange
Factory wheels with anodized hubs
METZELER 6 DAYS EXTREME soft tire set-up
Closed, heavy-duty handguards
Radiator fan & radiator protectors
CNC-machined triple clamps
Factory seat & lightweight skid plate
Chain guide bracket protection
SUPERSPROX STEALTH rear sprocket
Clutch save cylinder protection & orange oil plug
Front & rear pull straps
Front brake disc guard
Solid rear disk & disk guard
Rear brake safety wire
Map selector switch
Enduro21 has been enjoying a long term test with the 350 EXC-F WESS edition, the four-stroke version in effect of this globally popular 300 EXC TPI Erzbergrodeo model which is a sell-out in dealers.
For 2022 it's good to see the new 300 2T version, as the special edition 350, also comes wearing the factory wheels with anodised orange hubs, CNC machined triple clamps and for those who are fans of the orange frame coating, you'll find it here not on the stock EXC models this year.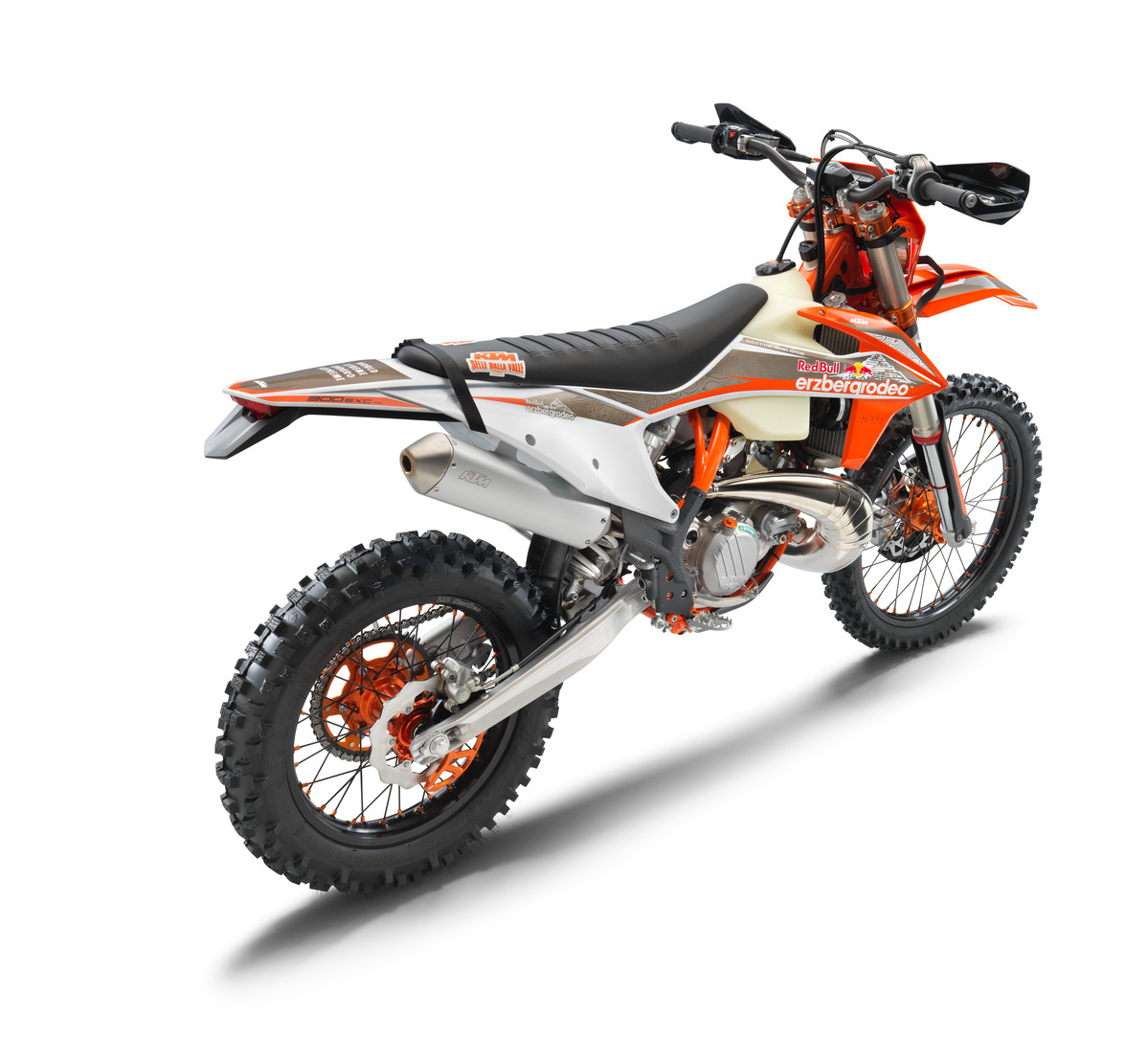 The new for '22 Red Bull Erzbergrodeo graphics look good although it is a shame on Mani Lettenbichler is the only one able to take one to the Erzberg quarry this year.
"The KTM 300 EXC TPI Erzbergrodeo is a bike 100% built for purpose." Explains KTM Product Manager Joachim Sauer. "Receiving all the updates of our 2022 KTM EXC model range, this special edition bike has features developed by Red Bull KTM Factory Racing riders to meet the extreme demands of every hard enduro rider."
The 2022 KTM 300 EXC TPI Erzbergrodeo will be available in KTM dealers from June 2021 onwards.
More information: www.ktm.com