First look: 2024 Husqvarna TE/FE Enduro models
New frames, subframes, TBI two-stroke engines, fresh bodywork and graphics, revamped suspension and Braktec brakes – Husqvarna's 2024 TE two-stroke and FE four-stroke models have landed.
We got a sneak preview of the 2024 Husqvarna Enduro model range when the hard enduro series kicked off last month and Billy Bolt's factory race bike teased some details. But the real bikes are here promising to "raise the bar" on the previous generation.
The headlines here are new standard suspension, all-new chassis, TBI fuel injected two-stroke engines succeeding the TPI, Braktec braking systems front and rear, new 250/350 4T engines and a new fuse-less electronic control unit.
2024 Husqvarna Enduro Technical Highlights:
New chromium molybdenum steel frame optimised for improved anti-squat behaviour and enhanced flex characteristics
New polyamide/aluminium hybrid subframe offers exceptional strength and durability
New 48 mm WP XACT Closed Cartridge spring forks deliver consistent damping and predictable handling
New WP XACT rear shock is lighter and developed specifically for enduro riding
New ergonomic bodywork offers revised rider triangle for enhanced control
New two-stroke engines feature TBI technology for improved rideability and ease of use
Narrower exhausts on two-stroke
New 250cc and 350cc DOHC four-stroke engines provide class-leading power and torque
LED headlight provides a brighter light output and simplified fitment
BRAKTEC brake system and high-performance GSK discs provide superior stopping power
Multifunctional Map Select Switch design controls the Quickshifter and Traction Control (4-stroke only)
Offroad Control Unit (almost) no fuses and relays
New 8.5 litre (TE) / 8.0 litre (FE) polythene fuel tanks with one-piece fuel pump and filter plus new external fuel line routing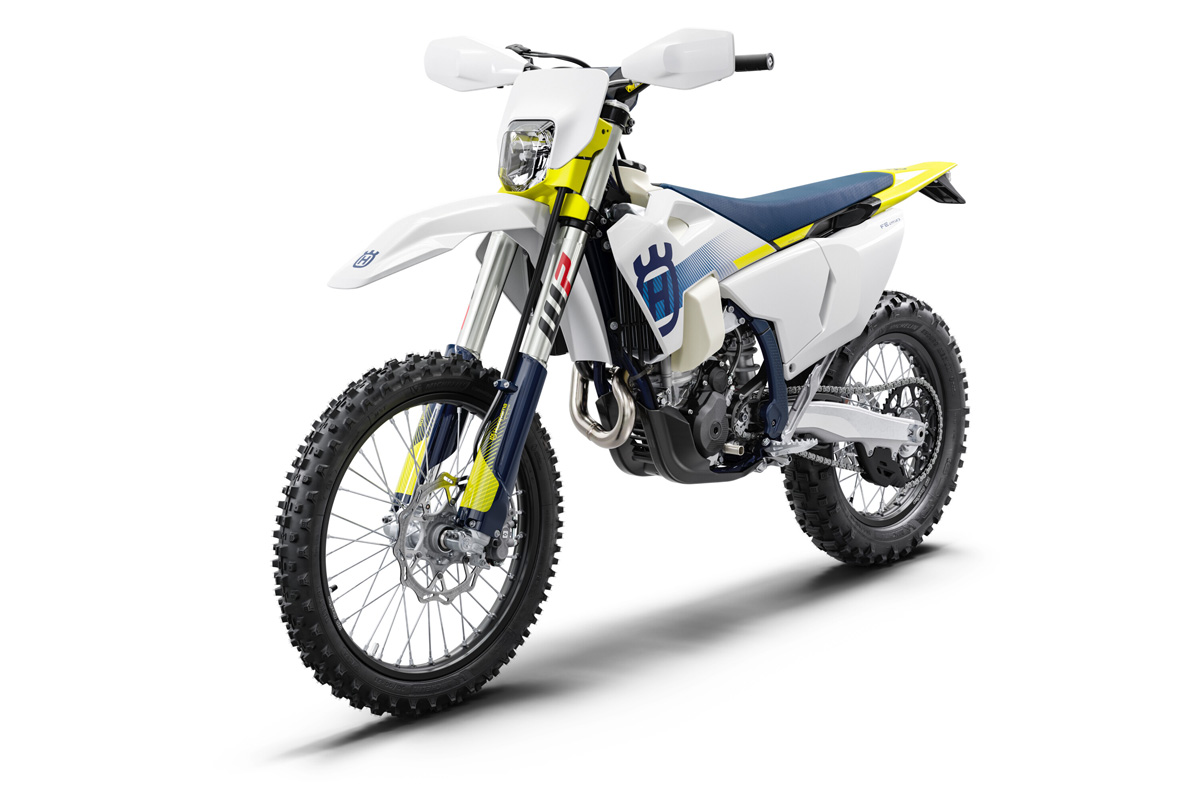 WP suspension upgrades
Let's start with the new suspension adorning the '24 Husqvarna enduro models. It was overdue for many riders who complain the standard equipment hasn't been good enough for either the task of enduro or to match the price point of the bikes. Husqvarna has addressed this with a complete overhaul of the forks and shock with learnings from the WP Pro Components range being applied to the original equipment, plus new shock mounting, triple clamps each working with a new chassis which they say reduces squat tendencies.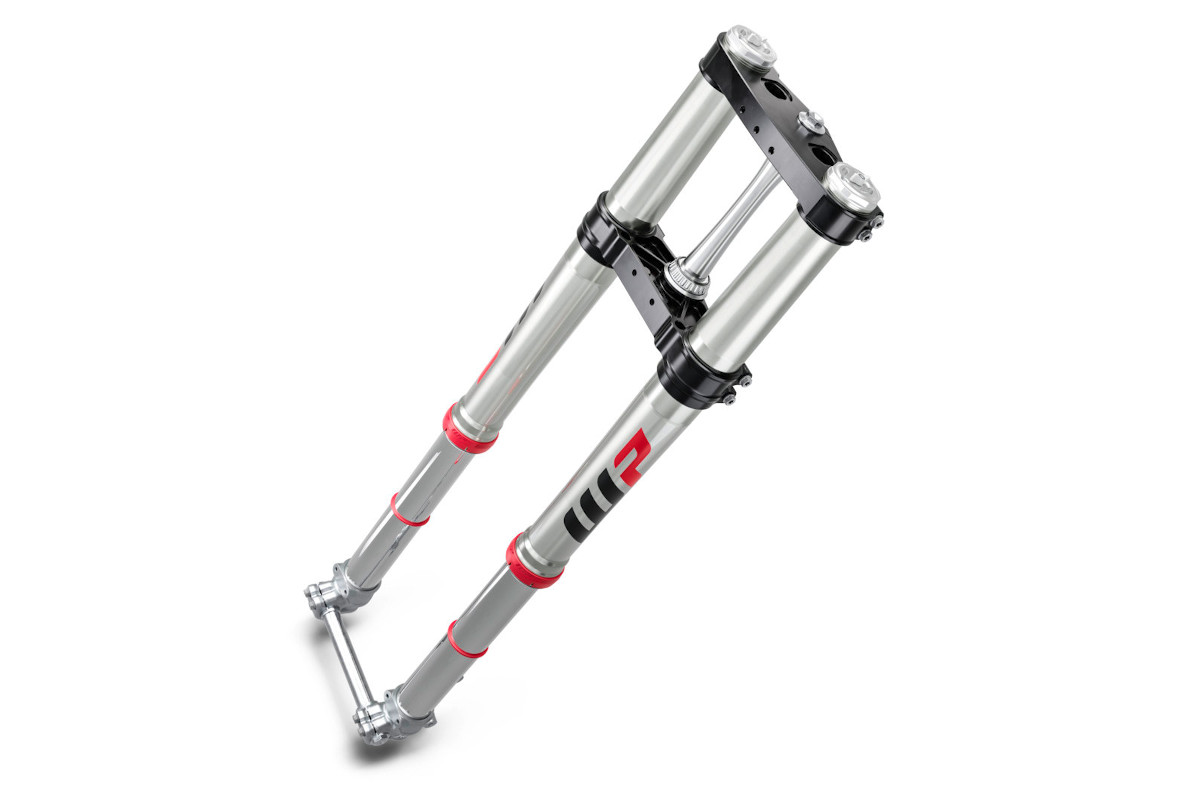 New WP XACT forks technical highlights:
48mm WP XACT Closed Cartridge spring fork for consistent damping
New mid-valve piston fully filled oil cartridge, no foaming of oil
New Hydrostop high damping reserves for strong impacts and jumps
Redesigned fork protection rings to reduced abrasion from fork movement
Fully adjustable for rebound and compression adjustable via easy access clicker dials
CNC-machined triple clamps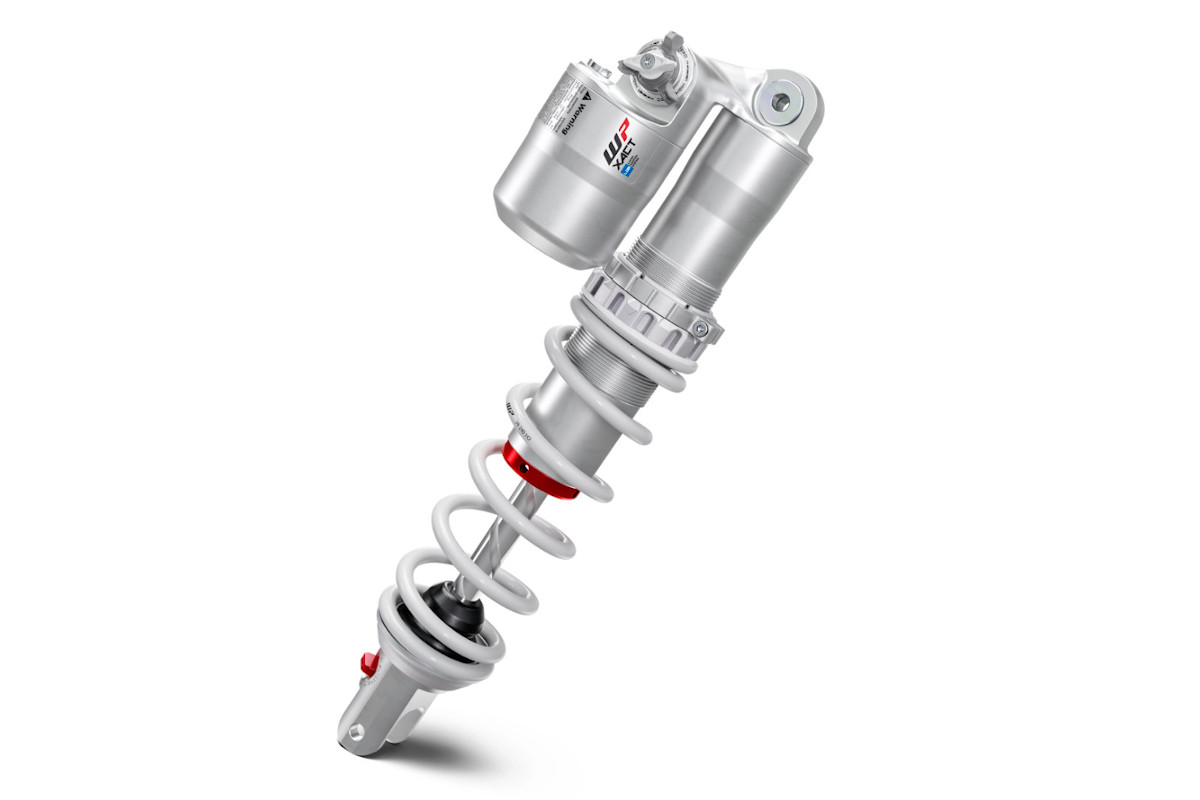 WP XACT rear shock technical highlights:
New lightweight, compact rear shock design with 15mm reduced overall length (470mm reduced to 455mm)
Rear wheel travel unchanged at 300mm
Reduced weight 100g lighter design results in lower forces on bearings
New CFD-optimised main piston increases initial comfort and "guarantees" strong hold-up
Improved ground clearance, lower risk of damage in extreme bottoming-out situations
New dual compression control allows high and low-speed settings to be adjusted by hand
New rebound adjuster allows setting changes by hand or with tool
Two-piece spring retainer allows for quick mounting and assembly of preload adjuster and shock
Low-friction SKF linkage seals reliably sustain rear shock response for advanced damping characteristics
All-new frame
The new chromium molybdenum steel frame, combining with the new suspension was the standout feature of the KTM EXC range we tested last week. The two model ranges share this platform as they call it, run the same suspension and main frame with the exception of the linkage type rear suspension on the Husqvarnas.
It'll be intriguing to find the differences between PDS and linkage type but one thing was clear, when Husqvarna talk about "improving anti-squat behaviour", "exceptional rider feedback, energy absorption and straight-line stability" we're pretty sure you can believe it based on our EXC test.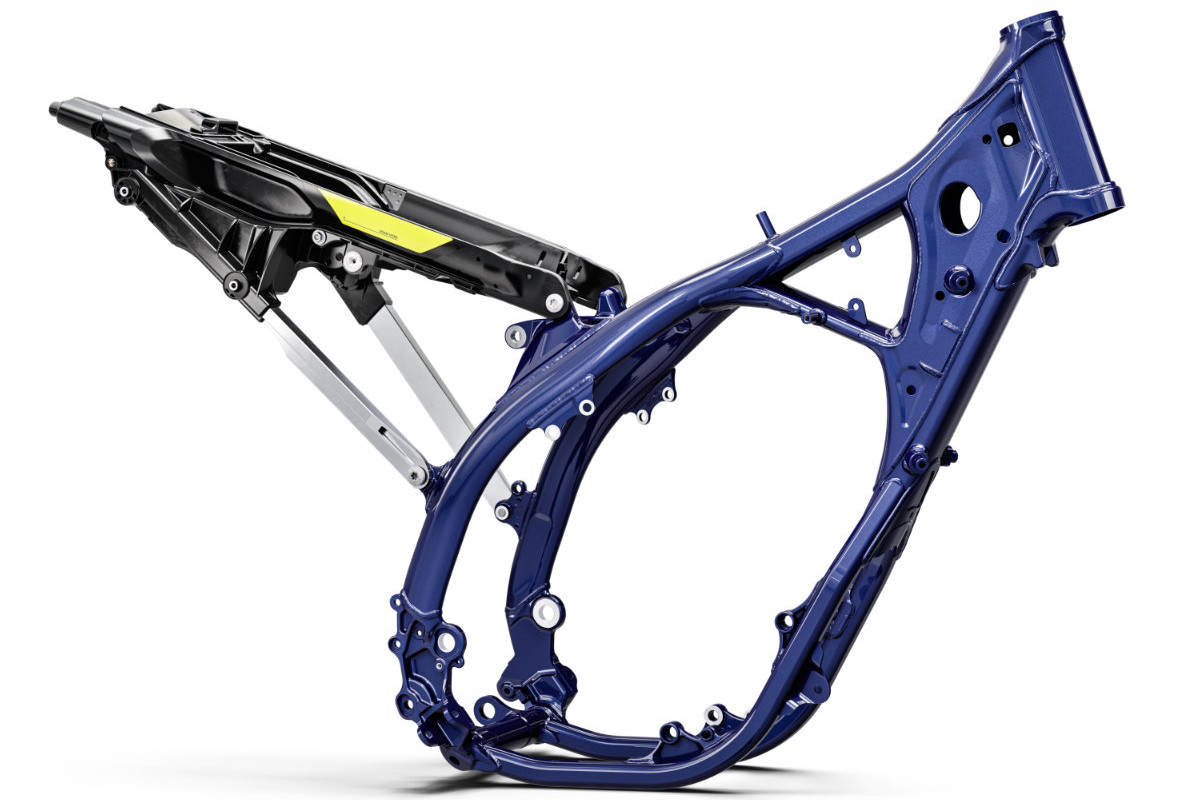 Polyamide-reinforced aluminium subframe
Using 60% polyamide and 40% aluminium, the two-component subframe has a total weight of just 1.8kg Husqvarna claim on the new subframe.
The lower subframe spars and frame mounts are made from extruded aluminium profiles for robustness and reliability where needed. The upper subframe combines injection-moulded polyamide and 3D formed aluminium with no weld joints.
Lighter and stonger swingarm
A new, hollow die-cast aluminium swingarm is designed to improve stiffness and reliability at the lowest possible weight Husky say. New "topology" and an improved casting process reduces weight by a claimed 190g and matches the new chassis flex characteristics.
Sticking with the lower back end of the new bikes, there's a new 22mm rear axle, neat and new chain adjuster marks to aid adjustment accuracy, completely redesigned chain guard and chain slider to improve durability and make them less susceptibility to catching on rocks and ruts.
BRAKTEC clutch and brakes
Husqvarna have adopted the BRAKTEC clutch and braking systems across all models, a fact which might attract some controversy in the light of this supposedly being the premium brand in the Austrian stable. (Last week KTM told us Brembo was the best braking system on the market, factory riders all use Brembo so…we'll ask).
The new to squash doubters is this Braktec system is upgraded over previous components which the GASGAS models adopted. Tech details on the brakes includes cast aluminium front and rear calipers, 260mm waved front and 220mm rear brake disc by GSK, new brake pad compound, new front brake lever is offset by a 16mm brake pump (was 17mm) to reduce pulling force, redesigned rear brake caliper bracket for improved clearance when fitting the rear wheel and Braktec also supply the hydraulic clutch.
Map selection, quickshifters and traction control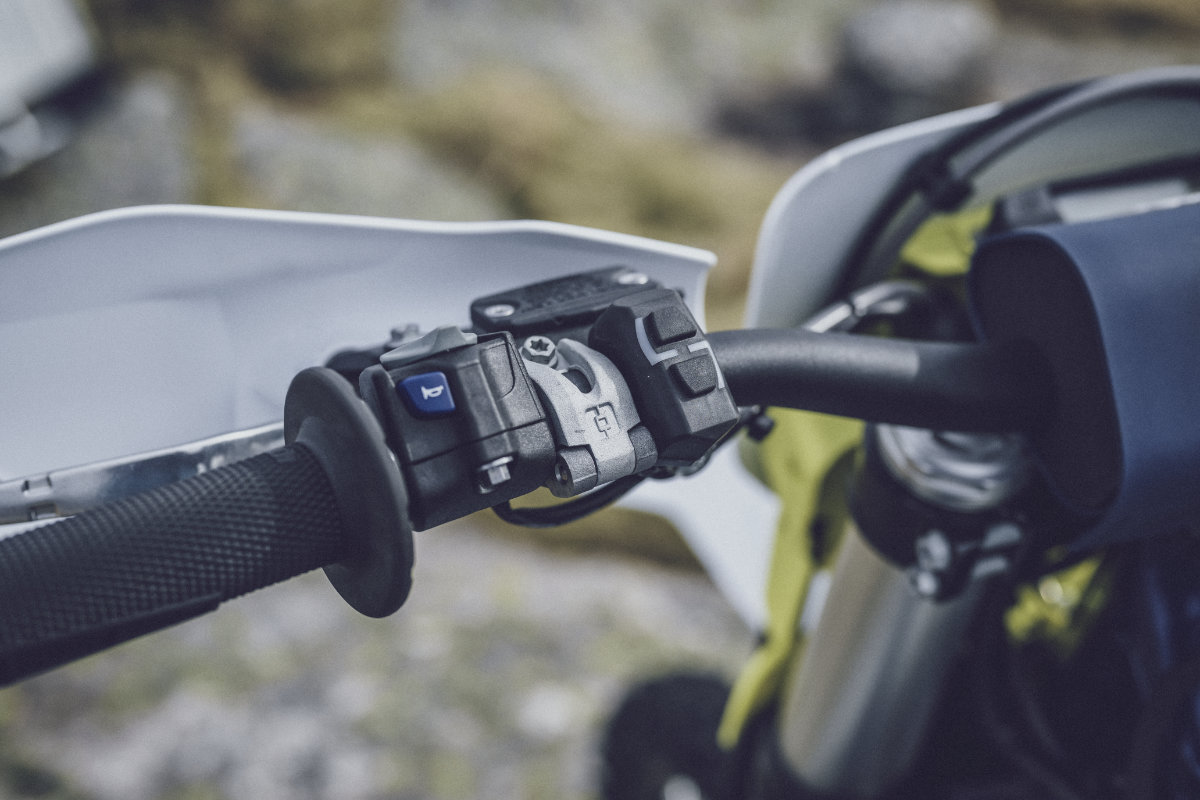 The two-stroke is almost the poor relation here with its two-map selector switch as standard on the Pro Taper handlebars. Meanwhile the four-strokes get it plus new traction control options and a quickshifter.
The quickshifter is a cool thing best practically used in a race start for clutchless gear changes but in reality it's just a fun tool to have onboard when you're riding. It only works from second gear and above (upshifts only) and can be turned off if you don't want it.
Engaged by a switch marked 'TC' on the bars, the Traction Control reads throttle input from and engine RPM rate of increase. Basically, if it rises too quickly, the Engine Management System (EMS) registers a loss of grip and reduces the amount of power to the rear wheel. Again, it can be switched off but in heavy mud conditions it's a cool additional tool.
Simplified electronics – more steering lock
The all new Offroad Control Unit (OCU) replaces electronic fuses and the main relays under the seat. All outputs depend on signals from the voltage regulator and the ECU in the new system which they say is designed to be similar to the old fuse-type but negate the need to carry spare fuses.
Circuits stand alone basically and that allows a simple error detection status of each output indicated by an LED light on the OCU. With a fault on the fuel pump for example, the OCU light changes from green to red. Once traced and fixed it returns to green.
A more compact electrical package means the voltage regulator is tweaked slightly meaning an increased steering angle.
New engines in a little more detail
The 2024 FE four-stroke range features a 42mm Keihin throttle body while the TE two-strokes arrive with the much talked about new 39mm Keihin throttle body with a throttle cable mounted directly without a linkage they say, providing more immediate throttle response and feel.
The new 39mm Keihin throttle body features dual fuel injectors (TBI) for a more immediate throttle response thanks to the direct cable mounting and more efficient system. Idle is controlled over the throttle valve (not over a bypass system as on Transfer Port Injection) with a new dual injector set-up – one low load injector (positioned as on four-stroke models) and one "top-feed" oriented injector for performance before the throttle valve.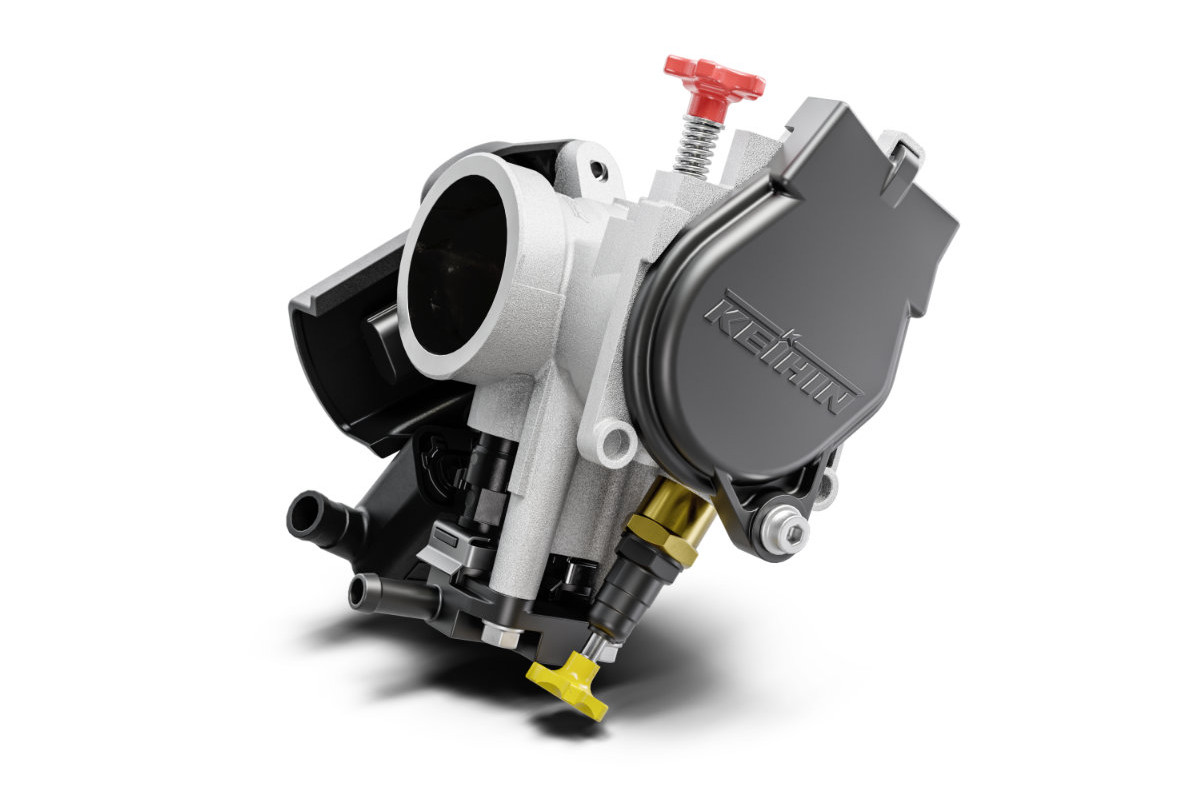 A new, and more robust TPS-Sensor on the 2T bikes provides the same cold start mechanism as on the four-stroke models. The throttle valve pivots on ball bearings instead of plain bearings – this provides less than half the friction torque compared to the former throttle body and allows a much easier throttle operation Husqvarna say.
All in all, Husqvarna say (as KTM did last week) this means better idle control, more stable idle behaviour, and much better fuel-air mixture, more power, more response, and a larger possible fuel air mixture operation window in comparison to TPI. Therefore, it is less prone to engine cut-outs or hesitations and less sensitive to different ambient conditions (e.g. temperature, altitude, humidity).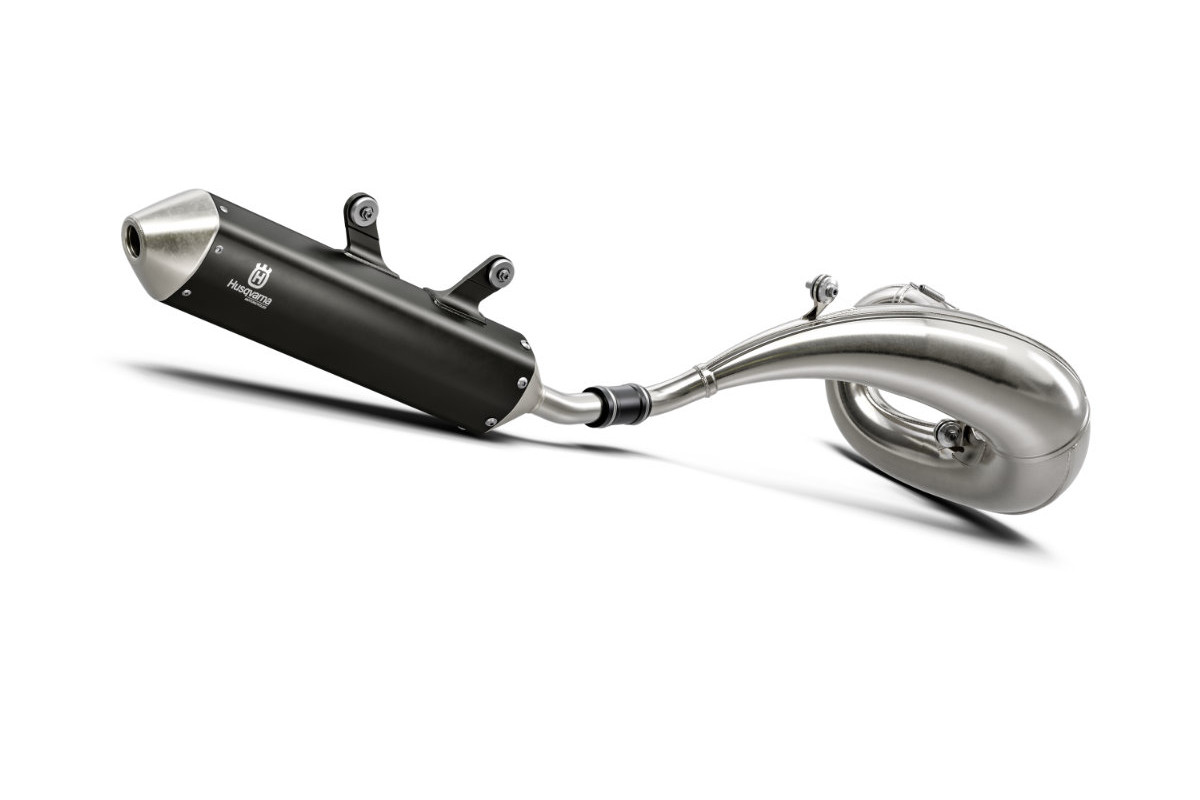 Why no ripples? The re-designed exhaust pipes allow more ground and side clearance but a new manufacturing process "adds quality and lowers manufacturing fluctuations" they say, meaning the TE 250/300 header pipes do not have the corrugated surface any longer.
The FE bikes get new, standardised exhaust mounting points and screw length across the range too.
Fresh bodywork and graphics
We think Billy Bolt has already declared these bikes the best looking of hte new season. He is biased mind you.
All seven models feature new bodywork adorned with new graphics and a high-grip seat cover. The rider triangle has been worked on to provide more knee contact and better control Husqvarna add.
The new LED headlight produces a brighter light output and is installed with a much more efficient and user-friendly mounting system.
Enduro21 is on the world press launch of these model this week. Get in touch at the email below if you've got burning questions about the new Huskys.
More technical details for each model: www.husqvarna-motocycles.com
Photo Credit: Kiska