First look: Flux Primo – high-spec electric motorcycle ready for enduro?
New European manufacturer Flux Performance reveal high-spec prototype electric off-road enduro, motocross and supermoto motorcycles and say they want to cut the BS and get "real data by testing with you".
Aluminium twin-spar frame, KYB forks, Ohlins shock, 85hp of power and 750Nm of torque got us fishing for more. Add that fact this electric motorcycle has a clutch and there's an enduro model and we're hooked. What is this bike from Slovenia?
Flux Performance has launched the Primo, their take on the electric off-road motorcycle which is aiming to join the likes of Stark Varg in forging a new wave of credible bikes but without the noise and gas.
Aluminium chassis and top-end suspension
"Balanced weight distribution, exceptionally low center of gravity and a light aluminum frame", that's what Flux Performance says about their chassis, which comes directly from the HM Moto bikes (the former brand that homologated Honda enduro bikes in Europe).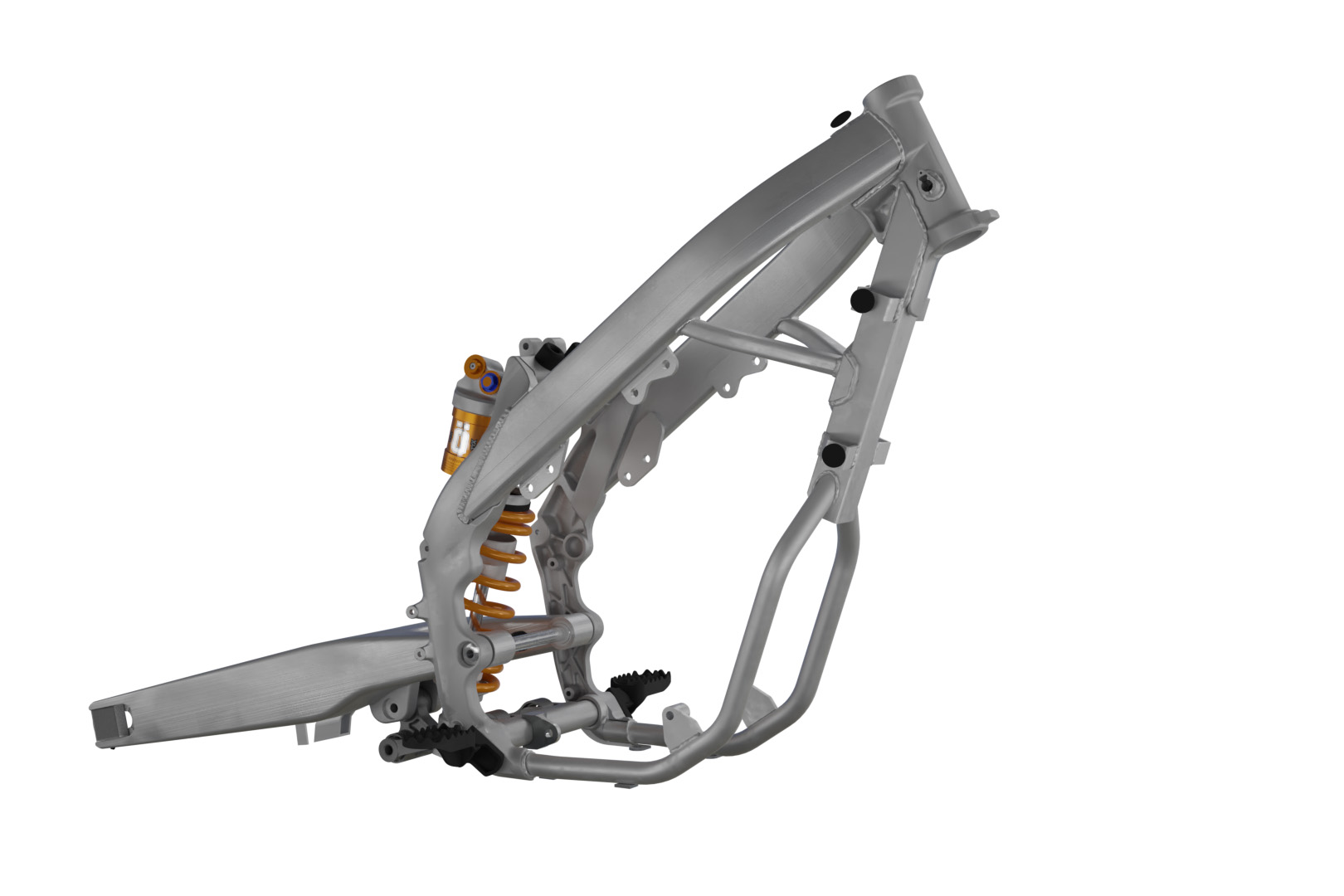 They look to have modified the chassis to hold their electric powertrain but without altering the geometry or the flex characteristics, which is a big win for them as the old Honda chassis still being among the most stable and fast for enduro and motocross.
Flux Performance went big with the suspension also. In the front the Primo has one of the best out of the box forks, the KYB 48mm and the fairly exotic Ohlins TTX in the rear.
85hp, 750Nm of torque and a clutch
The Flux Primo is claiming 85 horsepower and 750Nm out of their 7,7kg engine which they say is inspired by Formula 1 with straight cut gears featuring a special tooth profile and treatment aimed at reducing power losses and weight.
The engine is water cooled (check the radiator in the right side) and each cell of the battery is connected to the cooling circuit to avoid losing any power due to overheating.
Clutch and KERS?
Stepping away, and maybe ahead, from most of the electric bikes on the market, the Flux Primo also features a clutch. We haven't got the details but they describe it as a "virtual" clutch with no actual plates to overheat or fry, nor discs, springs, basket, or pressure plate to add weight.
One of the innovations here is an active regenerative braking system, a first electric for off-road bikes, that will charge the battery as you brake giving you a bit of extra range. Additionally, and slightly oddly, it will also have a reverse button which might be quite handy if you ride extreme enduro.
Swap the battery in a minute
The biggest downside for the electric bikes is their range and the charging time needed to get back on the 'gas', but Flux say they have addressed this issue with a 400V battery which can be swapped for another unit in less than one minute.
If you're looking for data about the battery range, then take this honest outlook: "The electric vehicle market is full of ridiculous range claims that don't come anywhere close to reality.
"We will get real power consumption data by testing with you. That way, when we release our production motorcycle, you know the ranges are based on real user experience, not marketing hype."
The bikes are scheduled for production in 2024 and in the meantime they are looking for people to sign up and basically help with the testing.
Engine tuner App
"Limitless personalization from moped power to face bending full power via smartphone connection" say Flex Powersports.
The Primo will have six different parameters to modify which let you decide how much power you want and how you want it. Additionally you'll also be able to create your own maps for the engine as you can with the Power Tuner App from Yamaha for example.
Smart bike?
With accelerometers, gyros, wheels speeds, GPS and a powerful processor the Primo will be able to learn the rider's habits. Flex say an algorithm will improve lap times, security and will create special riding modes tailored for you.
You'll also be able to protect your bike against the thieves by setting a PIN on your smartphone to block the bike from working.
The Flux Primo is just a prototype at the moment, the Slovenian brand plans to start production next year which will allow them to hand the bikes to their customers in 2024. As they state in their website the price they are aiming is €12,000 and you can place an pre-order already if you want.
More information: www.fluxmoto.co