First look: GASGAS RX450F Dakar Rally bikes revealed
First look gallery of the 2023 GASGAS Factory Racing's RX450F race bikes set for the 45th edition of the Dakar Rally with riders Sam Sunderland and Daniel Sanders.
Officially securing backing from Red Bull ahead of the 2023 Dakar Rally and Rally-Raid World Championship season is the headline act for GASGAS Factory Racing. Our interest is naturally all about the bikes (and riders Sam Sunderland and Daniel Sanders maybe a little!) as we enter the final weeks ahead of the biggest race in off-road sport.
On the back of a Dakar win and world championship victory, there's little the GASGAS team and the Austrian manufacturer appears to have needed to do with the '23 bikes. After some big chassis changes ahead of last season (switching from a trellis-type to a backbone main frame), we weren't honestly changes to this latest RX450F rally bike. Check the gallery above for details.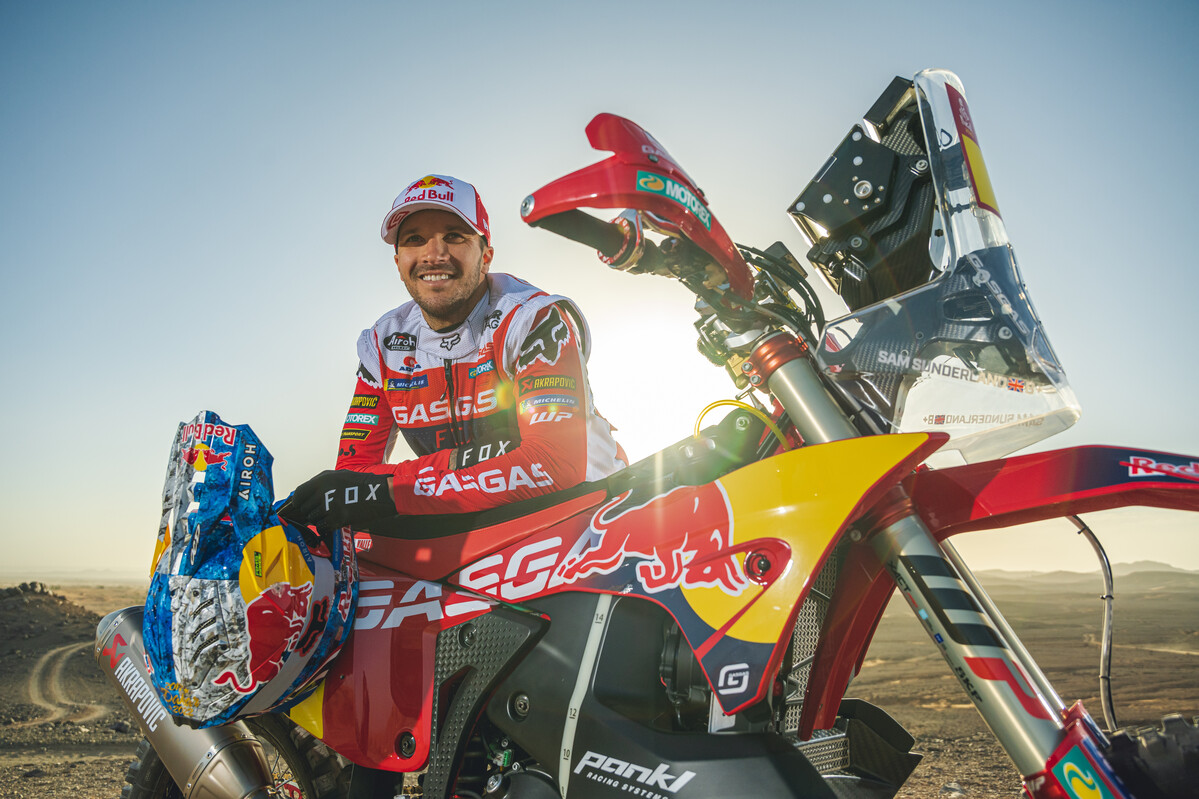 Three-times Dakar champ?
Sam Sunderland's 2022 Dakar Rally victory was the start of a hugely successful year for the Brit. With the Dakar now forming round one of the world championship, round two quickly followed in United Arab Emirates where he promptly took another convincing win.
A top-five result at the Rallye du Maroc put Sunderland within reach of his second career world title which he promptly delivered with a calculated fifth-place finish at the Andalucia Rally.
Like all riders heading to the Dakar, Sam's training programme is well underway as he contemplates his Dakar Rally title defence and a place in a very exclusive club of three-times winners:
Sam Sunderland: "This season has been incredible. To get the double – the Dakar win and the world championship – has been amazing. It's taken a lot of work, both by me and the whole team, but it's paid off massively.
"Now, going into the 2023 Dakar I know exactly what it takes to win. When I first won the race back in 2017, I put myself under a lot of pressure to win again a year later. The 2023 race is looking to be one of the toughest ever and I'm under no illusion as to what that means.
"My mindset is a little different now – my plan is to go out there and enjoy it, take each day as it comes and try to maintain a good pace throughout the whole event. Hopefully near the end of the two weeks we should be in a good place to battle for the top positions once again."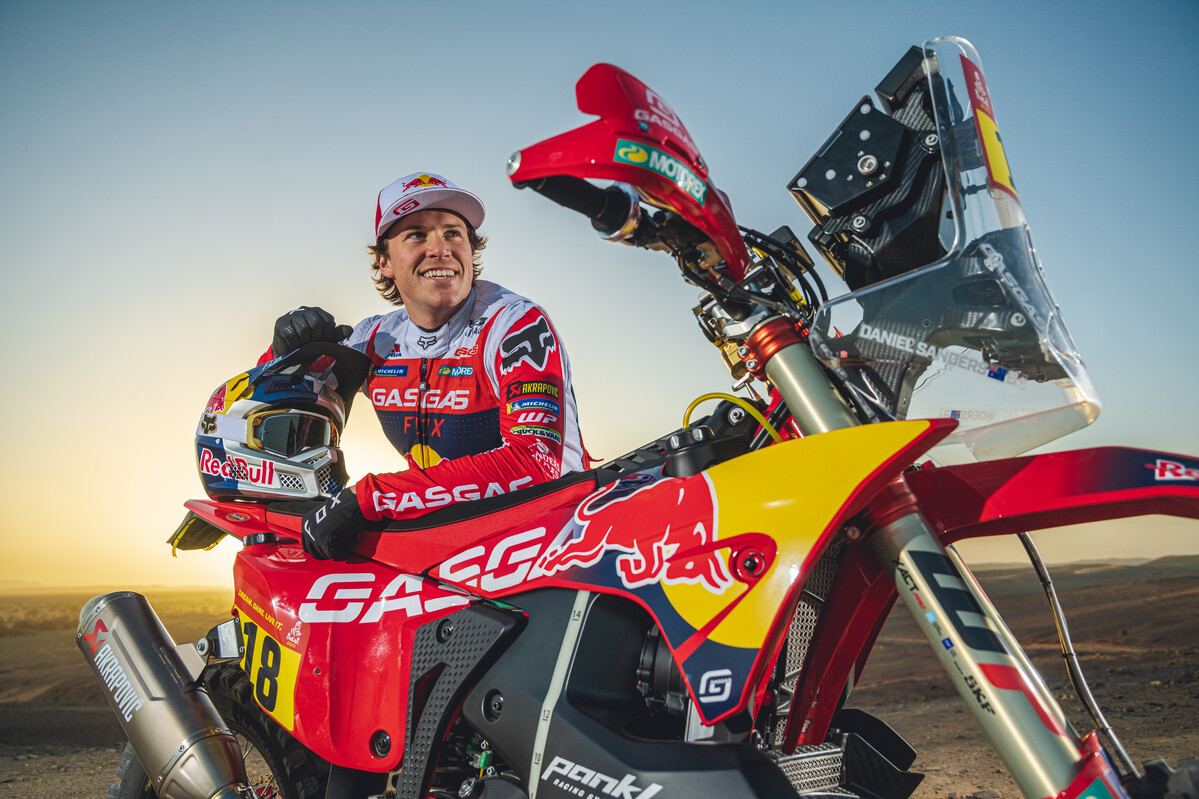 Tough times getting back to fitness for Chucky
Earning two stage wins at the 2022 event, Daniel Sanders comes into the '23 Dakar undoubtedly with the skill and desire to win but with a better understanding of what to expect from the terrain and the event itself – including where the curbs might be on the street!
Joking aside, GASGAS say he has "very little pressure on his shoulders" but that he will be "aiming to shake things up" when the flag drops in just over one month's time.
Daniel Sanders: "After this year's Dakar and of course crashing on stage seven, it's been a long year of surgeries and trying to get my body back in shape. I had a lot of bad luck with my recovery and things not healing up so good, but thankfully it's all looking good now and I've been able to get back on the bike.
"It's going to be a challenge going into one of the toughest races in the world without much time on the bike. The focus up to now has been to get my elbow strong enough to make it through Dakar and the rest of the 2023 season.
"The team have been great, and I'm getting stronger all the time. It's a little daunting with the Dakar being my first race back after a season off, but my plan is to take it day-by-day and hopefully build things up as the event goes on. It's a long race, but the goal is to definitely be well in the fight at the finish."
Check the launch video from GASGAS:
Norbert Stadlbauer – GASGAS Rally Team Manager: "Sam Sunderland is coming off an incredibly successful year of racing, but is already training hard and looking forward to defending his Dakar title. Daniel Sanders has been off his bike through injury for most of the year, but the young Aussie is hungry for success and will give 100% at Dakar."
Robert Jonas – Head of Motorsports Offroad: "After an incredible 2022 season that saw Sam claim victory at the Dakar Rally as well as being crowned world champion, it's only fitting that the team will now enjoy additional backing from Red Bull. With two incredibly talented riders in Sunderland and Sanders we have a squad that is motivated and highly capable – a great mix of experience and enthusiasm. We're fully expecting the team to challenge for the win once again at Dakar and wish everyone involved all the very best."
The 45th Dakar Rally starts December 31, 2022, and covers 14 stages through the desert of Saudi Arabia before ending on January 15, 2023.
Photo Credit: Sebas Romero